Raphael Poitra ('65):  Dunseith (Kelvin), ND
I received this picture from Raphael Poitra, but for some reason the message got dropped. This is a mighty fine looking fish too. Not sure if he got this out of Metigoshe, Long lake or one of the other lakes in the hills? I don't remember seeing any fish this big in those lakes when I lived back there.  This has to be a trophy.
Please fill us in Raphael about this fish you are holding.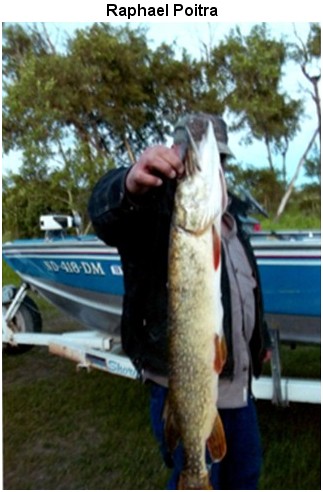 .
.
Hubert Allery ('62): Fargo – Had lund Surgery.
Face Book Posting from Judy Allery Azure ('65):  Bismarck, ND
(7/14/2014) – We, the Allery family, would like for everyone to pray for out oldest brother Hubert, he will be having surgery either tonight or tomorrow on his lungs. Hubert is hospitalized at Sanford Health in Fargo, ND
Judy, Please keep us posted with Hubert's condtion. Our thoughts and prayers are with him.  Gary
.
.
Reply from Bob Lykins (60's DHS Teacher):  Hutto, TX.
Thanks for the birthday post, Gary.  Maybe I should get a better photo.  Still, I must confess, it pretty well describes me.  However, I seldom drink beer these days except when I am in Germany which is where this photo was taken.  I am at the Oktober Fest(German spelling) in Munich, Germany.  Everyone should put a visit to the Oktober Fest on their "bucket list."  It is truely a remarkable, cultural experience -:)
.
.
Reply to Dennis Dubois ('63)
From Lee Stickland ('64):  Dickinson, ND
      AKA: Retired 1963 table-tennis champ of the Turtle Mountains
                Dennis, Thanks for the many hours of friendly competition. 
I ask that YOU agree to waive any and all charges/cost/price of remunerations for YOUR having been victor and for me being potentially liable for $490,000 @ 6% compound interest. (I never did understand compound interest; esp. if it were to be levied against my piggy bank).

All in fun, from a guy who was successful to make money with other peoples' money and TO YOU who worked hard and as I understand oversaw the poring of a few foundations, the laying of a few level floors, and possibly the well traveled driveways toward the garages that are so full of STUFF no car would fit in. Now YOU can follow that golf ball to travel America playing specially, selected golf course venues, quietly sneaking closer to the local record of scoring.
I, too, love this picture of Sharon with her whimsical, upward glance that includes evidence of her quest for quality in her pursuits of life.
HOWEVER: It has not been just that long since we were sharing the fun-experience of climbing LIDY HILL which was just west of  Petersons' barn.
Intending to go down the hill on a sleigh, a piece of cardboard or other than YOUR elbow, butt, or palms of YOUR hand. (hurts to write about the agony of abraded hands)OR me riding Kit or Kap and attempting to keep the horse away from the barb wire fence to preserve my new Levis and new Wellington boots !!!
Hard to believe that was just/only/right!/sure/doubt it was only a recent yesterday when we began our journey to get to where we are today.
I DON'T KNOW WHERE I AM GOING BUT I AM HALF WAY THERE
TIME IS WHAT KEEPS EVERYTHING FROM HAPPENING AT ONCE
WAITING FOR THE WINDS TO BLOW TOWARD THE ISLE OF IMAGINATION
A SMOOTH MOUNTAIN CANNOT BE CLIMBED            End of story and page       LEE      s      7-15-2014
.
.
Reply from Neola Kofoid Garbe:  Bottineau & Minot, ND
Thought I'd tell you I replied to James Thompson's email about tapes/CD's of Scotty and Thelma's.  I have a CD of Cindy and the Turtle Mt. Boys (Cindy/Thelma were the same person.) and a couple cassettes on which Thelma sings/Scotty plays. Art Rude/Jerry Olson/Ole Bursinger/etc. are also on one of them.  He played a "mean" dobro!!  I loved listening to both of them.  As you know, after we moved east of the "skating rink", we lived about two blocks from Scotty's family.  Scotty/family lived south of the skating rink/we lived east of it.  Lu Thompson is my classmate.  We were friends "way back when"/we renewed our friendship several years ago. Lu bought a historic house in Willow City/did some renovation on it.  She later moved "south" again.  I THINK she missed her family, but that's a guess on my part.
Bernadette looks really great.

.
.
==========================================================================
Blog (116) posted on May 28, 2008
.
.
DUNSEITH – Elberta Mariah Wenstad, 81, Dunseith, died Wednesday, May 21, 2008, in a Rolla hospital.
She was born Aug. 15, 1926, to John and Mildred Anderson in White Earth. She married Oscar Wenstad Jan. 18, 1945, in Dunseith.
Survivors: daughters, Connie Turner, Boissevain, Man., Bobbi Wenstad, Minot, Deborah Slyter, Dunseith, Donna Wenstad, Amado, Ariz., Pamela Lane, Stoughton, Wis.; sons, Arlan, Lansford, Donald, Overly, Curtis, Rolette; 13 grandchildren; 17 great-grandchildren; brother, Milton, Palo Cedro, Calif.
Funeral: Thursday, 10 a.m., Peace Lutheran Church, Dunseith.
Burial: Later in Rendahl Cemetery, rural Dunseith.
Visitation: Wednesday, 10 a.m. to 9 p.m., Nero Funeral Home, Bottineau, ND)
Arlan, Don, Debbie, Connie, Bobbi, Donna, Curtis & Pam,  Our condolences are with you with the passing of your mother.  Debbie, when I talked to you a short time ago, you mentioned that your mother was living with you, in your home, located on the old Willow Lake School lot.  I remember your folks Well, and also you older kids.  During my grade school days, at Ackworth, and into my High School days, our families visited back and forth a lot.  I remember being at your house lots and lots of times.  I remember your mother as being a very kind, sweet, good hearted lady. I have thought of you guys often, in my mind, over the years.  Your mother will be missed.  The last time I saw her, she was working at the home in Dunseith.  Our thoughts are with you all.  Gary & Bernadette Stokes.
.
.
Mornin Gary, I just wanted to let you know I won't be
on the cruise next summer. My oldest daughter is
getting married the end of June and thats where the
funds will be going. I hope ya'll ahve  awonderful
time. Actually my younger daughter and a real good
friend plan on taking that cruise in 2010. My husband
is retired Navy and said no thanks to more ships. lol
Have a wonderful day.
Sharon Longie Dana(73)
.
.
Attached is the above which we finally got completed, although still waiting on some additional information which we be added later.
Will you please forward this to all on your Dunseith email list.  Anything you might want to add to encourage as many as possible to help us out will be greatly appreciated.  If you can sell most of these items, we will have enough funds to keep the website going for long time.
Also, want to thank you for all the work you have been doing in helping everyone stay in touch with each other.  Sounds like everyone is enjoying the experience.
Let me know if you have any questions.
.
Bob, I have copied and pasted your attached letter below.
Folks, This is a great buy for these Dunseith souvenirs that Bob talks about in this letter.  Gary
.
Dunseith Alumni and Friends:
I am pleased to let all of you know that we have completed the Dunseith, N D website.  Our address is
www.dunseithnd.com
.  We have been working on this for a couple of months and will have some updating to do as soon as we received the requested information. 
As a lot of you know, this website was a request of many of you so that you could stay in closer contact with our community.  There were a lot of ideas proposed to us as to the process to follow, we finally settled on Amy Schalesky.  She is in the computer business in Bottineau and will continue to provide updates and assistance to us.  Our committee feels she did a nice job for us and happy with the product.
The cost to produce the website was $1000 and $20 per month for updates to keep the information fresh and current.  The monthly fee will start when we get the website completed to our satisfaction.  Hopefully, that will not be too long.
During the early conversation stage, it was suggested  some of you might be interested in making a donation to assist with the setup cost.  That was a very generous thought, but we have a better idea.  Many of you know we have a lot of souvenirs for sale that were left over from last summer's celebration.  There are also a couple items from the communities 100thCelebration.  If you will check the Souvenir Shop on the website, you will find all of the items we have for sale at a much reduced price.  In fact, the pottery items and caps are below our cost, about half as much, so are very good buys.   These are all very nice items and make good keepsakes and gifts for your families.  Pottery is the famous Red Wing Pottery which is high quality.
We have an account set up with Pay Pal which is a secure site to make purchases on the web.  I understand it is part of E-Bay setup.  We would like to encourage all of you to seriously consider buying some of these souvenirs to help us with the setup and maintenance costs.   All you have to do is complete the order form, they will notify us of your purchase; we will send you the purchased items.  If you are living in the area, these items will be available at the Log House for the same price, less any shipping charges.
Looking forward to hearing from you and want to THANK YOU in advance for your consideration and purchase.  We had a wonderful 125th Celebration, these items will help all of us keep those memories alive.
QUASQUICENTENNIAL STEERING COMMITTEE
.
.
       Gary and Friends.  The attached message from an Air Force friend is
worth looking at.  Seems like the marketeers can invade your cell
phone privacy and you have to pay for the call.  The procedure is
easy, just listen and follow instructions. Good luck.
On another matter, I failed to mention that Dennis and Peggy Espe we
in attendance at Vance Bailey's burial yesterday.   Another case of
the age creep.  Cheers, Bill Hosmer
Bill, I have copied and pasted your attached message below.  Gary
Cell phone numbers go public tomorrow.
REMINDER….all cell phone numbers are being released to telemarketing
companies tomorrow and you will start to receive sale  calls…..YOU WILL BE
CHARGED FOR THESE CALLS.
To prevent this, call the following number from your cell phone:
888-382-1222
It is the National DO NOT CALL list. It will only take a minute of your
time. It blocks your number for five (5) years. You must call from  the cell
phone number you want to have blocked. You cannot call from  a different
phone number.
HELP OTHERS BY PASSING THIS ON TO ALL  YOUR FRIENDS. It takes about 20
seconds.
.
.
Lanette Beachler Richard's book.
Lanette graduated from DHS in 1982.  Her parents are Luvern (deceased) and Marie Beachler.  She is the daughter-in-law of Carmen & Floyd Richard.