For the record I did not get a blog posted yesterday.
Gary
.
.
.
.
Pictures From Dick Johnson ('68):  Dunseith, ND
Gary and Friends,
While in the Voss area of Norway,  we were invited to a home of
one of Brenda's dad's first cousins for a 'small' family gathering.
People kept coming and coming until there must have been maybe 40 or
more and they had a huge meal and even brought us gifts to remember our
trip to Norway.  It was rather humbling and almost overwhelming.  The
pictures are from this gathering and all those in the first group
picture are Brenda's dad's first cousins as their mothers or fathers
were all sisters and brothers of Brenda's grandmother Kari Aarhus
Knutson.  The picture with more people is one with wives and husbands of
the cousins and still doesn't show all the people who were there as
there were many more kids and grandkids and others not shown. One of the
older gentlemen knew we were involved with music so he brought out a
very old Norwegian Hardanger fiddle and played us a couple old Norwegian
songs.  They were all a great bunch of folks and several could speak
English so we had a good time touring the church and the cemetery and
some of the areas where the older generations had lived.  The area is
very mountainous and the towns are very small and set in the narrow
valleys.  The roads are winding and narrow and there isn't much
traffic–luckily.  Thanks Gary!
Dick
.
.
==========================================================================
Blog (127) posted on June 9, 2008
I OWE DEB WENSTED AN APOLOGY.  I WASN'T QUITE CERTAIN ABOUT  THE IDENTITY OF THE INVENTER OF THE POWER SLED, SO I TOOK A CHANCE.  SORRY DEB, I DIDN'T MEAN TO IGNORE YOUR FATHER.  IN ANY CASE, THOSE WENSTEDS WERE PRETTY SMART COOKIES.
I DO WISH TO ADDRESS THE FACT THAT I FAILED TO MENTION THE FANTASTIC WELCOME MY SISTER, BORGHILD (BORG) AND I RECEIVED FROM FLOYD AND LOUELLA DION.  THEY WERE THE FIRST TO WELCOME US, AND IT SET THE TONE FOR A MOST ENJOYABLE AND UNFORGETTABLE EXPERIENCE. I WISH TO THANK BOTH FLOYD AND LOUELLA FOR THEIR HOSPITALITY, AND ESPECIALLY LOUELLA FOR THE WELCOME HUG.  LOUELLA AND HER FAMILY WERE OUR NEXT DOOR NEIGHBORS TO THE SOUTH, AND WE HAD THE PLEASURE  OF SEEING HER BROTHER LESTER AND HIS WIFE ON OUR VISIT. NOW I FEEL BAD I FAILED TO EXPRESS MY SYMPATHY AT LOUELLAS UNFORTUNATE ACCIDENT IN FEBRUARY, BUT PERHAPS I WASN'T ON TTHE MAILING LIST AT THAT TIME.  AT ANY RATE I DO WISH TO WISH LOUELLA A SPEEDY RECOVERY, AND THAT HER RECENT INJURY WILL NOT PROVE TO BE VERY SERIOUS.
Picture taken in the Ackworth school in about, I think, 1992 at the annual Alumni.
Note: All those seated have passed on. Charlotte died in Jan 1994 and the rest have passed on since.
Many of you are closely related to those in this picture.
For you Pladson folks, Is that your mother, Ella, sitting on the far side of your uncle Edmar?
Glenda (Mrs. Russell) Fauske Standing,
Seated R to L: Elaine Stokes, Alice Hiatt, Charlotte Hiatt Lang, Esther Tangen, Edmar Tangen, ??, Dennis Hiatt
.
.
Dick, the only one, in this picture, that I for sure recognize is Dwight Lang. In this picture he looks like he could be related to the Hiatt's, of which I know he is proud of.  Gary
Gary,
My best guess on the names of the band kids–
Dick
Picture L to R:  1956 DHS Band
Front row: Gayle Bedard, Caroleen Lider, Janice Lacroix, Marjorie Landsverk ?, Lowell Williams,Lois Hiatt.
Row two: Karen Woodford,Coleen Conroy?, Gerald Lamoureux, Girl??, Duane  Woodford, Guy with tuba??,
Girl in front of music stand?,Susan Brew, Girl in front of base drum?, Joanne Kester.
 Back row: Director??, Flute player?, Small person?, Luella Kalk??, Ronnie Link, Short kid?, Dwight Lang,
Curt Halvorson?, Don Conroy, Neva Haagenson?,John Morgan, Ellen Graff, BIG DAVE SHELVER, Girl?, Duane Lang?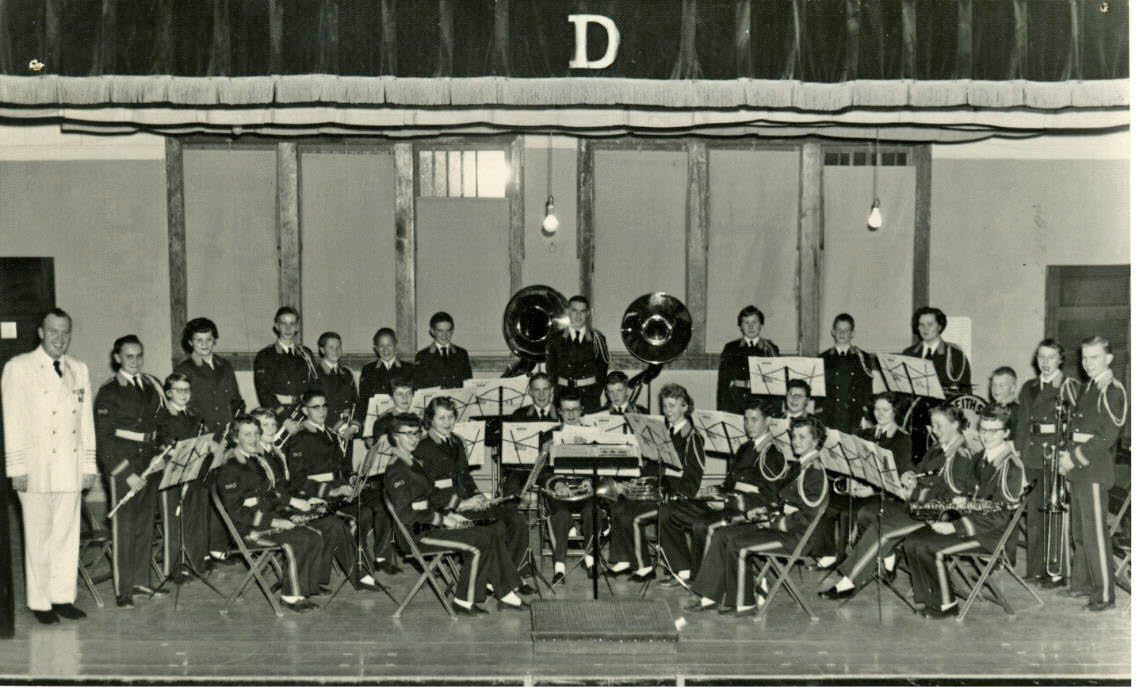 From Bill Hosmer (48):   Please note Bill's new address.
The basketball picture names by Mona Johnson was well
done.. The player in the back row far left is Charles
(Pug) Lund. His dad was the Supt. at San Haven at the
time of the picture.  He, Dee Nelson, George Gehres
and I used to run around with him.  He later got into
federal law enforcement.  Bill Hosmer