South Vietnam October 1969
Dr. Gary Wall and Gary Stokes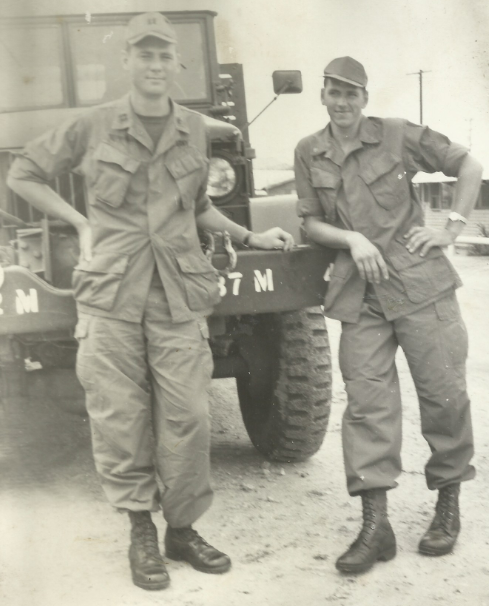 ====================================
Blog (149) posted on July 3, 2008

Folks, As you can see,  we got a lot of replies  to the Mike Poitra family photo.  Their family photo follows all your replies.
Thank you Neola for providing this photo.
From Michaela Poitra: 
Subject: RE: (148) Donna Dubois, Vickie Metcalfe, Ivy Eller, Dick Johnson (picture) & Paula Fassett…..
This is a reply to Ivy Eller, I am the neice to Esther Eller and she is still very much alive and she still lives in Dunseith.
I am Ginger (LaRocque) Poitras Daughter, Michaela , She is married to Anthony Poitra Tall, center one on top, The others are from the top Virginia, Dale, Ina Allery, Anthony, Vita Azure, Gene, Raymond, Second row, Peter, Esther Eller, Grandma(Josephine) Lesedo, Grandpa Mike (Deceased), Mabel Delorme (BEBE), Arnold (Sonny), Bottom Three Mary Ann Morin, Linda Morin, Geraldine Larson.
All of the Children and Grandma are still alive, All live in the area, and Mabel lives in Bismarck.
Michaela, I was hoping you would get this, because I know you mother does not get her email in the summer months when school is out.  Please tell her I am incuding her with this message. Gary
From Debbie Poitra Rondeau (77): 
Good Morning, Gary

This is to Ivy Eller, if your refering to Esther Eller, she did not pass away. She still lives in Dunseith. And her son Carl lives there also, Cindy I'm not to sure where she lives.
From Judy Allery Azure (65):
Hi Gary,
Just letting you know that the Poitra family are all still in the Dunseith area.  The mother of the family is Josephine Poitra(she is widowed) and she lives between Dunseith and Belcourt.  This family is Ginger LaRocque Poitra's in-laws.  Maybe someone could get a hold of Ginger and have one of the family get in touch with Neola, if not, one of  the ladies was married to my Uncle Clarence Allery  (his widow is Ina Poitra Allery), she is in the back row 3rd from left.  I believe my Aunt is living around the Dunseith area.  My cousins are living in the Dunseith area they are Barbara Allery Belgarde, Clarence Allery Jr, Carol Allery, Brenda Allery Parisien , and Marlin Allery.  Marlin is married to Sandra Udseth and she works for the Dunseith School system.  Maybe Neola could get a hold of one of them.
Sure nice reading all the e-mails and looking at all the pictures, you are doing a very fine job Gary and need to be commended always.  Its time for me to end  this  as have an early day tomorrow.  Take Care and God Bless.
From Kathy Casavant (Ellingson) (74):
Ivy, You were talking about Cindy Eller, She lives in Bismarck, Where I live , I see her every once in a while. I recognize faces in the Mike Poitra picture but can't remember any names.  Thanks Kathy
From Dick Johnson (68): 
Gary,
The guy in the back row and center, I think, is Tony Poitra who is
married to your classmate Ginger Larocque. I bet she will be contacting
Neola! Thanks.
Dick
Shirley LaRocque Wendt (59):
Hi Gary and everyone, Ginger LaRocque is married to Tony Poitra, Mike Poitra's son and they live in Belcourt. Tony's mother is still alive. Anyway just thought I would help you out with this one. Thanks Shirley LaRocque

Debbie Poitra's Rondeau's (77) reply to Neolo Kofoid Garbe: 

Hi Gary,

Thanks to Debbie Rondeau, the family members have been identified.  It amazes me that, except for the father, they are all living.  I'll try to call Geraldine tomorrow/Thursday.  I've seen several pictures with the Poitra name, so I might wait until I have time to sort the Dunseith/Belcourt/Rolla pictures before I determine how to get them to Belcourt.  I think Linda said she would pick up the Dunseith pictures.  After she has them, perhaps someone from Belcourt would pick them up from her (If the price of gas wasn't so high, I'd enjoy driving to Dunseith/Belcourt/Rolla and delivering them.).This will be sometime closer to the end of July, as I have commitments until then.

Here's Debbie's information:

Neola
Debbie Rondeau's email: You know every one of the family members are still living, except the Father Mike. And they all live in Dunseith and Belcourt. The mother lives in her same place she's living in the same place she's live for years. You could contact Geraldine (Poitra) Larson at 477-2600. That's her work number. She's the baby of the family, the bottom row at the very end in white jeans and lavendre top.

Top row : Virginia,Dale,Ina,Antonio,Vita,Gene, Raymond
Second Row: Peter,Ester,Josephine(Mother),Mike(Dad)Mabel
Bottom row: Maryann,Linda and Gerladine

And that's the poitra family
Names printed on picture by Neolo Kofoid Garbe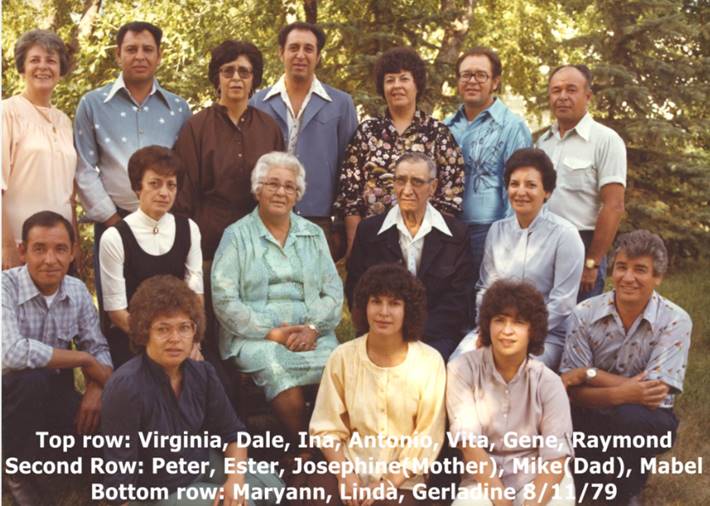 Picture provided by Neola Kofoid Garbe:
Note: I got the names out of the Dunseith book for this very same picture.
I see there are two Bertha's listed.  Gary
Annie, Bertha, Dave, Lester (Bud), Bertha, Marlene, Dorothy Kraft – 1969

Picture provided by Neola Kofoid Garbe:
Marlene , Rodney, Debbie, Brent & Bryan Armentrout – 1969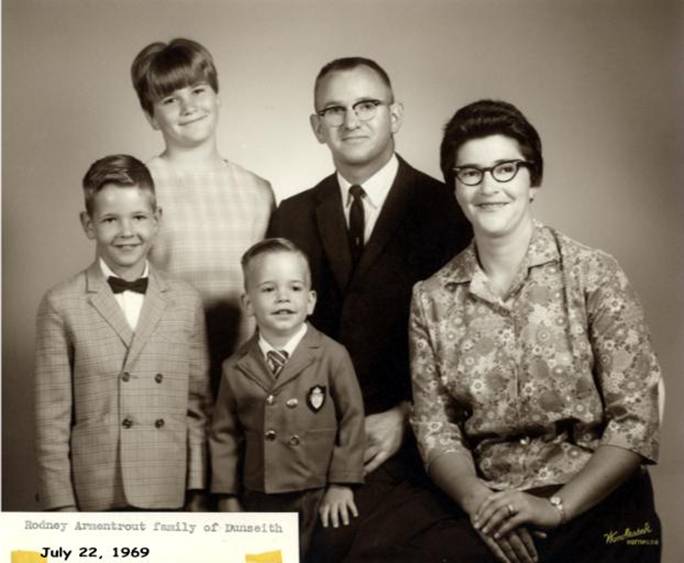 From Susan Fasssett Martin (65): 
I ran across this article in my dad's scrapbooks while looking for CCC information.  I thought the Morinville "kids" might like to see it. Hope it is reada     readable  If anyone would like printed copies of anything, let me Know.
Prayers, Susan
I know.     Susan, I also see Floyd (59)& Ann Pritchard's Wedding picture in this article too. They live up at Lake Metigoshe and are the owners of the Birchw   Birchwood resort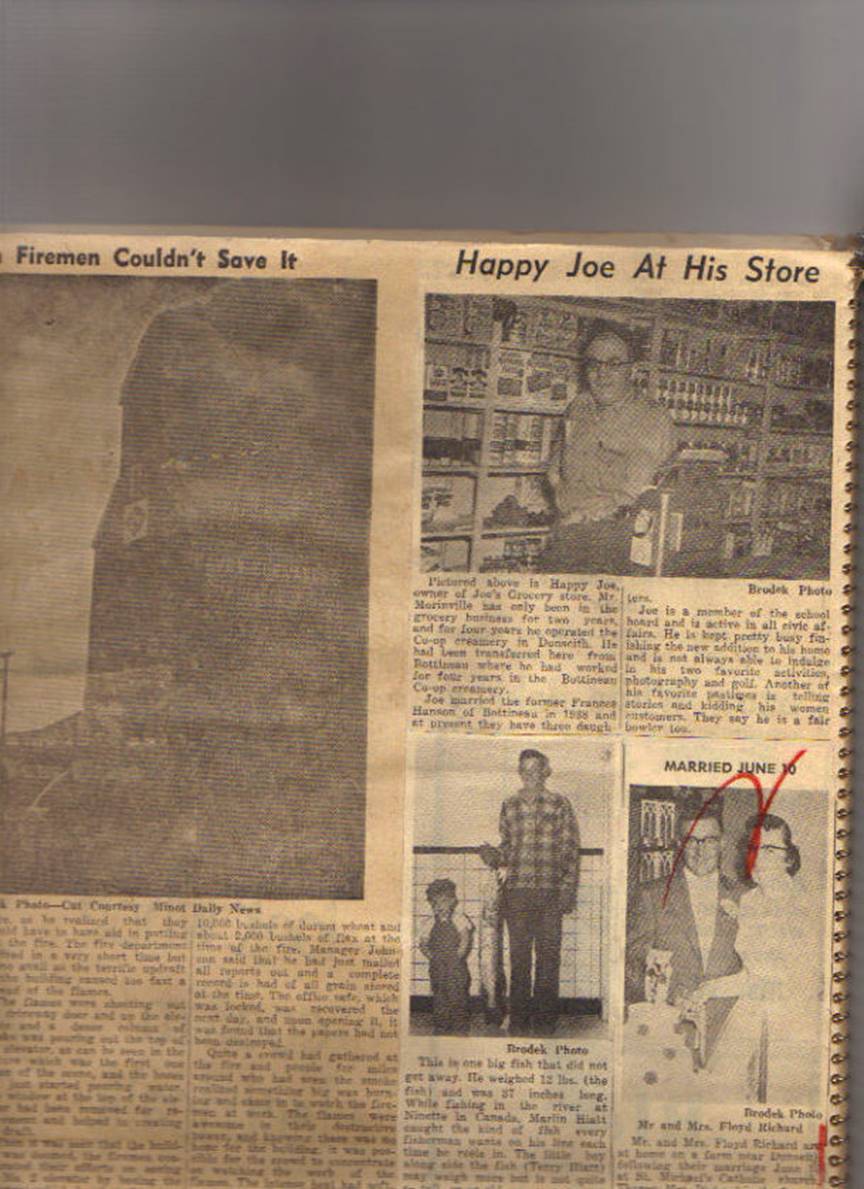 From Tim Martinson (69): 
Hi Gary, 
I have been researching this photo that was labeled Kramer CCC Camp that my mother had in a album that
she had made out of two pieces of plywood and construction paper.  I'm guessing that her brother Harold may
have been at the camp or maybe someone else she knew from the Rollete area . I could not find that much on
the internet but came across this site that had a reference to Kramer.  http://members.aol.com/famjustin/ccchis.html 
The site has a research link that explains how to get government documents which I will have to look into.  The 
Kramer reference was a biography for Lowell "Red" Moore.  After reading the biography I sent off the photo and a
explanation that as work in the area was finished the camps were decommissioned, the whole site was torn down
and at times everything was moved to a new site.  This may or may not have happened at Kramer.  This is the reply
I got from the son.  It is the little things in life that count.  Take Care,  Tim
Tim,
Got your email today. What a pleasant surprise. Yes indeed, that photo fills an empty gap in Pop's CCC folder. Pop was not there too long. But he related stories of being at Kramer. I really appreciate you sending the picture. Pop was there in 1941, I think. Thanks again for the email and picture. It means a lot to me. I don't have any pictures of Pop at Kramer, but do have some after he transferred to Lowell, Idaho. Thanks again so much.
Regards,
Larry W. Moore

Biography of Lowell "Red" Moore
CCC Enrollee, Company 766, Kramer, North Dakota & Company 5704, Kooskia, Idaho & Camp F-190, Lowell, Idaho
   My late father, Lowell "Red" Moore was born December 07, 1924 in Marmaduke, Arkansas. He completed the 8th grade in 1939 and worked as a farm laborer. He entered the CCC on January 12, 1942 at Little Rock, Arkansas. He was assigned to the 766th Company at Kramer, North Dakota. He later transferred to Company 5704, Kooskia, Idaho. He was assigned to camp F-190 in Lowell, Idaho where he did road construction and some fire tower watch duty. He later cooked for the officers mess making homemade biscuits and gravy for the officers on weekends. Pop's name was spelled Loyal, but he changed the spelling to Lowell during his stay at Lowell, Idaho Camp F-190.
   He was discharged on June 17, 1942. When he got back home he used what little money he earned to pay the family grocery bill. He was called for military service, but did not pass the physical. He and mom married in August, 1943. I was born in September, 1947. Pop worked in furniture stores, was a floor mechanic laying all sorts of floor goods. He later worked for Emerson Electric in Paragould, Arkansas as a Die Grinder.
   I lost Pop in March, 1985. In 1998, my son and I took some time off and went to Kramer, North Dakota to look up the CCC Camp. It was non existent and even the locals knew little about it. We went on to Lowell, Idaho in our quest. There we found the site of Camp F-190. One of the original buildings is still in use by the Forest Service and there is a small camping area on the banks of the Lochsa River. We camped there for a couple of days . It was great to spend time with my son at the site of his grandfathers CCC experience……….
—– Larry W. Moore