Message/Picture from Mel Kuhn (70): 
Mel, I am so sorry I missed this message of yours and Dick's with yesterday's mailing.  Gary
Howdy Gary,
Yesterday must have been a slow news day so I guess it must be time for me to throw in some more babble. I survived a weeks VACATION with my wife on a trip to Indiana. We went down to go to a reunion of her side of the family and her dad's 80th. birthday. I had never met any of her family except for her dad and sisters and kids. I hadn't been back to Indiana for 25 years and had forgotten about the 900% humidity there in the summer. It really made me appreciate the Turtle Mts. when we got back. My wife and her Dad took me on a trip back in the back country somewhere to see where the old family farm was. I swear I saw some little albino boy in bib overalls sitting on the front stoop picking a banjo back there somewhere. The sounds of pigs squealing was making me a little nervous. The drive down went fairly well and I was glad because I truely do love my wife and I didn't want to have to kill her. So I stopped and got a roll of duct tape and bound her hands so that she would keep her fingers off of the radio and AC buttons. I tried to explain to her that when you're on the passenger side you aren't allowed to touch buttons. Women just can't understand this. What's up with that anyway? Now I suppose Lola V. will be passing this on to my wife at work to see if she can get me in trouble again.
Well after a slow start here in the Turtle Mts the June berries are finally out and are real tasty. I hope this gets Larry Hackman to thinking about a June Berry pie. Do any of you remember when we used to really have a lot of berries. Some company would park a semi-trailer behind Hosmer's Store and would buy up all the chokecherries that the locals would pick. I was never any good at this as I would eat more then I put in the bucket. I have a couple of nice wild raspberry patches in my yard but never make anything out of them. I just go stand in the middle and eat my fill. Lots easier then baking a pie.
I'm hooking on a picture of my son Ricky who is in the Guard and is scheduled to be deployed to Kosovo '09 sometime. Well I guess that's enough babble for now.
Mel Kuhn[70]

From Dick Johnson (70): 
Gary and Friends,
One time in the early 60s, I cut the end nearly off my left thumb when I
picked up a jar that was cracked. I grabbed the jar tightly, thinking it
was heavy and it broke in my hand! I ran into the house, while squeezing
my thumb to stop it from bleeding. Mom was taking a nap on the couch and
when she woke up and looked at my thumb, she fainted and fell back on
the couch! I ran up to the clinic but no one was there–it was Saturday!
The only other place I could think of to get help was the drugstore. I
went in and walked to the back and asked Glen Shelver if he could help
me. He took me in the back of the store to a sink, and then said to let
go so he could see it. When I took the pressure of it was still bleeding
bad! Glen had some powder of some kind that he put on the wound and it
stopped the bleeding he then cleaned and bandaged it and said to be
careful not to bump it on anything. The last thing he said was, "And
don't ride your bike"! I went home and showed Mom how Glen had fixed me
up, much to her approval! I sat around for a while and then decided to
head over to Campbell's to see what Rich was up to that afternoon. Well
as I walked past the garage, there sat my bike! I hadn't tipped that
bike over for a long time, why walk?!? I took off like always, cutting
through between Hassen Murray's and Marie's Beauty Shop, jumped off the
curb and rode across Main street, like always! When I got to the curb on
the other side of the street, by the Dakota Hotel, I went to jump back
up on the curb there, but with only one hand on the bars, the bike jack
knifed and I flew off, landing on the sidewalk ON MY BAD HAND! I sat up
and looked just in time to see the bandage turn red! I walked back into
the drugstore and back to see Glen! The first words out of his mouth
were, " I TOLD YOU TO STAY OFF THAT DAMN BIKE"!! He fixed me up again,
but this time I pushed my bike home and left it there!! I am sure I
should have had stitches, but my thumb healed perfectly, with only a
scar, thanks to Glen Shelver! The comedian, Jackie Gleason, once said
that nowadays when a kid gets sick, they get him a private nurse, when
he was a kid he broke his leg and his old man took him to the drugstore!
How true! Thanks Gary!
Dick
Irene Pigion's Obituary provided by Vickie Metcalfe (70): 
Gary, I  copied the following for your information;
Irene Pigeon is dear Lise' ( Rousseau) (DHS Class of 64)  Metcalfe's mom.  Vickie
Lise/Larry Rousseau-Metcalfe
3029 34th Ave SW  #230
Fargo, ND 58104
(701) 364-5410
No email address
Irene Pigeon, 88, of Fargo, died July 22, 2008, at Elim Care Center in Fargo, ND.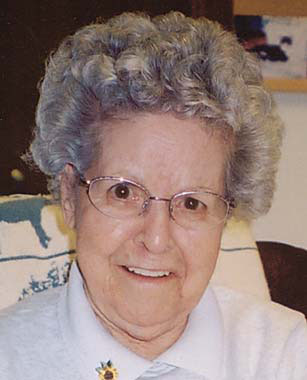 The daughter of Jeffrey and Marie Pronovost, Irene was born December 19, 1919, at Lac a la Tortue, Quebec, Canada where she grew up and attended school.
On July 8, 1944, she married Roland Coutou at Grandmere, Quebec, Canada. He died June 8, 1946, of a work-related accident.
She remained in Canada until 1950 at which time she married Joe Rousseau on November 25, and they moved to North Dakota where Joe farmed. In 1956 they moved to Dunseith where she worked at San Haven Sanitarum for fifteen years. Joe died November 12, 1969.
Irene then married Romulus Pigeon on June 15, 1972. They lived in Dunseith until his death in 1979. She then moved to Carrinton, ND.
In 2003 she entered Elim Care Center where she remained until her death.
She is survived by: her daughter, Lise Metcalfe (Larry) Fargo, ND; grandsons, Brian (Kiki) Columbia, CA, and Christopher (Kristina) Fargo, ND; brother, Clement Pronovost, and sister, Liette Boulet (Aime) both of Montreal, Canada.
Memorial service: Saturday, July 26, 2008, at 2 p.m. at Hanson-Runsvold Funeral Home, Fargo, ND.
Please sign the online guestbook at (www.hanson runsvold.com).
From Bev Morinville Azure (72): 
THANKS  FOR  ALL THE PICTURES OF  OUR  SERVICE MEN, WOW  YOU GUYS  ARE  THE BRAVEST OF THE  BRAVE  THANK YOU FOR  ALL THE  SERVICE  YOU  DID  FOR  THE GREATEST  COUNTRY IN THE WORLD  EVEN IF THE USA  HAS MANY PROBLEMS WE ARE  STILL THE GREATEST AND IT IS  THANKS TO THE SERVICEMEN AND WOMAN !!!!!!!!!!!!!!!!!  IF YOU LOVE YOUR FREEDON THANK THEM NEXT TIME  YOU SEE THEM THEY  NEED OUR  SUPPORT 100%  BEV

  GOD  BLESS YOU …………BEV

From Dick Johnson (70): 

Gary and Friends,

Thanks to Neola, Ele, and Kenny for the pictures and stories. The

picture of the group was taken in Peace Lutheran Church in Dunseith, and
I believe was a group photo of the Bible Study group that did the Bethel
series Bible study. It had to be in the early 70s, as the church was
built in 69-70. Ele, thanks for the pictures of the plane and Tex
DesRoches. The car in the picture is a 1939 Chevy. Kenny, thanks for
sharing one of your Nam experiences. Many of us are unable to even
imagine what you guys went through as ground troops during your time
there. Thank you!!

Dick


From Lola Metcalfe Vanorny (68): 

HI Gary!!–  this was fun to get!  They are all Lutherans so I assume it

maybe was a choir- although I don't recall my folks being in the choir-
seems like it is probably about 1969.

or maybe a Bible Study group "The Bethel Series,  just my guess–  thanks
Gary – I really panic if my Stokes blog isn't there  right away in the
morning!!–

Lola (metcalfe) Vanorny

Picture L to R:
4th row: Clarence Bye, ?? , Coonie McKay,  Erling Berg, Stan Salmonson,  Cliff Salmonson,  Art Henning,  Ingolf Medlang

3rd row: Joan Salmonson, ??,  Helen Bye, Agnes Salmonson,  Ella Metcalfe,  Dorothy Halvorson

2nd row: Irene Henning,, ??,  Delores Berg , Bernice Johnson, Caroleen Williams,Alma Halvorson, Alice McKay

Front row: Don Johnson, Art Rude, Cliff Halvorson, Lawrence Struck, Lester Halvorson, Jim Metcalfe, Don Williams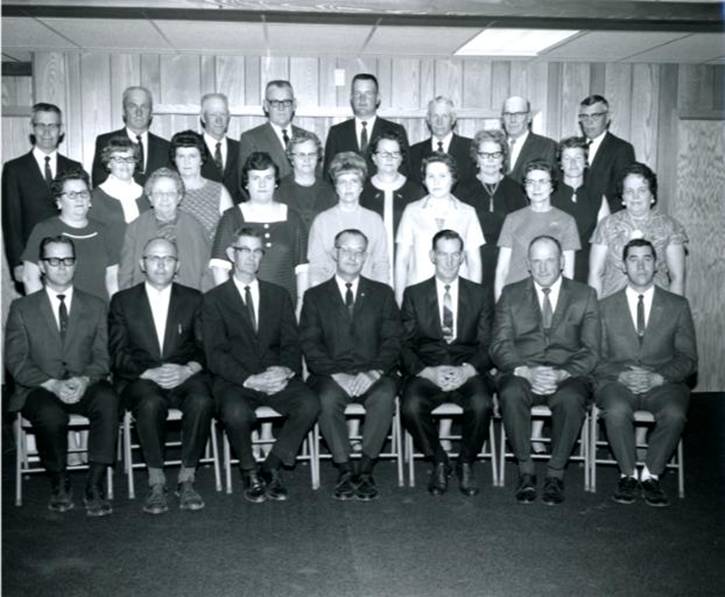 Pictures provided by Neola Kofoid Garbe:
Do any of youknow the folks in these two pictures?  Gary