Folks, I had another nice visit with Orvin Hagen today.  Orvin is doing great!  He's still the same Orvin, always on the go.  Orvin is 87 going on 88.  He was born July 14, 1921.  Gary
Message from Vickie Metcalfe (70): 
This past weekend, I had a discussion with 99 year old Elmer Rush regarding Pete Poole. Elmer's  deceased wife, Sylvia was my mother's cousin, they were married in 1928.  As newly weds, they lived the first few months of their marriage in the Maxbass area and moved to the hills of the Turtle Mtns  east of Highway #3.  Elmer and Sylvia were neighbors with Pete.  Elmer said, Pete was a veteran of WWI  and he carried those combat scars.  Pete  was kind and helped many farmers with choring. He had a trap line and trapped mostly muskrats for living through the winters. The Rushes then moved further east  to the "Hosmer Place"and became  neighbors of  the Murray's who were a sister and brother.  Elmer shared, "They lived in a house along side of Carpenter Lake, the sister lived upstairs and her brother downstairs. They had a few cows that they tended. We'd go visit them but, they never went anywhere out in public as Murray came back from WWI  with, "shell shock" ."  Elmer celebrates birthday #100, at the Rolla Community Center on Saturday, October 18, 2008
Reply from Neola Kofoid Garbe:
Hi Gary,
Thanks to Ivy for this info.  I remember the tower well; I've always been rather "chicken" (and over-weight!), so I don't think I even got up one step!  What I'm really writing to say, is I never knew the tower was on Marlin/Julie Dahl's land; I always thought it was on Clarence Larson's land–maybe I have the wrong tower in mind. A person is never too old to learn new info and correct old ideas/thoughts.
Neola
Neola, I'm not aware of any tower that was on the Clarence Larson farm, although there may have been.  The Clarence Larson farm was located about 1.5 miles west of The Dahl farm.  Clarence's farm was located about 1/4 mile south of # 43 just over the hill east of Lake Metigoshe.  The Alfred (Virgil) Rude farm and the Earl Roland farm are in-between the Dahl and Larson farms on #43.
Neola Kofoids reply to Colette Hosmer for scanning her article: 
Please tell Colette she is most welcome.  I was so glad I visited with Nancy's daughter, Christine, so I knew about the article.
Neola
Message/Picture from Dick Johnson (68): 
Gary and Friends,
In answer to Sybil Johnson's question on a fort in Dunseith, I'm willing
to bet Augie showed you the old Riverside Hotel along the creek. It was
about the first building built in town and served as the headquarters
for the cavalry troop as well as a hotel. It survived until the 1960s
when it was torn down. Again, this was considered 'progress' and
necessary in keeping a modern image for the town. The last people to
live in the building were Darrel and Lorna Abbey and I asked Darrel to
draw me a floor plan of the building, which he did and I still have. I
was asked to design a belt buckle for the 1982 Dunseith Centennial. I
did this and used the image of the Riverside Hotel as the central focus.
I corrected my original design to read Dunseith–Dakota Territory,
rather than North Dakota, because Dunseith was established 7 years
before North Dakota became a state. I worked with Rod Hiatt on finding a
company to cast our Dunseith buckle. We found a place in Norman,
Oklahoma that had a good reputation, and had them make the buckles. I've
worn this buckle every day for years and it still looks good. I'm
attaching a picture of it to show the Riverside Hotel image, or Cavalry
post, depending on it's use at the time. Thanks Gary!
Dick
Dick, In 1982 my dad gave me one of those belt buckles along with a heavy duty leather belt, of his, for my birthday. From 1982 until 2002 I wore that belt with that buckle nearly every day.  In 2002, when I was Temporary Duty (TDY) working a Submarine job at Kings Bay Georgia, the belt came apart where the buckle attached. I purchased another belt from one of the flea markets in the Jacksonville Florida area and wore it, with that buckle, until a year ago, when the belt came apart.  When dad died, I got his buckle too.  All these years I never knew who designed that belt buckle.  Now we know.  You did a wonderful job designing that buckle and having it cast.  I had many nice compliments about that buckle.  Are there any available today that folks can purchase?  Gary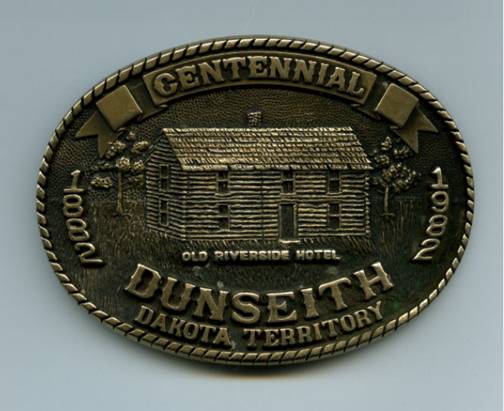 Folks, Putting these class lists together, I am pretty sure that Clarence Hagen, from the class of 1934, is the oldest living to have attended and graduated from Dunseith High school. Clarence was born December 31, 1914. I think that is what I remember Mary Ann telling me. I know it was the end of December.  Hagen sibling's, please correct me if I'm wrong. Gary
                               Dunseith High School Class of 1934 & 1935
 
Last
First
Address
City / State / ZIP
Phone
Email
Class of 1934
1
Boucher Gottbreht
Alma
Born December 11, 1917    –    Died August 8, 2005
Deceased
2
Carlson
Carroll
Born October 10, 1914    –    Died May 5, 2004
Deceased
3
Casavant Martineau
Marie
Born March 18, 1916    –    Died October 4, 2001
Deceased
4
Cook
Robert
Can not locate death record
Deceased
5
Dailly Bissonnette
Irene
Born February 23, 1915    –    Died February 1980
Deceased
6
Egbert Lilleby
Margaret
Born September 26, 1916    –    Died Februay 8, 2003
Deceased
7
Evans
Mary
Born in 1918    –    Died at San Haven in 1944
Deceased
8
Gottbreht Hendrickson
Arla
Born September 5, 1917    –    Died February 18, 2002
Deceased
9
Hagen
Clarence
1013 Sinclair St
Bottineau, ND 58318
(701) 228-2998
No email address
10
Hagen Banister
Thelma
Born April 1, 1917    –    Died August 1986
Deceased
11
Howery
Eva
Eva was a sister to John Aitchison's mother. John was in the class of 1947
Deceased
12
Sanders Washek
Henrietta
Born in 1920    –    Died of cancer in 1946
Deceased
16
Sanders Carpentier
Lodena
Burns, OR
(541) 573-6524
Son Dan lives next door 541-573-3254
13
Tennancour Larson
Easter
Sister to Alice Evans Berube
Deceased
14
Watkins
Charles
Born March 3, 1917    –    Died December 7, 2000
Deceased
15
Wicks
Gwendolyn
Courtrie or Courturie??
Nebraska
Unable to locate
Class of 1935
1
Jolibois Wilkie
Martha
unable to locate
Married John in 1938. John died in the 70′s
2
Murray
Agelina
Unable to locate
Martha Lamb's (68) Wedding provided by Neola Kofoid Garbe:
Folks,
Part of the article was cut off and omitted with yesterdays Blog. I am reposting this today with the complete article.  I did not notice that until after it was sent. 
Gary