Bob Stokes' 100th birthday.
Happy Birthday to my wonderful father, Bob Stokes. He was born September 2, 1915. Today would have been his 100th birthday. We lost him in August 2000, so he has been gone 15 years now. We dearly miss him too. He was a people person and loved to tell stories. His stories always had you in suspense for the punch lines. He could tell them well.
The day of his passing was one of the worst days of my life. I was so fortunate to have spent 2 solid weeks with him several weeks before his passing. In those two weeks we visited lots of people in the hills (Turtle Mountains), Dunseith and Bottineau. That was his thing. So enjoyable. He did the driving too.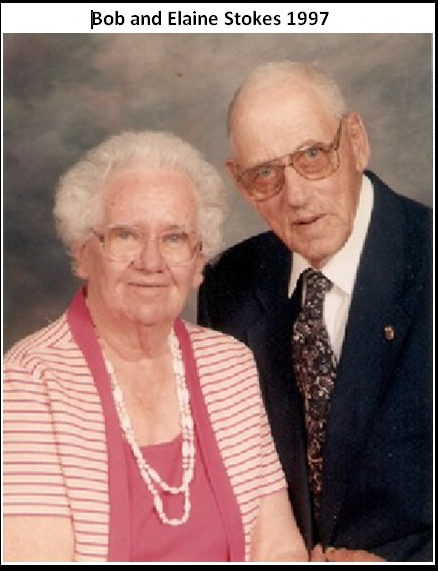 Happy Birthday Gary Metcalfe ('57): Forsyth, MO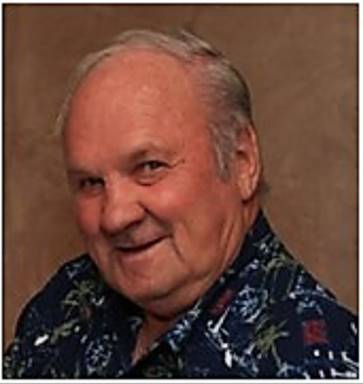 Connie Halvorson ('64)
Reply from Sharon Zorn Gerdes ('62):  Windsor, CO
Gary, I just have to comment-  that photo of  Connie Halvorson reminded me that she is  just one of the nicest people I was privileged to know, and she is still just SO  beautiful and classy.  She rode the same bus as we did and was so quiet and sweet. Good people up there.
Gary Stokes' comment
Sharon, I totally agree with you 100% with your comments about Connie. That's just the kind of person she is.
Our Trip back to North Dakota
Posting from Keith Pladson ('66):  Roanoke Rapids, NC
Gary,
Just thought I would drop you a line reference our trip back to ND.
First, let me thank you, Gary, for picking up the tab at the Bakery in Bottineau.  When I asked for our check that Sunday morning and was told you had picked it up I was flabergasted.  There were quite a few of us.  A late, but very sincere "Thank You" from all of us in our group!!!
I am glad we were able to work it out so you and our cousin Ron Cain could meet for the first time.  I always enjoy much my visits with Ron and his wife Diana.  I only wish Ron and Diana could have spent a little longer in Bottineau.  And as always it was fun seeing and visiting with you again Gary.
Alice and I really enjoyed our visit back to ND.  It had been four years since we last visited ND (not including my brother's funeral in 2011), so we had a lot of catching up to do.  Perhaps of interest to you Gary, Alice and I (and my sister Florence and Clem) had a very good visit with Carl and Shirley Melgaard.  Carl was in good spirits, given all he has been through, and both he and Shirley looked good.  I had not been in their yard since I worked for them in 1966.  The yard looked pretty much as I remembered it, except for their house which they had replaced with a beautiful house that Carl said he had built.
We also enjoyed the Pladson Family Reunion which was open to all living heirs of Olaf and Thyra Pladson (my paternal grandparents).  Although none of Alice's and my children/grandchildren were able to attend for various reasons, there were a lot of attendees and many whom I did not know or had never before met.  It was a good day, good weather, lots of games and food and fun for all who did attend.  A special thanks to my sister, Tina (Thyra) Bullinger and my cousins Allen Pladson and Terry Olson for all their efforts in putting this together.
Now some general observations I made of or during our trip:
We chose to drive, even though it is a lot of miles.  This allowed us to stop in Louisville, KY on our return trip to spend a few days with one of Alice's sisters and to visit with many of her other relatives.  It also meant we didn't have to put up with any part of the airline industry.  I have flown on way too many flights in my lifetime to be able to count them (probably well over a hundred individual flights).  And I always used to say that flying was one of the most relaxing and enjoyable ways to travel.  But alas, I no longer say that.  To start with the last few times I have flown I have been treated like some kind of terrorist at the airports.  I have had a knee replacement, so have some titanium parts in my leg that always sets off their security machines.  And I always try to explain that to them – even offering to let them see a special card from the surgeon that I carry in my wallet.  But no, invariably, they always want to wave their magic wands all over me and then pat down my entire body like I must have something really, really dangerous hidden somewhere that is setting off all their machines.  Meanwhile we continue to hear stories about how unauthorized items are allowed through those very same machines all the time.
Then you have the airlines.  Where it used to be that the fare covered everything, to include full course meals and unlimited non alcoholic drinks, now there is a separate fee for everything: checked bags, pillows, blankets, anything to eat other that a small bag of pretzels and a half can of soda, watching a movie, and even for carry on bags with some airlines.  Meanwhile they have narrowed the seats and shrunken the leg room between the rows of seats to the point where the word comfort should no longer ever be used in conjunction with the words passenger airlines again.  So unless you can afford and are willing to pay for first class seating, flying is more like a torture test and nothing resembling enjoyable.
Anyway, driving always allows us to see so much of this great country.  And it allowed me to think back over the years when our kids were young and we made similar trips by car out of financial necessity.  The trip from either Virginia or North Carolina to North Dakota takes one through some of the most productive farm land in the world.  And also some of the most beautiful and scenic area in the nation.  But, I couldn't help noting the changes that have taken place over the thirty to forty years that we have been doing these kinds of trips.
First, even though the maps don't show it, I know the world is expanding because the distance is increasing.  What used to be a long, long two day drive or more often a comfortable three day drive in each direction, is now always at least a long and uncomfortable three day drive in each direction and sometimes four days.  And where potty breaks were only done when absolutely necessary (to avoid accidents, if you know what I mean), now they are often done just to stretch the legs and other muscle groups, or more likely, just because the rest stop was there.
On a more serious note was the changes I noted in farming that have occurred over the past forty or so years.  Perhaps it was because we made our trip at the precise best time of the growing season, or perhaps because this year virtually all of the areas we drove through had received just the right amount of rainfall, but all of the crops looked really good.  Lush green field after lush green field after lush green field.  A few thing stood out much more than others, however.
First was the changing of the types of crops planted and growing in each state.  Here in North Carolina the main crops are cotton, peanuts and tobacco, with some corn, soy beans and small grains too.  As you travel northward and westward you quickly run out of the cotton, peanuts and tobacco fields, but you see a lot more corn and some increase in the number of fields of small grain.  As you get into Indiana, Illinois and Southern Wisconsin you see almost exclusively corn and the corn crops are often 10 feet high or more.  Then as you travel north in Wisconsin, you start seeing less corn and more hay fields and small grain again.  Into Minnesota you start to see new crops like sun flowers and canola and of course corn, small grain and hay fields.  Finally, as you approach North Dakota, you start seeing many more fields of small grain as well as sugar beets and potatoes (especially as you drive north up I29).  But the one common crop that we seen in every state we traversed was CORN.  Corn, corn and more corn – millions of acres of corn.  And unless something drastic happens between when we drove through all those miles and miles of corn fields and when harvesting takes place, I can't but see a true bumper crop this year.
But perhaps the biggest change I noted that has taken place in farming and was clearly obvious in every state we drove through was the almost total absence of fields in summer fallow.  In fact it wasn't until we were in North Dakota and driving between Minot and Bottineau on Hwy 5 out by the Westope corner that I saw a couple fields in summer fallow.
One last observation was the number and size of the wind turbine fields that are being built across the nation.  Some of the fields in Indiana stretched as far as one could see and easily contained hundreds of individual turbines.  Of course for many readers of the blog you only have to go south on Hwy 3 toward Rugby to see them.
Alice and I hope Bernadette is feeling well.  Our prayers and many good thoughts go her way.
Thanks for all you do Gary,
Keith Pladson (66)
Gary Stokes' Reply
Keith,
It was so nice that our timings were right to be able to see you folks back in Bottineau.  Actually I am pretty sure that you arrived a few days earlier than planned so that we could meet. I really appreciate you having done that too. I enjoyed meeting Ron Cain, your first cousin and my 2nd cousin. His mother , Lillian Thompson Bergstrom, is the oldest living Dunseith High School Graduate too. She graduated in 1936.  She is nearly a hundred with all of her facilities too. She has some hearing loss, but her mind is fine.  Lillian was a sister to Ella Pladson. Their mother was a Stokes, sister to my grandfather Frank Stokes.
I have pasted a picture below of our gathering at the Bottineau Bakery. Terry Olson's mother, Adeline Pladson Olson, was a brother to Keith's dad, Eldon Pladson
====================================
Blog (340) posted on January 16, 2009
01/16/2009
Temperature report from Evon Lagerquist (77):
Hi Gary, Thought I'd let you know, we had a toasty -50 or lower ( that was as low as my thermometer would register), this morning in the hills! Don't you miss weather like this?
Man, It's cold up there in the hills in the Ackworth community. It's currently noon here in the PI and the temp is 88F. That's a 138 degree difference in our temps at the moment. I remember those Nylon tires having a flat spot from sitting in the cold. At times we'd have to drive several miles, with rough riding, before they'd be rounded out again.

I just now recieved Martha's message posted below. It was -52 in the Newberg area this morning too! Gary
Reply from Marth Lamb Schepp (68):
Hi Gary and Monte,
Lynn and Shane are going to the Mohall Seed Show tomorrow where they will have a booth for the Souris River Coop. I will send this with Lynn. I'm sure Shane will enjoy your information. I just heard on the news that Newburg's own Leonard Walsh, who is our local meteorologist recorded a whopping -52 this morning. Wow!
Monte, I also remember how excited we were when the oil rig was set up north of your parents home. And the country school days. I wish I could remember the rules to kick the can. Suppose there might be danger involved with such a game at school these days. Martha
Reply from Julie (Knox) Seier (82):
Gary,
Once again, thank you for doing this. It is amazing the things
that come up here that bring back childhood memories for me.
First off, the squeaking of the runners on the sleigh as the
horses pulled a load of wood or a load of hay on a quiet winter
day in the Trutle Mountains. I can still smell the smoke from
my Dad's cigarette that he rolled himself, from the Prince
Albert tabacoo can, on the way home from whatever it was we
were hauling that day. My Dad had a team of horses on the farm
up until about 2003 so my kids got to have the fun sleigh rides
in the winter as well. We mostly used them for work when I was
a kid but every now and then we would have friends come to the
farm and he would give them a sleigh ride too. Not too many
folks my age can say that they used a team of horses for farm
work! I would have much rather hauled hay or wood or cleaned
the barn than do housework!
I remember Martin Belgarde too. He and my Dad used to hay
together for many summers lots of years ago. The one thing that
I can remember about him distinctly was that he always drank
cold coffee. When we would bring them lunch in the hay field he
always had his jug of cold coffee. He said it was the best
thing in the world to quench his thirst. (YUCK!!) Because he
was diabetic he kept candy bars in his lunch box too. Once in
awhile he would slip them to us girls for a treat! He was such
a nice man.
Monte, I met Shane Lester a few years ago when he was a student
at MSU-Bottineau. Luann came to know him and found out we were
realated. Fun young man.
Mark Schimetz, thanks for the photos from Aunt Minnie Flynn's
birthday party. I was sad that I had to miss it.
Again Gary, thank you so much for your hard work.
Julie (Knox) Seier class of 1982
Reply from Marie Staub Iverson (60):
I want to add my thanks for all the great emails you send out each day I look forward to reading them ever morning.
Most of the time I recognize the names of several of the people but this morning I was surprized to read the message from Dale Pritchard as he mentioned one of my many cousins Allen Beckmen who was married to Lois and I was wondering were he was as after his dad George Beckman passed away I haven't had any
contact with him. His mother was my mothers sister who passed away several years ago. I also wonder were his brother Irvin is as when we were younger we spent a lot of time with them .
So it's great to here he's in Golden Colorado.
The message from Dwight Lang brings back a lot of memories of school .I hope everything goes great for him as I'm sure it will . I sure remember his mother- a great lady. One year she sent me a bunch of things
that they had left from one of the reunions which I was not able to attend.
Thanks again Gary for all this great infomation.
Reply from Dave Slyter (70):
Dwight Lang:
Just want to pass on a word of good luck to you during your medical procedures for your cancer. Hopefully they caught it early so it won't be much of anything. When I seen your picture it reminded me of when you hired me to go down and clean your dad's house. It was a fun job as your dad always had a challenge for me to clean up. ha But I always managed to help him out anyway I could. So you take care and our thoughts and prayers will be with you thru this medical ordeal.
God Speed,
Dave Slyter (70)
Reply from Judy Allery Azure (65):
Gary & Neola,
The picture with the date January 20,1973, is my cousin Rita Keplin Gable. Rita is a school counselor in the Dunseith School system. Neola you should be able to contact her there. Not certain of the others, thanks Gary & Neola for all the wonderful pictures and information concerning Dunseith. By the way Gary I have a Bachelors Degree in Business Administration. I was recently hired at Cultural Divesity Resources in Fargo, I am the Program Manager for the new Native American Center, very excitig positon as I get to meet so many new people from North Dakota and Minnesota.
Well Gary, the weather is suppose to change this weekend, we are expecting above 0 by Saturday. I guess we live in this beautiful state because we LOVE everything about it.
I must sign off for now so until next time all take care. Sorry to hear about so many with illnesses, I will be praying for you all.
Judy Allery Azure
Judy, Congratulations with your new job. I have reposted Rita Keplin Gable's photo below. We have a number of folks working in the Dunseith schools on our list, so I'm hoping Rita sees this. I just checked the Dunseith school WEB site and Rita is listed on their staff page. Thank you Judy, Gary
Reply from Mona Dionne Johnson (48):
Gary: Unknown pic #2 is of my cousin, Judith (Bailey) Foley, who
lived in Rolla. Her dad worked for the Turtle Mountain Star.
Mona Johnson (48)
Reply from Bonnie Awalt Houle (56):
It is wonderful to wake to your messages each morning. Certainly enjoy hearing from everyone especially on mornings when the temperature is -26 in Minnesota.
The girl in the unknown photo #2 is Judy Bailey Foley. She is the daughter of Harvey and Hulda Bailey, and a graduate of Rolla High School. She has been married to Robert Foley of Rolla for 50 years. She is a retired teacher from Willmar Minnesota, her husband Robert is a retired Media Specialist of the school system.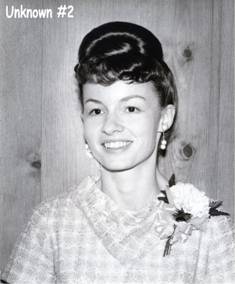 Folks, for those of you that have been following the trail of messages, Randy Hiatt recently discovered the Jim & Ella Evans Metcalfe siblings and vice versa. They are first cousins. His biological father Bing Evans & Ella Metcalfe were siblings. The following is a message trail between Geri Metcalfe Munro and Randy. Randy's mother was Delores Hiatt Berkland. Gary
From Geri Metcalfe Munro (59):
Hi Gary,

MANY THANKS for connecting us with Randy Hiatt–we are sharing info with him (not all for publication on the blog). I'm adding this one because I mention that the Evans family had all moved away by the time you were born, except Aunt Nellie (Evans) Byre. She has two daughters in Minot, one in Rugby, etc Nellie never did leave ND–she lived at Kramer, ND where Bing died while doing carpenter work on the school there. We are as pleased as Randy is about all of this connection.

Of course, Mom and all her siblings are deceased.

Geri Metcalfe Munro