Happy Birthday Corliss Allard Habets ('66): Kevin, MT

Happy Birthday Richard Slyter ('67): Dunseith, ND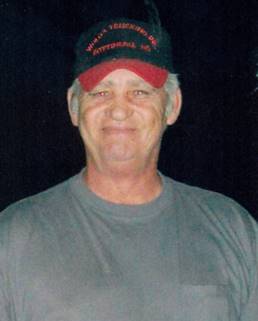 Ed Seim Passed away (DHS '49)
Posting from Margaret Seim Lawston ('54):   Citrus Heights, CA
With sadness I am reporting the death of my brother, Ed, after a long illness with Alzheimer's. He died on July 21.He graduated from Dunseith high school in 1949. The son of Arthur and Eva Seim.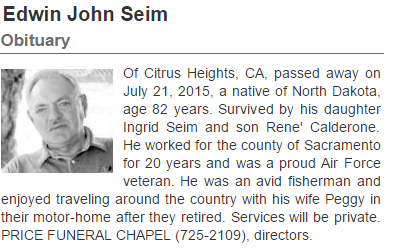 http://www.legacy.com/obituaries/sacbee/obituary.aspx?pid=175370209
Our condolence are with you Margaret and all of Ed's family with his passing.   Gary
Jim and Ruby Birkland celebrating their 80th Birthdays
Posting from Vickie Metcafle ('70):  Bottineau, ND
Date: Sunday, Sept 20, 2015
Location: Peace Lutheran Church in Dunseith.
Gary and friends,
I am letting  all of you know,  of an upcoming celebration on Sunday, September 20, 2015 at Peace Lutheran Church.
I was happy to hear from the pair of them just moments  ago at Wal-Mart ,  good neighbors and family friends;
Jim and Ruby intend to be  celebrating their early 80th birthdays together on that day.
I wanted  to be sure to remember that special date  of September 20 2015;
I best remember  important stuff when I write it down;
I am writing on the blog to share with all of you who know them.
Jimmy is one of those phenomenal musicians of the hills,  as well as  a professional carpenter.
And, Ruby ? ( as Mrs. Anthony used to  say…."I hear you have a wonderful garden this year…"
Ruby grew wonderful things in her garden.
Everything you can imagine she can grow it.
And, together they farmed and raised three children.
Others may recall Jim and Ruby dancing together; their great, easy, smooth  going  personalities match exactly how they dance!
Together Jim and Ruby,  have Schottisched, Two -stepped and waltzed together for 59 years!
If anyone else gets an opportunity to dance with either of them.
It is a treat.
I know because whenever dancing with Jimmy ..I flew!
You  who love to dance,  will know the real true meaning of " flyin"
And, you will know once you  have danced with  a couple of  the best!
Next year they tell  me they  will quietly celebrate their 60th.
Happy 80th Birthday's Jim and Ruby Birkland as you dance through life!
May you celebrate many more!
Until later. Vickie Metcalfe

Gary Stokes' Comment
I remember well when Jim and Ruby were married. I was only 9 years old. Their first home was on the Johnnie Hiatt farm, now the Fauske Farm. They were our only neighbors to the north. One mile north and ¾ mile west from our farm. I remember well seeing them going by our house. I don't remember the make of their car, but I remember well it taking both of them to drive it. Those were some tough years, but they weathered them well.
Reply from Ginger LaRocque Poitra ('65):  Belcourt, ND
Hey, Gary! Congratulations on your twin grand boys. This is great!  That is crazy, for them to have different birthdays.  I am sure Bernadette is excited also, and with good reason! Say congratulations to the proud parents! This is awesome! They really look JUST ALIKE, very handsome!
Thanks Gary
Ginger
Gary Stokes' Reply
Thanks Ginger
Reply from Mel Kuhn ('70):  St. John, ND
Gary,
Congratulations on the twin grandson's. How amazing is that? Pass my congratulations on to your son and his wife for me.
Mel Kuhn
Gary Stokes' Reply
Thanks Mel
Reply from Vickie Metcafle ('70):  Bottineau, ND
Congratulations to Grand Papa and Grand Mama  Stokes , on the birth of beautiful  twin grandsons;
an amazing miracle, you were doubly blessed with  beautiful little boys on different days.
~You each can hold one at a time. Then switch~
How  fun and great  that is !
Vickie
Gary Stokes' Reply
Thanks Vickie
Rely from Colette Hosmer ('64):  Santa Fe, NM
What fabulous news!  Congratulations––two beautiful, perfect baby boys have joined the world.
Gary Stokes' Reply
Thanks Colette.
====================================
Blog (342) posted on January 18, 2009
01/18/2009
Reply from Doreen Bailey (Vance's wife):
Gary, To answer your question: Yes Judith Bailey Foley is related to Vance
Bailey, they are cousins. Judy's father Harvey Bailey was, Vance's father,
Virgil Bailey's Brother. Virgil and Harvey were sons Mahlon Bailey and
Frances Anderson they had the farm on the Hill north of Dunseith . Harvey
worked for the Rolla Turtle Mountain Star from 1928 to 1980, Judy went to
school in Rolla. Doreen Bailey
Vance Bailey and Judy Bailey are cousins. Vance's Father, Virgil Bailey is the Brother of Judy's Father, Harvey Bailey. Judy is also an author, she writes short stories and poems. We should get her signed up on your Blog.
Certainly enjoyed the snow pictures from ND. they have more snow then Minnesota but we aren't jealous, THEY CAN KEEP IT!!!!
Reply from Mona Dionne Johnson (48):
As I remember when Vance & Wayne stayed with us at Lake Metigoshe, we
used to comment on both sharing an uncle, Uncle
Harvey Bailey which was Judy's dad. So, I guess that would make them
first cousins.
Mona Dionne Johnson
Neola Kofoid Garbe's reply to the Bailey wedding picture posted in #266:
I mailed just the one of Judith to Judith. I had a nice visit with Judith yesterday before I left Bottineau. I still have this picture. Judith mentioned her sister who married a Martinez and one who married a Perrin, so I was going to keep an eye out for them. Here it is!! WOW! Judith has email, but would rather not give it out; she would rather I send pictures to Marlene Henderson and have her forward them to her.
Lloyd Awalt called a few minutes ago and said he recognized Judith. She is a cousin of Vance Bailey, and so is Lloyd. Mothers were Andersons, I think. I told Lloyd I had a nice visit with Judith yesterday, and I was sure she would enjoy hearing from him. I just sent Judith's phone number/mailing address to him. From Bonnie Awalt Houle's info, I was able to locate both.
I'll look at this picture a little closer later, just wanted to let you know the latest the Judith/Lloyd. I'll definitely send this picture (and another one I found) to Judith/her sister. Now that I know Judith is in this picture, it isn't difficult to recognize her.
Judith Bailey Foley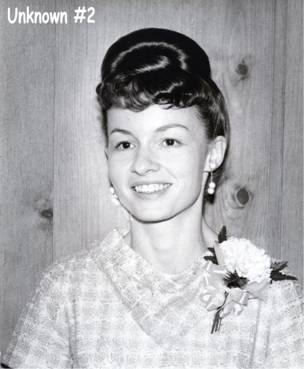 Reply from Bill Hosmer (48):
Gary and ND Friends. I'm catching up on my reading of your blog notes. I was glad to hear that my pal Pete Gillis gifted his family with his presence, and I'm hoping he'll gift us next summer with that splendid draw he traces through the air on the Dunseith Golf Course. Also, I'm sorry to read that Shelly Azure has a heavy diagnosis. Thoughts and prayers are with them, and my other golfing buddy, Dwight Lang. That's tough news about too many of our lot. Bill Hosmer

From Bev Morinville Azure (72):
Neola, Hope this is finding you well I love your additude .Your going to beat this I can feel it .I just wanted to let you know you are on my prayer list. Keep looking up . He is listening. I talk to my sister Debbie and she is improving please keep her in your prayers everyone. Thanks again Gary for all you do .Its amazing .
Vidio from Cecile Gouin Craig (61):
Folks, the Seattle area and Washington have had their share of snow and flooding this winter too. The following Video was sent to Cecile by her daughter Barb. She lives in Fall City, located, I think, about 30 or so miles North East of Seattle. The featured video is from King 5 news, one of the main TV stations in the Seattle and Puget Sound areas. Gary
Cecile's Daughter Barb's message:

About half way thru the video you see Brad and my gray head standing next to sink hole on our main road to town (we're in the bottom right corner next to the K5). My trip to the post office just got a lot longer. 

Cecile's note:




Where they are standing You could see the Post Office. But now it's a 21 mile trip to go get the mail. (Barb is my daughter). Cecile

From Sharron Gottbreht Shen (59):

Olard Boucher was the twin of Adelard Boucher, older brothers of Elmer. Olard died on one of the Pacific Islands his first day of battle, Elmer could tell us more. I believe his boot camp was also in Louisiana so reasonable that they would have met. I see the resemblance. I am sure it is not Dary Ryan. This would indicate that my picture of Herman did take place at bootcamp as you previously suggested. I will compare to picture posted by Gary of Olard – Olard and Herman were 1st cousins once removed. Victor Boucher, Herman's dad, was uncle to Olards dad. Thanks Gary.

Sharron
Pictures posted by Neola Kofoid Garbe:
Thanks for the info, Gailord Peltier. 

Bonita Parisien & Alfred Henry