Margaret Bedard Strong
Reply from Ellen Graff Myrick ('58): Grand Forks, ND
Margaret Bedard is not a triplet.  She is from Lucien and Hannah Bedard's family – Connie, John, and Nancy are her siblings.  The triplets are from Rene and Hope's family -Gayle, Lynn, the twins, and the triplets.

Face Book Posting for a very special couple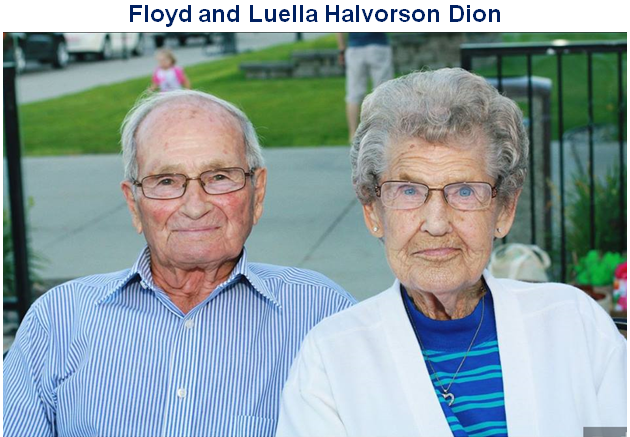 Folks,
I want to share all the nice comments that were posted for this picture too.
Floyd and Luella, as you can see from these comments, you guys are special.
Note: These are the comments that have been posted so far in the past nine hours since this picture was posted. Comments are still coming in.
David Slyter Nice picture smile emoticon
Like · Reply · 8 hrs
Verena Gillis Sweet, beautiful memories, love these two people very much….
Like · Reply · 8 hrs
Laura Sarkilahti Who are those beautiful people haha you two look wonderful sure miss seeing you once in a while take see you some time love and prayers always
Like · Reply · 8 hrs
Darcy Gladue love this picture, these two are the sweetest people ever!!! v<3
Like · Reply · 7 hrs
Darcy Gladue heart emoticon
Like · Reply · 1 · 7 hrs
Elsie Leonard What a wonderful picture of you two, let me know when you go to coffee!!
Like · Reply · 7 hrs
Lynn Halvorson Otto Nice photo of you both!
Like · Reply · 6 hrs
Jeff Gottbreht Nice picture
Like · Reply · 6 hrs
Shelly Martell Awesome picture
Like · Reply · 6 hrs
Richard Turcotte great oic
Like · Reply · 5 hrs
Shelley Glinz-Blada Great picture of both you
Like · Reply · 4 hrs
Theresa Awalt Very nice picture.
Like · Reply · 4 hrs
Diane Sjol Two of my favorite people
Like · Reply · 3 hrs
Gary Stokes This is very nice picture. I am going to post this one on the daily Dunseith blog.
Like · Reply · 2 hrs
Shannon Azure Beautiful sweet people
Like · Reply · 2 hrs
Dwight Poitra Two nice people
Like · Reply · 1 hr
Amber Hinderscheid THE best people I know  love u guys!
Like · Reply · 1 hr
Betty Heinz Nice picture
Like · Reply · 1 hr
Marsha Poitra Such a sweet couple!
Like · Reply ·
John Hobbs Family – Vance Bailey's mother is Marie
Picture posted by Doreen Bailey:  Tempe, AZ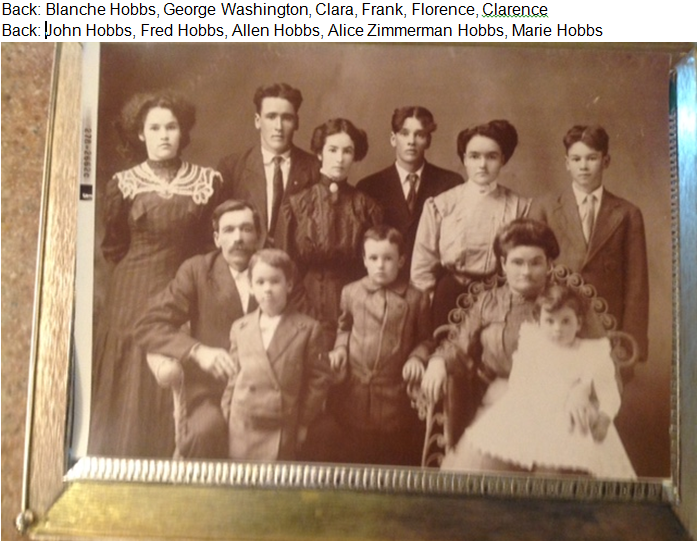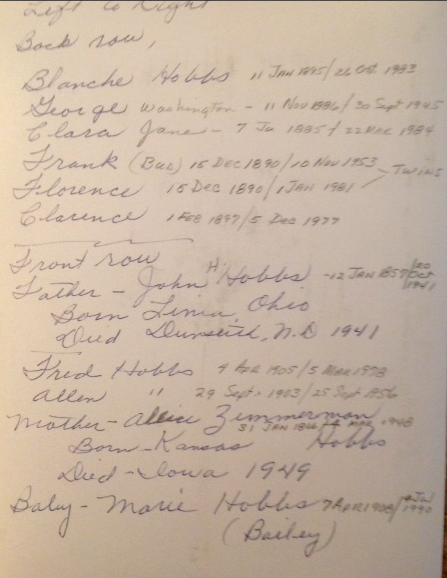 Posted by Neola Kofoid Garbe:  Bottineau & Minot, ND
 KATHLEEN SEBELIUS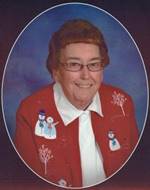 (June 14, 1931 – September 11, 2015)
KATHLEEN SEBELIUS
Kathleen Sebelius, age 84 of Wheatland, WY, formerly Bottineau, died on Friday, September 11, 2015 in a Wheatland, WY. Funeral services will be held on Tuesday, September 15, 2015 at 2:00 P.M. in the First Lutheran Church in Bottineau. Burial will be in the Oak Creek Cemetery also of Bottineau. Visitation will be Monday, beginning at 1:00 P.M. until 9:00 P.M. in the Nero Funeral Home, Bottineau.
Kathleen J. Sebelius, a daughter of Albert and Margaret Engebretson, was born June 14, 1931 in Bottineau, North Dakota. She was reared on the family farm near Willow City, ND. Her religious upbringing began at the First Lutheran Church in Willow City. She attended school in Willow City until her  senior year when her family moved to Minot, North Dakota. Kathleen graduated from Dakota Lutheran High School and then she attended Minot Business College. After college, Kathleen moved back to Bottineau and worked for North Central Electric. On July 20th, 1956 she married the love of her life, Kenneth Sebelius, at the First Lutheran Church in Willow City. Kathleen and Kenneth moved to the International Peace Gardens where Kenneth was employed as the caretaker. They lived there for 10 memorable years. They moved back to Bottineau to be closer to family, lived there for 7 years until their path took them to Minot. They lived for 20 years. Following retirement, they were drawn back to their roots; back to Bottineau. Together they raised two children, Kevin and Hollee. Besides caring for her family, Kathleen worked as a secretary/bookkeeper.
Kathleen enjoyed raising poodles. She always had a poodle by her side or on her lap. Kathleen especially loved visiting with family and friends, she always had the coffee pot on and didn't feel she was a good hostess unless she had a "yummy snack" for her company. Kathleen collected butterflies and received many through the years. Kathleen was active with Mission Aid and the Women's Circle at the First Lutheran Church of Bottineau. She was an active member of the Sons of Norway and the Bottineau Services for seniors. Kathleen enjoyed her Norwegian heritage, she could make the best lefse and "rommegrot'. She helped start the Sunday "potluck" at the Bottineau Senior Center where people could get together for a meal and fellowship. Kathleen was a wonderful mother, grandmother and great grandmother as well as a good sister and friend. She always lent an ear and said "God Bless you!".
Kathleen passed away on Friday, September 11, 2015 in her daughter's home in Wheatland, WY.
She is survived by her daughter, Hollee (Ron) Bosch, Wheatland WY; and a son Kevin (Daleen) Sebelius, Gillette, WY also by a son/nephew, Paul (Kathy) O'Brien, Blanchard, OK.; Two grandchildren, Kelani (Andy) Urlaub, Dickinson, ND, and Paige Bosch, Cheyenne, WY.; Two Great granddaughters, Koryn and Alora Urlaub; she is also survived by one sister, Mildred Williams of Bottineau and a brother-in-law Manville (Dorothy) Sebelius of Dunseith. She also is survived by very dear nephews and nieces, and by one poodle–Honey. She was preceded in death by her husband, Kenneth; her parents, Albert and Margaret Engebretson; sister, Beatrice Soland; dear, dear friend, Janet Erdman. She had many other friends she cared about deeply.
Kenneth and Kathleen Sebelius Memories
Posting from Vickie Metcalfe ('70): dogdays@utma.com Bottineau, ND
Gary and friends,
When I was a child, I first met the Kenneth Sebelius family when they lived at the Peace Garden in the care taker residence.. Kenneth was the caretaker of the United States side of the Peace Garden.  I believe their children, Holly and kevin started school at Dunseith School.
This was way back in the days when we could drive into the Peace Garden from the South.  About a mile South of the border, Dad or mom  would turn West then ,make a quick right  turn North. into the garden. Another turn East again into the driveway to their cozy little home. We  never went through U. S. customs when  coming or going to visit  the Sebelius family. And we so enjoyed visiting them. It was always interesting and sometimes educational at the gardens,  one summer they had a orphan deer, which trusted them explicitly.
Kenneth and Kathleen Sebelius were ' kind of the newly weds'  of Little Prairie Lutheran Church their first winter at the Peace Garden.The winters of the fifties and sixties, Little Prairie Lutheran Church was  bitter…cold, brrrr cold,  COLD!
Little Prairie congregation held Sunday Worship in congregants homes.  Whomever had the space and room volunteered to host Sunday worship service; if  the home had a piano  that was an added  plus:) On Sunday morning, folks began  arriving in automobiles, at the yard  of whomever was hosting.  Automobiles would be turned around and parked.  Little children and babies carried into the home. At the front door of the host home the host welcomed guests into  a  spic & span house .
Over shoes were discarded just inside the door ;coats taken gathered and laid carefully in a  pile on a bed in the master bed room.  Everyone wore 'Sunday Best' clothes.  Men in suits; Women in dresses. Little girls dressed in dresses and  brown stockings. Little boys with  hair slicked back; with a quick 'spit bath'  from moms on their unsuspecting nose or cheek. The home would be toasty warm.  Smelling … mmmm…….'hot dish'….usually from  the same delicious recipe provided  years  before …..by Hilda Strong.  The hostess would be wearing an apron. In the kitchen women gathered, quickly offering their help .  "Yes, Please, mix the Koolaide. "Please, cut up the homemade dill or sweet pickles."   "Now the butter is soft, please, butter the homemade fresh buns".   Hmm. "Would you  check on the coffee cups?"  ( If you were at Aunt Ella Metcalfe' s, Norweigian 'egg coffee' would be brewing  in the big white coffee pot .  Meanwhile, in the other room, small talk about  the weather or the roads would be the topic where the men gathered.  Thechildren shyly gathered in corners.
The guest of honor a.k.a. the pastor, finally ( according to hungry kids)   arrived; after driving miles up  highway, that long   winding hilly road  from Dunseith. Shhh.  quiet. Spoke the mom's.  "Be good."
Worship service began.  Prayer. Then a  song everyone knew, like Sweet Hour of Prayer", Rock of Ages, etc.   Sermon.  Words spoken from the BIBLE. Another song.   The Doxology…..Table Grace sung by everyone.  After  church worship service,  Yay!  Sunday meal.  Kids usually were dished up first,  then the adults.  After the meal,  dishes were gathered; to be hand washed.
Whomever hosted  also  furnished hot dish for the congregation.  Other church ladies  brought  homemade buns,  salad, cake or bars.
……. forward in time…..
When I moved back to North Dakota from Montana.  I had many fine opportunities to renew friendship with Kenny and Kathy Sebelius.  They had a terrific family!   In this 'small world'  our paths crossed many times. Their daughter Holly and my eldest sister worked as R.N.s together in Wheatland, Wyoming. Dailann ( their daughter in law) Kevin's wife worked at the Bottineau School. Kevin worked at the same plant in Dunseith as my brother in law, and my sister- in -law.  Kenneth and Kathleen were avid members of the  Son's of Norway.  For many Sons' of Norway December bake sales, bazaars, Kenneth made awesome  'rommegrot'.  Kathy, 'Julekakka'. The two of them would bake lots of  fine  Norweigian ethnic goodies.  And they loved their dogs!
…….. back to….. Little Prairie Lutheran church winter Sunday meetings.
Kathy told me those years ago, She and Kenneth attended Little Prairie church,  their first years of marriage.  She discovered; after volunteering their home to host the winter Sunday Service,  she had to also make the hotdish.   Oh.No!   She thought.  As newly wed she really didn't know how to cook!  She told me,  she was embarrassed and  scared that she would be judged by her cooking by all of those Little Prairie Ladies Aide Church ladies who really were known for 'good cooking.'  Anyway, the Saturday night before they were to host the  Sunday meeting at their Peace Garden home, Kathy  and Kenny, frantically were  thawing out  the frozen hamburger over boiling water.  They spent all evening boiling water trying to thaw out hamburger….. and next morning finishing the 'hotdish'.   She discovered later how to thaw out meat by putting it in a skillet….
Kathy told me she hadn't told anyone this story of making hotdish  for Little Prairie Church until years  later.  She said,   Kenneth, never said a word. Never told. They enjoyed learning the art of cooking together. Blessed be the memory of Kathleen and Kenneth Sebelius. I was one of the lucky ones  to have known them!
Later, Vickie L. Metcalfe
====================================
Blog (349) posted on January 25, 2009
1/25/2009 (349)
Happy Birthday Allen Richard (65):
I had another birthday announcement come across my computer screen telling me Allen Richard (65) has a birthday tomorrow, January 26. Happy Birthday Allen. Coming from the class of 65, I think you've got about 6 months in age on me. I'll be 62 in July. We can start collecting SS. Being a retired Federal Employee, My SS will be reduced to almost nothing, but that's OK. Gary
Allen Richard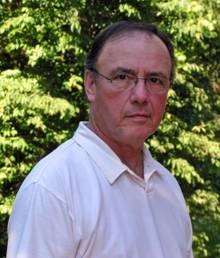 Request from Jeff Evans (73):
Could you please add my brother Jon (85) to your mailing list? I'm afraid he's feeling a little left out when Mom or my other siblings refer to a story from the blog. His e-mail is: Thanks.
I really enjoy this service that you provide for all of us. I save them and then go over them with Mom when I visit. Thank you, Jeff Evans (73)
Jeff, It's for sure not a problem adding Jon to our distribution. With your mother being a Hagen and your dad an Evans, you guys come from good stock. When I talked to your mother, Joyce, she told me you take your computer over to her house and share these daily's with her. She really appreciates you doing that too. Gary
From Lloyd Awalt (44):
1948-1949 was the year of the "Big Snow" in North Dakota. I'd like to hear memories from those of us that remember then or remember hearing stories told by others about that time.
When the snow started coming it didn't know when to stop. It covered the fence posts, drifted up to the rooftops of the buildings and in the case of Billy Lawrence's Blacksmith Shop it covered the shop enough to make it possible for my sister Eleanor and I to walk all the way over it. We could walk up the snowdrifts to the lower part of Hosmer's Store, take a hop and we were on the store where we could walk to the Main Street side and look down on Main Street. The snow was packed so tightly across the streets that no one could drive anywhere. The city was not equipped to handle removing all the snow and so the National Guard was called in. There were four ways out of Dunseith but you could only travel about 5 miles North before snowdrifts stopped you. The Guard would go out to the area farms use a dozer to get to the hay stacks, throw a log chain around the haystacks and pull the haystacks up to the barn so the farmers could get hay to their animals. The Guard stayed through the months of February and March.
I wonder if everyone remembers the "4th of July Fireworks" held every year. It was held on the top of the gravel pit on the north east side of town. Everyone drove into out pasture and parked so they could see the display. The reason it was held at the gravel pit was so that the patients from the San Haven would be able to watch. (We had to make sure the cows were all into the barn as we left the gates open so people could just drive right into the pasture.)
As a young man I had a black pony named "Star". I could do anything with Star. I would put my little sister Bonnie on Star's back and she would walk all around the yard, no problem. ( Bonnie was 3-4-and 5 at the time) But Star would not let anyone else ride her if she could see me. One day my Dad rode Star out to bring in the cows for milking. When they were coming back Star looked up and saw me feeding the pigs, She bucked Dad off and took off to come to me. I could hear Dad Beller as he hit the ground and expected to catch heck when he got back to the barn. That didn't happen, instead Dad just shook his head and walked past me to prepare to milk the cows.
When I first returned from the war I went to work for Edgar and Rita Anderson at the Gamble Store, (at that time 1947, it was located on the corner where the AC Bar is,.) It burned down and they moved over to Myres Clothing Store spot in mid main street. Iver Lo rebuilt the building and it became a gas station with the creamery in the back and a Tastee Freeze ice cream parlor along side. I worked for the creamery for two year before moving to South Grove Minnesota. Later on Iver Lo sold the station to Jack Flynn and Joe Evans and they turned it into the Ameri-Canadian Bar.
The elevator in Dunseith burned down two different times. In 1942 (about) it burned and was so hot you could feel the heat all the way to our home. The elevator was full of grain so burned a long time. In 1954 another of the elevators in Dunseith burned, Dunseith had a newer fire truck they were better equipped to fight the fire.
Reply from Bill Pritchard (Bottineau):
Bill is the son of Corbin (Deceased) & Doris Smith Pritchard. Beverly & Lois are Doris' sisters. The Pritchard's owned Pritchard's shoe store in Bottineau for many years.
These two pictures are definitely of Beverly, or Patsy as we called her. Beverly died several years ago from cancer. I asked my mother about the other picture last night. I had printed it out to show her. After the picture is printed, the word Lois in the upper corner is easier to read. So the picture is definetly Lois. I'm going to send the picture to some of her family. They will really get a kick out of it. Lois has a huge family and they are all in the Shreveport, LA and Dallas, TX area.
Bill
Lois Smith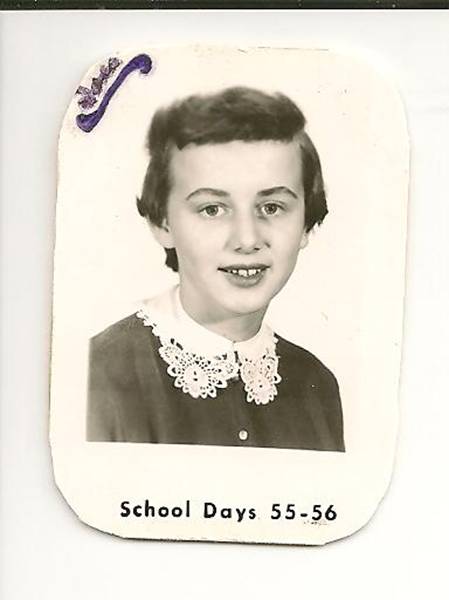 Beverly Smith in 5th grade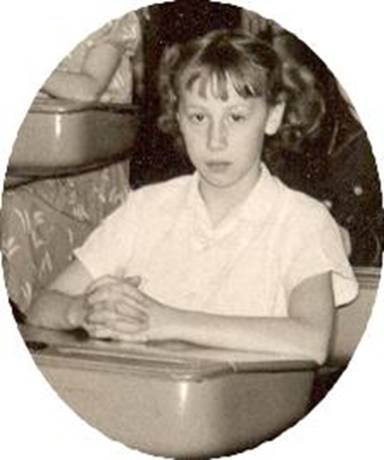 Beverly Smith
Article posted by Neola Kofoid Garbe:
Charlene is married to Michael DuBois, Wade's brother. Wade & Michael are nephews of Dennis DuBois (63).
Charelen DuBois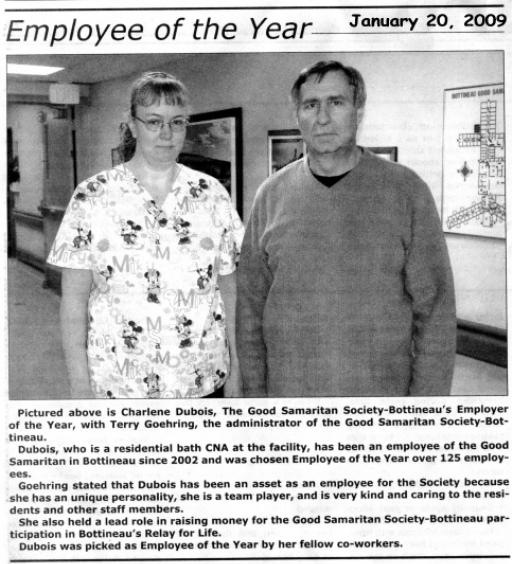 Dunseith News posted by Neola Kofoid Garbe: