Beulah Thompson Hoaglund's 100th birthday
Posted by Key Hildebrandt: 
Gary,
Could you please post a request for readers to mail birthday cards to a cousin who will be celebrating her 100th birthday?
The birthday girl is Mrs. Beulah Hoaglund.  Bea is the daughter of Bennie and Melvina (Thompson) Lasher, granddaughter of Anthony and Esther Thompson.  Cousin of all the descendants of Olaf, Clara, Ulysses, Ida (Pritchard), Ella (Pritchard), and Candace (Torbert) Thompson.  She is very much alert and loves receiving cards.  Her birthday is January 13th.  Her address is:
Mrs. Beulah Hoaglund
c/o The Beehive Home of Excelsior
6330 Hazeltine Blvd.
Excelsior, MN  55331
Thank you for your help, Kay Hildebrandt
 Gary's Comment
Beulah is cousin to the Pritchard's, Ella (Eldon) Pladson and Esther (Edmar & John) Tangen.
Ulysses Thompson was married to my dad's aunt, Clara Stokes. That's on the other side of the family though so I'm only related to Beulah through that marriage.  
==============================================
Blog (761) posted on May 2, 2010
Condolences to the Berube Family:
From Jean Nicholas Miller (66): Glendale, AZ
Gary, I too would like to send my condolences to the Berube family. I don't remember Bill real well but do remember the rest of the family. It sounds like he was a good and dedicated man. I'm sorry. Jean
Reply from Rita Anderson (Former Gamble store owner): Fargo, ND.
Hi I too want to wish Armond a Very Happy Birthday. I remember him in the hardware store, when (Edgar and I) had the Gamble store.
Obituary
HELEN A. BYE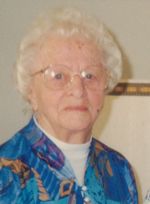 Funeral services for Helen A. Bye, age 96 of Bottineau, were held on Monday at 2:00 P.M. in the Peace Lutheran Church in Dunseith. Burial was in Rendahl Cemetery of rural Dunseith. Officiating at the service was the Reverend John Hesford. The congregation sang selected hymns and Dick and Brenda Johnson provided special music. Casket bearers were Curt Halvorson, Terry Halvorson, Jim Kester, Lyle Lagerquist, Dick Roland and Russell Kihne.
Helen Alvide Bye, a daughter of Casper and Ella (Berg) Christianson, was born on February 3, 1914 in Cordelia Township, Bottineau Co. She was the second child of five sisters and three brothers that attended school at Loon Lake in Bottineau Co. Helen graduated from Bottineau High School and attended Minot Teachers College and received her teaching certificate. She then taught country school in Rolette and Bottineau Counties. On December 21, 1939 she was married to Clarence A. Bye at Dunseith. Clarence passed away in June 1976. Helen continued to live on the family farm in Willow Lake Township, Rolette Co. until she entered the assisted living apartments in September 2000. In July of 2009 she entered the long term center at the St. Andrew's Hospital where she has resided since.
She was a member of the Rendahl Lutheran Church until it merged with Peace Lutheran Church in Dunseith. Helen was active in the ladies aide, Bottineau Sons of Norway and the Lois Chapter of the Order of the Eastern Star.
Helen passed away on Thursday March 25, 2010 in a Bottineau hospital.
She is survived by sisters, Bernice (Harold) Carlson of Grand Forks and Florence Struck of Bottineau; sister-in-law, Alvina Christianson of Bottineau; and many nieces and nephews.
Helen was preceded in death by her parents; husband; brothers, Harland, Henry and Clarence; sisters Ella Mae Christianson, Emma Halvorson and Alma Halvorson; brothers-in-law, Sigurd Ronning, Oscar Bye, Carl Bye, Lawrence Bye, Albert Halvorson, Clifford Halvorson and Laurence Struck; sisters-in-law, Bella Ronning and Eva Bye.
Update from DeAnn Gottbreht: http://www.caringbridge.org/visit/deanngottbreht
I had my 6th chemo treatment today and it went fine. I'm pretty tired out tonight but otherwise ok. Only 6 more to go! My blood work has been fine each week as well so that is one less worry. It is just a matter of getting through it. I don't see my Oncologist until next week so I'll know more about of future plans for my treatments then.
Connor is really doing great. Yesterday his Doctor switched him to eating every time he wakes up and is ready instead of the every 3 hours schedule he was on. He has just been excelling since the switch. It's like he is so happy to eat when he decides that it's all he wants to do. A couple of days ago he would only eat maybe an ounce or so eat feeding. Now he eats at least 2 ounces each time and still wakes himself up every 3 hours raring to go. He is also such a good baby. He just fusses a little until he gets his bottle. I hardly ever hear him cry so that is sure nice. Hopefully he will stay that way! If he stays on this track and doesn't have any major problems with his reflux his Doctor said he could go home Monday!! Patrick and I are so excited. It will be wonderful to finally have him home and be a family again.
I hope you all enjoy your Easter with someone you love. I know Patrick and I will be enjoying it with Connor and couting down the hours until we can go home.
The follow pictures and newspaper articles have been posted by
Neola Kofoid Garbe: Minot & Bottineau, ND.
Hi Everyone,
I thought you should see how the "real" Easter chickie looks!! LOL! This was taken in 1999, the last year I taught school.
Former students: Does the handwriting/room/etc. look familiar? Too bad you can't hear my voice!! LOL!!!
Neola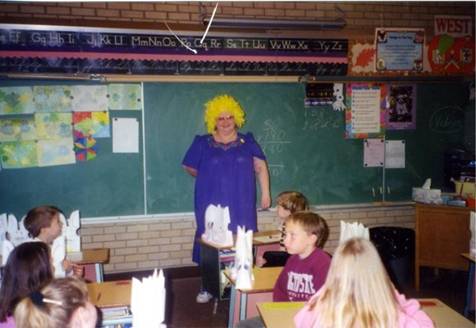 Folks, Since many of you know Jean and knew Duane, I thought I'd share this picture that Neola sent. With Jean's dad, Bert Hanson, being a brother to Frances Morinville and her mother, Olga, being a sister to my Dad, the Morinville Siblings and the Stokes Siblings share Jean and her sister, Audrey Aitchinson, as first cousins. Jean has continued to live on the same place since she and Duane were married. Her farm is located a half mile south of the Peace Garden Road (#43) on the county line. Duane passed away in September 1988. Audrey lives in Bottineau. Gary
Jean & Duane (Deceased) Pladson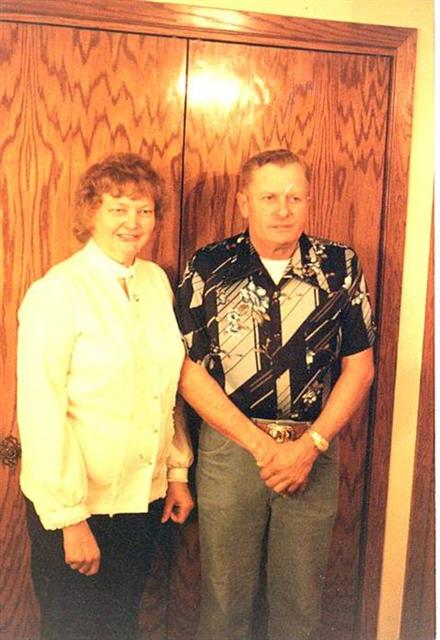 Folks, This picture is so familiar. I'm thinking we posted this once before and
he was identified. For some reason we have lost his identity. Do any of you
recognize this gentleman. Thanks, Gary