Allen Stokes Update:
Some of you have been asking about our brother Allen's condition following his assault several months ago. With that assault the left side of his skull was severely crushed leaving bone fragments in his brain. He also had several broken ribs. In time he will need a  steel plate. For now they have placed a steel helmet on his head for protection. Physically Allen looks pretty good. His left eye is traumatized, but open. Allen is still non responsive, to touch, sight and hearing. We were hoping by now he'd be a little bit responsive, but he is not. He has a feeding tube.
Gary

Rita Parisien Anderson ('73) is the New Rockford, ND Public School Teacher of the year.
Reply from Pamela Fuger Schimdt ('73):  Mandan, ND
Congratulations, Rita!  What a great honor – and you look just beautiful! 
Pamela Fugere Schmidt
Dick Johnson's post of catholic daughters (Posted in the Archives of blog 2384 on 4/13/2016)
Reply from Dewey Morinville ('72):  Dunseith, ND
I do recognize a few ladies from this picture.
Front row to the right of father wolf I sure is Emma (Rickey) Cooper. Far right leona mongeon
Row 2 left to right 2nd from left  Beatrice Robert
6th from left my mom Francis Morinville.
8th from left Alice Boguslawski
9th from left mu second mom Dorothy Robert
11th from left not sure but I think its Stella Schmitz
Row 3    8 from left my grandmother  dads (Joe Morinville) mother eva peat
The rest I am not sure of maybe others will add a few names
Dennis Espe



Born: August 30, 1937
Died: May 02, 2016
DENNIS DEAN ESPE
Dennis Dean Espe, age 78 of Dunseith, died Monday, May 2, 2016 from complications of pneumonia at a Minot hospital. Cremation has taken place and memorial services will be held at Peace Lutheran Church on Wednesday, May 25, 2016 at 2:00 P.M.
Dennis Dean Espe, son of Elmer and Frances (Smith) Espe, was born August 30, 1937 in Bottineau. He attended the Lockhart School through 8th grade and then attended Dunseith High School. After graduation, he attended a one-year rural program at Minot State College in 1956-57. Dennis then taught at the Oxford School south of Rolla, a one-room school at which he taught grades 1-8 for one year. He then returned to Minot State College where he earned his two-year standard teaching degree. Dennis returned to Dunseith and began teaching at the elementary level where, during one year, he had a class of 57 students. On June 2, 1961 he married Peggy Sime in the Lutheran Church in Dunseith. In 1965 he attended Mayville State College and graduated with a Bachelors of Science in Elementary Education and a minor in Biological Science. Dennis then taught school for one year in Fargo before returning to Dunseith where he taught Math and Science for 20 years. Dennis took a 5-year break to serve as Administrator of the Dunseith Nursing Home. Subsequently, he taught in Belcourt before returning to Dunseith where he retired in 1996 as the Dunseith High School Assistant Principal.
Dennis enjoyed traveling with Peggy to warmer areas in the winter, like Alamogordo, NM and Mesquite, NV. In 2008 he and Peggy took the opportunity to visit their ancestral home in Norway. Dennis loved hunting, fishing, trapping, softball, gardening, lawn work, golfing, and attending his grandchildren's many activities. He built his family home in 1978 without a blueprint after Peggy found a picture of a house she liked. He was instrumental in establishing a chapter of the Jaycees in Dunseith and served as the first president. He was also the president of the Dunseith School Board. Dennis was a member of Peace Lutheran Church, the church council, Dunseith Fire Department, and helped build and served as president of the Garden Gate Golf Course.
He is survived by his wife, Peggy of Dunseith; daughter Robin and husband Bernard Morin of Dunseith; daughter Sonia and husband Colonel John Gondol of Alexandria, VA; son Corey Espe of Dunseith; granddaughter Rachel and husband Ryan Romine of Minot; granddaughter Alaynna Morin of Dunseith; sister Claudia Klein of Appleton, WI; brother Terry Espe and wife LeaRae of Bottineau; many cousins; nieces; and nephews.
Dennis lived with Parkinson's for 24 years.
He was preceded in death by his parents.
DHS 1966 class Prophecy
Posted by Larry Hackman ('66): Bismarck, ND
Hello Gary
I hope you and the family are doing good.  My condolences to the Dennis Espe Family and the Glen Williams Family and the Darrel Getzlaff Families.  May God comfort them in their time of sorrow. 
Gary I want to thank you for posting (The Notification of (The 1966 Class Reunion) in February, and for posting (The 1966 Class History) in March, and (The 1966 Class Will) in April.  With this message I have included the (1966 Class Prophecy) that I believe was read for the first and last time at the 1966 Junior and Senior Banquet that was held about this time (50 years) ago.  I hope it brings back some memories and some laughs foe everyone.
Thank You,
Larry
DHS  1966  SENIOR  CLASS  PROPHECY
What will the seniors of "The Dunseith High School Graduating Class of 1966" be in the future??????
A few class members (Mystics of the class of 1966 ?) chose to look into "The Crystal Café Window" and see and record what was shown there to be the future successes and failures of the Class of 1966. They went up at night in the full light of the moon and stood on the sidewalk in front of the large plate glass window of the Crystal Café with heavy coats and scarfs, as it was cold and there was still snow on the ground.  There they stood with note pads in their gloved hands, staring into the café window.  Why the Crystal Café?  It was the closest thing that could be found to a crystal ball at the time, and it was Crystal, as it said right on the sign that hung above the door.  If any of these predictions turn out to be correct, the mystics blame the smudges on the window, which made it difficult at the time to distinguish between truth and fiction, or it could have been the distortions caused by the vibrating glass, which was due to the jukebox on the other side playing the Nancy Sinatra hit "These Boots Are Made For Walking". However, our Mystics did their best and have chosen to remain anonymous In order to protect the guilty and to allow the harassment of the innocent. The future is yours!
The following observations were made and recorded for prosperity of the graduating members of the Dunseith High School Class of 1966.
Lorna Abbey who joined our class this year 1965-1966, to get her High School Diploma, is the wife of the Dunseith Chief of Police.  We therefore wish her well and may she always be available to influence her husband on the behalf of her classmates if necessary.
In 1978 you will see Corliss Allard in her Beauty Salon trying to keep house for Vance, and trying to run the business.
In 1970 you will see Janet Bergen all green and sea sick, because she just got out of boot camp, and is on her way across the ocean, but this doesn't matter, as Tom is waiting on the other side.
In 1977 you will see Aime Casavant leisurely walking down Skid Row with his head bent, looking for butts-Cigarette butts.
In 1969 you will see Gerald Casavant in a foxhole with bullets whizzing over his head, while trying to write a letter to his sweetheart at home in Rolette.
In 1979 you will see Pat Danielson a professor at the Harvard University where she is trying out all the things she learned in Mr. Grossmans psychology class.
In 1970 you will see Tom Evans pacing the shore of England as he patiently waits for Janet's ship to come in.
In 1986, Carrole Fauske, Hey-everyone has been asking around, who is the new owner of Maries Beauty Salon? Carrole has just returned with her good looking husband and her eight kids to take over the business from Corliss who is headed for MONTANA?
In 1973 you will see Sharon Gunville sitting at her desk at mid-town Manhattan's A.S.C. Office under her husband's supervision.
It's 1999 and it looks like Larry Hackman has finally scraped up enough money to buy Robert's Service Station.  If you ever pass by that way and see a man in a wheel chair pumping gas, give him a wave, it'll be good old Larry.
It's 1983 and Donna Hanson has set up her baby-sitting practice in the heart of the Turtle Mountains.
Well now its 1988 and Dana Henriksen and Jim Berube have come back from Fargo with their ten kids to occupy the Morgan Lumber Company.
If you ever want to look up Joann Houle twelve years from now you will find her practicing as a registered nurse, at The Dunseith Clinic.  But, she still has her eye on that handsome owner of Hosmer's Store – Lee Struck.
If you ever need your books straightened out, look up Greg LaCroix, the one and only C.P.A. of Dunseith, ND.  If he isn't in his office you will probably find him washing Mr. Olson's car.
If you ever happen to need a wedding cake, go to the Grease Spot Bakery, and you will probably get a Terry Martinson Special.
In 1971 you will probably see Obert Medlang snoring under a tree in the barn yard, like he use to do in classes at school.
If you ever need a good floral arrangement go to Millang's Floral Shop, where Larry Millang is a professional florist and botanist.
In 1971 you will probably see Debbie Mongeon milking cows in a pair of bib overalls, teaching her young son Garrett Junior how to milk.
In 1971 you will see Jean Nicholas with her specks on her nose teaching English, she is getting pretty good at dodging rotten eggs?
In 1973 you will see Anita Parisien at the head of the Physical Education Department at The University of North Dakota.
In 1976 you will find Shirley Peltier, The Worlds Women's Professional Boxing Champion, teaching her young daughter her boxing skills.
You will probably see Keith Pladson or known better as "Tarzan" swinging through the brush with his cow kickers on since 1978 when he took over his father's farm.
Lee Struck is now getting his passport shots, it doesn't seem to bother him much, but you can see why, as the attractive young nurse is Joann Houle.
In 1988 you will still find Ramona Thiefoe going to school in Fargo, the reason, she has her eye on a handsome young professor.
After getting his P.H.D. at the Bottineau School of Forestry, Jim Tooke decided the best thing in life is to follow his father's footsteps, and drive truck for the Lamourix Brothers.
It's now 1980, and Jay Vanorny has taken over The Garden Tap, and is still looking for roads to burn rubber on.
It's now 1988 and Donald Wenstad is the professor at Southern California University.  In his spare time you will find Donald as Life Guard at the local beach.
Again if any of these predictions turn out to be correct it is to be known that it is purely coincidental, or it may have been caused by the blurring of the images due to the vibrating of the Crystal's window pane from the beat of "These Boots are Made for Walking", or the hit song "The ballad of The Green Beret by Sergeant Barry Sadler, or it may be to the sobering affects of a cold North Dakota breeze and/or the frosting of The Crystal Café window from their breaths as The Mystics, observed the future and made their notes.  They The Mystics assure you that every last detail of these readings were gleaned from the window of the Crystal Café.. and are as accurate as can be determined by their gazings and notes. May a happy future be yours!
Remember, laugh and the world will laugh with you.                                                                                                                                                                                                                  DHS CLASS OF 1966
====================================
Blog (454) posted on May 11, 2009
Posted on May 11, 2009
George Counts
July 9, 1960-May 6, 2009


POSTED: May 10, 2009
DUNSEITH Clifford M. "George" Counts, 48, Dunseith, died Wednesday, May 6, 2009, in a Minot hospital.
He was born July 9, 1960, to Louise and Lloyd Counts Sr. in Belcourt. He married Rochell Zaste July 28, 2001, in Dunseith.
Survivors: wife; sons, Clifford "Herbie" and Terrell, both Dunseith; daughters, Carleen Counts, Carleeta Grant, Julia Poitra, all Dunseith; seven grandchildren; brothers, Lloyd, Ronnie, Clarence, Ernie, all Dunseith; sisters Barbra LaRocque, LouAnn St. Claire, both Dunseith, JoAnn Brunelle, Belcourt.
Funeral: Wednesday, 10 a.m., St. Michael Catholic Church, Dunseith.
Burial: St. Louis Cemetery, Dunseith.
Wake: Tuesday, 4 p.m., with a prayer service at 7 p.m. in the church. (Nero Funeral Home, Bottineau)
Reply/Question from Floyd Dion (45): Dunseith, ND
Hi Gary
Brenda Hoffman said that her grandmother lived in Denhoff, ND , and I was wondering if she was related to John Schick. John was from Denhoff and was the State Dairy Inspector, and when I worked for the Bottineau Coop. Creamery he would come and inspect us. I got to know John very good and he was a good man, I really liked him.
Floyd Dion
Reply from Toni Morinville Gredesky (68): Farimount, ND
Gary,
Cecil Gouin is correct about the picture. The woman in the third row next to Cora Mongeon is my
grandmother, Eva Dion Morinville Peat. Thanks.
Toni Morinville Gredesky
Message from Gary Morgan (54): GARRISON, ND
To Dick & Brenda
Good for You! You've made the big time. I'm looking forward to seeing Highway 43 perform at Norsk Hostfest!
Gary Morgan
Gary, Dick (68) & Brenda Johnson have had so many success'. I am assuming you are referring to their band "Highway 43"? Dick and Brenda are such talented folks. I can not for the life of me figure out how Dick fits all that he does into each day. It seems as though he is everywhere all the time between St. John, Bottineau and all the place in-between. He has so many interests and is involved in almost every community activity and organization in the area. To top it all off, he has time for us with all his contributions. Dick, you are an amazing guy with a wealth of community history that we dearly love having you share with us. We have added a lot on new folks to our distribution since we posted the history, accomplishments and remembrances of your parents. I will repost all that on one of our slower days.
Reply to Denise Lajimodiere from Bob Lykins (60's DHS teacher): Germany & Hutto, TX
Gary,
On the Depression thing. I was born in 1940 just at the tail end of the depression. I remember and for years afterwards, until she died in 1975, my mother never threw away old clothing, saved buttons, newspapers, and with a knife would scrape away and save any excess off the wax wrappers that encased a block of butter. Mom and Dad would make quilts from the old clothes. A couple of those quilts have survived and are kept by my youngest sister. If you are her guest in the middle of the winter you will probably be covered at night by one of those quilts. When we were kids my oldest sister and I would try to guess where a swatch of cloth came from and who wore it. The one who was able to guess the most got bragging rights. Mom was always the arbiter. She knew where every swatch of cloth came from.
Bob Lykins
Bob, Are you still in Germany or are you back in the states now? Gary
Story From Larry Hackman (66): Bismarck, ND
Gary
I don't think we should just stop and quit talking about the onion just yet. I know there has to be more stories out there. I know whenever onion, especially raw slices are served up on a picnic table or anywhere else, someone has a story to tell. It is funny, that the story is usually funny. Maybe this one will jog a memory or two. What do you think?
Larry
The saga of the onion continues.My aunt always told a story of one of her experiences working as a waitress at the Crystal Cafe.It was her first time working alone at night.Old Joe Vanorny came into the restaurant usually every summer night about 9 o'clock and always ordered the same thing to eat.This night being no different he came in and sat down on the stool at about the center of the counter, in front of the milk machine. My aunt went up and asked what he would like and he replied that he wanted a glass of milk and a onion sandwich.So she gave him the glass of milk and went in the back to make the sandwich.She said she had never made a onion sandwich in her life, but how hard could it be, two slices of bread with something jammed between them, or is that a jam sandwich?Anyway she got out two slices of bread from the sandwich loaf.Remember the sandwich loafs made by Herman Martinson of the Snow White Bakery, made special for the restaurants. They were long and square with the slices cut a little thinner then a regular loaf of bread.
My aunt said she got two slices of bread, buttered them, and installed a thick slice of onion and placed it on a plate with a sprig of parsley.She then took that sandwich out to old Joe, proud of her accomplishment and knowing that it was exactly what he had ordered and the last minute addition of the sprig of parsely made it a masterpiece.Old Joe took one look at the sandwich and said in his astonished, gruff voice, " What the hell is this".My aunt replyed, " a onion sandwich".Joe said, " I have never ate anything like that in my life". He said, "I wanted a hamburger with onion on it". She said she went back into the kitchen and made the hamburger with a slice of onion, but she couldn,t help laughing as she recalled the expression on Joe's face when he saw that onion sandwich.Apparently Joe was no Norwegian?My aunt recalled and told the story often as she said that Joe and her would start laughing as soon as they would see each other, when he came through the restaurant door to have his glass of milk and hamburger with a slice of onion. May they both be still laughing and enjoying a sandwich together.
My dad, Clarence always enjoyed a onion sandwich too.His favorite way to make it, was to take rendered pork lard or the grease left after frying up some salt pork and spread that on two slices of bread, sprinkle, salt and pepper over the lard, install the onion slices, paste it all together, then enjoy. Remember, before we had electricity, the only way to preserve pork was to put it into the them wood barrels that were filled with water and a lot of salt.It kept the pork from spoiling in the summer and kept it from freezing in the winter.They also left the skin on the hog when they butchered. They scaldedthe hog after the kill and then scrapped the hair off, cut the meat up into chunks and put it all into the salt barrel. Remember the fried salt pork with the rind (skin) on.It was delicious.As a kid during the meal you would eat meat off the rind, saving the rind beside your plate,then after the meal you would take off outside, with the handfull of rinds that you had saved. You would then pop them rinds into your mouth one at a time, and chew, enjoying the salty fried flavor all over again.It was better then gum.
Thinking of my dad made me think of some of the greetings that he received from some of his old friends from the hills. He had MS so he could not walk for the last 20 years of his life.But, he was always in good spirits and enjoyed the people who came to visit him. I remember one fellow showing up and asking dad what he was doing for excitement.His reply, "I follow the shade around the house".No air conditioning in them days. Another time a older fellow showed up and greeted dad with, "how is it hanging today Clarence?Dads reply, "head first".Then they both laughed.Again, another fellow from the Turtle Mountians noticed Dad had forgotten to close his fly. He said, "Claence your horse is going get out".Dads reply, "If it can't get up it can't get out".Them old timers, of which we are now they, enjoyed life and loved to laugh didn"t they?
My favorite onion sandwich is to toast two slices of bread, spread the toast with butter (smart balance) install a couple slices of braunswiger (liverwurst), a couple slices of sweet onion,cover that with some mustard. Throw that second slice of toast on top of the pile, cut it in half and enjoy.God, this is making me hungry and I had the last of the braunswiger in a sandwich yesterday.I guess I'm going to have to go to the store before lunch. Maybe I better pick up another sweet onion too. yum yum.Must be the German?
I think Gary is right about the onion being the first, best method of birth control.Well, maybe first after garlic.Anyway eating either one before bed time will surely put a damper on things in the bed room.I also have heard and know that some onions can put a damper on things for up to three days after eaten.So the onion does work unless, of course both parties like to eat onion or both hate onion. But then, I have also heard that eating a regular diet of onion and garlic will also keep the mosquitos away.
Remember; laugh and the whole world laughs with you.
By the way.What nationality is Vanorny anyway?
Larry
Larry, This is great! You write such beautiful stories. You know speaking of story teller's, we have not heard from Tim Martinson for awhile. It's spring time in Alaska now, so he's probably a pretty busy guy these days.
Jean Eurich Roland's (80) picture posted by Neola Kofoid Garbe: Minot & Bottineau, ND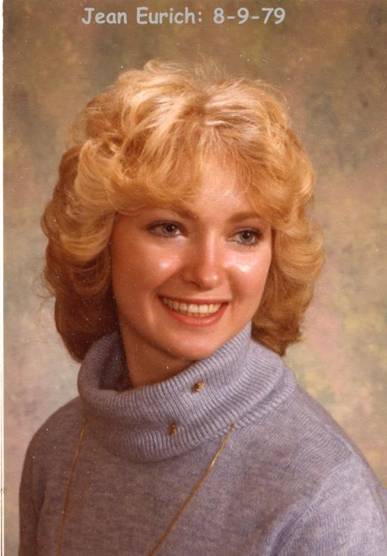 Folks, Jean I believe is an RN and she lives in Minot. She is the youngest daughter of Dave and Winifred Pritchard Eurich. jeanroland@rocketmail.com
Jean, This is a beautiful picture. With you being 15 years my junior, I don't remember you nearly as well as the rest of your family members. You were just a baby when I was working for Norris and Bud Knutson putting up hay on your folks place. Gary
Picture posted by Neola Kofoid Garbe: Minot & Bottineau, ND
Claudia Espe Klien (60), I'll bet this brings back a few memories:Appleton, WI
Folks, I'm pretty sure Kerry Boucher is related to a whole bunch of you folks. Where does she fit into your family? Gary