LaRocque family reunion
Message from Ginger LaRocque Poitra ('65):  Belcourt, ND
Hi! Gary
Hope all is good with you and your family. Are you able to come home this year?
I understand if you won't be able to.
We, the LaRocque side of my family are having a family reunion July 2nd. I am hopeful that all of our relatives from Aberdeen Washington will be able to come.  Gee I haven't seen most of them since 50 years, others since 1976. We are getting up in age here, some have passed already. It is kind of exciting, but then again I don't feel much like having a whole lot of people around yet,  maybe I will be a bit better by then.
Most of my dad's side of the family,  brothers and sisters lived out there, consequently their children stayed there, so we didn't see much of them throughout the years even in our child hood days.  Dad had a lot of siblings,  all total of the them including dad there were 13 with 2 passing when small babies or young child.  Of all of them there were only three girls only one stayed here, that was Kathleen,  who was married to John Gladue and together they had 18 children.
I keep busy watching my 2 year old granddaughter,  she is a treasure.  I guess I wouldn't make it through some days if it weren't for her.
I will say prayers for your brother Allen to keep improving.
Take care Gary.  Thank you for all you do for all of us you are very much appreciated. I look forward to reading the blog.
Ginger

Darrel Getzlaff



Born: December 29, 1929
Died: May 07, 2016
Darrel Getzlaff, age 86 of Bottineau, died Saturday at a Beulah nursing home. Funeral services will be held on Saturday, May 14, 2016 at 10:00 A.M. in the Peace Lutheran Church in Dunseith. Burial will be in Oak Creek Cemetery at Bottineau. Visitation will be held on Friday, beginning at 1:00 P.M. until 9:00 P.M. in the Nero Funeral Home in Bottineau.
Darrel who was born on December 29, 1929 to Walter and Lillian (Neubauer) Getzlaff of Willow City, ND. He married Anna Sackman in 1953. They had 4 children, Lester, Marsha, Kevin and Arlinda. Darrel worked for Dale's Truck Stop for 5 years in Dunseith. Then in 1958 they moved to Minot and he worked for Behm's Truck Stop. The couple moved back to Dunseith in 1959 where he worked for Dale's Truck Stop until he retired. Anna and Darrel lived on a little ranch 2 miles west of Dunseith where they raised cattle. In 1993 Anna passed away. Later Darrel was married to Minervia St.Claire for a time. Darrel had a compassion for his cats and dog "Silver".
He enjoyed farm work, fixing fence and making sure Doug and everyone else got it right.
Darrel is survived by his 4 children. Lester (Charlotte) Getzlaff of Williston, ND, Marsha (Mark) Bakken of Willow, AK, Kevin Getzlaff of Williston, ND, Arlinda (Alan) Suchan of Bottineau, ND; 13 grandchildren; 26 great-grandchildren; brothers and sisters Norman Getzlaff of Bottineau, ND, Marilyn Duke of Cordele, GA, Virgil (Gloria) Getzlaff of Rapid City, SD, Delvina (Robert) Wyman of Aitkin, MN, Mike (Peggy) Getzlaff of Bottineau/Fargo, ND, Marlys (Peter) Bengard of Salinas, CA. And many nieces and nephews.
He was preceded in death by his wife, Anna Getzlaff, his parents, sisters, Dorothy Getzlaff, Gloria (Hagen) Daily and Cora Geise. Brothers, Clarence Getzlaff, Alvin Getzlaff and Darwin Getzlaff.
Darrel's family would like to thank the staff of Knife River Care Center for the excellent care given to Darrel while he was a resident. Also would like to thank everyone for the support giving during this time.
Cebu Marco Polo Plaza special invite dinner.
The first picture was taken last night as we were leaving for the Marco Polo. We were so honored to be included with a special invite 6 course dinner with about 25 folks sponsored by the Marco Polo Plaza.  We were well wined and dined. They put a lot of time and effort into this dinner cutting no corners. They had 20 plus folks waiting on us too, so we were well taken care off. It was an appreciation dinner. They always take good care of us, especially Bernadette with her condition.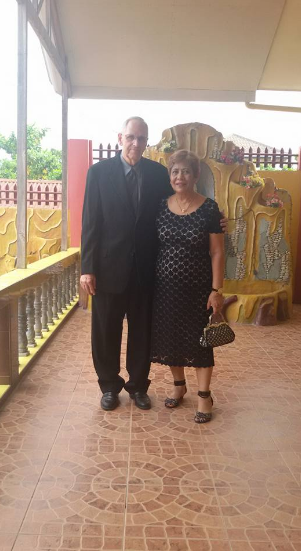 Marco Polo special invite dinner.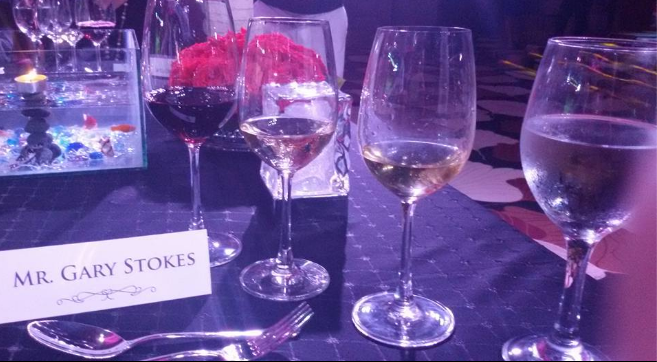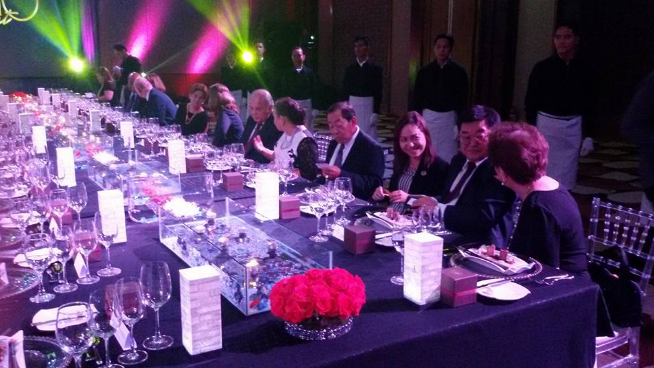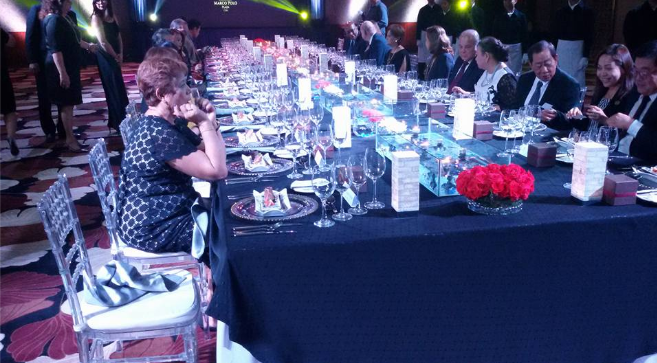 ====================================
Blog (455) posted on May 12, 2009
Posted on May 12, 2009
Reply from Eileen Brudwick (Mike's Wife): Fargo, ND

It's so interesting to hear the stories people talk about. Oh, by the way, onion sandwiches wasn't just a Norwegian thing. I can remember having them when I was a kid occasionally with butter, salt & pepper on it, and with that home made bread, it was awesome. I am of German descent primarily. My mother (of Irish descent) and I also ate mustard & pickle sandwiches. Mike & I still do occasionally eat onion sandwiches. I don't often as onions don't agree with my stomach very well any more, but I do love onions!!

Have a good day!
Eileen

Reply to Larry Hackman (66) from Bill Grimme (65): Birmingham, AL

Larry Hackman, you truly have the gift. I enjoy everything you write. I wasn't going to comment on the onion, but, since you asked that we not let it die, just yet, I will share my experience with the onion sandwich. I have always liked onion sandwiches, just an onion and butter and I also like another sandwich a lot – peanut butter and mayonnaise. I put one of these together every now and then. So, one day I was talking sandwiches with an old friend of mine and peanut butter and mayonnaise came up. He shared his idea of a great addition to the peanut butter and mayonnaise sandwich and that was to put a nice slice of sweet onion between the peanut butter and the mayonnaise. So, when I got home, I decided to try that. It was delicious. I have had a few since then. Onion takes on the characteristic of an apple.

Another sandwich that I have always loved was just butter and sliced radishes. Nice. My mother ate those all the time and it rubbed off.

Here is a great recipe for a whole onion:

Take one sweet onion, slice off the bottom to make it flat, slice the top off and dig a hole in the top big enough to hold about a teaspoon of butter. Put the onion in a bowl. Fill the hole in the onion with butter, sprinkle about a good teaspoon of beef bullion granules over the onion and pour 1/4 cup of water over the whole thing. Cover the bowl with saran wrap and microwave on high for eight minutes. Carefully remove the saran wrap and cover the top of the onion with grated mozzarella cheese. Put it back in the microwave for 45 to 60 seconds. Get a spoon and enjoy the cooked onion. This is really tough to beat!

Keep the stories coming, Larry.

Bill

Reply to Denise Lajimodiere from Ardys Bakken Horner (DHS teacher): Detroit Lakes, MN

Hi Denise, my grandparents even flatten tin cans to make shingles for the chicken coupe, must have been noisy on rainy days, saved string from tied packages, collected and sold eggs to buy groceries, canned everything imaginable, I rmemeber being amazed when I moved to Minneapolis in '61 to find out you actually bought fruit in a store because we grew most fruit on tress at my grandparents farm except for peaches, pears and oranges. Gramma also cut up old clothes, made balls of stripes which were taken in to make rag rugs which I stilll love today. Ardys Horner

Fassett Picture requests from Bonnie Awalt Houle (56): Becker, MN

Dear Gary,

I have talked to the Tessin Family, Sons of Carol Fassett Tessin. They very much would like any pictures that anyone would have of the Fassett Family. They are trying to put together a genealogy. Send the pictures to me at 16809 127th Street SE, Becker Mn. 55308. I will deliver them to them.

I didn't get the message today, Monday May 11.

Thanks much for the phone call.

Bonnie Awalt Houle (56)

Reply from Gary Metcalfe (57): Forsyth, MO

Hello everyone, The occasion this weekend was the opening of Branson Airport. The first privately developed and operated commercial service airport in the United States, $150,000 airport. The fire chief, Ted Marten fulfilled a life long dream as he was selected for a one hour ride aboard a Thunderbird F16. Does Lt. Col. Derek Routt ring a bell with you Bill Hosmer? I guess the Thunderbirds stole the show, but don't sell the single engine planes short, they did a night show that was fantabulous, along with the parachute crew. The Stealth Bomber made a very short appearance. I guess they did it alright as they were around for four days. Gary Metcalfe


Reply from Eileen Brudwick (Mike's Wife): Fargo, ND

Hi Gary,

In answer to your question regarding Kerry Boucher. Kerry is a daughter of Albert & Alice (Fassett) Boucher. Kerry married Wayne Vedquam, the son of JuliusVedquam & Elsie Elie. Elsie (Elie) Vedquam, is Mike Brudwick & Neola Kofoid Garbe's 2nd cousin twice removed.

Eileen Brudwick

Folks, Eileen has a big percentage of all the Rolette & Bottineau County folks both past and present in her Genealogy files. She has been a great help assisting me in finding a lot of folks. Neola got me connected with Eileen about 3 years ago when I was putting together family trees for my dads biological family. She had 90% of the info I needed, especially for the Kofoid's, right at her finger tips. Eileen and I have exchanged hundres of email messages and have become close friends, but we have never met in person. Hopeful one of these years, with our visits back to ND we will meet. Eileen is a workaholic and will exhaust all means to find whatever it is she is looking for. She is a wonderful person.

Reply from Bob Lykins (60's DHS teacher): Germany & Hutto, TX

Gary,

I have been back in the States, living in Hutto, Texas, for about 18 months. I travel a great deal and I have returned to Germany at least 3 times the past year staying for a total of 6 months. My 13 year old son and wife still live there. They have a beautiful place in the Bayischer Wald of Bavaria near Passau. Even though my wife and I are separated, we have a great relationship and get along very well. This year I will be returning to Germany at least 3 more times as well as travels back up North to visit family in Arkansas, Missouri, and Minnesota. I'll also head to Las Vegas this summer for a Department of Defense Dependent Schools reunion. In between all of this I do some substitute teaching in secondary schools in the area. I also have a seasonal position where I work full time for a period of about 11 weeks with Pearson's Educational Assessment Corp. I make enough with them to pay for my travels. I manage to stay very busy but I must say retirement is great.

Take care and lay off the balut.

Bob

Reply to the Catholic lady's picture from Bev Morinville Azure (72): Dunseith, ND

Gary, the woman in the 3rd row and 6th from the right is Eva Dion (Morinivlle) later married Fred Peat , most knew her as Mrs Peat. Her first husband died when my father was 15 months old . my fathers mother and my grandmother


Archieved Photo's.

Do any of you recognize this boy?



Do any of your recognize this little boy ?



Reply to Gary Morgan & Gary Stokes form Dick Johnson (68): Dunseith, ND

Gary and Friends,

Thanks for the compliments, but I think many folks are involved in most
of our accomplishments. It takes a great community, like ours, which has
the right kind of people to make things happen. I have been lucky to
have been involved. Gary Morgan must be back on the 'big lake', as many
call Sakakawea. Glad to have his memory and insight back on line! We
will be looking forward to the Hostfest and hope to see many of you
there. Larry's story about 'Old Joe' Vanorny and the onion sandwich
reminded me of a story from the early days at the Garden Lanes bowling
ally. There were two rows of seats for spectators who came to watch the
bowlers. One night I went up town to watch and the seats all filled up
right after I got there. The games were just starting and Joe poked me
on the shoulder with his cane and said, "You got a phone call, kid." I
got up and went to the desk and picked up the receiver but there was
only a dial tone. I hung it back up and went back to sit down—Joe had
my seat! Oh well, I would have given up my seat anyway, if I would have
seen him come in. I actually thought it was funny! He had 'er figgerd out!
Thanks Gary!

Ladies Bowling team at Garden Lanes about 1960.

L-R: Margo Hiatt, Bernice Johnson, Joyce Evans, and Joy Nordquist