Trip to Little Prairie Cemetery
Story from Vickie Metcalfe ('70):  Bottineau, ND
Gary and friends,
Today I found my thoughts on a memorial mission.
After rising and breakfasting early, the boys and made the  road trip into the hills to Little Prairie Cemetery.
Traveling along, since like my dad, I do not listen to the radio much.  Instead I raise my voice in  song… to the hounds…my dogs don't mind my off key notes.
The tunes began  in earnest, with the sight of 'a dead skunk in the middle of the road'  a bit before the county line.
The songfest ended  when upon arrival, a lone mower was making a final round in the cemetery.
I pushed the door open as the wind pushed back.  In haste, I opened my 'junk in the trunk".  I found it necessary to forego a hat, and be quick as the wind was really whipping.
Gathering  the remembrance wreathes and placing inside the car, I nearly got in a fight with my curiously nosey dogs as what was in the bags.
Finally, I walked to where my folks rest.
Completing the task,  I trekked back across to the gate where there was a greeting from Carl standing in the shelter of the pines.
Carl and his daughter were quite intent on completing the task of  trimming round the stones of Little Prairie.
Driving east and away south onto Dunseith my thoughts were of the song from DHS choir days,"The Ash Grove".
After a quick Dales break, I stopped at the Dunseith Cemetery.   The  quieting wind did not seem as strong.
Once there, I visited the resting places of  Art and Eva, Grandpa William  Metcalfe, Uncle Bill and Aunt Mary, The Anthony's, and
Robert and Sylvia who were my material grandparents, Great Uncle Carl and  Great Grandparents, Sam and Elizabeth.
A sweet smell of lilacs in full bloom waft across the cemetery with the breeze.  Ah-choo!
Springtime! It is another glorious  Sunday here in North Dakota…….
Until later.
Vickie
Joke of the day
Posted by Larry Hackman ('66):  Bismarck, ND
An old cowboy walks into a barbershop in Red Lodge, Montana for a shave and a haircut. He tells the barber he can't get all his whiskers off because his cheeks are  wrinkled from age.
The barber gets a little wooden ball from a cup on the shelf and tells the old cowboy to put it inside his cheek to spread out the skin.
When he's finished, the old cowboy tells the barber that was the cleanest shave he'd had in years, but he wanted to know what would have  happened if he had accidentally swallowed the little ball.
The barber replied, just bring it back in a couple of days like everyone else does.
====================================
Blog (458) posted on May 14, 2009
Posted on May 14, 2009
Gerald Brudwick's Funeral notice posted by Neola Kofoid Garbe: Minot & Bottineau, ND
This is from today's Minot Daily News:
GERALD BRUDWICK, 77, Bottineau, died Tuesday in a Bottineau nursing home.
Funeral Friday, 10 a.m., Metigoshe Lutheran Church, Bottineau.
Visitation Thursday, 10 a.m. to 9 p.m., Nero Funeral Home, Bottineau.
A family service will be held at 9:00 A.M. Thursday at Nero Funeral Home.
Neola
Reply from Ginger LaRocque Poitra (65): Belcourt, Nd
Hi Gary,
Sorry about not getting back to you, but my computer was down for a few
days. No I did not receive those e-mails.
I always admired how Bill Grimme could be so smart. I told him so during
the reunion too. Yes Margaret (Metcalfe) Leonard was born in November of 1946, about one year
before I was born. Margaret and I talked about how I was the youngest of
our class.
I will be seeing Neola tonight, I think these are the last of the pictures
that she has in her possesion to get to the people.
Thanks Gary,
Ginger
Ginger, I just got a reply from Neola letting me know that you stopped by her house to review and take pictures. She enjoyed your company
Speaking of Bill Grimme, You and he are two of the 8 folks that were in our class of 65 from grade one all the way through to graduating from HS. As John Bedard said, you guys were the enduring 8. He too is part of that group. We had 27 in our graduating class. Ginger, You mentioned the top two of our graduating class with Bill & Margaret. You will never hear them mention that though. Gary

Reply from Marie Iverson Staub (60): Seattle, WA
I love reading all the messages on a daily basis but having left Dunseith after the eight grade I recognize a lot of the names and think about writing in but yesterday and today with the picture of Claudia Espe and
Edna Knox from my class of 60 I felt I wanted to. Congradulations to Edna hope she enjoys her retirement.
Wish I was going to be in Dunseith It would be fun seeing her.I am planning on coming up next year if
all goes well .
Thanks again Gary for all the work you do on this everyday I would be lost without my Dunseith fix.
Marie Staub Iverson (60)
Reply from Edna (Susie) Knox Millang (60): Dunseith, ND
Gary – I have worked the past 20 years as a custom broker representive at the Dunseith office. First 12 years for H.A. & J.L Wood Inc who sold to UPS Suppy Chain Solutions about 8 years ago. I was going to retire on May 2 but the office was closed on April 3. I was burned out at the old job and needed a change so was going to retire and then look for something else to do. Thanks again for all you do. Susie Millang
Question from Neola Kofoid Garbe: Minot & Bottineau, ND
Hi Gary,
Would you check if anyone would like to have the three 8 X 10's of Dean Pigeon's family, please? If not, I'll shred them.
Would you also check with the Boguslawski families? I have pictures of Tom/his wife (former Wilhelm), a Boguslawski couple, and maybe more.
Thanks, Gary.
We could have a severe thunderstorm here in Bottineau (Bottineau County and other ND counties are under a thunderstorm watch–mostly goes down the middle of the state from north to south.) later today. It's at Maxbass now, heading NE. It's clouding up outside, so it's very possible we'll get storm. When it gets close, I'll shut my computer down.
Neola
Reply from Paula Fassett (71): North Branch, MN
Gary:
I would guess the boy in the first photo is Bill Grimme (look at his eyes…..) – and those are his twin baby brother and sister to the right of him???
Paula Fassett
Reply from Paulette LaCroix Chisholm (68): Newark, Delaware
Hi, The picture has to be of Billy Grimme with his twin brother and sister, Greg and Gwen in the crib behind him. Loved seeing and remembering the women pictured with Father Wolfe. Paulette Chisholm ''68 (P.S. I vote for radish sandwiches that don't make you have to sleep alone.)
Bill Grimme (65) with his twin brother and sister, Greg (68 & Gwen (68)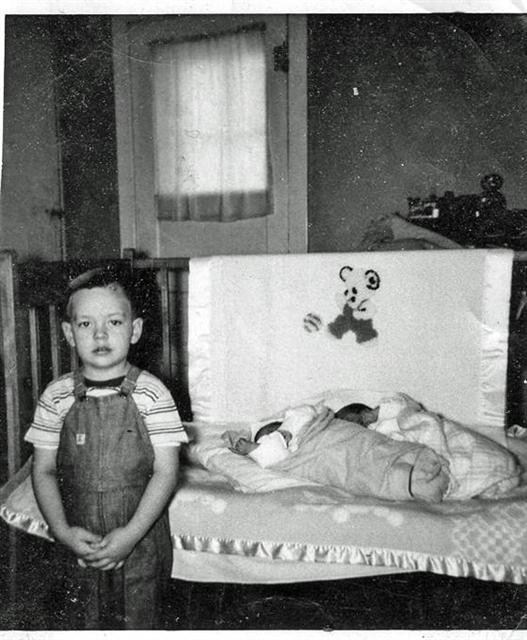 Who is this little Boy?

 Forestery Picture replies listed from here to the bottom of the page
Reply from Dick Johnson (68): Dunseith, ND
Gary,
I think the attendants in the Forestry Queen Pageant are Mary Bott and
Claudia Espe. It sure looks like Mary to me.
Dick
Reply from Evie Gottbreht Pilkington (65): Irvine, CA
I agree that it is not Kerry Boucher in the picture…..Kerry was my first cousin…..her father Albert Boucher was my Mom's brother. I go with Mary Bott for the gal third from the left.
Greetings from CA
Evie Gottbreht Pilkington
Reply from Sharron Gottbreh Shen (59) Everett, WA
My first impression was NOT Kerry – but I had not seen Kerry at that age before. She always had dark shadow area beneath her eyes. I remember Kerry's face being rounder and thought she wore her hair shorter – often with bangs. Someone else also believes it was not Kerry. Sharron
Reply from Neola Kofoid Garbe:Minot & Bottineau, ND
Hi Gary,
This newsletter has lots of info in it!! I'm enjoying the stories about onion sandwiches; I thought my dad was the only person who ate them. When Dad thought he was catching a cold, he'd eat a raw onion. I have no idea if they prevented the cold, but he was a very healthy man.
A comment on the "Charlotte Nichole Crowning the Queen" picture. This is interesting. I thought the queen was Arlyce Parks, Bottineau, so I added the title "Charlotte Nichol Crowning Arlyce Parks" and sent it to my Bottineau/Kramer lists. The next day, I received an email from Charlotte Nichol (Someone in my lists had forwarded the picture to her). She said it isn't Arlyce Parks, but Mary Strand Hillesland. She provided the attendants' names. It must have been Eileen who said Kerry had been married Wayne Vedquam. Again, small world. Wayne is one year older than I am (He's Class of '56). His brother, Elroy, is one year younger (Class of '58). As I said, this is interesting. I'll send these comments to Charlotte and see what she says–or maybe I'd better wait until you hear from Bobby Bott? I'm not saying Charlotte is necessarily right. but I'm guessing she probably is.
I didn't realize John/Julie Seier live in Minot. I know Mark/Phyllis live there, as their daughter, Emily, was in my class years ago. I'm assuming you know John/Mark's mother was Vivian Hagen, Buddy Hagen's sister. When my nephew, Ollie, was younger, he went to Long Lake with Dad/our family. He learned to know Buddy when Buddy had the small building where he sold pop/candy/etc., as that's where Dad would dock the boat. Dad/others also played horseshoe at Buddy's. We spent many Sunday afternoons at "Buddy's Place". Over time, Ollie learned to know Mark/John (maybe more). I was surprised when Emily was in my class, and I made the connection between "Buddy's nephews" and Emily's dad, Mark. I'm not sure, but I think Ollie might have known John better than Mark. Lots of water has gone under the bridge since those fun days at Buddy's.
Mom has always kept clippings from the newspaper. It was either when Emily was in my class, or a little later, I found her grandmother/grandfather's (Marion's) wedding clipping. I gave it to her so she had her "very own" clipping of Grandma/Grandpa.
While I'm on the subject of how small the world is, I think Charlotte Boguslawski's great granddaughter was in my class in Minot, too. Was one of Charlotte's daughters married to an Erbstoesser? They lived in Bismarck–I think. Gordon Erbstoesser attended the School of Forestry when I did. His sister, Janet was married Dan Sheets; he managed White Drug at Town and Country in Minot. Dan/Janet's daughter, Stephanie, was in my class. I think Dan/Janet left Minot awhile ago.
Both Emily Seier and Stephanie Sheets are married. I saw their wedding pictures in the Minot Daily awhile ago. Both were beautiful brides–naturally.
It's amazing how small the world is–and SUCH fun!!!!
Neola
Neola, This picture has sure generated a wealth of interest. It's Great! My philosophy is if in doubt when labeling or sending stuff out for comments and review, is to list your gut feeling. In doing that it gets the ball rolling for comments and replies with the correct info. Now that we have this picture identified correctly, can we get you to send us a corrected copy with the correct labeling. Thank you Neola for all that you do. Gary
Charlotte Nichol, Mary Strand Hillesland, Mary Bott & Cluadia Espe