Allen Stokes Memorial Service
May 13, 2020 at 1:00 PM (Wednesday)
Metigoshe Lutheran church.
Folks,
I will be attending Allen's Memorial in May. We have good help for Bernadette, but even with that, I can not be gone long. There are things that I am needed for. I will be gone a total of 11 days.
I will be in ND Monday to Thursday the week of Allen's Memorial. I am looking forward to seeing many of you folks while I am there too.
Going from 90F temps this time of year to ND, would be a bit of a shock. That plus I don't have the clothes.
Gary
Condolences to the Darrel Fassett Family
From Ron Peltier ('70):  Dunseith, ND
I just now read of the passing of Darrel Fassett and would to send my most heartfelt condolences to his family and relatives.  We really enjoyed golfing with him and wondered why he hasn't shown up these past few summers, the only one left now from his group is Bob Leonard and he's still competitive as heck.
Sylvia McLeod Haakenson Passed away
Posting from Vickie Metcalfe ('70):  Bottineau, ND
Dunseith Alumni Friends and Gary,
Sympathy to the McLeod family on the loss of their sister., Sylvia.
Her brother,  Kenny was a 70's classmate.
Sincerely,
Vickie L. Metcalfe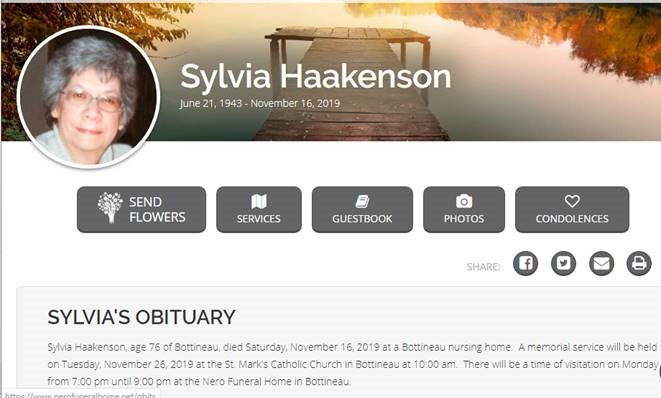 ==============================================
Blog (81) posted on May 10, 2010
Leaving for the States today:
Folks,
Bernadette and I will be leaving for the states a little past Midnight tonight. We'll have a 12 hour lay over in Seoul Korea of which the airlines will be putting us up in a hotel for that time. That will be a nice break. From Seoul we have a direct flight to Seattle. We'll be arriving in Seattle a little past noon on Tuesday. We'll be spending time with our kids, grandkids and friends in Bremerton for a few days. On Sunday we'll be flying to Minot. We'll be in ND until June 5th before heading back to Cebu via Seattle. While in ND we'll be staying with my brother Darrel (Bud) and his wife Debby in Bottineau.\
When we get to Seattle, Bernadette and I will be getting Cell phone AT&T SIM cards for our phones. I will be posting those numbers when I get them. I'm hoping we can get local Dunseith/Bottineau numbers?
While back in the states, I will be posting limited daily blogs.
We are looking forward to seeing you folks.
Gary
Reply from John Tangen: California.
Gary, What a fascinating piece! While I have long ago become a "mountain country" fan, I still enjoy driving across my home state, North Dakota and relaxing in the tranquility. One of my favorite travel memories, one summer evening a few years back, was driving east through the badlands along I-94. To the south was a spectacular display of sheet lightning, something I'd not witnessed before except in Texas; then to my left I noticed another light display, and after pondering a few moments realized I was beholding the Northern Lights, which I hadn't seen since we moved to town (Bottineau) in 1965. The double display was so mesmerizing I had to pull over and stop a while to enjoy. Not a single other car appeared to interrupt the show. Anyway, those mental snapshots are still in memory's photo album.
Hope you have a great time back in the "home country"!
John
Folks, John Tangen's mother was Esther Thompson Tangen, sister to Ella Thompson Pladson. John is a first cousin to Keith Pladson and all his siblings.
John, It's great hearing from you. Gary
Message from Mel Kuhn (70): St. John, ND.
Gary,
Larry Hackman asked me in an e-mail why I wasn't writing anymore of those funny stories about my wife. Now Lola-when you see Kathy at work you don't have to tell her all about this-OK. So here goes. A few weeks back my wife's dad passed away[probably why I didn't think to pass this on] and she was gone to Indiana for a week and a half. Anyway-when she left, she gave me the checkbook saying only to use it if I really needed stuff[this is the first time I've seen the checkbook in over 20 years. After about a week I ran out of clean dishes and pretty near run out of clean clothes. This was mostly due to the fact that she left in kind of a hurry and didn't wash everything before she left. Well anyway I went and bought some new plates and silverware and stuff[I didn't get any new kettles and frying pan as if you cook the same thing you can use them over] and a few pairs of pants and some shirts and underwear. When she got home, she seemed a little upset about this saying that the checkbook was for buying more laundry detergent and dish soap not for buying clean things to use. I still don't understand what I did wrong. Maybe you can help me out here Larry, you are just a little older and maybe a little wiser than me in these matters.
Mel
Mel, we are excited to see you. We are looking forward to the tour that you and Dick will giving the Alumni folks of the Museum too. Gary
Reply from Marlene (Lilleby)Palmquist Larsen (53): Ephrata, WA
Hope you and Bernadette have one grand time!!!Thanks for all the Blogs, even though there are many I don'[t know —it is surprising how many I do know and how you make us all part of the Dunseith family. Would love to be there at the reunion === will be a lot of good times. Thanks again for creating this Blog.
Marlene (Lilleby)Palmquist Larsen
Reply from Blanche Wicks Schley (42):  Grand Forks, ND
Hope that you and the classmates listed in your daily e-mail will have a wonderful reunion. The town will be busting at the seams for a few hours!
Can you see if the history of Dunseith that has been mentioned several times is available? Thanks.
Again, thank you for starting this daily e-mail!
Blanche
PS: You have a really beautiful wife!
Yes, Bernadette has inner beauty too with a heart of gold. She loves to give.
Update from DeAnn Gottbreht O'Hara: http://www.caringbridge.org/visit/deanngottbreht
Happy Mother's Day everyone! I'm am looking forward tomorrow to my first Mother's Day and my Birthday all in the same day! It will be very special. I will be able to celebrate it with my Mother and Grandmother so that is pretty special as well.
I had another chemo Friday and it went well. Only one more chemo treatment to go!! I can't wait. The hormone treatments should be a lot easier on my system without all the side effects of the chemo. I saw my doctor and she was sure excited to see Connor and hold him for the first time. She said Connor is our Miracle Boy and he sure is! He went through a lot with me already and came through it just fine. He is also a great traveler in the car! Thank goodness since we are driving all over the state pretty much every week.
I put up a couple new pictures of Connor on here for you all to see. He is sure changing fast. He is also starting to sleep better at night the last couple of night so that sure helps me out. He is eating larger amounts to so I think that helps. Take care everyone and enjoy the weekend!