Philippine Address
Question from Kaye K. Lystad Kirk:  Fargo, ND
Hi Gary,
Does everyone know what address to use to mail a card to you, if one wanted to?  I know I don't…
Thanks,
Kaye K. Lystad Kirk
Gary's Reply
Kay,
I have two addresses. I have a USA military FPO address and a Local address.
Delivery time for both addresses is about 2 weeks. Longer with the holidays.
My FPO Military address is USA Mail with regular USA postage.
Gary Stokes
PSC 517 Box 6908
FPO AP 96517
Local Philippine address requires special postage
Gary Stokes
Purok 2
Nangka, Consolacion
Cebu, Philippines 6001 
Leonard Stickland and Darrel Fassett Deaths
Posted by LaRose Ketterling ('46):  Mercer, ND
Gary,
In case you haven't heard
Two Dunseith deaths
Darrel Fassett October 29, 2019 in Georgia, age 90 (birthday Dec 1)
Leonard Stickland Nov 12, 2019  age 91 in Mandan, ND obituary in Bismarck Tribune
LaRose Ketterling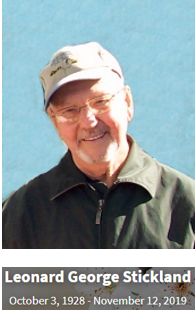 Obituary
Leonard George Stickland, 91, Mandan, North Dakota, passed away Tuesday, November 12, 2019, at St. Alexius Hospital surrounded by his family who loved him deeply. Memorial Services will be held at 1:00 PM, Friday, November 15, 2019, at DaWise-Perry Funeral Services, Mandan. Family and friends will gather one hour prior to the service. There will be no visitation, as cremation has taken place. Leonard was born October 3, 1928, at Dunseith, North Dakota, to Edward and Alice (Striker) Stickland. He was raised on the family farm until age 12 when his family moved to Dunseith where he graduated from high school in 1947. He attended Minot State Teachers College and taught school for two years. On December 18, 1948, he married Eleanor Awalt in Seattle, Washington. He joined the Teamsters Union in 1952 and drove tanker truck. The highlight of his working career was going to Greenland in 1959 and working as a heavy equipment operator building a radar base on the icecaps. Leonard's greatest joy was the time spent with his grandchildren – teaching them to drive, to shoot a gun or drive a boat. His children and grandchildren will never forget his many pranks and sense of humor. Leonard enjoyed restoring old cars, and moose hunting in Canada. He traveled to all of the US states except Maine. He is survived by his wife, Eleanor; three daughters, Margaret Gress, Atlanta, Georgia, Barbara (Mark) Knoll, Richfield, Minnesota, and Kim (John) Gleich, Wisconsin; one son, Michael Stickland, Mandan; son-in-law George Gress; nine grandchildren, Michael, Brian (Jena), Andrew, and Anthony (Stacy) Gress, Dustin Knoll, Paul, Kelsey (Joe), Adam, and Kyle Gleich; and four great-grand-daughters, Anna, Avary, Natalie and Eleanor Gress. He also leaves behind his furry friend, Charlie. Leonard was preceded in death by his parents, son David; granddaughter, Mariah Gleich; five sisters, Joy Peterson, Lois Nugent, Doris Bousche, Marion McFadden, and Delma Beaudry, and two brothers, Bob and Ennis.
Gary's Comment
Thanks, LaRose for this info. We knew about Darrel Fassett's passing, but had no idea that Leonard Stickland had passed away.
We extend our condolences to Leonard's family too, with his passing.