Message from Lee (Leland) Stickland ('64):  Dickinson, ND
Gary,
I just sat down this Monday,  3-30-20, @ 11:30 am MDT, waiting for my tea water, which comes a bit Before the meal that is delivered to our room, since about the 19th. Not a problem for me as I pretty well stay in my room anyway.
I have the telecaster and a superb amp that my son, Eric, who lives in Boston, sent me, and I have many books. When I need more books, I let Eric know and Viola', in 3 or 4 days I rec. I get 4 new books with titles that are a surprise; usually biography.
I am great. Feel just wonderful. Hope YOU & YOUR BRIDE is " hunkering-in-place " successfully, also.  Lunch HAS arrived!
Later,
Lee
Gratitude
Posted by Vickie Metcalfe (70):  Bottineau, ND
Good Friday, April 10, 2020
Hello it so good to greet you Gary,
and many Dunseith Alumni friends,
            The Bottineau Vets building is closed for the coffee drinkers.
I think the vets see a need and are making a space available for sewers of masks..
            I listen each day to ND Gov Burgum on Bottineau 's KBTO Sunny 101,9 @ 3:30 pm. Gov Burgum talks common North Dakotan sense and uses true facts.
  ………no gossip or Facebook.
Yesterday, he shared of models that many national news' outlets have quoted and shares FAULTY information.
            ND doesn't have all the deaths that model has listed.
So far ND has 6 people who have passed away.
Today's fact 9 North Dakotans yesterday were diagnosed.
            I especially like when Gov Burgum discusses GRATITUDE somewhere each time in his message.
Gratitude is a major factor being resilient.
            Yes, we North Dakotans are being challenged.
Mostly,  everyone is rising to the challenge of Social Physical Distancing.
Others are finding change extremely challenging.
            One of my own family members has written PHYSICAL Distancing notice posted on their door.
NO apology just stated facts.  Good for them!
            I do not wear a mask. Yet.
One of my siblings told me she is sending me one. If not i will drape a scarf. …. I will try to find a really ugly one.
            CHANGE's of long held habits are difficult.
Stages of grieving when confronted with any kind of loss have been defined as follows.
Anger, bargaining, depression and acceptance
These stages do not follow in specific order for each of us .
Each of us may be at a different stages or places in their grief.
I need to remember this and know that this normal human behavior.
Two of my own personal examples':
Dad's diagnosis of Blindness.
DENIAL
I held on to hope after hope for a cure driving him to Minneapolis for treatment.
My Denial was especially clear to mom.  When she told me of the notice for Dad's license renewal had come in the mail.
I ADAMENTLY expressed his license should be renewed!
But Mom was well into ACCEPTANCE. She later experienced a brain tumor and loss of her sight in one eye
She did all she could to continue making things normal for dad. 
Chainsaw accident years ago.
I went into ACCEPTANCE immediately.
FACT my arm was severely cut. FACT I lost blood, severed nerves artery. muscles, and bone
FACT I was diagnosed as partial amputee.
FACT I will never regain full feeling or use of left hand.
Believing in the higher power carried me through.
FAITH, FAMILY, FRIENDS, MEDICAL PROFESSIONALS   … begin the long list for which, I am grateful.
Later,
Vickie
==============================================
POSTING FROM THE PAST
Blog (90) posted on Jun 18, 2010
Folks, I have some other postings, but I have limited today's message to the reunion pictures. Gary
Reunion Picture replies with identifications:
Thanks, folks, for all the replies and help with the identification of these pictures. I am posting your replies with a reposting of the pictures with the correct identities.
Again folks, please send pictures.
Thanks, Gary
Note: Pictures twelve and fourteen are the only ones not fully identified.
From Alan Poitra (76): Bloomington, MN
Hey Gary, in pics 14, I know the front 2 people are Eric and Sandra Poitra and the woman behind Eric is Bernice Belgarde I think, the one right of Sandra not sure but I believe another Belgarde. In pic 3, the two ladies sitting on the left are Pam Wenstad and Delorie Enno and the 2 handsome men on the right of course that is me Alan Poitra next to Delorie and my partner Mark Larsen and behind us is Bernard and Robin Morin and I think the lady behind Del and Pam is Mrs Espe, (Robin's Mom)
Hopefully that will help you out!
Thanks Alan, It was a pleasure to finely see you face to face after all these email exchanges. I dearly love the CD that you sent me last year too with the good old 'honky tonk' tunes recorded by your family. It may not be Bernadette's taste for good music, but it's mine, so I listen to it when she is not around. Gary
From Susan Fassett Martin (65): Spearfish S
#10 -Olynda(Eurich) and Ydola Pigeon, #8 Terry Halvorson on the left, Gwen Struck in the brown jacket, #7 Gwen Grimmes husband in the rear, #3 Peggy (sime)Espe in the green jacket, Alan Poitra sitting in the plaid shirt talking to Bernard Morin, #12 Lawrence Hetle in the blue t shirt and his wife in the pink jacket, #13 Lowell leonard visiting with connie burcham, Judy De Pew, Eva Eurich –That's all the help I can give.
From Ele Dietrich Slyter (69): Dunseith, ND
picture 3 top right side is Bernard Morin
picture 4 is Richard Slyter, Dan McKown and Bobbie Slyter, Dan is a friend of Bobbie's from Kansas
picture 5 in the backround is Diane Wenstad and Ele Slyter
picture 9/10 is Mr and Mrs Ydola Pigeon picture 12 guy with glasses is Harvey Sebelius and his wife on hiis left..don't recognize the rest hope this helps
ele
Ele, It was a pleasure seeing you too after all these email exchanges. I recognized Richard from the pictures when you guys walked in. Had it not been for the pictures, I for sure would not have ever known him. He looks great, but not the way I remember him. My, how we all change and some more than others. 
From Lynn Halvorson Otto (75): Boonton, NJ
Hi Gary, in the picture with the speaker, the guy on the left with the cap on is Terry Halvorson. That is all I know. Thanks, great pictures. FYI: I am now in Boonton, NJ. We just moved back to the states May 29th from Seoul. New beginnings again. Lynn Halvorson Otto (75).
Welcome back to the states Lynn. I will miss getting your messages from this side of the pond. Gary
From Bobby Slyter (70): Wichita, Kansas
Gary, the lady in #3 in the white blouse is Pam Wenstad in #4 next to Richard is my friend Dan Mc Kown and I am next to him in # 5 next to Diane Wenstad is Ele Slyter great pics thanks for all that you do
Bobby, It was so nice to see you again too after all these years. You Slyter boys are looking great, but not the way I remember you guys and I knew you well in our growing up days. Gary
From Allen Richard (65): Midland, MI
Picture 10 Olynda and Ydola Pigeon.
From Keith Pladson (66): Stafford, VA
Gary, A couple of identifications that may help. In picture eleven you caught my brother Dan and his wife Robin. To the right of Robin and only partially visible is my sister Tina Bullinger in the pink sweater and to the right of Dan is Tina's husband John Bullinger. In picture thirteen the lady at the back side of the table pointing to something is Shirley Bercham Sime spouse of Larry Sime (not present).
Hope that helps. Keith Pladson (66)
Keith, Those were some great old pictures that you were showing me that you got from your Aunt Lillian Thompson. When you get a chance, please scan and zap me copies. I'd love to share those. They included some of my/our Grandparents that I have never seen before. Thanks, Gary
From Marie Iverson Staub (60): Seattle, WA
Gary,
picture 2 Lady in green standing is Peggy Espe (Sime)
picture 13 in back is Lowell Leanord, next two don't know Eva Eurich and Cleo Kelly
picture 15 Barbara Iverson (lyonais) Helen Boguslawski
Marie Staub
Marie, It was so nice seeing you too.
From Gwen Struck Dumas (68): Havre, MT
Picture #8 Terry Halvorson Gwen Grimme Monte Espe Brenda Hoffman Dick Johnson Gwen Struck
 Gwen, I should have recognized you and Monte too. Gary
From Brenda Hoffman (68): Greenville, SC
Hi Gary!
Photo eight: Terry Halvorson, Gwen Grimme, Monte Espe, Brenda Hoffman, Dick Johnson and Gwen Struck either shortly before or after we took the class of 1968 photo.
Brenda
Reply from Tina Pladson Bullinger (78): Bottineau, ND
Number Eleven John Bullinger
Picture Three:
Sitting: Pam Wenstad, Delorie Enno, Alan Poitra & Mark Larson Standing Left: Peggie Sime Espe
Standing right: Bernard & Robin Espe Morin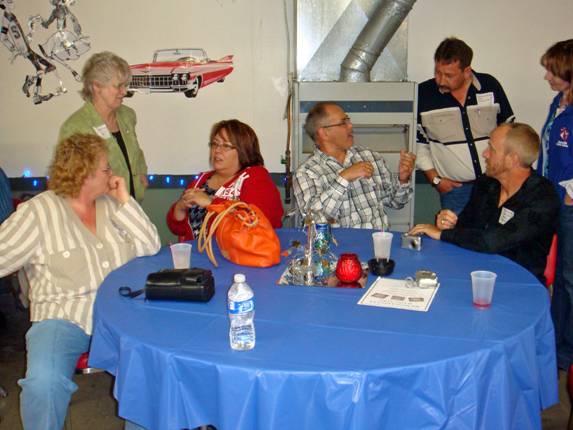 Picture Four:
Richard Slyter, Dan Mc Kown & Bobby Slyter"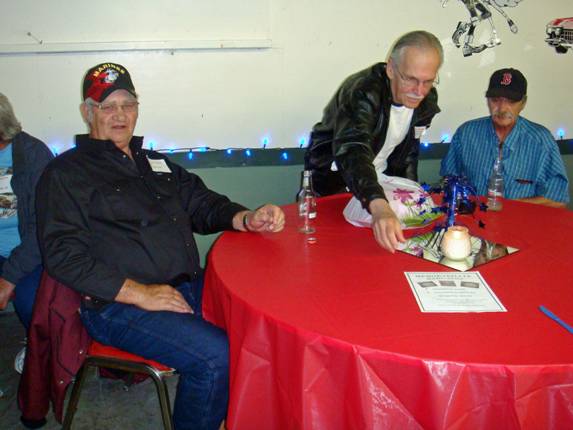 Picture five:
Front: Kenny & Sherry Nerpel
Back: Diane Wenstad, Ele Dietrick Slyter, Richard Slyter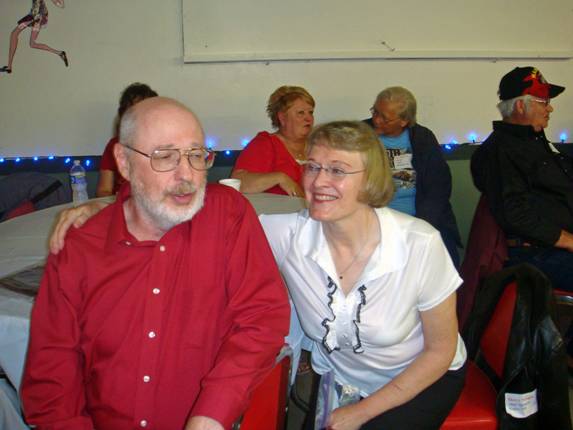 Picture six:
John/Margaret Bedard, Cora (Warren) Anderson, Kenny Nerpel & Ele Dietrick Slyter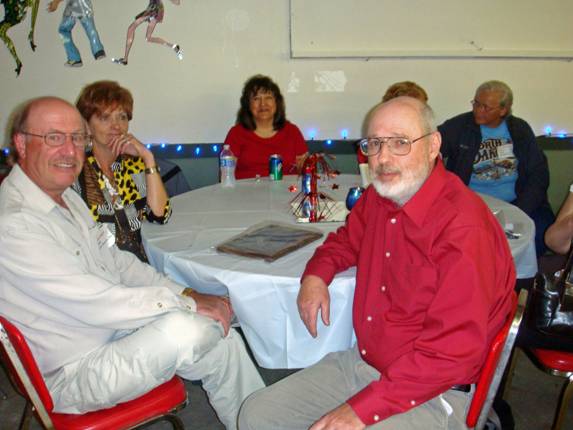 Picture Seven:
Front: Ernie Gottbreht & Cheryl Bailey
Behind George Eltz, Standing Gwen Struck Dumas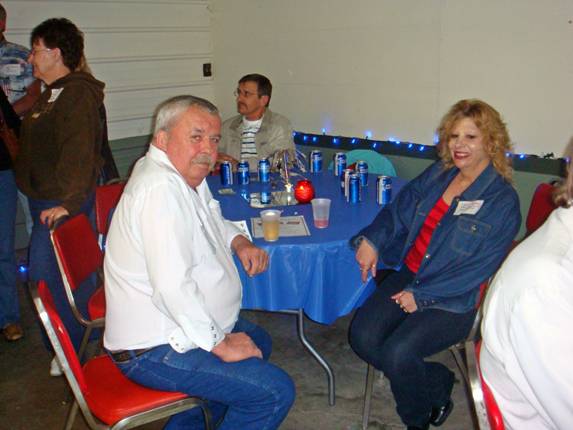 Picture eight:
Terry Halvorson, Gwen Grimme Eltz, Monte Espe, Brenda Hoffman, Dick Johnson, Gwen Struck Dumas & Ernie Gottbreht.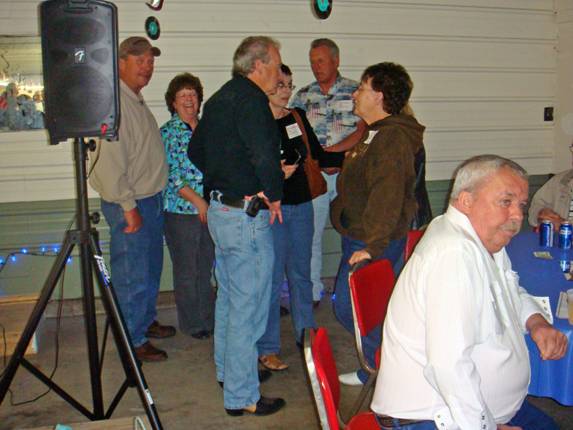 Picture Nine:
Olynda(Eurich) & Ydola Pigeon, Brenda Johnson & Ron Hett.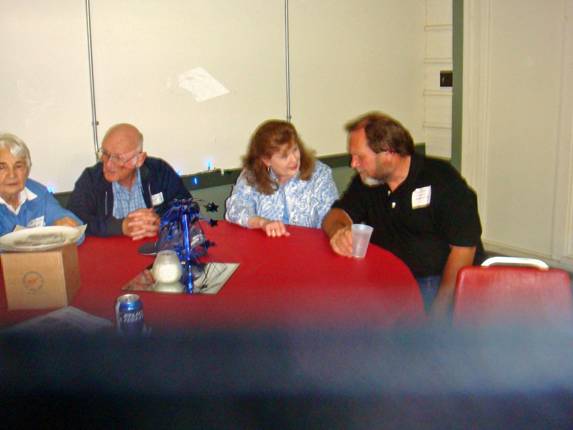 Picture Ten:
Mildred Parrill, Olynda(Eurich) & Ydola Pigeon and Brenda Johnson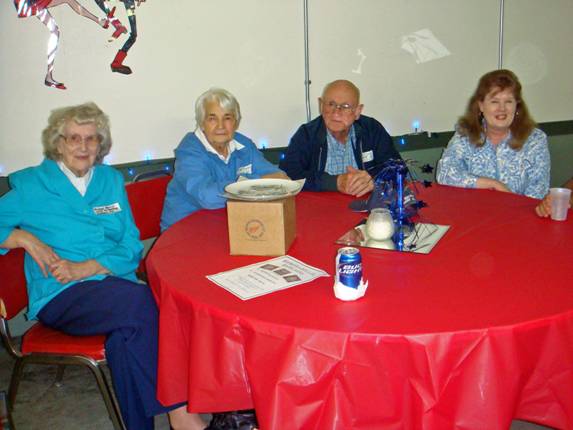 Picture Eleven:
Nancy Hosmer, Robin/Dan Pladson & John Bullinger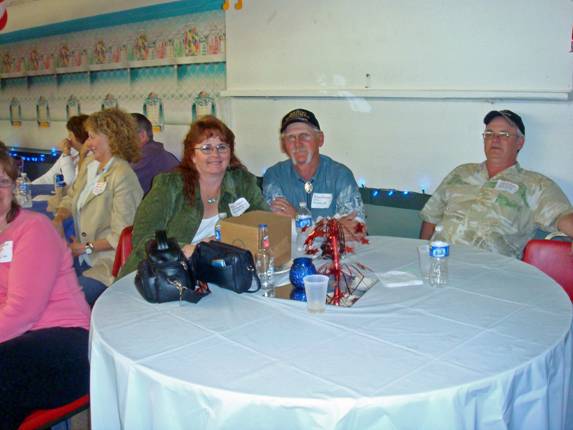 Picture twelve:
Larry Hackman pointing his finger at the camera. Lawrence Hetle in blue T-shirt, Armella Hetle in pink – Need some help with the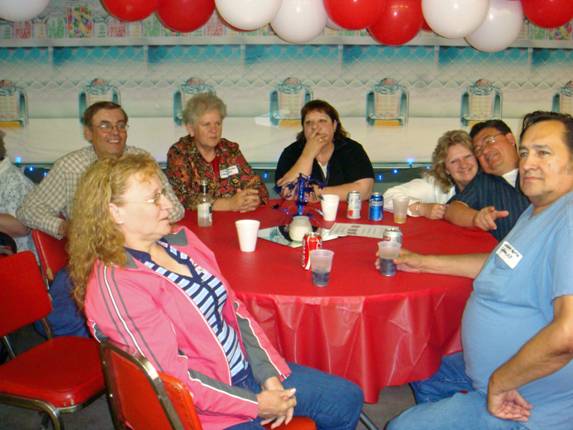 Picture thirteen:
Around the table L to R: Sharon Zorn Gerdes, Lowell Leonard, Connie Burcham Sime, Judy De Pew, Eva Eurich Paulson & Cleo Kelly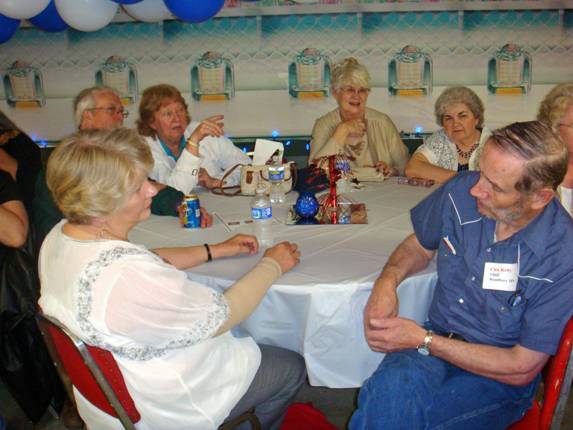 Picture Fourteen:
Front Left: Eric & Sandra Poitra Sitting behind: Bernice Belgarde Front Right: ???? Belgarde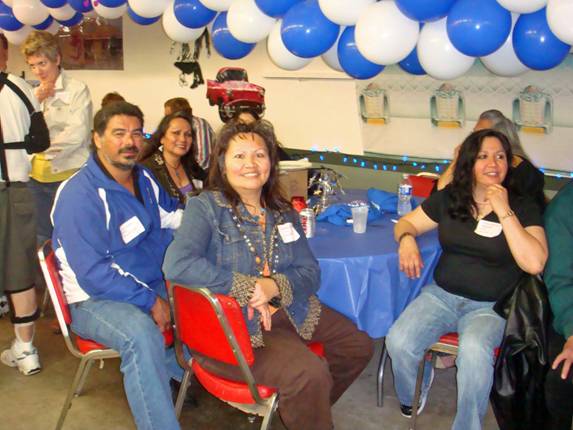 Picture Fifteen:
Harlan/Joyce Flaata, Barbara Iverson Lyonais, Marie Iverson Staub& Helen Boguslawski