Karen Larson (Bottineau Spectrum) Appreciation
From Ivy Eller Robert ('74):  Everett, WA.
Gary,
Karen Larson at Spectrum is such unappreciated hero. She does so much for so many, works long hours and is always so pleasant when you go into to her store. I for one want to Thank her for everything! My words can't begin to repay her for her dedication to her store and work. One summer, a couple of years ago, when I was back there in Bottineau, I volunteered my time to help her. She thanked me and said she just didn't have the time it would take to teach me. That it would only make much more work for her until I knew what I was doing.
I wish her the very best!
THANKS, KAREN, for being you………..
Ivy Eller Robert (74)

Wilfred Nerpel (DHS '64) Obituary
Posted by Neola Kofoid Garbe:  Minot, ND.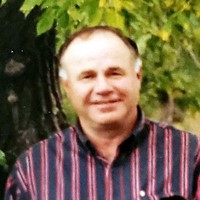 Wilfred Nerpel, age 74 of Dunseith, died Tuesday, June 16, 2020 at his home north of Dunseith.  His funeral will be held on Friday, June 19, 2020 at 2:00 pm at the Nero Funeral Home in Bottineau.  Visitation will be one hour prior to service time in the funeral home.  Burial will be at the Seventh Day Adventist Cemetery North of Bottineau.
(Nero Funeral Home – Bottineau)
Dorothy Pritchard Memoir
Posted by Neola Kofoid Garbe: Minot, ND.
Gary's Note:
This is a posting by the Bottineau St Andrews Hospital in about November 2008.
Dorothy Pasted away at the age of 98 on 6/25/2011.
This has been posted before, but since Neola sent it to me again and because I knew Dorothy extremely well, I am reposting.
The Pritchard's were our good close family neighbors ¾ of mile south of our farmstead. We interacted a lot.
Darald (Mississippi), Dale ('63 Louisiana) and Carol ('67 Texas) are Robert and Dorothy's surviving children.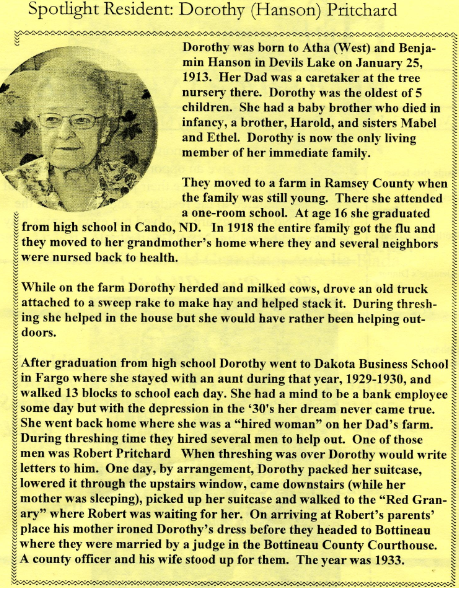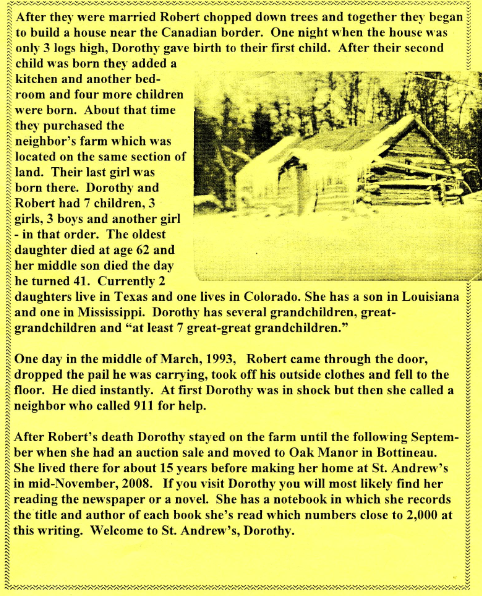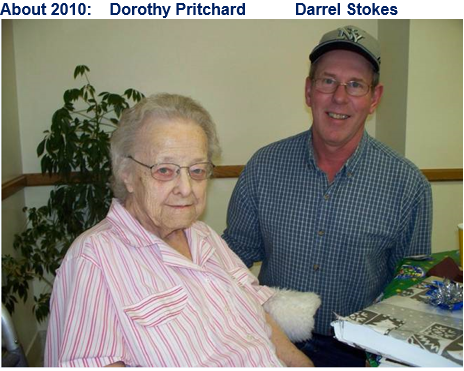 Dr Nelson's Obituary – June 1974
Posted by Neola Kofoid Garbe:  Minot, ND.
I think I sent this old clipping of Dr. Nelson's obituary in 2009.  I'm deleting old emails from my "sent" box/saw this clipping/decided to send it again before I delete it.
Dr. Nelson delivered me, as I'm sure he did many/most of you who were born in Bottineau, ND.  He was our family doctor at that time.  I remember him as being a very nice fellow.
Neola
Gary's Comments
Being a prominent Bottineau Dr from 1928 to 1961, I am sure that Dr Nelson delivered many of you folks too. He delivered me and I am sure my two brothers too. When I was 8 years old, he performed surgery on my right broken thumb in the Bottineau hospital. He had to fuse the lower joint. To this day I still have the long scare the length of my thumb.
Vickie Metcalfe's Comments
Gary,
Dr. Nelson for many years was our family Doctor until he left.
As a child, I was never connected to BottIneau County with exception of birth at Bottineau Hospital.
My parents did their most essential business in Dunseith.
Mom didn't go to town or purchase anything on a whim,
she planned according to need.
Whenever, Mom out of necessity went to Bottineau for a doctor appointment,
she'd bring along her green or gold bond stamps.
That was a big deal for me, a country kid from the hills!
It was fortunate for Main Street Dunseith when a clinic was built with the
Rolette doctors providing medical care, especially after Dr. Nelson's retirement,
Thanks Gary,
Vickie

Thank Goodness, Here's Good News for A Change
FWD from Vickie Metcalfe ('70):  Bottineau, ND
Vickie's FWD. Double Click.
Sorry this FWD will not upload into our Website
Hello Gary and Friends of Dunseith Alumni,
 This fwd. is so very neat!
Especially the ending credit.  A Canadian from S. Ontario, Chris Hadfield was a resource!
For the last number of years, I read his book the "The Darkest Dark" with various classrooms.
With a Grade Six focus year long,
on building resilience, we discussed how Chris overcame his fear of the dark, became a pilot,  astronaut, author and singer.
I'm delighted, he is one of those people choosing a positive attitude and continuing to better the world!
Thanks,
Vickie L. Metcalfe
June 16, 2020