Jerry LaCroix (DHS 1973) Obituary
Posted by Vickie Metcalfe ('70):  Bottineau, ND
Dunseith Alumni Friends and Gary,
I wish to offer sympathy to Arlene, Laura, Christopher, Mark and extended LaCroix family.
I appreciated Jerry's genuine kindly chuckle,  devotion to his wife Arleen,  his three children and his work
for so many years in the State of North Dakota.
Sincerely,
Vickie L. Metcalfe
             Jerry LaCroix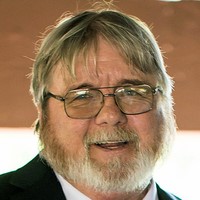 April 26, 1954 – July 01, 2020
Jerry LaCroix, age 66 of Bottineau, died on Wednesday, July 1, 2020 at a Minot hospital.  His funeral will be held on Tuesday, July 7, 2020 at 10:00 am the St. Mark's Catholic Church in Bottineau.  Visitation will be Monday from 1:00 pm until 9:00 pm with a prayer service at 7:00 pm at the Nero Funeral Home in Bottineau.
Jerry John LaCroix, the youngest child of Henry and Gladys (Click) LaCroix, was born on April 26, 1954 in Rolla, ND.  He graduated from Dunseith High School in 1973.  He worked for his uncle, Oren Rocheleau on his farm during high school.  He began working at the San Haven State Hospital in 1973 and worked there until it closed in February of 1988.  Jerry then started working for the North Dakota Department of Transportation.  On June 25, 1988 he married Arlene Skarphol.  He worked with the ND DOT until his retirement on July 31, 2014.  A career spanning 41 years.
Jerry passed away on Wednesday, July 1, 2020 at a Minot hospital.
He is survived by his wife, Arlene of Bottineau; daughter, Laura (Tyler) Hanson of Grand Forks; sons, Christopher of Minot and Mark of Bottineau; granddaughter, Brynlee Gerken-LaCroix; siblings, Janice (Michael) Kester of Fargo, Charlotte LaCroix of Fargo, Gregory LaCroix of Fargo and Paulette (Ken) Chisholm of Newark, DE and numerous nieces and nephews.
In addition to his parents, Jerry was preceded in death by an infant brother, Dennis.
In lieu of flowers, the family requests that memorials be given to the Turtle Mountain Cancer Support Group.
His funeral will be lived streamed at https://www.youtube.com/watch?v=xpb7lO3kYR0.
SERVICES
Funeral Service
Tuesday, July 07, 2020  10:00 AM
St. Mark's Catholic Church  322 Sinclair St  Bottineau, ND
David L. Kjorsvik Obituary
Posted by Vickie Metcalfe ('70): Bottineau, ND
June 25, 2020
Hello Gary and Dunseith Alumni,
Condolences to the extended Morin/Kjorsvik family of David Kjorsvik.
David Kjorsvik was a proudly patriotic, quiet and unassuming person.
I knew David and his wife Donna (Morin)Kjorsvik, as a truly committed couple.
David treated Donna, his wife as if she were gold. He truly treasured his family.
And he treasured his country.
His wife, Donna, my cousin Elaine and I all attended and graduated together with BS Elementary Ed degree's from UND.
Many times, David provided transportation from Grand Forks to Dunseith in his Toyota Corolla.
David quietly maneuvering the car safe fully and skillfully, through good weather or bad.
Donna, Elaine and I when together talked education nonstop. ….. David listened.
Blessed be the memories of David and Donna (Morin) Kjorsvik.
Sincerely,
Vickie L. Metcalfe
           David L. Kjorsvik


Dec 16, 1949 – Jun 22, 2020
DAVID'S OBITUARY
U.S. Veteran
David L. Kjorsvik, 70 of Devils Lake formerly of Lakota and Dunseith, ND passed away on Monday, June 22, 2020 at his home.
Funeral Services for David will be held on Sunday, June 28, 2020 at 2:00 p.m. at the Gilbertson Funeral Home, Devils Lake and weather permitting in the Gilbertson Funeral Home parking lot. Burial will be in St. Louis Cemetery, rural Dunseith ND at a later date.
David Lorentz Kjorsvik, son of Lorentz and Selma (Northagen) Kjorsvik was born on December 16, 1949 in McVille ND. He grew up in Nelson County, attended Melrose #4 School, Michigan Public School and graduated from Michigan High School with the class of 1968.
David enlisted in the United States Army on December 27, 1968 and proudly served his country during the Vietnam War with foreign service in Germany. He was honorably discharged from active duty on December 17, 1970 and continued with the Army Reserves until December of 1974.
David was united in marriage to Donna C. Morin in 1971 in Dunseith ND. They established their home initially in Grand Forks, but moved to Wahpeton ND when David attended NDSSS.  He received his degree as an electrician in 1976, earned his journeyman license in 1981 and his master electrician license in 1987.  He worked at Burkland Electric in Lakota for several years.  In 1988, David became the owner and operator of D&D Electrical in Dunseith ND.  David and Donna resided in the Turtle Mountains, eastern North Dakota, Lakota for many years and after Donna passed away he moved to Devils Lake.
David wanted to continue to serve his country, so in 1990 he joined the North Dakota Army National Guard. He was part of the Bottineau and Rugby Units, with specialties in construction engineering and water purification.  He was honorably discharged in 2008 with the rank of Staff Sergeant.  David's unit was deployed overseas for a time and also assisted in the Grand Forks, Jamestown and Fargo flood fights.
David was hard working man, devoted husband, loving father and grandfather. When he took time to relax, he enjoyed hunting and fishing, gardening, brew master of his own beer and wine, and liked to tinker as a welder.  In later years, he loved watching old movies, Westerns, and was a fan of "MASH".  He might be called a "Pack Rat" to some, but he believed that one man's junk just might be his treasure!
David proudly served his country, loved his family with all his heart and was a good friend to many.
He is survived by his son Kendrick Kjorsvik, Grassy Butte ND; daughters Kelly (Kenny) Asleson, Devils Lake and Krystal (Greg) Charette, Belcourt ND; grandchildren Kahlen and Aime-Justine (Cody), Rylee, Shawna and Dawson-Kayleigh, Mikey, Tate and Marianna; great granddaughter Claire; siblings Sharilyn (Brian) Hendrickson, Crary ND, Vance Kjorsvik, Wahpeton ND, Lorna (Glenn) Lindblad, Beulah ND; sisters-in-law Gloria Kjorsvik, Little Falls MN, Lynn Kjorsvik, Tasmania Australia, Gail (Raphael) Trottier, Belcourt ND, Allison Morin, Sheri (Mike) Gladue, and Joyce Morin all of Dunseith ND; brother-in-law Bernard (Robin) Morin, also of Dunseith; many nieces, nephews and their families.
He was preceded in death by his parents, wife Donna on October 19, 2003, brothers Larry, Myron, Duane, Curtis and infant brother Lyle Kjorsvik, in-laws Richard and Madeline (Parisien) Morin and sisters-in-law Donna J. (Christensen) Kjorsvik and Connie Vivier and brothers-in-law Duane Morin and Claude Morin
==============================================
FROM THE PAST
Blog (93) posted on Jun 21, 2010
Teacher and Class room shortages in the Philippines:
Folks, our helpers little boy, JR and Bernadette's little great niece, Jasmine, are first graders this year. The school year here is from June thru March. When school started last week there were 95 first graders in JR and Jasmine's class with one teacher and no helpers in an average size class room. That is what you call togetherness. Today, Monday, the principal decided their class was a bit large for one teacher and that there were a few too many students for the room capacity. Today they spilt the class in half with half going in the morning and the other half in the afternoon all in the same room with the same teacher. I'd venture to say there is not much one on one teacher/student relationship in that class. The average teacher's salary is $250/month. Gary
Sending greetings to Art Rude in Trinity Hospital:
Site link posted by Neola Kofoid Garbe: Bottineau & Minot, ND.
Gary,
I forgot to send this website address to you yesterday. If people want to send greetings to Art Rude, they can go to this site/leave a message for Art/tomorrow it will be typed/delivered to him.
Neola
www.trinityhealth.org/Greeting/Mailpatient.asp
Class Pictures taken at the reunion:
Folks, These are some class pictures (71, 72, 59 & 65) that Myra Henning provided that I posted from ND without identifications. I'm pretty sure I've identified those in the class of 59 correctly and I know I've gotten all those in the class of 65 labeled correctly. The other 2 classes I need some help with. I will repost with the correct ID's.
I know there were other class pictures taken that I do not have. I know there is one of the class of 68 and I know there must be one somewhere of the class of 60. The class of 60 folks had quite a turn out and I know you guys had a get together a night or two before the reunion. We'd love to see any pictures that you guys may have and others too.
Gary
Reply from original posting
From Paula Fassett (71): North Branch, MN
I must have been singing in the photo – notice the musical note above my head? Ha! How great of Myra to share these. I took several, but haven't had time yet to even load them into my computer. Susan has my photos on her computer, too, and there are several of the Class of '65 – which I'm sure she will share so everyone can see how great they look "after all these years"!
What a great reunion!
Paula Fassett
Fines, Penalties and Forfeitures Officer
Customs and Border Protection
Minneapolis, MN
PH: 612-348-1690, ext. 141
Class of 71:
Back: Cheryl Haagenson, Denise Peltier?, Paula Fassett, Marlys Hiatt
Front: I don't dare guess with this one. I think Gary Fulsebakke is on the right?
The rest, I think, are Rod Medrud, Alan Henning, ????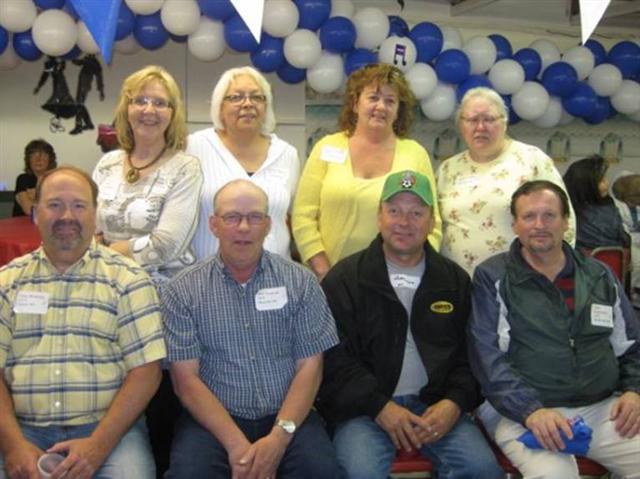 Class of 72:
Loretta Neameyer, Donald Malaterre, David Abrahamson, Bernice Belgarde, ??? Ann Boppre, Myra Henning, Loraine Neameyer, Linda Johnson, Shelly Fulsebakke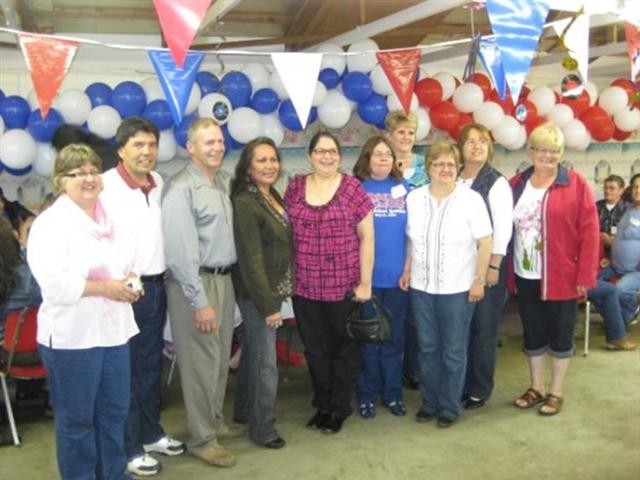 Class of 59
Standing: Curt Halverson, Abe Murray & Lowell Leonard
Sitting: Helen Boguslawski & Geri Metcalfe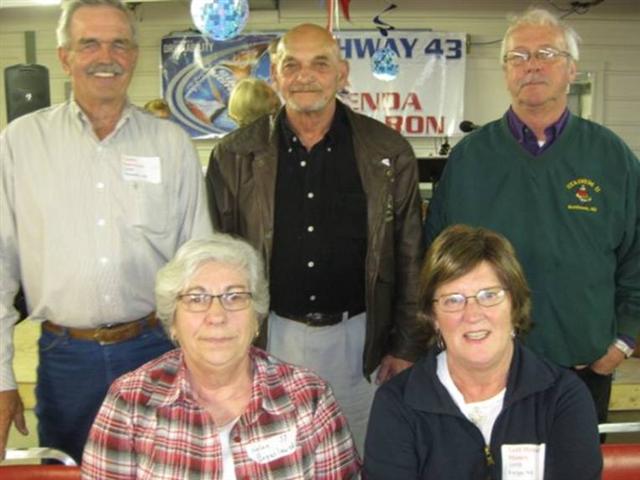 Note: I better get this one right. We had a pretty good turn out with 21 folks. 18 of our 26 living graduates were present. Too bad we didn't get this picture taken earlier so all those present could have been included. Gary
Class of 65:
Standing: Donald Egbert, Ernie Gottbreht, Warren Anderson, Susan Fassett, Henry Hackman, Angela Berube, Raphael Poitra, John Bedard, Rene Casavant, Kenny Nerpel & Bill Grimme.
Sitting: Margaret Metcalfe, Patty Boguslawski, Gary Stokes, Pete Gillis, Esther Murray & Ginger LaRocque.
Those that were present but missing in picture: Cecile Berube, Helen Rivard, Gladys Roussin, Joanne Smith