Gary Stokes comments from Cebu, Philippines
 Good day folks,
 I hope all is well with most of you, with this Coronavirus and all. This pandemic has taken a toll on pretty much the whole world.
 From Mid-March until May 20th we were locked down and couldn't leave our premises. Only one person per house hold was given a pass to go out 2 days per week to purchase food and necessities. Our helper had our pass. I'd drive her in the car and then just wait for her in the car. They had guards up on our road checking all those that went out too. It was a real lockdown. They'd let me drive our helper as long as I didn't get out of the car.  We are able to go out now, of course with masks and social distancing. They have guards in the malls to make sure folks follow the arrows and maintain social distancing. 
Cebu City has pretty high positive Covid numbers at the moment too. They are still locked down tight. We live outside of the city so we are OK. To maintain social distancing in Cebu City, the president brought in the Army with soldiers, armored vehicles and Helicopters to observe social distancing. If they see any group gatherings, they are reported and dissolved immediately. I think a little stricter here than back in the states.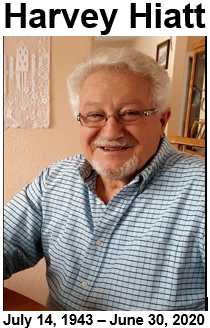 Folks,
I received word that Harvey Hiatt Passed away at his home in Flagstaff AZ on June 30th.  I will post more of his details when I receive his obituary later this week or next week.
Harvey's ashes will be buried in the Ackworth Cemetery. Please see picture below.
Chatting with Harvey's widow, Tanya, she said she will prepare his obituary this week. She is taking his passing very hard. We extend our condolences to her during these hard times with Harvey's passing.
Harvey was the son of Willie E. and Maxine Radley Hiatt. His siblings are Barbara Cote, Laurence Dale (LD) and Douglas. In 1954 Willie and Maxine sold their farm in the Ackworth community to Norris Knutson and moved to Bottineau. Harvey attended the first six years of his schooling at the Ackworth Country school.  Grades 7 through High school he attended the Bottineau schools. Off the top of my head I believe he graduated with the BHS class of 1961.
\Harvey and his entire family always remained very connected to their roots, the Ackworth community. In my younger days, before they moved to Bottineau, our families were interactive on a daily basis. Very close. Their farm, one mile east of ours, now the Norris and Arlene Knutson farm, was the original Amos Hiatt farm. Amos was Harvey's Grandfather. The original Hiatt Homestead (Harvey's Great Grandparents) was located on the exact spot as our, the Bob Stokes farm, Buildings. Our family ties go back many years to the beginning of the 1900's.
This picture was taken at Dale's Café when we had a mini reunion with our former Ackworth school teacher Geraldine LaFromboise Marcavage.
Geraldine (Geri) LaFromboise Marcavage was our teacher at Ackworth in 1954/55. This would have been the first year of Winter school. Prior to this Ackworth was a summer school. I was in 2nd grade, Harvey Hiatt and Stan Salmonson were in 6th grade and Barbara Hiatt was in 8th grade. Geraldine lived with our family when she taught at Ackworth. I had not seen Miss LaFromboise since 2nd grade, 52 years prior to this photo being taken. Prior to our going back to Dunseith for the 2007 reunion, I decided to locate Geraldine. She was a hard one to track down, but I did find her.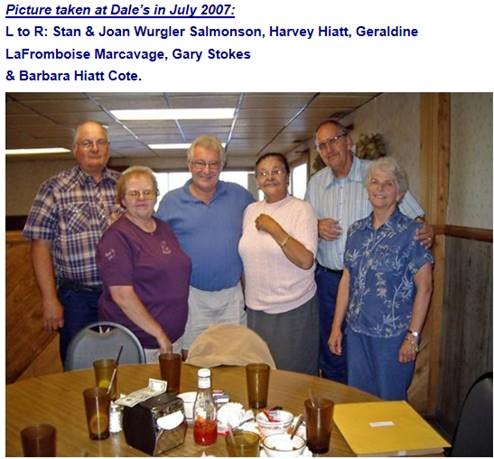 Ackworth Cemetery  
In 2007 Harvey had this Tombstone made and placed in the Ackworth Cemetery.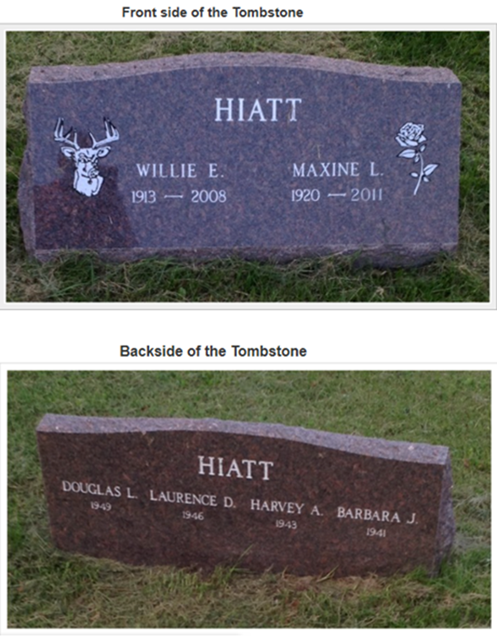 Dennis Parisien (DHS 1965) Obituary
Posted by Neola Kofoid Garbe:  Minot, ND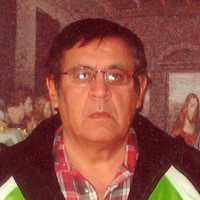 Dennis Parisien Dennis Par January 23, 1947 – July 03, 2020
Dennis Parisien, age 73 of Dunseith, died Friday, July, 3, 2020 at a Minot hospital.  His funeral will be held on Thursday, July 9, 2020 at 10:00 am at the St. Anthony's Catholic Church near Belcourt.  The wake will be on Wednesday starting at 4:00 pm with a prayer service at 7:00 pm at the church.
(Nero Funeral Home – Bottineau)