Kjersten Larson Family postings.
 Folks,
After receiving this old picture of Kjersten Larson with her Daughter-In-Laws from Ruth Tang, I retrieved the previous postings from 8/26/2009 that go along with her picture. All this is hard enough to follow without a bunch of other postings. With that said, today's blog is solely the Kjersten Larson Family.
Gary
Kjersten Larson Pictured with her Daughter-In-Laws
Message and picture from Ruth Tang:   
Gary:
I tried to share the attached photo after seeing photos of this same family taken on the same day. The post was from August of 2009.
I am hoping that you will post it for me. I couldn't get it to work.
I stumbled upon the blog because my husbands' Grandmother was Hilma Larson Tang. I inherited a great number of photos from my father-in-law O. Gordon Tang.
In the photo Kjersten Larson is seated. The women from left to right are, Lena Nikoline (Martin), Karoline (Lars), Thea (Hans Peder) and Kristine (Adrian).
Photos such as these should be available to any and all descendants that wish to see them.  It must have been a very proud day for Kjersten, being 91 years old and responsible for her part in all those Grandchildren.
Ruth Tang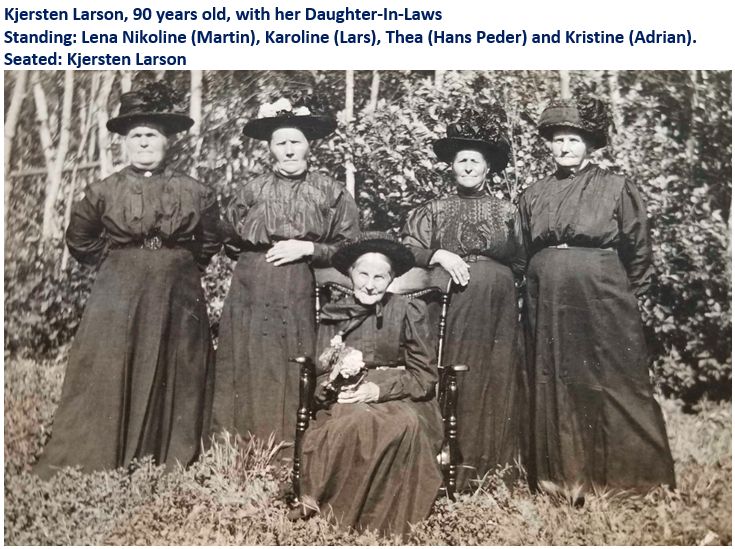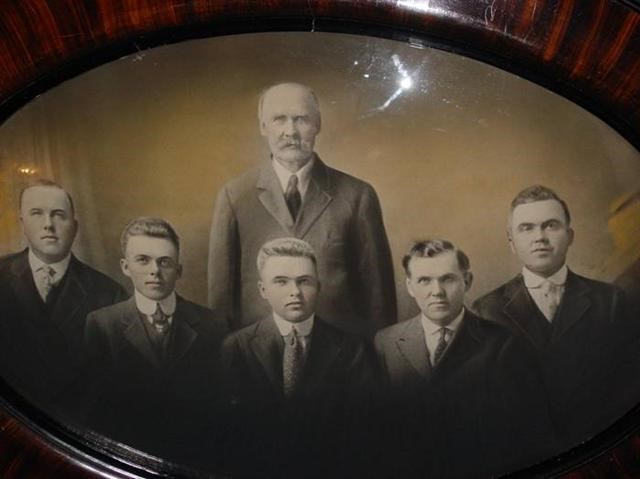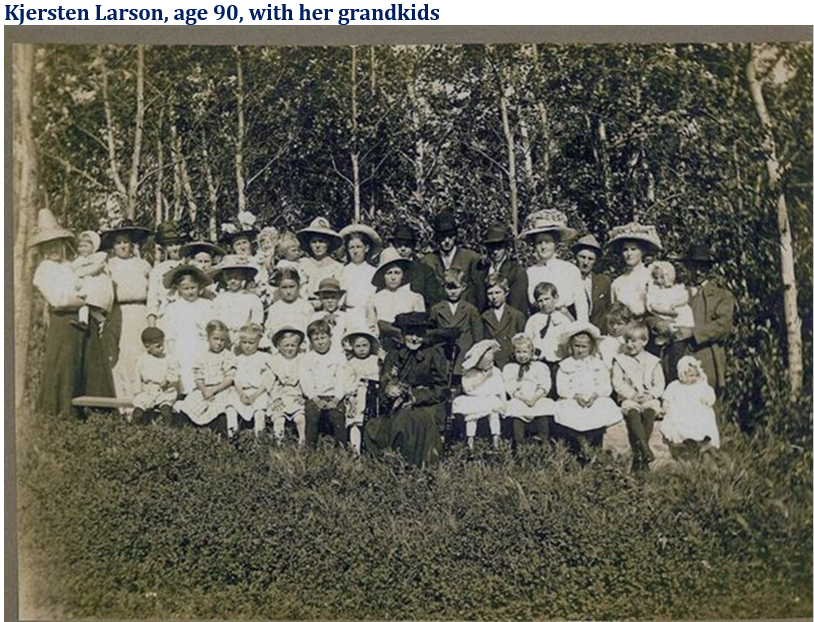 Gary's comments:
I Believe Petrina Larson Hanson in the second picture down from the top and in the bottom picture was a grandmother to Toni, Bev and Duane Morinville and also to Jean Pladson and Audrey Hanson Aitchison who are also my first cousins on their mothers' side?
Posting from 8/26/2009
From Cheryl Larson Dakin ('71):  
Hi Gary
In reply to Audrey Hanson Aitchison, I am enclosing a photo of Kjersten and her sons (2nd picture from the top) (in the back-row Martin, Hans Peter, Lars and Adrien. Kjersten is in front with her daughter Petrina) This was taken on Kjersten's 90th birthday.
The other picture is of Martin Larson and his sons. My grandpa Mensvil is on the far left. I'll have to call Dad to get the names of the other boys. And to Bev and Jean…I'm still working on peaches I brought back from North Dakota last week so between catching up with grandchildren and fixing peach preserves, I haven't had a chance to put together the other Larson information I promised. But I will get it to you soon.
Cheryl Larson Dakin.
I believe Martin Larson in the picture below was a great grandfather to Diane Larson Sjol (70) and Cheryl Larson Dakin (71)? Martin Larson was Mensvil Larson's father. Mensvil Larson was the Bottineau county Sheriff for many years. His son Mensvil Jr. (Norman) Larson, father of Diane and Cheryl, lives in Bottineau.
Please correct me if I have interpreted some of this wrong. Gary
Martin Larson and his sons. Mensvil is on the far left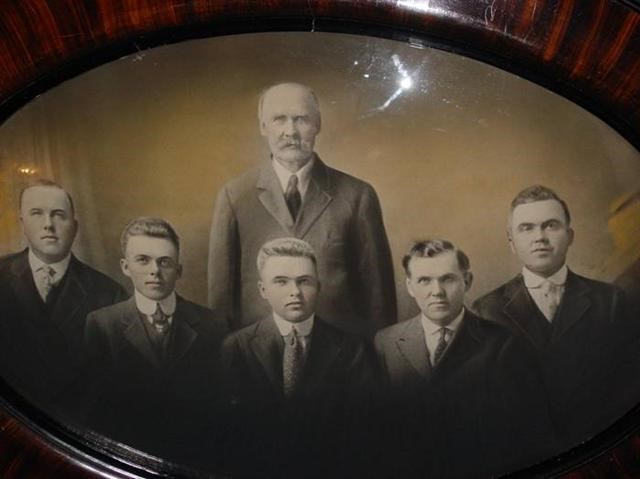 Posting from 8/26/200
From Audrey Hanson Aitchison:
Patrina Hanson celebrated her 95th birthday on March 20, 1949. There were 40 relatives and friends there. She received a rocking chair. Reverend T. Weltzin spoke a Norwegian message. Patrina was 27 when she came to America. Martin Larson was her only living relative at her party. Does anyone remember where Hagrop and Patrina lived?
1932
Norman Larson's 7th birthday with brother Dick (little blond boy in front)
and Frances Hansen Morinville (center back)