Leland Stickland Passed away this morning
Message from Dean Stickland ('73):  Olympia, WA.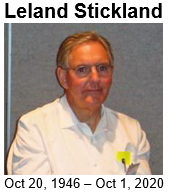 Gary,
I thought you would like to know that our oldest brother Leland (Lee) passed away early this morning.  He had been residing at an assisted living facility in Dickinson. Several residents and seven staff members there tested positive for Covid-19 a couple weeks ago, including Lee.  He had a few rough days, then felt better and thought he was done with it.  A few days later he was worse again and had symptoms of pneumonia so they hospitalized him on Wednesday morning.  He died less than 24 hours later.  He will be cremated.  When it is a bit safer to travel we will gather in Dickinson for a memorial service and interment.
He would have turned 74 on the 20th of October.
Darrel (class of 67) and me (class of 73) both reside in Olympia, WA just a couple miles apart.  We'll miss our phone visits with Lee.  We're glad we all had a week together a year ago.
All the best to you.
Dean Stickland
Gary Stokes Comments;
Dean; we extend our condolences to you and your family with Leland's passing. You will miss him dearly.
What a shock to hear of Leland's passing. He had been corresponding a lot with us lately too. Never did he mention he had Covid. I remember and knew Leland very well from our HS days too. Always a very nice respectable guy. He will be missed.

Leland's last message sent to me on September 21, 2020 Posted with our last blog on September 25th.
Ginger, yes I read a lot, have never owned a TV. YOU may recall that I went through HS like a breeze but when I was in the car accident that took Earl Hiatt's life on 12/30/65 ALL of that information was wiped away. I was able to make my first try to go to college in March of 1969; it took three attempts to succeed. In 101 English Composition, the teacher asked me how, with such a great HS record, I was not able to write. I told her what had occurred and she apologized. I sent her a copy of first Master degree thesis; it had more than 100 pages.  This masters was in Public Health. SNUF Tanks for YOUR ear.  Lee (Stick)
Ginger LaRocque Poitra's ('65) reply to Leland: toddpoitra073044@gmail.com
9/26/2020 Hi, Lee,
So sorry to hear that that happened to you. I know I was devastated when I heard about Earl,  he was always such a nice person, good to all. I did'nt hear anymore then that about the accident and I guess that he was coming from Rugby. There were pretty high hills in those days which were later flattened out some, not so scary and dangerous.
I am so happy to know that you made it! Took a while but you did it! The Lord gives help to those in need and who work for it you are one of those.
Enjoy your life Lee you deserve to enjoy a good life.
So long for now, maybe I will write more about the beautiful things the Lord gave us to all enjoy. We were so fortunate to live in a less crowded area to be able to see the stars and moon at night without the hindrance of city lights.
God Bless you Lee
Ginger
Gary Stokes Note: I actually have a lot of more postings from you folks that I will post within the next couple of days. Kind of busy today.  I wanted to get Leland's' death posted.