Reply: Leland Stickland (Deceased)
From Ginger LaRocque Poitra's ('65): Belcourt, ND 
Oh my gosh! It's hard to believe that Leland is gone. I was going to write more to him and now he is gone to be with our Lord.
I too will miss him, I knew him but not that well in high school he graduated with my sister Lana, I told her that I corresponded with him on the blog and what it was about, she said really, where is he living, I told her and she said I haven't been on the blog to hear about anybody, she thought she might get on and e-mail him.
I am sending my condolences to his family, Lee was a strong guy to live through the accident in 1965, now this dang covid took him, unbelievable!  I was just going to know him better him liking the same thing I liked! He will now see all those lovely things in heaven I am so sorry for your loss and all his friends loss I can tell he was a good guy from his writing he sent me on e-mail.  Love him you all forever, miss him forever, you know he was a special brother and friend to you all.
God Bless all of you
On this very sad time
Condolences to Leland Stickland's family
From Bob Lykins (Teacher):  Hutto, TX
So sorry to learn of Lee's passing.  My prayers go out for the family.  I recall Leland from his HS days in my classes.  He was not only an excellent student but a flat out nice kid.  He was also a pretty fair football player on Bob Jury's teams.  May he rest in peace.
Bob Lykins
Condolences to Leland Stickland's family
From Vickie Hiatt LaFontaine ('73):  l Grafton, ND
Condolences to the Stickland family
September 30, 2020
Message to Leland Stickland with a copy (Cc…) to Gary Stokes
From Lynette Honsey:  
Hi Leland,
Earl Hiatt was one of my favorite cousins.   I remember so well hearing the news.   I had already been moved to California and was basically a kid with no one to talk to about my awesome cousin.   It hurt.
I paid tribute to Earl at the cemetery while I was in North Dakota in 2015.
I was never told about a car or that there was someone else in the vehicle.
I'm wondering what the real story is.   Can we talk?
Lynette
I'll email you soon.
Are you from the Rolette County area?
September 30, 2020
Lynette Honsey's reply to Gary Stokes
 Hi Gary
So nice to hear from you.
No I have not heard from Leland.
I'm out on an errand to help a senior get her groceries.  And there is the presidential debate soon.    So, I'm going to email Leland tomorrow if nothing gets in the way.
Leonard Honsey was my biological father.  He left when I was very young, moving to Washington to be with someone else.   I never got to know him very well.   I did get to meet him when I was in my 30's or maybe 40's.   Very handsome guy.
Vida was my Aunt.  Sister to my mom, Lois Peterson.   Vida was a sweetheart of a lady.  Great cook!  Picture of health if I remember correctly.   She had a beautiful family.
Nice to hear from you Gary.  We'll talk soon.
Friends,
Lynette
October 2, 2020
Lynette Honsey's reply to Leland Stickland's passing
 Hi Gary,
Thank you for the information.
I feel terribly sad about Leland.
I'm sorry for your loss.  And my condolences to all of the fine North Dakota people that knew Leland.   I sent Leland an email two days ago asking him about my wonderful cousin Earl.
I'm astonished and saddened by this unexpected  news.
I'm so sorry.
Wishing you my best.
Lynette

October 3, 2020: Note: We are a day ahead of USA time.
Lynette Honsey's reply to Gary Stokes
Hi Gary,
Yes, Leland's passing was quite a shock.
So you knew about my cousin Earl Hiatt and you remember what happened?  Can you tell me the story?
Yes, Sharon Peterson is my cousin.  Her mom, Joy, was wonderful and quite an inspiration.   I had lunch with her in 2015 when I last visited in North Dakota.  Joy at that time lived alone in a house that she took care of even to the point of mowing the lawn.  Joy amazed me with her vibrant personality.
I'm sad to say, but I didn't know my cousin Larrett well at all.  He looks like Uncle Bill, his dad.   Larrett's wife Yola is pretty.   What's in Crosby, North Dakota that drew my cousin to move there?   I've never been to Crosby.  I sure wish Larrett and Yola a happy life in Crosby.
I'm living in Orange County, Southern California.  I love the ocean.   Also, my son lives about nine miles from me.  He and his wife blessed me with 2 beautiful grandchildren, ages 4 and 1 year old.   I get to watch them and spoil them every now and then.   I love it.  Those little children hugs are so precious.    I'd move out of Southern California if my son wasn't here.
So take care of yourself Gary.   We all know life is short.
Blessings to you and your wife.
Lynette
Dunseith ND Highlight
Posted by Don Martel (Teacher):   Rosemount, MN
I thought it was interesting that Dunseith was highlighted in today's segment of "onlyinyourstate. com.
Don
Web link
https://www.onlyinyourstate.com/north-dakota/things-only-in-nd/
Reply to the "1949" Dunseith Girls Photo
From Ken Nerpel ('65):  Rugby, ND
 Regarding the girls "1949" photo from Cheryl Dakin, the girl that is second from the right might be 
my Aunt Alice Metcalfe.  According to my records she was born in 1927 and may have been in Dunseith at that time.
Veteran's long-lost military ID tag returned to his widow
Posted by Vickie Metcalfe (70):  Bottineau, ND
Hi Gary, I just read this  on national news, and thought about former DHS POD teacher, Gene Hepper.
Many of us North Dakotans who live in rural areas of ND always know someone who know someone connected… 
While this war was going on I felt it was a subject not spoken about at school,  although many of us watched the national news and knew how horrific it was for those who were serving. 
Later,Vickie
Web Link
https://www.armytimes.com/news/your-army/2020/10/01/vietnam-veterans-long-lost-military-id-tag-returned-to-his-widow/
Pictures posted by Karen Larson (Bottineau Spectrum):  
Gary,
Don't know if you have seen these two pictures before.  I found them in my computer. Karen
Gary's Reply,
Thank You Karen. These Pictures need a repost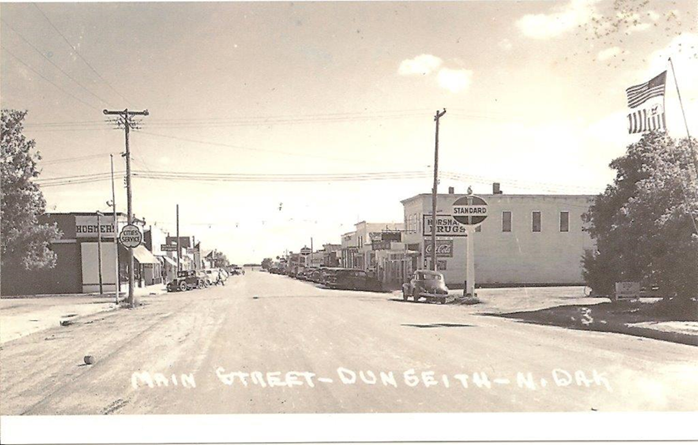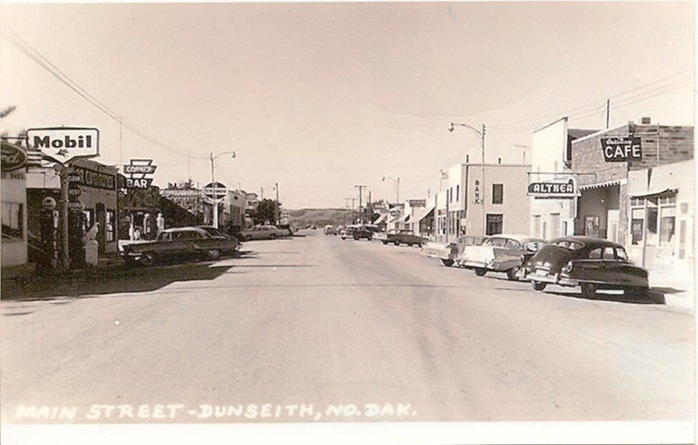 \