Stella Schimetz 90th Birthday Celebration
Posted by Kathy Schimetz Wood ('72): Minot, ND
My mom will be celebrating her 90th birthday on October 13th! Sadly, we cannot gather with her, as a family, to celebrate, due to covid. Mom absolutely loves getting cards! She reads them, saves them, then reads them again. If you know my mom and want to help us flood her room with cards, here is her address:
October 13th – Stella's 90th Birthday
Mailing address to send Birthday cards
STELLA SCHIMETZ
room 224 Heart of America Medical Center
800 S Main Ave
Rugby, North Dakota 58368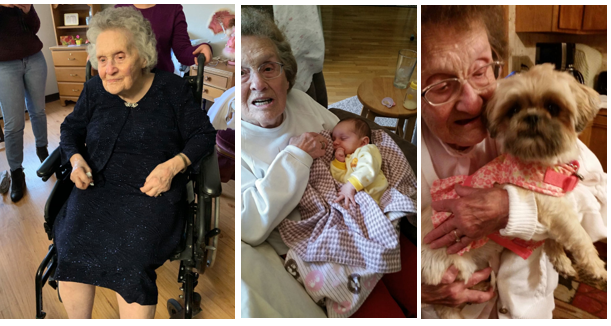 MY MOM-THE SCHOOL COOK
Mom cooked at the Dunseith School for 32 years. She loved it! Today, I posted about her upcoming 90th birthday. I've had requests for her PEANUT BUTTER BARS recipe, so here it is! Grease and flour or spray a 13 x 18 pan Preheat oven to 350o. PEANUT BUTTER BARS 1 cup butter 1 cup sugar 1 cup brown sugar 4 eggs 1 cup peanut butter 2 1/2 cups flour 2 1/2 teaspoons baking powder 1 teaspoon vanilla 1/2 teaspoon salt semi-sweet chocolate chips (optional)

STELLA'S CHILE
2 lbs hamburger
2 large onions chopped
at least 1/2 a bunch of celery-chopped fine
Cook together and season with salt–about 2 teaspoons, pepper–about 1 teaspoon, and chili powder–at least 1 tablespoon. Adjust to your liking. That's how Mom cooked—taste, then adjust!
In a stockpot-mix together and heat through:
About 1/2 can tomato juice. (large can)
2 cans red kidney beans
2 regular size cans tomato soup
1 large can of tomatoes
Add salt/pepper/chili powder to this too!
Add meat mixture to stockpot, simmer awhile—taste—-adjust seasoning to your liking. I add garlic to mine, but Mom didn't-she didn't use much garlic in her cooking. If you like it, add it! Add more tomato juice if chili is too thick.
Amy Gunville's passing / Obituary
Posted by Vickie Metcalfe (70):  Dunseith, ND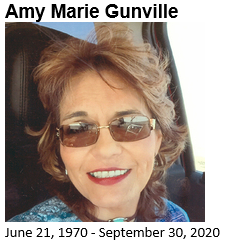 Saturday October 3, 2020
Gary and Friends of Dunseith Alumni,
I am  deeply saddened to hear of the passing of Amy Gunville, whom I've known,  first as a child and as an adult,
She  was a wonderful little girl who grew into a  powerfully strong woman.
I recall Amy as an respectful to adults and her peers while she was a  student at Dunseith School Elementary School.
She and her brother Mike were both former students whom I enjoyed greatly as third grader's.
Years later, whilst at Bottineau School I became reacquainted with Amy as a parent.
She was very supportive of education.
Amy, a warm friendly person always greeted with a smile upon meeting.
And after a pleasant visit, she'd leave behind  in her wake ……. a warm glow of positivity.
Sincere sympathy to her immediate and extended family.
Her parents who were my former Dunseith classmates. (her mom, Sandra rode my school bus).
Her (big) brother Mike.
Her children. (She was supportive of  each of you, your education and uplifting of  your individual personalities and ability)
God Bless the memory of Amy Gunville  and her spirit
Vickie L. Metcalf
Funeral Service
Monday, October 05, 2020  10:00 AM
St. Michael's Catholic Church  PO BOX 862  Dunseith, North Dakota 58329
https://www.nerofuneralhome.net/obituary/amy-gunville
Joy Murray Anderson (DHS '73) Passed away: Tacoma WA
Posting from Esther Murray Fleming ('65): Burton, MI.
Hi Gary I am sorry I haven't written to you about my sister Joyce passing. It has just been so hard. I still  cannot believe that she is gone.   At around the  same time my husband had major back surgery and is finally  back home  recuperating.  I want to thank everyone for all their prayers.  God loves yuzu's all as I do.                                                                                                                                      Love you  Esther
Gary Stokes Comment:
Esther, So sorry to hear this sad news of Joyce's passing. Our condolences are with you and her entire family.
Verdy Richard Larson (DHS '49) Memories
Posted by Vickie Metcalfe (70):  Dunseith, ND
 Gary and friends,
Verdy Richard  Larson was always kind and helpful whenever, where ever I met her.
She would always ask me and talk fondly of her lifelong friend , Alice Metcalfe.
She'd often  tell  me, t how they worked together at Hosmer dept.  store and enjoyed many fun times together.
Like Verdy, Alice, throughout  her life, carried a positive attitude, was  optimistic, carried a fun sense of humor 
 and held in high regard family  and friends.
Thanks for igniting that fond memory.
Later.
Vickie L.  Metcalfe
Leland Stickland: Find a grave Web site
Posted by Ken Striker:  Dayton, OH
 Gary-
 Sending FYI correspondence I had with Dean Stickland yesterday.
 Thinking you would appreciate my Striker Family FB and also the Findagrave Memorial.
 Ken Striker
—–Original Message
Dean
Sending Findagrave Memorial for your Dad….it has a link to a memorial for Lee.
 Also links to "surf" around,  including back to William E Striker..and for that matter, back to the immigrant Christian Striker.
https://www.findagrave.com/memorial/77447475/robert-elmer-stickland
 facebook.com/groups/1770605333045952https://www.
Ken
Reply to the "1949" Dunseith Girls Photo posted by Cheryl Dakin
From Dick Johnson ('68):  Dunseith, ND
Gary and Friends,   My mom Bernice Olson Johnson is the third one from the left (#3)  in Cheryl Dakin's picture of the 'girls' of Dunseith in 1949.  I think (#1) is Patsy Sunderland.  It sure looks like her to me.  Thanks Gary! Dick
Gary's comment:
Thanks Dick, I think we nailed it. You always come thru and Ken Nerpel too.