Peter Gillis (DHS '1965) Obituary
Posted by Vickie Metcalf ('70):  Bottineau, ND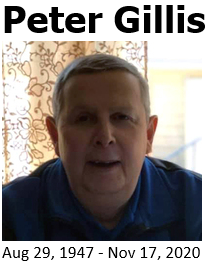 Peter J. Gillis, Sr, 73, Dunseith, ND, died at home peacefully surrounded by loved ones on Tuesday, November 17th, 2020.
Peter was born August 29th, 1947 to John and Lucy (Davis) Gillies in Bottineau, ND. He was raised on the Gillies homestead north of Dunseith, attending the Dunseith Indian Day School through the 6th grade, graduating from Dunseith Public High School in 1965. Peter then attended Haskell Indian Jr College, was drafted to the US Army in January of 1967, where he was sent to Ft Polk, LA for Jungle Training before being sent to Cu Chi, Vietnam, spending 12 months there. Peter was awarded the Overseas Service Medal, Bronze Star, Good Conduct Medal, the Commemorative Service Medal, and a National Defense Service medal. Peter was honorably discharged in December 1968, at the rank of Specialist E5.
Peter then returned home to Dunseith, ND and obtained his apprenticeship in Masonry. He met the love of his life, Verena St. Claire, in 1974. They married on March 23rd, 1976, made their home in Dunseith, ND, where they raised their beautiful family. Peter and Verena have 24 grandchildren, and 6 great-grandchildren, who they loved spending time with as often as possible.
Peter worked as a Brick and Block layer for 25 years, then as a custodian for the Dunseith Public Schools and Turtle Mountain Community Schools in Belcourt, ND up until his diagnosis of Prostate Cancer in 1995, ending his work career. He then began his frequent travels to the VA Hospital in Fargo, ND for cancer care. After battling this disease for 24+ years, exhausting all options, he was placed on Home Hospice Care through the VA with Heart of America, Rugby, ND up until his death.
Peter loved spending time with his family, grandchildren, great-grandchildren, who brought so much joy to his heart. He enjoyed golf, and was very competitive, winning many tournaments. He was especially proud of his hole-in-one on #8 at the Garden Gate Golf Course and received a golden putter and a $50.00 dollar bill. Peter and Verena competed in many tournaments and played with several other couples every Thursday and on weekends. They were a tough team to beat. Peter also enjoyed hunting, fishing, gardening, traveling to various casinos with his wife, and playing cards with his family.
Peter is survived by his wife Verena Gillis, sons Harold Gillis, Peter (Jackie) Gillis, Bryan (Allison) Gillis, daughters Crystal (Charles) Monette, Brandi (Jared) DuBois and Chante' (Scott) Allery, 23 grandchildren, 6 great-grandchildren, brother John (Karen) Gillis, and numerous nieces and nephews. Peter was preceded in death by his parents-John and Lucy Gillies, siblings-Frank Gillies, Viola Grinnell, Raymond Gillies, Mildred (Millie) Crasco, Mary Ann Hamley, Dave Gillies, Clifford Gillis, Margaret (Peggy) Belgarde, Fritz (Fred) Gillis, Geri Luhr, Angelique (Angie) Olmschied, Phyllis Schock, and Joseph (Joe) Gillies; grandson-JD (John David) Gillis. 
Funeral Services to be held Tuesday, November 24th, 2020 at St. Michael the Archangel Catholic Church in Dunseith, ND. Visitation beginning at 1:00pm, Rosary at 2:30pm, Mass at 3:00pm. Burial immediately following at St. Louis Cemetery, Dunseith, ND.
Masks and social distancing required. Services will be live streamed via Facebook: facebook.com/groups/StMichaelDunseithND for those unable to attend.
Posted by Neola Kofoid Garbe:  Minot, ND
Stella Schimetz
October 13, 1930 – November 19, 2020
Stella Schimetz, age 90 of Dunseith, went to be with the Lord on Thursday, November 19, 2020 at a Rugby hospital.  A private family service will be held with burial at the St. Louis Cemetery in Dunseith.  A public visitation will be held on Friday, November 27, 2020 from 1:00 pm until 5:00 pm at the Nero Funeral Home in Bottineau.  A celebration of Stella's life will be held at a later date when it is safe to gather.
Stella Elvina (Richard) Schimetz was born October 13, 1930, in the Rolette Hospital to George and Anna (Boucher)Richard. She went to be with the Lord on November 19, 2020, at Heart of America Care Center in Rugby.  Stella was raised on a farm near Thorne. She graduated 8th Grade from Russell School. In her late teens, Stella worked as a waitress in Dunseith at Schimetz Cafe until she married the boss in 1950. Louis and Stella were married October 10, 1950 at St. Louis Catholic Church in Dunseith. Stella worked many years at San Haven State Sanitorium in Dunseith as a nurse's aid. She became very attached to her patients. In 1964, she received an offer from the Dunseith School to be their head cook and she accepted. By then, Stella had a houseful of kids and that job offered better hours for her. Stella remained head cook for 32 years, and she absolutely loved her job. Her love was obvious by the quality of food she and her staff prepared. Over the years, she cooked for thousands of kids, and, to her, they were all her kids. Stella retired in 1996. Throughout her retirement, she was visited many times by kids, now adults, who grew up eating Stella's food at school. They loved her and her food and many had their favorite dishes. Her chili, her BBQs, her turkey and stuffing, and more. Stella became somewhat of a legend in Dunseith, the town she loved.  Louis passed away on Tuesday, March 28, 2006. Stella is survived by her daughter, Kathy Wood of Dunseith, daughter Kim (Bill) Zorn of Newcastle, WY; son, David Todd (Kathleen) of Mandan; son, Mark of Garrison; daughter-in-law Colette Schimetz of Bottineau; 12 grandchildren John (Jessica) Schimetz of Bottineau, Jennifer (Craig) Zachmeier of Rugby, Matthew (Amy) Schimetz of Bottineau, William (Raelynn) Schimetz of  Richardton, Daniel (Renae) Schimetz of Mandan, Kaitlyn (Peter) Sandroni of Minot, Ryan Vandal of Minneapolis, Rachel (Michael) Ford of Aurora, CO, Nicole (Eric) Kregel, New Castle, WY, Jaclyn Zorn of Bottineau and Jacob and Tessa Schimetz of Mandan, 17 great grandchildren, brother, Don (Marlys) Richard of Bottineau; sister-in-law Carmen Richard of Rolette; and many nieces and nephews. In addition to her husband and parents, she was preceded in death by her sons, Reid and Bryan; infant son, Daniel, and twin infant sons, John and Joel;  brothers, Art, Ernest, Gene and Floyd Richard and sister Irene Lagasse. Stella's family would like to thank the wonderful, caring staff at Heart of America Care Center in Rugby. Their compassion and care provided to Stella and her family during this difficult time went above and beyond our expectations. A special heartfelt thank you goes out to Becky Hershey, Director of Nurses for Long Term Care and Hospice-Rugby. She has done, and continues to do, everything humanly possible to care for her residents and their families. Arrangements were with Nero Funeral Home in Bottineau.  Friends may sign the online register book at www.nerofuneralhome.net.
Reply to Ginger LaRocque's ('65) posting
From Vickie Metcalf ('70): Bottineau, ND
November 18, 2020
Gary, Ginger, and Dunseith friends,
          Through the pandemic memories are held close;  precious and sweet.
Years ago, I  saw  Gingers parents a couple times out dancing to a local band at Kelvin. They were a couple  who could and did danced well!
          My Dad without sight would ask mom and I  who else was present.  
He'd always ask me to walk him over to Gingers parents where  he greeted them. Dad respected Mr. and Mrs. Joe LaRocque.   Also, he  had fond  childhood memories of Ginger's mom  where they were classmates at Bergan School.
          The music would strike up and Dad and your  mom always danced one two step as childhood friends. Your dad would smile as he watched.
Blessed  memories……….to be thank ful for.
Vickie Metcalfe