Bernadette Stokes Passed Away
Hello Dunseith Alumni and Friends,
Bernadette fought a long hard battle with her Vascular Dementia. She hung in there a long time. 8 years this month. The average life span is 5 years from onset.
She became unconscious Saturday night after going to bed of which she never snapped out of. Last night, Monday, Here vital signs were not good, but her BP was normal. I didn't expect her to go quite as fast as she did. She died at 11:25 PM Monday November 23rd.
This past year was a tough one for her with pretty much zero quality of life. She's resting in peace now. I will miss her dearly too. She was my heart and soul.
This December 3rd would have been our 42nd Wedding Anniversary.
I have pasted her Obituary below.
Gary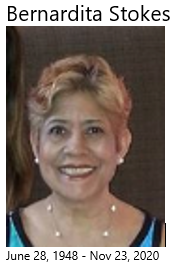 Bernardita (Bernadette) Ostulano Stokes 72, Cebu Philippines, died peacefully in her home on November 23, 2020, in Cebu, Philippines
Bernadette was born June 28, 1948 in Cebu, Philippines. She was Baptized and confirmed Catholic. She attended primary and secondary schools in Pasil, Cebu. She then attended South Western University in Cebu.
In November 2012 Bernadette was diagnosed as having Vascular Dementia. She had been fighting this terrible disease until the very end. She was a fighter, never giving up. Her charm, wit and bubbly personality were admired by many.
Bernadette was united in marriage to Gary Stokes in Bremerton, WA on December 3, 1978. Bernadette and Gary spent the next 25 years living in Bremerton.  In 2003 Bernadette and Gary retired back to her home town, Cebu City, Cebu, Philippines where she has resided ever since.
In 1979 Bernadette, knowing multiple Languages, was hired as an "English as a Second Language" (ESL) teacher for the Washington State, Kitsap County School districts. She traveled to various schools assisting kids with the language barriers from multiple countries. She was gifted easily learning the various languages.
In 1986 Gary and Bernadette Purchased the T.J. Crockett's Sandwich shop in the Silverdale, Washington State Kitsap Mall. From 1986 to 1994 Bernadette managed T.J. Crockett's. With her wit, charm and selling abilities combined with her aesthetic food and Sandwich preparations, T.J. Crockett's prospered very well.
From 1994 until 2003 Bernadette was a sales associate with Zale's Jeweler in the Kitsap Mall.  Working for Zale's Jeweler, she received many awards for high sales inclusive of a Zale's national award for an all expensive paid Caribbean Cruise for two.
Retail sales was a highlight of Bernadette's. She had a very successful Avon career in the early 80's.
Bernadette is survived by her husband Gary of 42 years, Cebu, Philippines; Children, Bernie (Lorelie), Santa Clara, CA and Sheryl Wingate (Allen), Port Orchard, WA; grandchildren, Tyler Mick, Nevaeh Wingate, Nika Stokes,(Twins) Brydon and Bryce Stokes; Sisters, Lourdes (Allotte), Tokyo, Japan; Lisa Joseph, Cebu, Philippines; Erma Ady, Bremerton, WA; Cherry Cabrera, Cebu, Philippines; Sister-in-Law's, Josephine Ostulano, Cebu, Philippines and Joy Ostuano Cebu, Philippines,  brother-in-law, Darrel (Debby) Stokes, Bottineau, ND
Bernadette was preceded in death by her Parents, Eligio (Youling) Ostulano, Bremerton, WA and Bertha Tampus, Cebu; Brothers; Jose and Arnell, Cebu Philippines; Sister Berlinda Congson, Consolacion, Cebu Philippines; Father-in-law and Mother-in-Law, Bob and Elaine Stokes, Bottineau, ND; Brother-in-law, Allen Stokes, San Diego, CA.
Bernadette was a lady of many talents. The kitchen was her Forte. She was well known for her cooking and baking abilities. Seldom did she use recipes and very seldom did she have flops. She just knew the proper ingredients and the right amounts of each to add for whatever she was preparing.  She loved entertaining and preparing dinner meals for large groups of people, often times single handedly inclusive of the salads, main course meal and deserts with vast selections of each. Never ever did she have a shortage of prepared food. Preparing a meal for a hundred or more people was effortless for her. It was her comfort zone.
Funeral service: 2:00 p.m. Sunday, November 29, 2020  at her home in Consolacion, Cebu Philippines.
Interment: Cremation at St. Peter Memorial Chapel, Imus Ave (Main Highway), Cebu City on Monday November 30, 2020
Visitation: Everyday, all day, at the Stokes residence from 10:00 AM to 10:PM until the funeral in Nangka, Consolacion, Cebu.
Nine-day Novena (prayer): Nightly at 7:00 p.m. at the Stokes residence in Nangka, Consolacion, Cebu.