Folks,
Sorry that today's postings are all deaths.
I will add however that I am doing OK. However Bernadette has left quite a void in my life.
On the Positive side, These are pictures of my helpers.
Aldrin and Tat have been with us the whole time we have lived here, 17 years now.
Mirasol has been with us 7.5 years. Her Husband is Bernadette's nephew.
They all live right here too with their families in their own homes.
I don't need two helpers for the house. Tata was my choice mainly because I was keeping Aldrin, her husband for the outside work and Maintenance. Tata wouldn't stay unless I kept Mirasol on too. She didn't like seeing her loose her job. So they agreed to both stay on with 2/3 the wages they were getting. I requested that they be in my house by 8:00 AM each morning for general cleaning, making my bed etc. That will take them several hours or so. In addition to that I have asked them to make my lunch at noon and my evening dinner. Also that they be here to help, if I have company. They are good cooks too. The rest of the time is theirs. They are happy and so am I. They stick around my house most of the day when they are finished with their work too. Come and go. They know me better than I know myself. Likes, dislikes, etc. They keep close tabs on me too. I am a very luck guy to have them and I do treat them well. They all speak and understand English too. Mirasol has a Business BS degree too, but she prefers working here.
Aldrin just turned 50, Tata is 46 and Mirasol is 40. Tata was very close to Bernadette. She took her passing very hard. Mirasol too. In Bernadette's life, I was number one. Number two was Tata above all others of which really showed with Bernadette's jesters near the end too.
Actually, I have gotten spoiled over the years.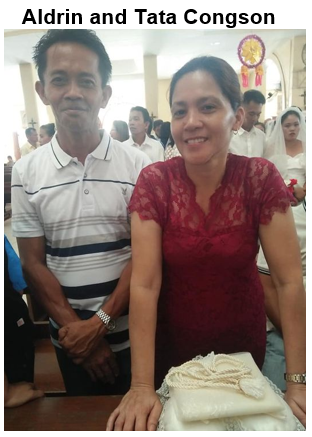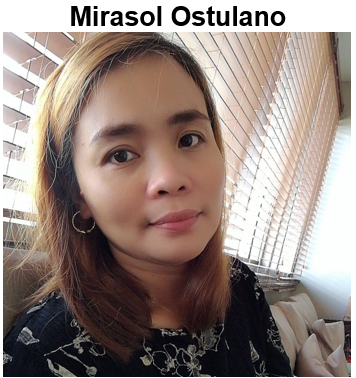 RAPHAEL'S POITRA'S OBITUARY: DHS Class of 1965
Posted from Vickie Metcalfe ('70):  Bottineau, ND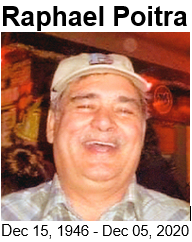 Raphael Lee Poitra, age 73 of Dunseith, passed away on Saturday, December 5, 2020 at a Fargo hospital.  A private family funeral will be held.   Visitation will be on Thursday, December 10, 2020 beginning at 4:00 pm at the St. Michael's Catholic church in Dunseith.
Raphael was born on December 15,1946 in Belcourt, ND and was raised in Dunseith by Alice and Ralph Poitra. He attended Dunseith High School and was in the class of 1965. Raphael married Janice Metcalfe in 1978 and they had two children, Jaime and Kelly. In 1982, they purchased Kelvin Klinic Bar and Grill and ran the business for over 35 years. Through the years, they enjoyed serving, entertaining, and visiting with others at their establishment. Raphael was also an Iron worker for the Union for 30 plus years. In 2009, Raphael's wife Janice passed away and he retired from iron working to run Kelvin Klinic full time. In 2012, he found love again with Evon Lagerquist and together they continued to run Kelvin Klinic until they both retired from the bar business in 2019 and moved to Dunseith. He enjoyed Evon and her son Eric's company. Evon and Raphael would travel to see his family and visit others around the Dunseith area quite often.
Raphael enjoyed hunting, fishing, watching Vikings football and old westerns on TV. He also enjoyed visiting his grandchildren.  They were his pride and joy and he was very proud of their accomplishments. He loved watching them play sports, sing and play guitar. He rarely missed their events.
One of Raphael's favorite pastimes was visiting with others. He was a great storyteller. He loved to reminisce about the old days and knew the history of the Dunseith area well. Some of the stories he told were somewhat over exaggerated, which made them even more enjoyable to listen to. His stories were always followed up with his well known one liner…"and that's a fact." Raphael's laughter (often caused by his own stories and jokes) was contagious and could be identified by anyone in the room.
Raphael is survived by his partner, Evon Lagerquist; his two children, Jamie Metcalfe (April) and Kelly Olson (Chris); his grandchildren, Kennedy Olson and Joss Olson; his brothers, Robert Robillard and James Robilllard; and his sisters Lila Poitra (Jacque St.Claire), Gloria Patnaude and Carol Della Sample; and his godchild, Lester Lempke.
Raphael was preceded in death by his grandparents, Alice and Ralph Poitra; his mother, Elvena Robillard; his wife, Janice Poitra; his sisters, Geraldine Volker, Cecilia Delorme, Doris Lempke; his brothers, Charlie Poitra and Roland Poitra; and several friends and family members.
Gary Stokes Comments:
I was saddened to hear of Raphael's passing. Raphael was one of nicest politest guys on the face of this earth. Such a nice guy and well like by all. He was my HS class mate of 1965. When we had reunions in recent years he was always there helping Set up with his pick-up truck too. He will be missed. I extend my condolences to his partner Evon Lagerquist and to the rest of his family too.
Gerald Anderson, DHS Class of 1961 passed away.
12/16/2020
Posting from Ann Carbonneau O'Connell: annieoconnell06031950@gmail.com  Bottineau, ND
My cousin Gerald Anderson passed away This morning. He was living in Arizona. He lived and went to  school in Dunseith in his younger years.  His parents owned the Gamble store. His wife passed away several years ago and he is survived by two sons and their families.
There will be no funeral for Gerry. He will be cremated and his sons will take care of his ashes.
Kenneth Baker: DHS Class of 1973 Passed away
Posting from Vickie Metcalfe ('70):  Bottineau, ND
https://prod12.meaningfulfunerals.net/obituary/kenneth-baker?fh_id=14585
Gary and friends of Dunseith Alumni,
Condolences to the Baker family on the passing of Kenneth.
Kenneth did attend Dunseith School as did his siblings.
I am so sorry Eunice my classmate, on the loss of your brother.
Sincerely,
Vickie L. Metcalfe
December 9, 2020