Michael Kester (DHS Class of 1959) Passed away
Posting from Janice LaCroix Kester ('59): Fargo, ND
Gary!
My husband of 58 years on Dec 29th, passed on Dec. 14 at Sanford's ICU hospital from leukemia. We were high school sweethearts. His obituary  can be found on Boulger's web site. Michael (Mick)Kester Boulgers Funeral Home There are many comments from former students & colleagues  on the guest book.  We read some of them at his service that helped us get through  a difficult day.   I don't remember a time  Mick wasn't part of my life. This has been a tough year for so many. I lost my brother, Jerry. my brother in law, Elmer, and now my beloved husband in less than 6 months. 2021 just has to be a better year.
Thanks, Gary
Michael "Mick" V. Kester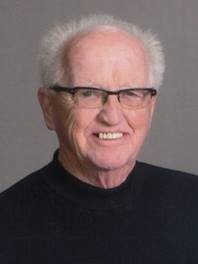 Date of Passing: December 14, 2020
http://boulgerfuneralhome.com/obituaries/michael-mick-v-kester/
On Monday, December 14, 2020 Michael (Mick) Vaughn Kester passed away peacefully at the age of 79 at Sanford Hospital in Fargo from Leukemia. By his side was his wife, Janice (Jan) Dianne LaCroix Kester and his children.
Mick was born on August 9, 1941 to Ormal (Red) and Margery (Hunter) Kester of Dunseith North Dakota. He attended Dakota College in Bottineau, then graduated from Mayville State College with a Bachelor in Elementary Education in 1963. He later received his Master's Degree from NDSU.
Mick and Jan were born one day apart and met when they were 8 years old. They grew up together and had so many shared memories. They became high school sweethearts and were married December 29th, 1962. lt would have been their 58th wedding anniversary later this month. They raised three children, Todd, Troy, and Julie.
In his youth, he worked on farms and helped his Dad who worked for Standard Oil to deliver gas. He had fond memories of milking cows, mostly because they gave him a horse for the summer as his wage. Later he helped his family during harvests. He just couldn't stay retired, so in his 70's Mick began hauling sugar beets. He just loved to talk about farming and equipment and always enjoyed being part of farming.
His first teaching and coaching position was in Esmond, ND. He wanted to pursue a Master's Degree at NDSU, so he applied for a position at Agassiz Junior High School in Fargo, ND. He taught science for 21 years at Agassiz where he became known for "The Kester Test". He transferred to Centennial Elementary for the last 12 years. After 37 years of teaching he retired in May, 2000. He began a recycling program in school system. He also volunteered at Nativity Church as an usher and later at the Police Department.
After retirement, he worked many part-time jobs, retired again, and purchased a lake cottage near Perham MN. He enjoyed his neighbors along the beach, margarita cruises on the pontoon, puttering in the yard and spending time with family and friends on Big Pine Lake. When in Fargo he liked meeting up with other retired teachers for socializing. Mick and Jan also enjoyed getting away from the cold winters and made the long drive to Mesa, AZ, then to Ft. Myers Florida. They truly cherished that time with friends and family.
He is survived by his wife Janice; children Todd of Canandaigua NY, Troy (Kelli) of Minneapolis, MN, and Julie (Bill) Miller of Kansas City MO; Grandchildren Isabella Kester of Canandaigua, Ellen Kester and Jonah Kester of Minneapolis, Dana Miller of Denver CO, Bill (Joy) Miller of King of Prussia, PA, Corey Miller of Philadelphia PA; Great Grandchild Dalia of Philadelphia, PA; Sisters, Joanne Boucher of Rugby ND, Pennie (Gary) Grenier of Rolette, ND and Cheryl (Randy) Gaugler of Ft. Lauderdale FL along with cousins, nieces and nephews.
Mick was preceded in death by his parents Ormal (Red) & Margery; In-laws Henry and Gladys LaCroix; brother-in-law's, Elmer Boucher and Jerry LaCroix; and granddaughter Alexandria Kester.
On Saturday December 19th, 2020, a private service will be held. A Celebration of Life to follow later when it is safe to gather. Visit boulgerfuneralhome.com to sign the guestbook.
Memorial contributions may be made to Sanford Health Foundation for the Roger Maris Cancer Center and at Fargo Public Schools Development Foundation.
Condolences to the Stickland family
From Vickie Hiatt LaFontaine (73): Grafton, ND
Dean so sorry to hear of your loss, sending my sincere condolences
Findagrave Memorial for Darrel Stickland
From Ken Striker:   Dayton, OH
Gary-
I made a Findagrave Memorial for Darrel.  Links are there for parents.
https://www.findagrave.com/memorial/220157115/darrel-stickland
Ken
Posted by Dean Stickland ('73):  Olympia, WA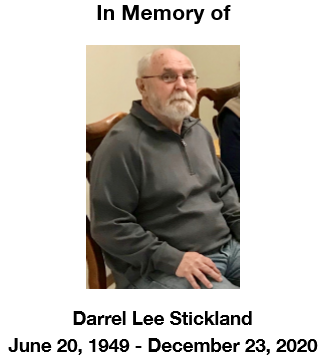 Darrel Lee Stickland June 20, 1949 – December 23, 2020
Darrel (Doc) was born to Robert E. Stickland and Irene (Adams) Stickland in Rolla, ND.  He was raised in Dunseith, ND, a small rural community a few miles south of the Canadian border.  As a young child he had numerous health scares.  Someone commented that in order to pay off all the medical bills he'd have to be a doctor.  The nickname "Doc" stayed with him for life.
Darrel attended college for two years and left the University of ND in 1969 to take a job in Fargo where he met his future wife, Jan.  A move to the Minneapolis/St. Paul, MN area in 1970 began a new and lasting career as a drywall contractor.  Darrel was an accomplished guitar player and a great part of his non-working time during those years was spent playing lead guitar for the "Doc Kelly Band" at various venues in the Twin Cities area.
In 2008 work slowed in the Twin Cities due to an economic downturn so he moved out to Olympia, WA to begin a new business in a milder climate.  He was referred to a local property management company and spent the last 12 years working almost exclusively for them and their clients.
Most of Darrel's adult life was busy with family, business and music.  In 2019 he began to read his Bible and started attending some local gospel services.  In March 2020 he expressed his commitment to follow the things he was reading and hearing about.  Often these last months he expressed his feeling of a deep and satisfying peace.  He often spoke of his hope for his eternal future.  He is rejoicing in that realization now.
Darrel was preceded in death by his parents and his older brother Leland.  He is survived by his only daughter, Laura, two granddaughters and two great grandchildren, all of Rochester, MN and a younger brother, Dean (& Marion) of Olympia, WA.
Darrel passed away suddenly in his home after suffering an apparent heart attack.  He was loved by many and will be missed by all who knew him.
There will not be a memorial service for him due to current restrictions on gatherings.
Elaine Gunville Obituary and condolences
Posted by Vickie Metcalfe ('70): Bottineau, ND
https://prod12.meaningfulfunerals.net/obituary/elaine-gunville?fh_id=14585
Gary and Friends of Dunseith Alumni,
Sincere sympathy to the family of Elaine Gunville.
Sincerely,
Vickie L. Metcalfe
Krisandra Gillis Obituary and condolences
Posted by Vickie Metcalfe ('70):  Bottineau, ND
https://www.nerofuneralhome.net/obituary/krisandra-gillis
December 26,2021
Gary and Friends of Dunseith Alumni,
Sincere sympathy to the Gillis and Hunt families on the passing of
their loved one.
Sincerely, Vickie L. Metcalfe
Sympathy to the Carol Eller Desjarlis and the Stickland Families
Posted by Vickie Metcalfe ('70):  Bottineau, ND
December 26, 2020
Gary, and Friends of Dunseith School alumni,
Sympathy to the sisters of Carol (Eller) Desjarlis. and sympathy to  Dean and the extended Stickland family.
May everyone who has suffered loss, each find comfort and peace.
The loss of a spouse, parent, child or sibling is a deeply sorrowful personal wound.  Mourning is especially difficult during these last trying months of Covid -19 pandemic where ability to share  grief has  been significantly altered.
For people recalling the former  school community, loss of  a classmate is a sobering reminder when reflecting on fond memories and experiences. We shared lots of stuff, with peer classmates through several years of our journey; primary school through upper high school attendance.
I believe, Carol (Eller) Desjarlis joined our class in grade three, upstairs in the big white school house in Mrs. Halvorson's classroom. As I recall, she and her 3 sisters (Julie, Bonnie and Ivy)  transferred in after school started. It is not easy walk for a child… into a group of strangers.
The day, Carol walked into the classroom, I was duly impressed by her  beautiful long hair.
Carol always was quite proud of her, maternal Grand-dad G. Albert  who was a  farmer and United States veteran of WWI.
Our class, the  class of 1970 with 48 of classmates, was the largest class to graduate from DHS at that time.
Of the Stickland brothers I  remember Dean.  I never quite figured out, at the time there were actually  3 brothers. I knew their dad,Mr. Stickland  was the rural mail carrier and brother to our neighbor, Joy Peterson. And they were related to Annie Nicholson. The two elder Stickland brothers I often confused with each other.  I thought they were two altogether, known as Doc?
Being a  country girl of the hills, I thought Dunseith school was pretty big in population especially in junior high.
All of a sudden!  There were 3 sections of 7th and  3 sections of 8th graders. The walls were fairly bursting, young teens…. everywhere.
Overnight it seemed many country township schools closed.  Dunseith Day closed their 7th and 8th grade.
All  consolidating into one Dunseith School. Whoa… several kids who had attended Catholic Boarding schools also came.
It was a  brand new scary world for most of us.  Kids just wanting to fit in and be accepted in strange surroundings, YUP! Those were "the days of yore"  when,  Dunseith School "Baby Boomers"  milled around through the halls!
Until later,
Vickie L. Metcalfe