Happy Easter Everyone,
The period Wednesday Noon thru the Monday following Easter is a legal holiday season here. All major malls are closed Thursday and Friday. On Good Friday (today) things are locked down tight. Many of the businesses and all malls will be open Monday, but with holiday pay for their employees.
We had a very enjoyable dinner last night with 14 friends at our good Swiss friends, "Café Engelberg",  restaurant. Very good food with a decent price with superb pampered hospitable service.
The guy on the left with the hat is my first cousin Jack who is visiting from Edmonton Alberta CA. Jack's mother and my dad were Twins. The guy on the end is Dr.(Psychiatrist) Dave Sandness, cousin to Richard (Dick) Sandness who work at First National Bank in Bottineau for many years. The rest of the guys are Canadian and American. Of Coarse the gals are all Philippine.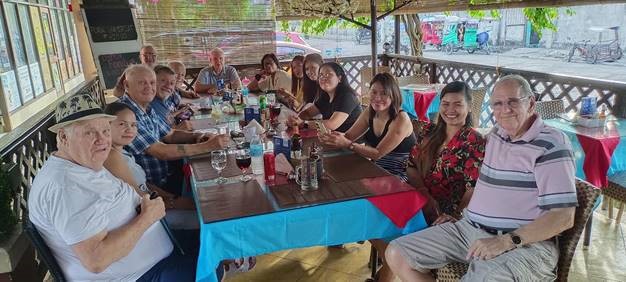 ND Blizzard
Posting from Vickie Metcalfe ('70):  Bottineau, ND
Hello Gary,
Meanwhile in ND  there's an April snowstorm..
The winter of  2022-2023.
Snow storms , blizzards, ice just keep returning,
it is like waking up to: Ground hog Day, over, over,  and over once  again ……………….@ND
We are all, looking forward to better sunny days when you and  Angel come to ND in August.
Vickie
April 4, 2023.
Gary Stokes' Comment
Vickie, we are looking forward to Sunny days in August.
Hopefully Angel will have her Tourist Visa by then too. Keep our fingers crossed.
This will be Angel's first trip to the USA. She is dearly looking forward to this trip too, to meet many of you folks.
January 1971 is the very last time I was back in North Dakota in the Winter months.
Mid-May to Mid-September is my/our time frame to visit.

Posted by Neola Kofoid Garbe:  Minot, ND


Timothy Hill (DHS Class 1968)
November 27, 1950  –  March 22, 2023
 Please share a memory of Timothy to include in a keepsake book for family and friends.
Timothy Hill, 72, Burlington, ND, passed away Wednesday, March 22, 2023 in a Minot hospital with his loving family at his side.
Timothy John Hill was born on November 27, 1950, the oldest of seven children born to Johnny and Murl (Watkins) Hill in Bottineau, ND. He was raised on the family farm near Dunseith, ND, and attended school at Dunseith High School, graduating in 1968. He furthered his education by attending various colleges where Tim was pursuing drafting degree, prior to returning home to help on the family farm.
On October 23, 1976, Tim was united in marriage to Laurie Lynn Evans. The couple made their home in Dunseith, ND where he owned and operated Tim's Menswear. The family later moved to Colorado, where he worked in furniture sales as well as delivered milk for his company Moo Juice Movers. In 1988, the family moved to Burlington, where together they raised their three children Sarah, Michael, and Taylor. In addition, Tim worked in sales for Nodak Candy and Tobacco Company before beginning a career with SRT which spanned over 23 years, retiring in 2019.
July 4, 2008, Tim was fortunate enough to be a recipient of a heart and kidney transplant. He was very thankful and grateful for the extra 15 years he was gifted. He was a member of Peace Lutheran Church, Burlington, where he was active in the choir. He enjoyed classic cars, auctions, driving in his corvette, cruising car lots for many hours, watching the Northern Lights, and spending time with his family, especially his grandchildren. Tim was a loving husband, dad, grandpa and brother who will be missed by all that knew him
Tim is survived by:
Wife of 46 years, Laurie; children: Sarah (Aaron) Glasoe, Michael (Ricki) Hill, Taylor (McKenzie) Hill; grandchildren: Hayden and Allie Glasoe, Gauge and Fisher Hill and Harlow Hill; siblings: Brenda (Bryant) Mueller, Gregory (Tami) Hill, Joanne (Gregory) Evans, Diane (Karl) Moline, Bruce (Jackie) Hill, and Lynn McKay (Todd Mark) and in-laws Jeff Evans, Joe (Leely) Evans and Jon Evans; several nieces, nephews and cousins also survive.
Tim was preceded in death by his parents, John and Murl Hill; father and mother-in-law, Joe and Joyce Evans; nephew, Luke Evans; sisters-in-law, Tamara Evans and Stephanie Montgomery.
Visitation: There will be no reviewal as cremation has taken place.  However, friends may sign a guest register on Tuesday, March 28, 2023 one hour prior to the service at the Peace Lutheran Church, Burlington, ND.
Memorial Service: Tuesday, March 28, 2023 at 11 am at Peace Lutheran Church, Burlington, ND. The service will be livestreamed and may be accessed at the link provided on Timothy's web page at www.thompsonlarson.com.
Obituary for Neva Haagenson Rainey (DHS Class '57)
Posting from Vickie Metcalfe ('70):  Bottineau, ND

Neva Rainey
August 5, 1939 – April 1, 2023
Neva Rainey, age 83 of Dunseith, passed away on Saturday, April 1, 2023 at a Bottineau nursing home.
https://www.nerofuneralhome.net/
Dot Hagen (Husband Tom, Brother-Law – Orvin Hagen) Obituary
Posting from Vickie Metcalfe ('70):  Bottineau, ND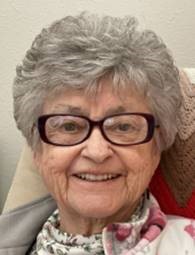 Darlene "Dot" Hagen
July 7, 1936  –  January 13, 2023
Visit Darlene 's tribute page to read the full obituary, gather event information and share a memory or express your condolences.
VISIT TRIBUTE
Obituary for Christopher  Pitsiladis
Posting from Vickie Metcalfe ('70):  Bottineau, ND
View details at https://www.nerofuneralhome.net/obituary/christopher-pitsiladis
Gary and friends of Dunseith,
I wish to extend   sympathy to the Pitsiiladis family on the passing of their beloved, Chris.
I recall Chris whist he attended elementary school here in Bottineau, I believe in Mrs. Mavis (Art) Hagen's class.
He was quiet, serious and kind.
A couple years ago I was delighted to see him again  at his family restaurant business in Rolette.
There, he was a remarkable young  man with a passion to  prepare  and cook an  excellent meal for his patrons.
I enjoyed my meal and speaking with him. (His family siblings  had Dunseith School ties.)
Sincerely
Vickie L. Metcalfe
Friday, March 31, 2023
Posted by Neola Kofoid Garbe:  Minot, ND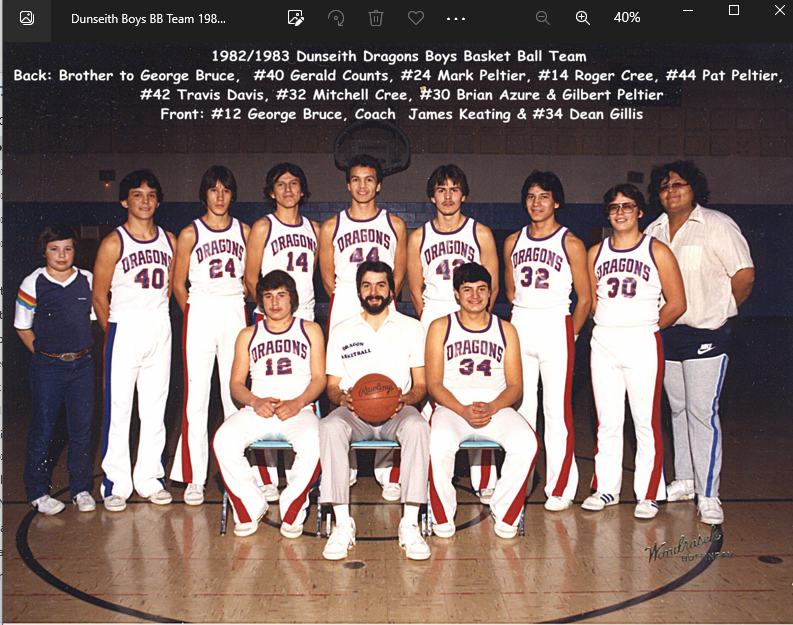 San Haven
Posted by Neola Kofoid Garbe: neola@min.midco.net Minot, ND