Philippine Island "Boracay". Calypso Beach resort.
Message from Gary Stokes.
Angel I returned last night from the Island of Boracay located about 100 air miles NW of Cebu. 35 minutes in a Boeing A320.
We had a beautiful 4 day stay.  It's summer every day of the year in the Philippines. Never a cold day.
Boracay is noted as having some of the most beautiful white sand beaches in the world with warm waters.
Boracay is a small island with 3.98 Square miles and many  beach resorts. Boracay can only be reached by boat from the nearby Caticlan Airport.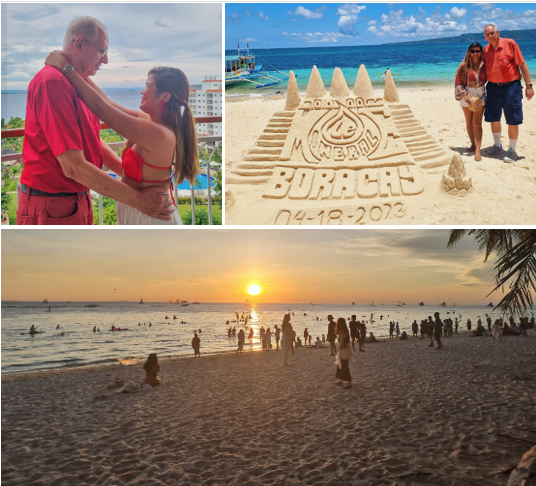 Beverly Handeland Hamnes ('DHS 1948) Obituary
Posted by Vicky Metcalfe ('48):  Bottineau, ND
Hi Gary,
Attached is the Nero Funeral Home  notice of the passing of Beverly Hamnes.
Beverly was the daughter of  long time  Willow Lake Township residents,
Clarence and Jennie  (Hurst) Handeland.
(Her grandfather Hurst and my Grandfather Lamb were neighbors and friends.)
Vickie L. Metcalfe

Beverly Handeland Hamnes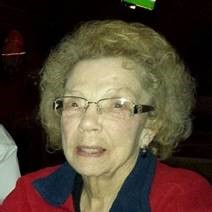 February 18, 1930 – April 19, 2023
Beverly Hamnes, age 93 of Bottineau passed away on Wednesday, April 19, 2023 at a Bottineau hospital.
Gary Stokes' Comment
I was saddened to receive this message of Bev's passing. She and Mel were very nice folks. I became very acquainted with them both on our 2009 Alaska Cruise. Nice friendly people. Mel Passed in September 2016. He was the Prior owner of the "Bottineau New Holland" dealership. Bev was one of the senior living of our Dunseith Graduates too. I will miss her wisdom for questions of the past.
Urbain Cote Dunseith "ROUND BARN"
https://www.kfyrtv.com/2023/04/19/off-beaten-path-return-trip-round-barns-nd/
Posted by Vicky Metcalfe ('48):  dogdays@utma.com Bottineau, ND
 Hello Gary and Dunseith Friends,
Read more on Off the Beaten Path: Return Trip – round barns in ND at
Round Barns of North Dakota was featured on today's  tv news.
I was especially  interested and pleased to see  what is called, Dunseith's  "Urbain Cote ROUND BARN" !
What a great memory I have of attending a Metcalfe cousin's wedding dance there.
I attended that wedding and dance with  my mom and dad.
I have always  from early childhood, had a love to dance.
As a first grader  riding with my parents on our way to Aunt Jeans,
I would gaze at a ballet dance studio on Seattle's Aurora Avenue.
And dream of  ballet.
But that dream was not to be.
In my teen years, I learned to two step, foxtrot, and waltz.
My favorite teacher  ever …..was  my dad Cliff, followed by Uncle's Jim and Emil,
I wonder how many  readers can recall a memorable  night of dancing at the ROUND BARN? It was the best of times….in days gone bye……
When y'all come home to Dunseith look  South  East to  the Round Barn.
Listen to  the  breath of wind …perhaps  a memory of music and laughter, which withstood the test of time among……….Dunseith friends.
Catch you later!
Vickie L. Metcalfe
Tuesday, April 18, 2023
Reply to the San Haven picture
From Allen Richard ('65):  Grand Rapids, MI
The picture of the San hits me right in the gut.  It was such an important part of Dunseith and the county.  I haven't been there since our big class reunion.  It was a total shambles then and I assume it is worse now.  An important part of ND history reduced to rubble.
I don't mean to make lite of this, but you know you are getting old when you are notified of one birth and one wedding per year ———- and 10 obituaries.  This getting old shit is not for the faint of heart.
Have a happy Easter everybody!
Denise Lajimodiere making history as ND poet laureate
Posted by Vicky Metcalfe ('48):   Bottineau, ND
Gary and friends od Dunseith,
I am delighted to read Denise Lajimodiere making history as ND poet laureate.
Denise,  along with Elaine Metcalfe , Donna (Morin) Kjorsvik and I, student taught together at Dunseith.
We graduated together from UND Elementary Education program.
Denise was always gifted in knowledge of Ojibwe history and  art.
She has been active  participant at the local heritage center in Belcourt.
Denise  also  dedicated effort and time  whilst researching oral history and publishing a book about residential schools.
Sincere best wishes Denise!
Vickie L. Metcalfe
April 18, 2023
Read more on Ojibwe woman makes history as North Dakota poet laureate at https://www.kfyrtv.com/2023/04/17/ojibwe-woman-makes-history-north-dakota-poet-laureate/