Posted by Neola Kofoid Garbe:  Minot, ND
Rodney Kalk (DHS 1961)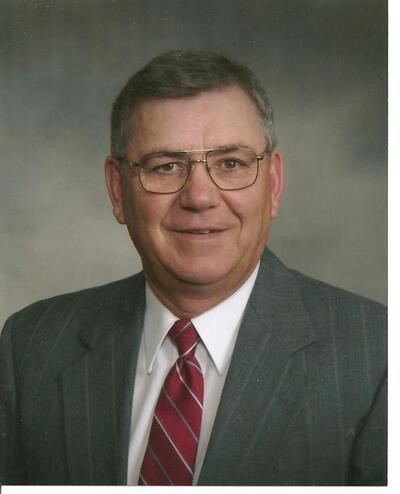 May 11, 1941 – June 4, 2023
Obituary
Rod Kalk, age 82 of Bottineau, passed away on Sunday, June 4, 2023 at Grand Forks.  His memorial service will be held on Friday, July 28, 2023 at 10:00 am at the St. Mark's Catholic Church in Bottineau.  There will be a prayer service on Thursday, July 27, 2023 at 7:00 pm at the Nero Funeral Home in Bottineau.
Rodney J. Kalk was born May 11, 1941 to Dan and Rose (Gunville) Kalk on the family farm rural Dunseith, ND. He was the third of ten children. He passed away peacefully on June 4, 2023. Rod was baptized and confirmed at St. Louis Catholic Church in Dunseith, ND.  Rod attended country school until moving into town. He graduated in 1961 from Dunseith High School where he was a star basketball player for the Dunseith Dragons, scoring 52 points in a single game (before there was a 3pt line). His biggest fan was his older brother Vince. His younger brother Julian also idolized his older brother.
Rod spent summers as a child in Blaisdell, ND with the Ray Lindberg family. They became acquainted at San Haven where both Dan Kalk and Janice Lindberg were tuberculosis patients. They welcomed him with open arms as a son they never had and brother to their three girls. He loved life on the ranch. He enlisted in the U.S. Army out of high school. He did his basic training at Fort Carson, CO. He enjoyed serving two years in Germany. He didn't know until going into the military that his given name was Joseph Rodney and not Rodney Joseph.
Rod married Evelyn "Evie" Langehaug daughter of Conrad and Mildred Langehaug on August 29, 1965 at St. Mark's Church in Bottineau, ND where he was a member. They were blessed with the birth of children Brian and Jacqueline. More joy came into their lives when grandchildren Jordan Sue, Blake, and Aidan were born.
Rod and Evie built their first home in Bottineau ND in 1972. Rod could walk to work carrying his lunchbox. At the end of the day, Brian and Jackie would be waiting with a basketball or baseball in hand. The family spent time following school events, enjoying the outdoors and many road trips. The fall of 1986 with both children off to college, Rod and Evie moved to their cabin on Lake Metigoshe where they have resided since. Many wonderful family times were spent there.
Rod's hobbies included snowmobiling, golf, hunting, fishing, playing cards, listening to music, watching sports and cleaning whether it was the garage, house, yard or vehicles. He loved everything polished to perfection.  Rod and Evie enjoyed traveling. They went to Norway for a family reunion in 1988 and Wedding Anniversary trips to Europe in 2001 and 2015. They spent 13 winters in Orange Beach, AL. They loved following their children and grandchildren wherever their education, careers or military service took them including three trips to Hawaii.
Rod began his career with North Central Electric, Bottineau, ND in March 1967. He received on the job training as a lineman. When NCE had a reduction in force the fall of 1969, the family moved to New England, ND where he worked for Slope Electric. The spring of 1971 he was called back to work at NCE. He retired in 2003 as Staking Engineer enjoying 20 years of retirement.
Rod is survived by his loving wife Evie of nearly 58 years, Lake Metigoshe; son Brian (Karen) Kalk of Grand Forks, ND; daughter Jacqueline Kalk, Plymouth, MN; granddaughter Jordan Sue (Mike) O'Brien, Sherman Oaks, CA; grandson Aidan Eagon, Plymouth, MN; sisters Janet Banish, Marlene Kopp and Natalie Jahner of Fargo, ND; nieces, nephews, brother-in-laws, sister-in-laws and cousins.
He was preceded in death by granddaughter, Blake Eagon; parents; brothers Vincent, Julian, and Marvin Kalk; sisters Louella Davis, Lorraine Hooper, Katherine Barbara Lopez; father and mother-in law; numerous brother-in-laws, sister-in-laws, nieces and nephews.
Memorial donations may be given to Hospice of the Red River Valley, 2860 10th Ave. N. Suite 400, Grand Forks, ND 58203, Bottineau County Veterans, 104 Main Street, Bottineau, ND 58318 or a charity of your choosing.
Gary Stokes comments
I had the pleasure of visiting with Rodney and Evie along with Dennis Dubois and several others at the Bottineau Bakery last July with my visit back. Rodney for sure remembered his school days very well, recalling detailed events from those days.
We extend our condolence to Evie and his family with his passing. He will be missed.
Replies to  the May 22, 1980, Don and Bernice Johnson murders in their home.
From Theresa Sivertson Delikat (Lars Sivertson's daughter) :  Ajo AZ.
I worked the night shift at San Haven that night. At that time there were no locks on the back doors. The "night watch" came and we stacked chairs against the doors trying to make it difficult to get into the building. If nothing else we would hopefully hear a racket down on first floor.
Theresa Delikat
From Sue Metcalfe (Gary '57):     Forsyth, MO
Thank you for posting this and reminding us of this difficult season.
From Allen Richard ('65):  Grand Rapids, MI
That was a monstrous event that probably ranks at the top of all of the dark days in the whole area.  One of my cousins called us around midnight and told us what happened. I passed the word on to my parents and needless to say none of us slept for the rest of the night.
Alice Faine Christopherson (DHS 1968)
Obituary posted by Vickie Metcalfe ('70): d Bottineau, ND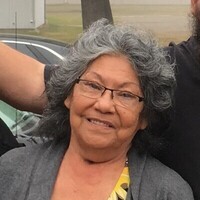 Alice Ann Christopherson
January 5, 1949 – June 7, 2023
Alice Christopherson, age 74, of Dunseith, ND passed away on Wednesday, June 7, 2023 at Altru Hospital, Grand Forks, ND.
Alice Ann Christopherson was born on January 5, 1949 in Belcourt, ND to Guff Faine and Alice (LeDoux) Faine.  She was raised in Dunseith and completed her education at Dunseith High School.  She furthered her education at college obtaining Associate of Arts degrees.  She was the proud mother of four sons, Daniel, Jesse, Mitchell, and Christopher. She worked in nursing and then became a wonderful homemaker, caring for her family.  Alice enjoyed being outdoors and sitting on her porch swing near the pond.  She also loved spending time with her family members, making jewelry, and going to bible study.  Alice will be lovingly remembered and greatly missed.
Alice is survived by her sons, Daniel Faine of Devils Lake, Jesse (Shannon) Faine of Rugby, Mitchell Christopherson of Dunseith, and Christopher (Amanda) Christopherson of Dunseith; seven grandchildren, Taydin Christopherson, Maxton Christopherson, Isaac Herbel, Ashton Boppre, Addie Boppre, Jordyn Faine, and Jayden Eggelston; four great grandchildren; brother, John (Sally) Faine of Dunseith; sister, Patty Lozensky of Dunseith; and many nieces and nephews.
Alice was preceded in death by her parents and siblings, Margaret Faine, Delores Faine, Betty Norman, and Linus Faine.
Casket Bearers are Daniel Faine, Jesse Faine, Mitchell Christopherson, Christopher Christopherson, William Faine, and Greg Faine.
A funeral service will be held at 2:00 PM on Monday, June 12, 2023 at Elick Funeral Home, Rolla, ND with visitation beginning at Noon prior to services.  Pastors Lisa and Tony Coffman officiating.  Burial will follow services in St. Louis Catholic Cemetery, Dunseith, ND.  A meal will be held following burial at Eagle Heart Cultural Center (Log Cabin), Dunseith, ND.
Elick Funeral Home, Rolla, ND.
Ronette Faye Belgarde Morin (DHS 1967) Death Notice
Posted by Neola Kofoid Garbe:  Minot, ND
Ronette Faye Morin, age 74 of Dunseith, passed away on Friday, May 26, 2023 at a Dunseith nursing home.  Her funeral will be held on Friday, June 2, 2023 at 1:00 pm with the wake starting at 10:00 am at the Eagle Heart Cultural Center in Dunseith.