Velma Brennan Millang (DHS '1947) Passing
I was so saddened to have not kept my self-updated with the latest local deaths when I was in Bottineau. When I am home in Cebu I keep my self updated via my desk top. Seldom do I use my phone for anything outside of Social media. From now on, when I am away from home, I will for sure check the Nero Website daily from my phone.
I extend my sincere apologies to the Millang family for missing the visitation of their mother. Velma passed the same day that my brother Bud and Debby had left for a 6 day visit to the Minneapolis to attend preplanned family reunions.

Larry, Joanne, Mark and Clayton;
I extend my apologies for not being there for your mothers rites. I was in the area. No valid excuse.
During our growing up days, with 4-H and other community affairs, we were like family. We were back and forth a lot. Remember the time your family visited us and we kids decided, with our parents consent, to take our car to the Bottineau Skating rink for the evening. We hit a Cow on the icy road two miles south of our place. Dennis Hiatt had left the gate open to their farm buildings and the cattle had all gotten out and were on the icy road. I was driving, When I engaged the brakes the tires were sliding. The car was damaged beyond driving, but repairable.
With our very dedicated 4-H leader mothers, we were together many times a month for related projects. I will never forget those days.
Looking forward to seeing you folks with My/our trip back next summer. Hopefully Angel will have her visa then and can accompany me.
Gary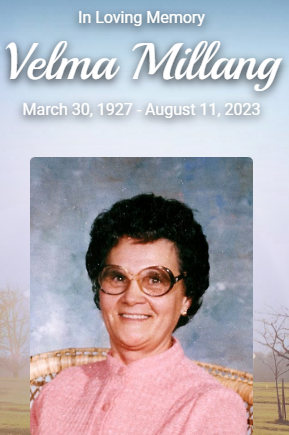 Obituary
Velma Millang, age 96 of Rolette, formerly of Bottineau and Dunseith, passed away on Friday, August 11, 2023 at a Rolette nursing home.  A private service will be held.  Visitation will be Tuesday, August 15, 2023 from noon until 1:30 pm at the Nero Funeral Home in Bottineau.
Velma Doris Millang, the eldest child of nine children born to Ray and Janette (Pilloud) Brennan, was born on March 30, 1927.  She attended Hillside Country School before graduating from Dunseith High School.  On October 18, 1946, she married Clifford Millang after he returned from serving in WWII.  Clifford passed away on June 2, 1970.  Velma continued to live on the family farm raising her children while also caring for several neighborhood children.
In 1978, she moved to her daughter and son-in-law's farm near Souris, where she continued her enjoyment of caring for more neighborhood children. She moved into Bottineau in 1991 to be the Assistant Site Manager at the Bottineau Senior Citizen Center.  A job she loved dearly and cherished her life long friendships she made there.
Velma enjoyed visiting with family and friends, watching her grandchildren grow and taking part in their activities.
She is survived by her children, Larry Millang of Bottineau, Joanne (Mark) Bernstein of Souris, Mark (Deb) Millang of Rugby and Clayton Millang of Dunseith; son-in-law, Ron Volk of Sherwood; grandchildren, Ryan Bernstein, Jon Bernstein, Meghan Bratvold, Krista Alexander, Jenna Braun, Mitchell Volk; 12 great-grandchildren; sisters, Dorothy Vandal of Cando and Patty Groff of San Diego; sister-in-law, Maryann Brennan of Minot; and nieces and nephews.
In addition to her husband and parents, she was preceded in death by her daughter, Diane Volk, sisters, Mildred Reamer, Fay Lindquist, Shirley Brennan; brothers, Dennis Brennan, Mike Brennan and Robert Brennan; niece, Lana Amsbaugh and nephews, Jerry Reamer and Mike Groff.
Arrangements were with Nero Funeral Home in Bottineau.  Friends may sign the online register book at www.nerofuneralhome.net.
Dale Simon's Passing (Karen Hagen Simon DHS '1970)
Karen,
I extend my condolence to you and your family with the passing of Dale. He was a good man and will be missed.
With my trip back to the area last month, I truly enjoyed seeing you and Susan too, at the Vets Hall and also you at the Metigoshe Lake Side Drive Inn. Being close neighbors and with our mothers both being 4-H leaders and very active Kelvin Home Makers members, we were back and forth a lot. I enjoyed my two suppers with Art too. I will post those pictures later.
Looking forward to seeing you Next Summer.
Gary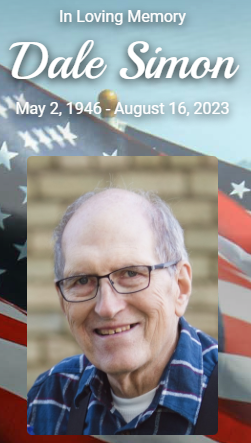 Obituary
Dale Simon, age 77 of Bottineau, passed away on Wednesday, August 16, 2023 at a Grand Forks care center.  A graveside service will be held on Tuesday, August 22, 2023 at 10:00 am at the Oak Creek Cemetery in Bottineau.  Visitation will be Monday from 1:00 pm until 7:00 pm at the Nero Funeral Home in Bottineau.
Dale George Simon was born on May 2, 1946 to Peter Ambrose Simon and Myrtle (Ohmart) Simon in Bottineau, ND. Dale attended Bottineau Public Schools until he enlisted into the U.S. Navy in 1965. He was assigned to the U.S.S. Yorktown until 1967 and then was reassigned to the U.S.S. Hornet until 1969. Dale's claim to fame was that while on the U.S.S Hornet, his ship recovered the Apollo 11 astronauts and space capsule in July of 1969. He returned back to Bottineau after he was Honorably Discharged where he worked with the Beyer Family at Ace Hardware. He met Karen Hagen in March of 1971 and then were married a year later on April 7, 1972. Dale and Karen welcomed their first child, Peter and then Joanne a year later. They then moved to Westhope, ND in January of 1974 where Dale started his policing career. In 1976, the family moved back to Bottineau, ND where Dale began working with Bottineau County Sheriff's Department until his retirement in 2011. After his retirement, he was an active member of the AM Vets, American Legion and VFW. Dale and Karen celebrated their 50th Wedding Anniversary on April 7, 2022. Dale and Karen were always together. They enjoyed going out for coffee, out to dinner and supper, movies, a drive up to the lake or around town to see what was going on. In July of 2021, Dale was diagnosed with dementia and in January of 2022, he was moved to Grand Forks to get the specialized care that he needed.
Dale raised his kids to be independent and strong. There was no such thing as a boy or girl task. He taught them to paint, mow, fix our cars, cook, cut wood, start the wood stove, garden, identify tools, you name it he made sure they knew how to do anything. He always said, if you want it done right, do it yourself. He was also there for a hug or to give advice, even if it was advice that you didn't want to hear.
Throughout Dale's life, he enjoyed helping everyone and anyone. If you needed your washing machine fixed…call Dale, if your car was broken…call Dale, if you needed a fishing buddy…call Dale. You name it, he would drop everything and come to you. Dale would give you the last shirt off his back. Early on, Dale enjoyed hunting and fishing and then later found a love for woodworking. Dale was blessed with three amazing grandkids, Ellie, Zachary and Elizabeth. He loved every minute of time that he spent with them. Whether it was playing catch, taking them fishing, coloring, going to Dairy Queen, or going up to the courthouse to show off the grandkids, he cherished those moments.
Dale passed peacefully with his family by his side on Wednesday, August 16, 2023 in Grand Forks.
He was preceded in death by his parents, Peter and Myrtle, his father-in-law and mother-in-law, Clarence and Maryann Hagen.
Dale leaves behind his wife, Karen (Hagen) Simon, son Peter (Denise) Simon and daughter Joanne (Justin) Karch, along with three grandchildren, Ellie (Alex) Kiser, Zachary Simon and Elizabeth Simon, brother Ralph Simon and sister Marilyn Holen.
In lieu of flowers, the family would prefer that you donate to the Alzheimer's Association, your local police/sheriff's office or veteran's group.
Dunseith Creamery Fire. Jan 1950
Posted by Susan Fassett Martin ('47): susankay47@gmail.com Belle Fourche, SD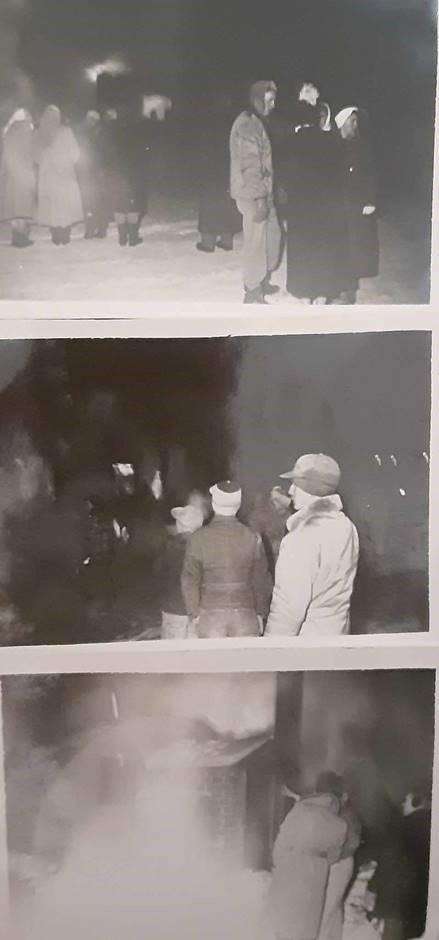 The Story of Wojtek: A Bear in the Polish Army During WW II
Posted by Vickie Metcalfe ('70) dogdays@utma.com Bottineau, ND
Gary,
Sent to me by D. Aird.
This is a wonderful true story of a bear who served in the Polish army during WWII,
then retired to Scotland.
AS you know, I am a person who enjoys stories.
Sometimes we all just gotta read  'feel good  stuff'  to relieve stress this is a good one! Vickie
https://www.greenmatters.com/community/bear-in-polish-army