Hello Dunseith Alumni and Friends,
I recently returned from a fabulous 6 week USA trip. I spent one plus month in the Bottineau/Dunseith area followed with a week in the Washington Puget sound area. With this trip I saw and visit a lot of friends. I had superb hospitality with my Brother Darrel (Bud) and his wife Debby in Bottineau. They put up with me, underfoot, for over a month.
Fauske siblings
My timing was just right to see all six of the Fauske Siblings. I visited them at their home farm too, now Russell and Glenda's. We had a wonderful visit. It really brought back good memories too, especially seeing all of them on their childhood turf.   They are all looking great! They really haven't changed much over the years, however initially I got  Arlinda mixed up with Carrole. Side by side, in the picture, they are very similar. They're all in the same century now too. Connie is the Eldest and Brian is the youngest. Like their parents, they'll be going strong, healthy and looking fabulous well into their 90's. I will be around to take this same picture 20 years from now too.
Tyrell: Russel and Glenda's son is in treatment for a stage four brain cancer tumor that was removed several months ago. He is home with his family in Fargo. This is really hard on the whole family. Like Glenda, his mother said, "he had everything going well for him in this stage of his life now too, with his advancements with the Fargo Police department and his family.  Now this". We hope an pray for his recovery.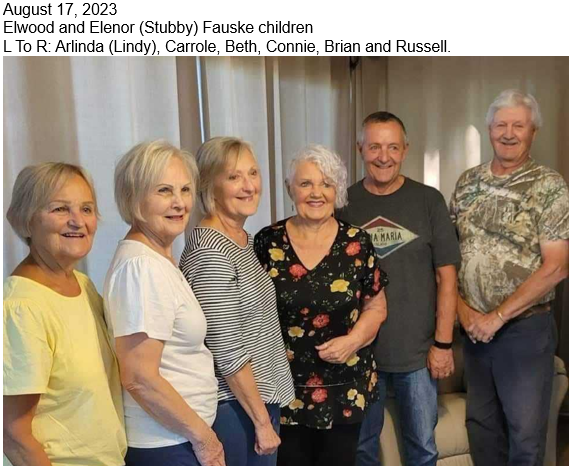 John Bedard' (DHS '65) Passing
Folks,
I am so saddened with John's Passing.
When I arrived in Bottineau, I was told that John had Stage 4 kidney cancer. Several weeks after I was there, I was told that he would like to see me. I called John and Margret and made arrangements to visit. When I arrived, John opened the door to let me in. He actually looked pretty good. He was the same John I always knew. We had an hour long, very intense, visit. He was very open and straight forward with his condition too. When I got ready to leave, both he and Margaret accompanied me to the door. Less than two weeks later he passed, in his home, with hospice care.
John was a good friend and class mate. He will never be forgotten.
We extend our condolence to Margaret and the rest of his family with his passing.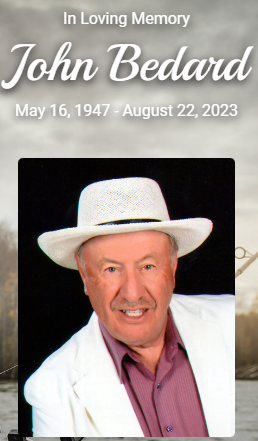 Obituary
John Bedard, age 76 of Lake Metigoshe, passed away on Tuesday, August 22. 2023 at his home.  His memorial service will be held on Wednesday, August 30, 2023 at 11:00 am at the Lake Metigoshe Christian Center.  Visitation will be on Tuesday starting at 5:00 pm with a prayer service at 7:00 pm at the Nero Funeral home in Bottineau.
John was born in Bottineau, ND on May 16, 1947, to Hannah and Lucian Bedard. John had 3 sisters, Connie, Margaret and Nancy. John married Margaret Brennan on August 3, 1969, and together they had one daughter, Cheri. John has two grandchildren, John-David and Sophia. John graduated from Dunseith High School and attended Mayville College. He graduated from Mayville and went on to work as a high school teacher in Rolette, ND. In 1972, John was one of the last people from North Dakota drafted into the United States Army. He was stationed at Ent Air Force Base in Colorado Springs, Colorado . After his service, he taught for another year as a teacher and then went to work for the United Postal Service. He retired from the Postal Service after over 30 years as a mail carrier.
John loved to fish and spent many days and nights out on the lake. He was also an avid hunter. When not hunting or fishing, John could be found out tending his garden. He and his wife also loved to travel and have gone on many trips and cruises together over the years.
John is survived by his wife, his sisters, his daughter, and his two grandchildren.
He was preceded by his mother and father.
Arrangements were with Nero Funeral Home in Bottineau.  Friends may sign the online register book at www.nerofuneralhome.net.