Temperature report from Evon Lagerquist (77):
Hi Gary, Thought I'd let you know, we had a toasty -50 or lower ( that was as low as my thermometer would register), this morning in the hills! Don't you miss weather like this?
Man, It's cold up there in the hills in the Ackworth community. It's currently noon here in the PI and the temp is 88F. That's a 138 degree difference in our temps at the moment. I remember those Nylon tires having a flat spot from sitting in the cold. At times we'd have to drive several miles, with rough riding, before they'd be rounded out again.

I just now recieved Martha's message posted below. It was -52 in the Newberg area this morning too! Gary
Reply from Marth Lamb Schepp (68):
Hi Gary and Monte,

Lynn and Shane are going to the Mohall Seed Show tomorrow where they will have a booth for the Souris River Coop. I will send this with Lynn. I'm sure Shane will enjoy your information. I just heard on the news that Newburg's own Leonard Walsh, who is our local meteorologist recorded a whopping -52 this morning. Wow!

Monte, I also remember how excited we were when the oil rig was set up north of your parents home. And the country school days. I wish I could remember the rules to kick the can. Suppose there might be danger involved with such a game at school these days. Martha
Reply from Julie (Knox) Seier (82):
Gary,
Once again, thank you for doing this. It is amazing the things
that come up here that bring back childhood memories for me.
First off, the squeaking of the runners on the sleigh as the
horses pulled a load of wood or a load of hay on a quiet winter
day in the Trutle Mountains. I can still smell the smoke from
my Dad's cigarette that he rolled himself, from the Prince
Albert tabacoo can, on the way home from whatever it was we
were hauling that day. My Dad had a team of horses on the farm
up until about 2003 so my kids got to have the fun sleigh rides
in the winter as well. We mostly used them for work when I was
a kid but every now and then we would have friends come to the
farm and he would give them a sleigh ride too. Not too many
folks my age can say that they used a team of horses for farm
work! I would have much rather hauled hay or wood or cleaned
the barn than do housework!
I remember Martin Belgarde too. He and my Dad used to hay
together for many summers lots of years ago. The one thing that
I can remember about him distinctly was that he always drank
cold coffee. When we would bring them lunch in the hay field he
always had his jug of cold coffee. He said it was the best
thing in the world to quench his thirst. (YUCK!!) Because he
was diabetic he kept candy bars in his lunch box too. Once in
awhile he would slip them to us girls for a treat! He was such
a nice man.
Monte, I met Shane Lester a few years ago when he was a student
at MSU-Bottineau. Luann came to know him and found out we were
realated. Fun young man.
Mark Schimetz, thanks for the photos from Aunt Minnie Flynn's
birthday party. I was sad that I had to miss it.
Again Gary, thank you so much for your hard work.
Julie (Knox) Seier class of 1982
Reply from Marie Staub Iverson (60):
I want to add my thanks for all the great emails you send out each day I look forward to reading them ever morning.
Most of the time I recognize the names of several of the people but this morning I was surprized to read the message from Dale Pritchard as he mentioned one of my many cousins Allen Beckmen who was married to Lois and I was wondering were he was as after his dad George Beckman passed away I haven't had any
contact with him. His mother was my mothers sister who passed away several years ago. I also wonder were his brother Irvin is as when we were younger we spent a lot of time with them .
So it's great to here he's in Golden Colorado.
The message from Dwight Lang brings back a lot of memories of school .I hope everything goes great for him as I'm sure it will . I sure remember his mother- a great lady. One year she sent me a bunch of things
that they had left from one of the reunions which I was not able to attend.
Thanks again Gary for all this great infomation.
Reply from Dave Slyter (70):
Dwight Lang:
Just want to pass on a word of good luck to you during your medical procedures for your cancer. Hopefully they caught it early so it won't be much of anything. When I seen your picture it reminded me of when you hired me to go down and clean your dad's house. It was a fun job as your dad always had a challenge for me to clean up. ha But I always managed to help him out anyway I could. So you take care and our thoughts and prayers will be with you thru this medical ordeal.
God Speed,
Dave Slyter (70)
Reply from Judy Allery Azure (65):
Gary & Neola,
The picture with the date January 20,1973, is my cousin Rita Keplin Gable. Rita is a school counselor in the Dunseith School system. Neola you should be able to contact her there. Not certain of the others, thanks Gary & Neola for all the wonderful pictures and information concerning Dunseith. By the way Gary I have a Bachelors Degree in Business Administration. I was recently hired at Cultural Divesity Resources in Fargo, I am the Program Manager for the new Native American Center, very excitig positon as I get to meet so many new people from North Dakota and Minnesota.
Well Gary, the weather is suppose to change this weekend, we are expecting above 0 by Saturday. I guess we live in this beautiful state because we LOVE everything about it.
I must sign off for now so until next time all take care. Sorry to hear about so many with illnesses, I will be praying for you all.
Judy Allery Azure
Judy, Congratulations with your new job. I have reposted Rita Keplin Gable's photo below. We have a number of folks working in the Dunseith schools on our list, so I'm hoping Rita sees this. I just checked the Dunseith school WEB site and Rita is listed on their staff page. Thank you Judy, Gary

 
Reply from Mona Dionne Johnson (48):
Gary: Unknown pic #2 is of my cousin, Judith (Bailey) Foley, who
lived in Rolla. Her dad worked for the Turtle Mountain Star.
Mona Johnson (48)
Reply from Bonnie Awalt Houle (56):
It is wonderful to wake to your messages each morning. Certainly enjoy hearing from everyone especially on mornings when the temperature is -26 in Minnesota.
The girl in the unknown photo #2 is Judy Bailey Foley. She is the daughter of Harvey and Hulda Bailey, and a graduate of Rolla High School. She has been married to Robert Foley of Rolla for 50 years. She is a retired teacher from Willmar Minnesota, her husband Robert is a retired Media Specialist of the school system.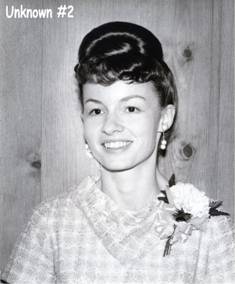 Folks, for those of you that have been following the trail of messages, Randy Hiatt recently discovered the Jim & Ella Evans Metcalfe siblings and vice versa. They are first cousins. His biological father Bing Evans & Ella Metcalfe were siblings. The following is a message trail between Geri Metcalfe Munro and Randy. Randy's mother was Delores Hiatt Berkland. Gary
From Geri Metcalfe Munro (59):
Hi Gary,

MANY THANKS for connecting us with Randy Hiatt–we are sharing info with him (not all for publication on the blog). I'm adding this one because I mention that the Evans family had all moved away by the time you were born, except Aunt Nellie (Evans) Byre. She has two daughters in Minot, one in Rugby, etc Nellie never did leave ND–she lived at Kramer, ND where Bing died while doing carpenter work on the school there. We are as pleased as Randy is about all of this connection.

Of course, Mom and all her siblings are deceased.

Geri Metcalfe Munro

Subject: MORE INFO FOR YOU


Date: Thu, 15 Jan 2009 14:22:46 -0600