Reply from Doreen Bailey:
Gary & Dick Johnson

I enjoyed the article from Reminisce 'Extra', I recognize the name Viola

Elaine Hobbs, she is a first cousin to Vance Bailey. His mother Marie Hobbs

and Viola's father Harvey Hobbs were bother and sister. Thanks for the

memories that keep Vance close! Doreen Bailey
Reply from Gary Metcalfe (57):
Viola Hobbs, you got away from us too soon, I bet your dad thought so too. I remember you and Renae Chilton in Miss Schur's class in the Dungeon. Leroy may have been Leroy Cote, surely not Leroy Stadheim?
I would like to pay tribute to a group that a lot of people can identify with. The one year rural teachers. They were to the teaching profession what the combat infantry soldier was to the military. Mud and snow, wind and cold or hot, no insulation or electricity. Tell me a mustard sandwich isn't good after a couple years of peanut butter and jelly.
Some teachers were just 18 years old after nine months of training and 6 to 8 grades to teach.
I am sure I knew 20 or 30 teachers that had to deal with Miss Ewen. She was an institution. Something of the ilk of Patton or MacArthur. That Tank Commander in Italy straightened out Patton and Give-em-hell Harry dealt with McArthur. But I am not sure anyone messed with Miss Ewen or any of her people. She made a lot of great citizens. There are a lot of great rural school stories out there, Tommy Hagen what year did you start teaching and how about Miss Ewen??
Bonnie Smith you were just a cute little kid who came to Kelvin every Saturday night the last time I saw you. Also your brother Wally and I don't know why Harriet comes to mind, was she a sister? Gary Metcalfe
Reply from Dale Pritchard (63):
Marie / Gary,
About 30 years ago or more, Irvin Beckman was living in Anchorage,
Alaska and was a small plane pilot. One day after takeoff he went out
over Cook Inlet or the Gulf of Alaska and went down. Neither he nor the
plane were ever found. George had gone up there to wait on something to
turn up. It really depressed him to come back home with nothing. I
never knew Irvin. Apparently he was somewhat older than me and was
already gone when Allen came into the picture. Allen was a good friend
of my brother, Darold.
Dale
Dale Pritchard's (63) Reply to the Smith girl photo:
Doris Smith Pritchard is Dale's aunt.
Gary,
Can't help you with this. I just don't remember what Doris looked like when I was 10 years old. Two of Doris' sisters lived down here in Shreveport for many years. I can't remember their last names so don't know if they are still here or moved on. I get up to Shreveport about every 6 months or so just for someplace different to go.
Dale
Dale, yesterday's message with Doris's sister's picture was forwarded to her son and your cousin Bill Pritchard. I got a message from Bill letting me know that he will show this picture to his mother for her to identify. He said he will get back to me. I think Bonnie Awalt Houle provided us with that picture.
These are the Morinville kids. I beleive this picture was taken in 2007.
Manvil & Dorothy Sebelius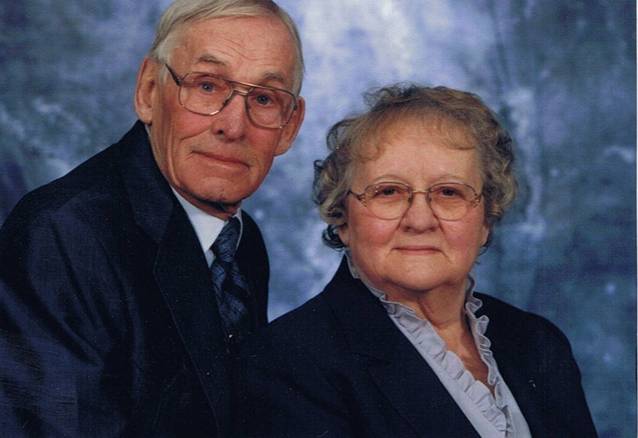 Sebelius Boys: Duane, David, Jeff, Marvin, Dennis, Daryl, Dean and Harvey