For the record, I did not get a blog posted yesterday. Gary
Happy Birthday Martin Peterson: St. John, ND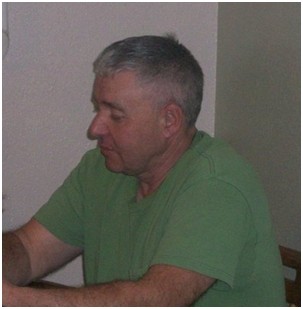 From Vickie Hiatt LaFontaine (73): Grafton, ND
In response to Aggies encounter with her little angel and the big gas can, It is so amazing when you are serving the lord how he puts us in places and puts people in our lives and he continues to bless us when we show christ love. As we are in the christmas season may we all remember that christ is the reason for the season and I pray that all on this blog and your families are truley blessed. I also asked for aspecial blessing and healing for all that are battleing any illness or diease. Just keep in mind God has promised that he will never leave us nor forsake us. Merry Christmas
Previously posted with message 233 on 9/24/2008
Bob Hosmer's (56) reply to Gary Stokes:
This Dunseith and area Community blog you put together is fascinating. I enjoy it very much.
About Aunt Janet, she died 2006. Her son John Norman took care of her in Dunseith for several years and did a very responsible job of it.
Janet was first married to John Byrne of St John. This was John Norman's father. They divorced and Janet later married Grant Norman who was a captain on one of the American Mail Line ships. They lived for awhile on Vashon Is., WA. Grant died and somewhere along the line Janet moved to Escondido, CA.
When dementia set in, John moved from San Francisco and together with his mother moved to Dunseith.
Aunt Janet gave the salutatory message at her graduation. I have the original talk she typed out on the back of an old Dunseith Red and White store advertisement. It's pasted in a scrapbook my mother had and I can't peel it back far enough to see who the owner and operator of the store was. I'm attaching a photo I took of the original. Hope you can read it. The copy is a bit faded.
Janet loved to play golf and tennis. She visited us while we lived and worked in northern Japan and took every opportunity she could to play golf. She always flew military standby and knowing the often wait-times she carried a book bag full of reading material. She was a wonderful aunt to me. I have many good memories of her kind generosity and putting up with me as a thirteen year old living with her and my grandmother (her mother) on Magnolia Bluff in Seattle in 1951.
Hope this information is helpful. Thanks for stimulating my memory bank about her again. Bob Hosmer
Janet Hosmer's Salutatory message to the Dunseith High School Class of 1932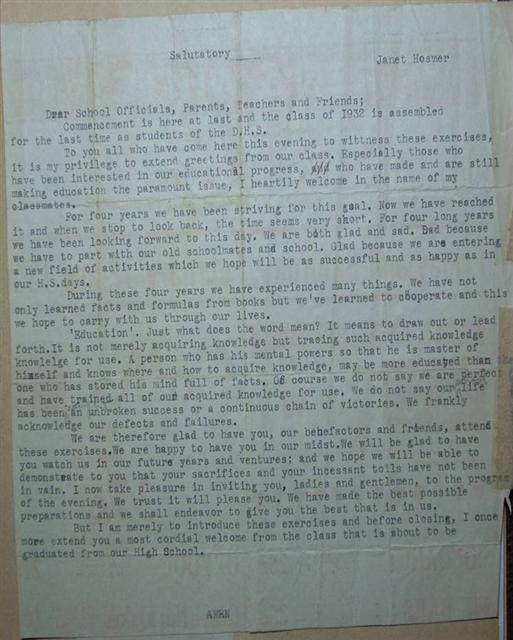 Dunseith High School class of 1932





















Last

First

Address

City / State / ZIP

Phone

Email

1

Bakken

Arthur

Born June 20, 1913

–

Died October 10, 1995

Deceased

2

Bedard Senechal

Blanche

Born February 14, 1914

–

Died March 17, 1979

Deceased

3

Berg

Esther L.

 

Unable to locate

 

Sister's name was Clara

5

Hosmer Norman

Janet

Born September 11, 1915

–

Died April 3, 2006

Deceased

6

Isakson

Carl

Born June 24, 1914

–

Died February 12, 1977

Deceased

7

Olson

Alvin

Born September 12, 1912

–

Died February 2, 1991

Deceased

8

Seim

Morris

Born July 14, 1913

–

Died August 1968

Deceased

10

Wicks Leonard

Gladys

Born August 16, 1912

–

Died July 1994

Deceased
Previously posted with message 233 on 9/24/2008
Art Rude Pictures provide by Neola Kofoid Garbe:
Folks, Neola sent me these pictures of Art Rude. I am not sure where she got these, but she does not know where they were taken. With the Canadian flag in the back ground, it must be something to do with Canada. It kind of looks like Art may be the auctioneer at a sale. I am sure or I am hoping that some of you will recognize the area, event and year of these pictures. Do any of you recognize any of the other folks in these pictures?
Gary
Reply from Dick Johnson (68):

Gary,

The pictures of Art Rude were taken at the Museum fun night several
years ago, when Art was the president . I'm the guy handing him the door
prizes for the drawing. Art is announcing the winners. The taller guy
with the beard is Art Jr. The other guy with the white shirt behind Art
is one of the performers, but I don't recognize him. This was about 10
to 12 years ago and was held in the Senior Center on Main street in St.
John, ND. Thanks!

Dick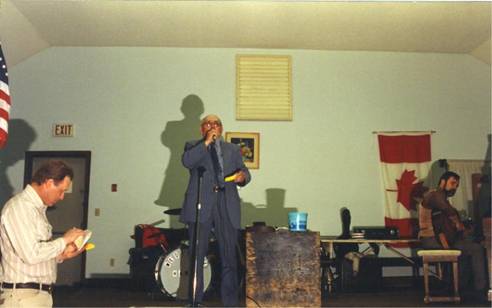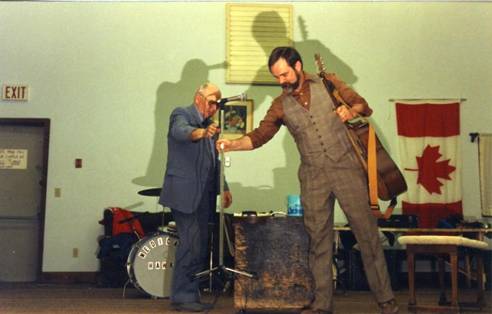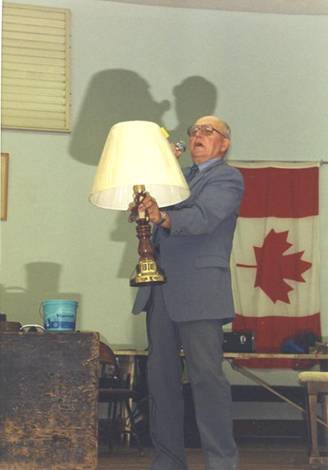 Posted by Larry Hackman ('66): Bismark, ND
And
an inexhaustible supply of Natural Gas.
I never thought I'd accumulate such wealth.