Request from Rod Kalk (61):
Hi Gary,
Please add Lisa Williams Mastvelton to your emails-
to your emails.
We're enjoying great temperatures in ND.
Thanks, Rod Kalk Class of 1961
Rod, it is my pleasure to add Lisa Williams Mastvelton (82) to our distribution list.

Lisa, you were quite young when I left the Dunseith area, so I don't remember you all that well, but I do know the Lagerquist's and the Knutson's, both extended relatives of yours. Your sister Lori is married to Ray Lagerquist and your daughter, Jenna, is married to Toad Knutson. I don't know Toad, but I know his grandparents, Norris & Arlene Knutson, well. Toad's dad, Roger, was just a little tite when I left the country. It's hard for me to believe, in my mind, that Roger is all grown up and has grown up kids of his own. I guess things didn't come to a stand still when I left the country. Rod Hiatt filled us all in, with message #333, with the wonderful wedding and reception of your daughter Jenna & Toad. My brother Darrel and his wife Debby told me they also attended their wedding and reception. From all reports, it was a wonderful affair. Gary
Reply from Pam Wenstad Lane (78):
Fisrt of all, I would truely like to tell you how much I like this site. I don't know most of the people,but I like to read all of the history.Thank you for all of your work.I was wondering how I could get ahold of the Prairie Past and or Mountain Memories to read about Fred Morin.Maybe Gary Metcalfe can help me out. I would be grateful.
I strongly suggest purchasing a hard cover copy of the is book. The paper back is glued together and in time falls apart. The hard cover copy is bound well and does not come apart. The paper back is a good back up copy for taking pages out of to scan. Gary
Reply from Dick Johnson (68):
Gary and Friends,
In reply to Ginger's question of a family from Dunseith's Main Street
that drowned, it was the second wife of Carl Watschke and her son. They
were fishing on Long Lake and got caught in a sudden storm with strong
winds which overturned the boat. Mabel and Larry Nordquist drowned. Carl
managed to keep afloat and Larry's sister Joy Nordquist swam to the
shore, although she was not a swimmer. The reason I am aware of what
happened that day in 1957 is that Joy later married my dad's brother,
Cliff Johnson, in 1960. The terrible tragedy of that day has haunted my
aunt throughout her life. She and Cliff don't have email and hopefully
won't even hear about this message from those of you who do. I hope this
answers your question. Thanks Gary!
Dick
From Marth Lamb Schepp (68):
Hi to all,
We were just to Minot last night to meet our newest Gandson. Daxton Edwin Schepp, son of Karson and Kristen Marie Casavant Schepp also the grandson of Rick and Denice Casavant of Rolette. Daxton was born on Feb 4 at 6:40 P.M. 8 lbs. 3oz. and 201/2 inches long. He is our 7th grandchild, 3 being boys and 4 girls. The oldest will be 9 in March and until Wed. the youngest just turned 2. They are so fun. We have two grandsons from Rugby staying for 2 nights this weekend. Best say goodbye as we have a game of Yahtzee waiting. Thanks for all that everyone has does, especially Gary for keeping this going. Martha Lamb Schepp (68)
Reply from Bonnie Awalt Houle (56):
Your web sight sound fascinating, you are so intelligent, you and Billy Grimme. Too bad Conley Grimme isn't still around he too was very intelligent with all this tech stuff.
I have let my secretary job slack off as I've been running around with my Grandkids at NDSU, had a grand time, but now it's back to getting Lloyd on line again.
Bonnie, Thank you so much for the nice words, however, Bill is the guy with all the smarts. I discovered that it takes more time than brains to put together a 'simple' WEB page. Gary
Lloyd Awalt's (44) reply:
Gary mentioned the time my Dad was up at your place and came across the field carrying a child piggy back. It wasn't me it was my brother Bill. Everything else you remembered was correct. Keep the messages coming.
Reply from Diane Berg Rheault (79):
Gary, the picture of the soldier in this email……… When I looked at it, at first glance, it reminded me of one of the Tooke kids (of Kenneth and Nettie(Knox) Tooke). Wondering if it could be some relative either on the Tooke side or the Knox side.
Just a thought….Diane (Berg) Rheault
Posted by Neola Kofoid Garbe:
Folks, Justene Metcalfe's parents are Shannon & Debbie (Salmonson) Metcalfe. Her grandparents are Cliff/Lottie Metcalfe & Harlan/LaDonna Salmonson. Gary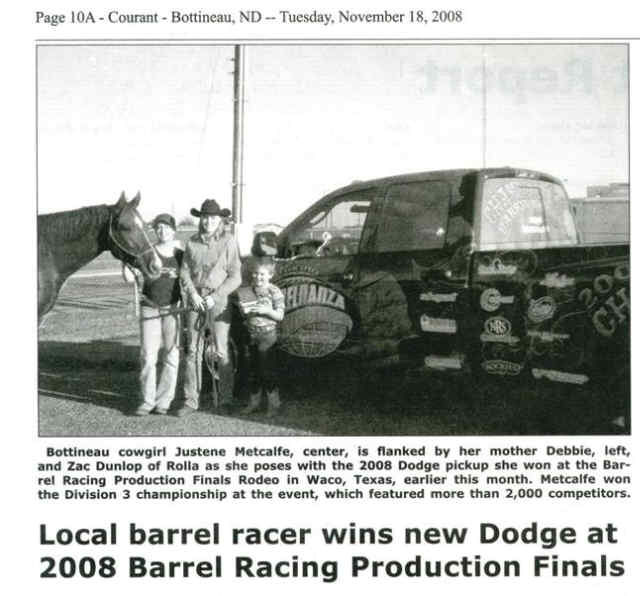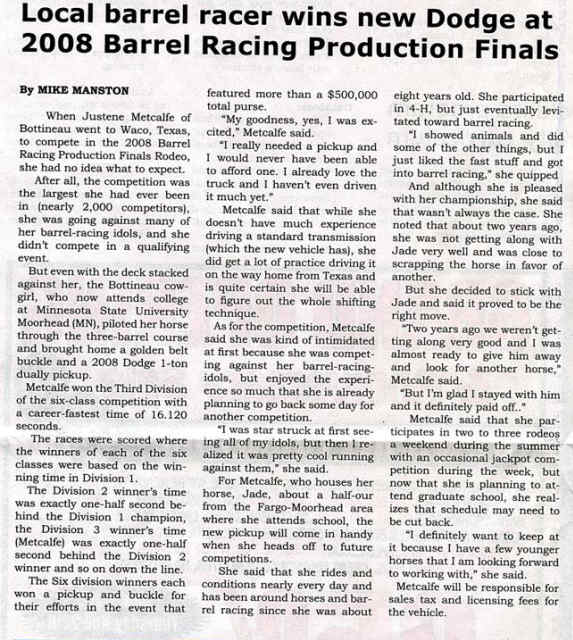 Dear alumni and friends,

Thomas J. Clifford
1921-2009
The entire University of North Dakota alumni family is grieving the loss of one of our most beloved members. Thomas J. Clifford, one of the University's and state's most iconic and dedicated alumni passed away in his home on February 4. He was 87 years old. My heart goes out to Tom's wife, Gayle, and the entire Clifford family during this difficult time.
As a UND faculty member, the youngest-serving dean and longest-serving president, Clifford touched the lives of nearly everyone he met. On a weekly basis, I never fail to meet or visit with someone who has an inspiring "Tom Clifford" story. In having many of these memorable conversations with the young and old alike, it's clear Tom's impact spans generations. He was a caring and compassionate man who took chances on students and inspired people to succeed. Serving as one of the University's greatest presidents, the "Clifford Era" from 1971-92 was a time of steadfast growth and success at UND. Clifford was a mentor, a confident leader, a savvy businessman, and, more than anything, a loyal friend and alumnus of the University. No one in our illustrious 125-year history has positively impacted more lives in a variety of ways. He was our "renaissance man", a war hero and a leader across several disciplines.
It is an understatement to say Tom's passing leaves a void that cannot be replaced. He will be dearly missed on so many levels, both professionally and personally by thousands. Please keep the Clifford family in your thoughts and prayers during this trying time.
I am certain many of you have stories and memories about Tom you would like to share. Please visit www.undalumni.org, where we have set up a tribute in his honor. Some of these stories may also be included in the May Alumni Review, which will include a tribute to Clifford's life. You may also contribute a story about Clifford for inclusion in the Alumni Review by sending it to alumnireview@undalumni.net I know his family and friends will enjoy reading your fond memories of their loved one.
Sincerely,
Tim O'Keefe, '71
Executive Vice President and CEO
UND Alumni Association and UND Foundation
---
UND Alumni Association
3100 University Ave. Stop 8157
Grand Forks, ND 58201-8157
(800) 543-8764 or (701) 777-2611
Fax: (701) 777-4054
www.undalumni.org | www.und.edu