Happy Birthday greetings to Mildred Fulsebakke from Erling Landsverk (44):
WHEN I LEARNED THAT MILDRED FULSEBAKKE WAS CELEBRATING HER 90TH BIRTHDAY WITH HER FAMILY, I WANTED TO ADD MY GREETING ALONG WITH A BIG HAPPY BIRTHDAY WISH. YOU SEE, HER HUSBAND JAMES ALONG WITH THREE OF HIS SIBLINGS AND ALL OF OUR FAMILY ATTENDED THE SAME ONE ROOM SCHOOL. IT WAS THE LOON LAKE SCHOOL #2, ABOUT A HALF MILE WEST OF THE FULSEBAKKE HOME
DURING THE WINTER MONTHS, WE OFTEN STOPPED AT THEIR HOUSE TO WARM UP BEFORE GOING ON TO SCHOOL, BECCAUSE THE TEMPERATURE AS YOU KNOW USUALLY HOVERED AT OR BELOW ZERO, AND FOR LITTLE KIDS WE GOT PRETTY COLD AFTER TRUDGING A MILE THROUGH THE DEEP SNOW. THE LAST AND ONLY TIME THAT I SAW MILDRED WAS AT THEIR HOME IN 1970 I BELIEVE, MY WIFE AND I AND THREE OF MY SIBLINGS DROVE OUT FROM WISCONSIN TO VISIT OUR OLD HOME SITE, VISIT SIGRID FULSEBAKKE AND AS MANY OF HER FAMILY AS WERE AROUND, OUR OWN NELS LANDSVERK FAMILY AND OTHER FRIENDS, AND WHEN WE LEARNED THAT JAMES AND MILDRED HAD A FARM NEAR THE PEACE GARDEN, WE STOPPED TO GREET THEM, AND OF COURSE MILDRED INVITED US IN WITH A BIG SMILE AND HER AND JAMES AND ALL OF US TALKED ABOUT OLD TIMES. IT WAS A GREAT VISIT. UNFORTUNATELY WE NEVER DID SEE THEM AGAIN, NOR DID WE HAVE THE OPPORTUNITY TO MEET THEIR CHILDREN. TO ALL OF THEM I MUST SAY, YOU HAVE A WONDERFUL MOTHER AND YOUR FATHER WAS ONE IN A MILLION. WE ALL HAVE LASTING FOND MEMORIES OF THE FULSEBAKKE FAMILY.
JO ANN AND ERLING LANDSVERK
Reply from Geri Metcalfe Munro (59):
To Gary Stokes:
In blog #375, I meant to send my email to Gary Fulsebakke, and I did; somehow, I must have clicked on Gary Stokes, as well.

I was wishing Gary Fulsebakke's mom, Mid (Mildred) a HAPPY BIRTHDAY 90th birthday this weekend. Gary F. and I have shared some stories back and forth this week.
Geri Metcalfe Munro
James & Mildred Fulsebakke Family:
Back: Gary Mid & Jim
From Jim Jr. Joel & Shelly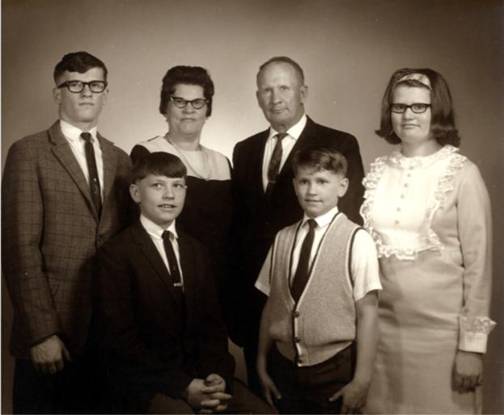 For general info – The Forestry is now MSU-Bottineau
Brittney Fulsebakke is Mid's Granddaughter. Her parents are Jim Jr. (75)
and Marlee Rae (Reing). Marlee Rae's mother, Marlene (Oliver) Reing is a
sister to my sister-in-law Debby (Darrel) Stokes.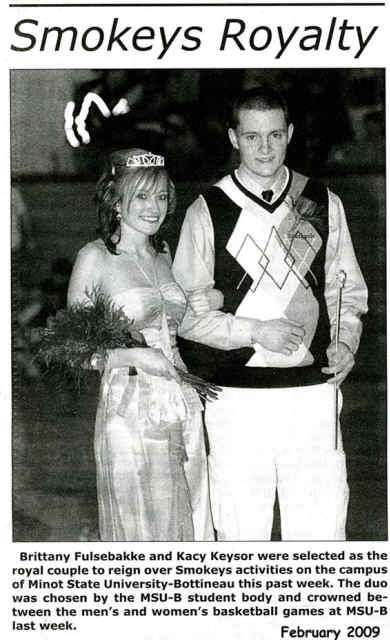 Reply from David Slyter (70):
My thoughts and prayers are with Marilyn, Richard and their children. I use to work with Richard at the school when we were both custodians there. What a great family. I pray you have a speedy recovery Marilyn. Great things can be cured through the help of prayer.
To Dick:

Thank You for the great picture of your grandpa, Glenn and Dad. I am thinking that your Grandpa must have sold his share to my Dad as there was a few years when Dad and Glenn owned the bar. I don't know if a lot of you remember the kids leagues they use to have on Saturdays when Glenn and Dad owned the bowling alley. It was great. I think they had like three or four teams of kids bowling on Saturday mornings. Again thanks Dick and Gary. Good memories