Folks, I'm a bit later than normal getting today's message out. We had a few errands to run today in conjunction with getting our plane ticket's to go back to the states in July. July is a high season travel month from the states to the PI, so the rates are about 1.5 times higher than off peak seasons. Our travel agent here in Cebu beat any price I could find on the internet by $60. Our round trip ticket's cost $1,290 each from Manila to Seattle. Better rates can be found departing from the states to the PI, than from the PI to the states. We are flying on Northwest airlines and will be arriving in Seattle on July 23rd at 8:55 AM. The flight time is 15:45 hours, but with the time change we will be arriving in Seattle 45 minutes later than when we left the Philippines. We will be staying at the Ramada Inn at SeaTac on July 23/24. Gary
Question from Esther Murray Fleming (65):
Flint, MI
Just a note, I was just thinking about a family that used to live in Dunseith. Does anyone remember the Orville Sutton family and whatever happened to them. I know there was Gail, the twins, Janet and Janice and I think few other ones in the family and I can't remember there names. Does anyone possibly know what happened to any of them? Give my best to Bernadette and also you. You know that, Have a good day.
Reply from Alan Poitra (76):
Bloomington, MN
Hi Gary, I do believe we have some CD's left or if the need be I can get some more made. By all means let me know and I will see what I can do! Thanks! I will attach a song that was on the album and written by my dad.
Alan, I listened to the song you attached to the message you sent me that was written by you Dad. It's beautiful! It's a crystal clear recording, very professionally done. The file size is a bit large to be attaching to one of these daily messages, but for those that like, they can request a copy from either you or me. We may be able to get Bill Grimme to post some of these songs too. You've got some beautiful music there that will for sure bring back memories to many. Gary
Reply from Sharon Longie Dana (73): Mssoula, MT
Great article about Frank Poitra. Growing up thats who I remember hearing at weddings and dances. The younger boys would say they would play when the old guys got tired.
So When Frank and sons were done then grandsons would play, Rod and Ronnie Poitra and don't remember who else played with them, can someone enlighten me???They were all very good, and we always had a great time.
Looking forward to hearing Tickled Pink music too.
Sharon Longie Dana(73)
Radiation treatment update from Neola Kofoid Garbe: Minot & Bottineau ND
Thanks for all the prayers that have been said on my behalf; they are working.

I have now had three radiation treatments, only 33 left! Ha! I'll have treatments 5 days a week, except for holidays, or if for some reason, I can't make it. I should be finished about April 22, or so.
As those of you who have experienced radiation treatments know, there is no pain with the actual treatment. To have my breast positioned exactly correct, my body is in a position I don't usually use–arm stretched above my head/body lying so my back is in a kind of twisted position. On "planning day", a cast was made of how my body would be positioned for treatments, and many marks were drawn on the upper right portion of my body. That day, my fingers went numb first, and later my hand/arm started to go numb. I was such a wimp! I felt like a new recruit in boot camp! Ha! The next day was better, as it didn't take nearly as long. Today, they didn't need to take x-rays, so the treatment didn't take as long as it did yesterday. It will all be fine.

I'm in Bottineau tonight (After my treatment today, I came directly to Bottineau.). I'll be here until Sunday (later in the day), or until Monday about noon. My appoints are at 2:30, so IF I get my body out of bed and get going, getting to Minot by 2:30 shouldn't be a big deal. Ha!
I'm going to visit my mom at Good Samaritan tomorrow, and on Sunday, I'm planning to attend the music event at the Senior Center her in Bottineau. Highway 43 (Bottineau Group) and musicians from Frozen Fingers organization in Minot, are performing at 2:00. It's open to everyone, so if you live "fairly close to Bottineau", come to the program on Sunday and spend the day with many other friends who enjoy country/old-time music. Senior Citizens are serving lunch. I don't know if it will be free-will donations; items marked individually, or how it will be handled.
Reply to the ND video from Dick Johnson (68): Dunseith, ND
Gary and Friends,
I was amused and yet disgusted by the video on traveling to North
Dakota! The TYPE of people asked, "Would you go to North Dakota" or
"Where would you least like to go?", happen to be the TYPE we don't have
here and I think it's great that we don't! I watch the Weather Channel,
headquartered in NY City, and they think that Cleveland, Ohio is way out
in the midwest! It's no wonder they have no concept of the midwest, when
the farthest west they seem to have dared travel is western
Pennsylvania! It is also good they don't come out here in the
summer—we probably couldn't get rid of them! The colder climate is
what has built a decent and hardy lot and has also kept us from becoming
like those who belittle us and our way of life! To the producers I say,
"Thanks for staying in NY!" In a more serious tone, thanks Bill and Gary!
Dick
Dick, I was thinking the same thing of the folks selected for interviews, when viewing that video. They did not select a true representation of the ND folks to be interviewed in this video. The John Doe's selected did not appear to be very knowledgeable of the jobs they are holding. We know that's not the case. Gary
Reply to the ND video from Lee (Leland) Stickland (64): Dickinson, ND
Bill,
Nice to see and be reminded that YOU are funny, a researcher and the one to discover once-held secrets.
When we have some opportunity to get to other parts of the union or the world, we may be met with expressiions of dumfounedness (not certain that this is a word). When we try to tell people when we live, they occasionally think that we are pulling their leg.
During my experiment of/to drive an 18 wheeler about USA, I met some who had never heard of North Dakota. Some expressed serious conclusion that, given what is dis or mis infornation, no plans to visit ND were in the immediate offing.
I enjoyed the video and have sent a forward of to my son who lives in the San Diego area.
He lived in Dunseith from 9/75 to 2/77, from age 4 months so he did not truly ENJOY the vast quietness(es).
Thanks Lee
Gary, not sure if i am doing this right never did it before.The Joe Morinville family Bev on Joe's lap , Deb , Toni ,Francis holding Duane this must have been 1954 . Deb , Toni and Bev Morinville…………Bob Hosmer
Bev, you did great! They came through just fine. Who is the guy with your dad in the first photo?
???? ???? & Joe Morinville
Joe Morinville family:
Bev on Joe's lap , Deb, Toni, Francis holding Duane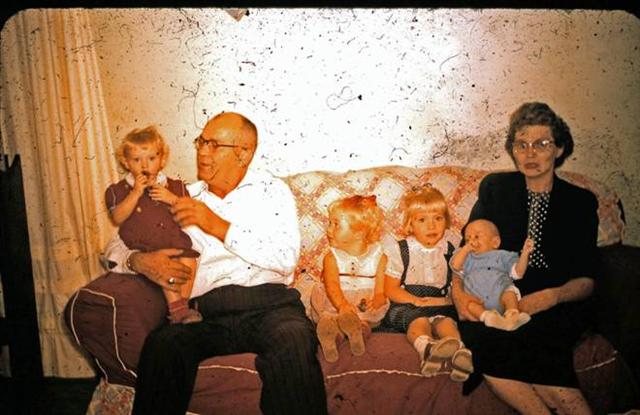 Deb, Toni and Bev Morinville
Bob Hosmer