Folks, I got mixed up with blog numbers yesterday. Yesterday's blog should have been number 1597, not 1596.
From Sharon Zorn Gerdes ('62):  Windsor, CO
Just have a question- maybe Sue Metcalfe would know- does anyone know of a guy named JA Ovitt- or maybe it is Jay Ovitt- I think his moms name was Mary but am not sure of that.  Thanks  Sharon Zorn Gerdes
Laurel Hiatt's Benefit – What time on Saturday?
Qustion from Ele Dietrich Slyter ('69):  Dunseith, ND
What time does the benefit start for Laurel?  Either I missed it or it hasn't been posted…thank you.
ele
Reply from Jean Took Berger ('75):  Mandan, ND
Photo taken at the Petterson, Kofoid & Hovland Reunion several years ago.
Posted by Neola Kofoid Garbe:
Bottineau & Minot, ND
Note: Audrey's dad, Bert, was a brother to Frances Morinville and her mother Olga was a sister to my dad, Bob Stokes. Neola is a 2nd cousin to Audrey and me.   Gary
Neola Kofoid Garbe and Audrey Hanson Aitchison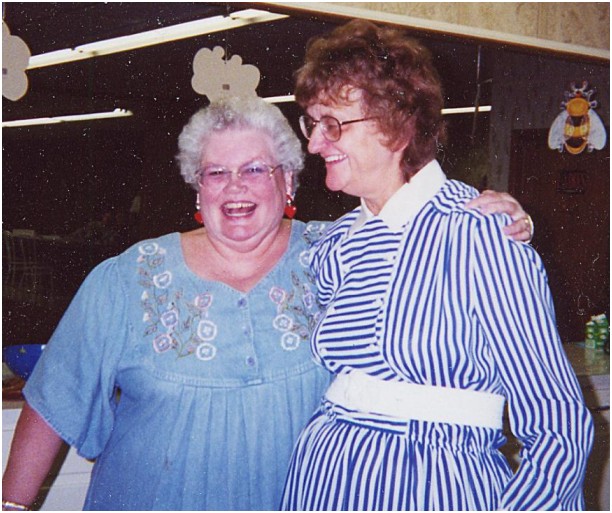 From the Achieves – Filipina Charm
We are excited for Rose and Art Hagen's return to Cebu, in November, for the winter months. Rose is currently visiting friends in Virginia Beach, VA. Last week she was in Las Vegas visiting friends too. She will be returning to Bottineau in a week or so. One thing for certain, Art can leave all his winter gear in Bottineau when coming here.   Gary