Erma Eurich Peltier passed away
Message from Vickie Metcalfe ('70):  Bottineau, ND
Erma Peltier
Rugby, ND – 93, died Saturday at the Heart of America Medical Center in Rugby. Mass of Christian Burial: 11 am Wednesday at the Little Flower Catholic Church in Rugby with burial in the church cemetery. Visitation: 9 am until 10:30 am Wednesday at the Anderson Funeral Home in Rugby. There will be no reviewal in the church. Rosary and a Vigil prayer service at 7 pm Tuesday in the funeral home.
 

How is Erma related to Dave Eurich? I am assuming they were maybe siblings?

 
Julie Hiatt ('81) is expecting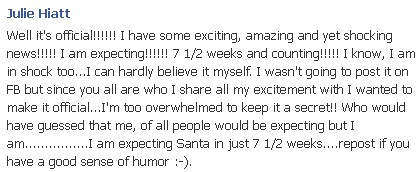 Bernice Broberg – The unidentified lady in the picture posted yesterday
Note: I see Bernice was hired as a teacher in Dunseith in 1978.   Gary
Note to Margaret Metcalfe Leonard ('65)
Margaret, I know you told me that you never taught school in Dunseith, but on page 387 of the 1982 Dunseith centennial book they have you listed as having been hired in 1974. They must have known you were a good teacher and wanted you bad enough to have listed you as being hired. I'll bet there may be some truth to what I just said too. From reports, you were among the best.
Reply to Dunseith Nursing Home picture posted yesterday
From Deb Wenstad Slyter ('72):  Dunseith, ND
In the picture of the Dion's and Art Rude the lady's name is Bernice Broberg, she was a teacher for many years and also taught piano lessons.  She had told me that she is related to the Halvorson's and Rude's.
I used to clean house for her. She is a very nice woman.
Reply to Dunseith Nursing Home picture posted yesterday
From Mel Kuhn ('70):  St. John, ND
The lady with Art Rude and the Dions is Bernice Broberg. She is a long time teacher and friend of Art. She is a long time member of the Rolette County Historical Society and a generous supporter. She now lives at Park View Assited Living in Rolla where I work.
Reply to Dunseith Nursing Home picture posted yesterday
From Norma Manning (Ruth Peterson's daughter):  Upham, ND
Gary that is Bernice Broberg. ( I hope I spelled the last name right.) She is related to
Mom and Luella. Right now I can't tell you how.She is at the home now too. OR she was
when I left ND. She used to drive Art around a lot and was a big help w/Bertha. She isn't
related to Art. It is a relative on My Gr
andmas side. My G-ma and Luellas Mom were sisters.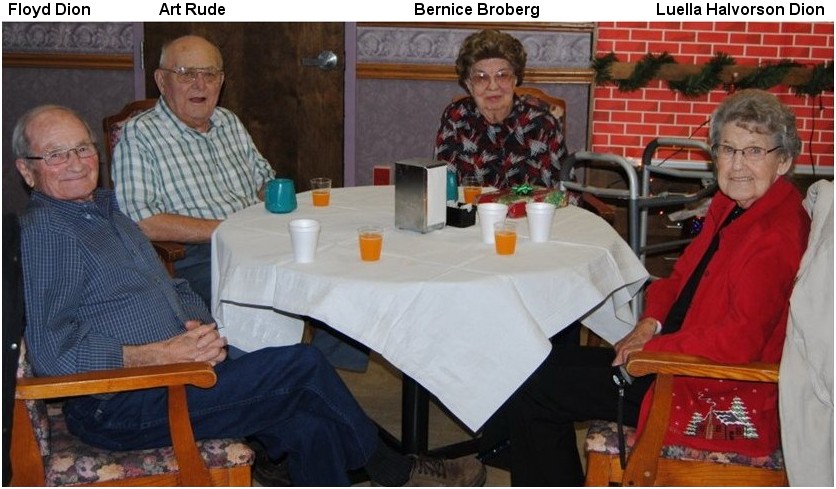 From Mel Kuhn ('70):
St. John, ND