Posted by Neola Kofoid Garbe: 
 Bottineau & Minot, ND
Bill Lamb

November 1, 1934 – November 22, 2012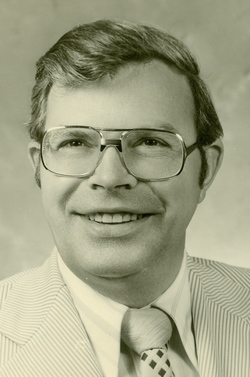 Willard C. "Bill" Lamb
Bill Lamb 78, Grand Forks, went to be with his Lord, Thursday, November 22, 2012 at Altru Hospital, Grand Forks. "Well Done Good and Faithful Servant" Matthew 25:21
Bill Lamb was born to Robert and Sylvia (Wicks) Lamb on November 1, 1934, at the family farm near Dunseith, North Dakota. Bill went to school and farmed near the International Peace Garden north of Dunseith. Bill married Betty Jane (Schneider) at the Methodist Church in Dunseith, on January 6, 1957. Later that year, they moved to Grand Forks where Bill managed Pierce Trailer Sales. During this time, he also served in the National Guard. In 1960, he began his career with State Farm Insurance where he was an agent for 38 years, until retiring in 1998. Following retirement, Bill devoted his time to Partners in Progress, where he and several business associates, volunteered their time to help save "at risk" farms throughout ND and MN.
Shortly after marrying Betty, Bill become a Born-Again-Christian and devoted his life to furthering the Gospel. He served in leadership and eldership at Bethel Lutheran church, his church home for many years, and with The Fellowship of Christian Athletes. Bill also offered his leadership to numerous civic organizations: as President of Retired Men's Club; past President of Germans from Russia; past President of Life Underwriters Association; past President of the Dakota Blood Bank (where he was still an active board member); and past President of South Side Development.
One of Bill's greatest passions was his family and he loved nothing more than spending time (especially at his lake home in Park Rapids) with his son and daughter-in-law and three granddaughters. His friendships also meant the world to him and he and Betty spent many mornings walking at the mall followed by coffee with friends or entertaining friends at home.
Bill is survived by his wife of 55 years, Betty, Grand Forks; his son and daughter-in-law, Matt and Deb Lamb and grandchildren, Allison; Jessica; and Nikki; Woodbury, MN; his sister Priscella (Charles) Anklam, Rolette, ND; sister-in-law Rochelle Schneider, Sioux Falls, SD; brother-in-law and sister-in-law Larry and Phyllis Schneider, Bismarck, ND; and brother-in-law David (Leona) Clark, Newport, WA.
Bill was preceded in death by his parents, brother and sister-in-law, Floyd and Dorothy Lamb; his sister and brother-in-law, Charlotte and Clifford Metcalfe; his sister-in-law and brother-in-law, Doris and Kenneth Brudwick, and his brother-in-law, Stanley Schneider.

A Visitation service will be at Amundson Funeral Home from 5:30 – 7:00 PM, Sunday, November 25, 2012 followed by a prayer service from 7:00 – 7:30 PM. Amundson is located at 2975 South 42nd Street, Grand Forks, ND.

The Funeral Service will be at 11:00 AM Monday, November 26, 2012 at Bethel Lutheran Church located at 1616 South 17th Street, Grand Forks, ND.
From Vickie Metcalfe ('70): 
 Bottineau, ND
Uncle Willard  was a wonderful, kind,  thoughtful uncle.
If I was sick or hurt he'd be the one to call or come to see me.
He often would look at me and say , "Vickie, you look like my mother".

He was my moms youngest  brother.
Her last years he was ever so faithful calling her.
She called him her baby brother.
He truly made her happy.

I recall the summer I was in Second Grade.
With our  parents;  Floyd and Dorothy and mom and Dad, collaborating.
Martha, Nancy, Dean and I rode the train from Rugby to Grand Forks.
Alone,without any adults.

We farm kids were capable. .
We got to sit in seats facing each other.
Dean and I in one. (Dean at that time was my best friend.)
Martha and Nancy sat across from us in another seat.
The train traveled fast, in the daylight.

Bumpity -Bump down the tracks.
We  four,  all went exploring to the dining car, walking  unsteadily,
into the adjacent cars, the dining car, AND, the bathroom, where the toilet when  flushed  whooosh—–ed!

Willard and Betty met us at the train station in G.F.
They took us to see the sights of Grand Forks, and stay at their first home.
I think they fed us blueberry pancakes.

We stayed there and returned back bumpity- bump on the train
where we were met by our parents.
A GRAND adventure for we 4 kids
with a wonderful  couple who always held the other in high esteem.
Later. V.
                     Crystal Fassett Andersen and Jeffrey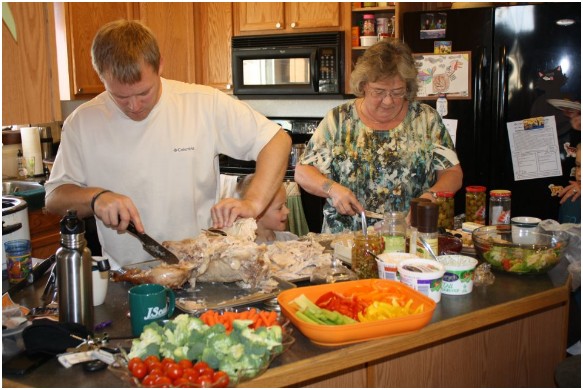 Susan Kay Martin
May 15th 1946. My parents wedding in Dunseith ND. They were married at the Lutheran Church. First wedding in that church. Grandpa Wilmar Hayley Fassett, Grandma Katherine Elizabeth Kraft Fassett, William Thomas Fassett, Irene Luella Rennick Watkins Fassett, Gudrun Hjordis Amundson Rennick Watkins, Smith Glen Watkins. Happy Anniversary to Aaron and Sara Gunderson who were married on this date in 1999.