Bernadette Stokes update:
Last night after Bernadette got out of the hospital and came home she went on a downward spiral. I called her doctor and she told me to take her off of one of her meds. When I talked to her, Bernadette had already taken her meds and was in Bed. That drug was a time released drug too so it takes a day or more to get it out of her system. At 4:00 AM Bernadette woke up and was sitting on the edge of the bed. Our bedroom is dimly lit. She was saying she couldn't find the bathroom. After getting into the bathroom of which is in our bedroom she was saying "I can not find my pillow". When she  woke up this morning her memory was gone. She couldn't remember anything that had happened in the previous days. A short time after eating breakfast, I said to her, "You had a good Breakfast". She didn't even remember having breakfast. Over the coarse of the day she has gotten better. It is now 8:30 PM and she just went to bed. She is remembering things now, so all is getting better. We will see what tomorrow brings.
Happy Belated Birthday (11/30) Jan Hosmer Cobb (DHS '60): Wilsonville, OR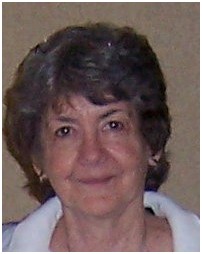 Happy  Belated  Birthday (11/30)  Greg  Larson (DHS '70):  Bismarck, ND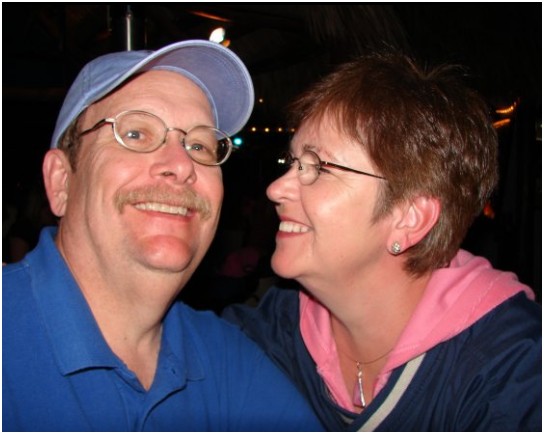 Happy  Belated  Birthday  (11/30) Pam  Fassett Faust:  Lilburn, GA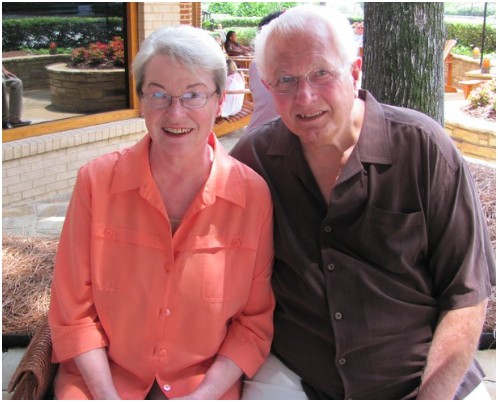 Happy  Belated  Birthday  (12/1) Darrel Fassett (DHS '48): Boynton Beach, FL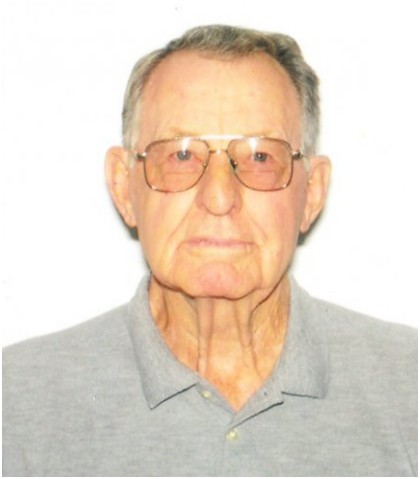 Happy  Belated  Birthday  (12/1) Don Boardman (DHS '60): Bottineau, ND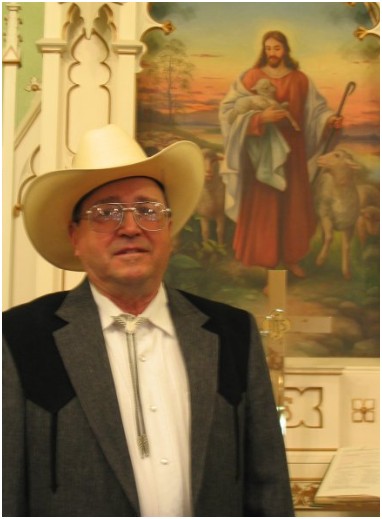 Happy  Belated  Birthday  (12/3) Jerry Williams (DHS '54): Watertown, SD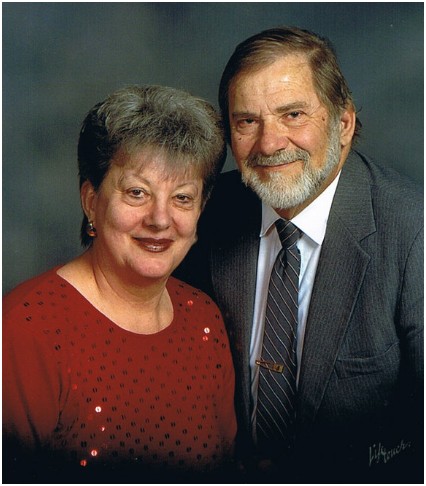 I suppose I should have some kind of reply for Larry about the Berginski barn. He must have been driving around up here in the hills just recently to have taken that picture in the snow. Also there are still quite a few of them old Polish people up here in these hills.
I guess I haven't written in anything for a while so I guess I should fill Dick and Larry in on my wife's latest vacation. I know they worry about me when she's gone. They know I run out of dishes if she's gone too long and I have to buy more new dishes. You'd think I'd have quite a few bought up by now. I've also been known to have to buy more clothes too because I've got orders to never touch the laundry. I tried once and I didn't know my wife could use the F word in so many differant ways in one big long sentence. Well she decided she needed to go on vacation to Bozeman at Thanksgiving time to meet our new month old grandson. She probably talked with Dick and Larry about how to avoid this thing with me buying new dishes and clothes while she is gone. I don't know how I'm going to prove this, but I just know that they are to blame. SHE MADE ME GO WITH HER!! I just know it's one of them that gave her the idea. Well anyway I got to meet our new grandson Waylon Enoch Boysun. I also hadn't seen his older brother Wyatt for over a year so it was a joy seeing him too. All and all it was a good vacation, even though my wife can't keep her fingers off of the dang radio and heater buttons in the car while I'm driving. Later guys.
You are looking great too. I will always have 5 years on you though.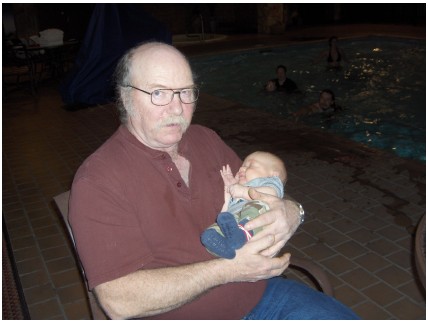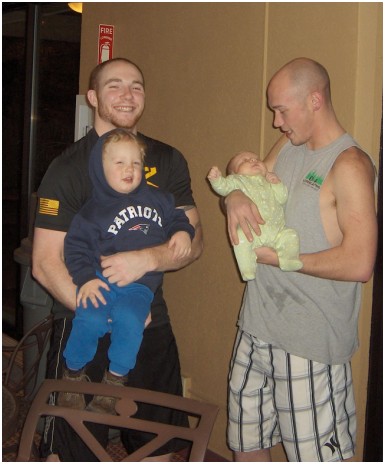 Posted by Neola Kofoid Garbe: 
 Bottineau & Minot, ND
Alice Hoffman
Alice Dockter Schick Hoffman
Born May 12, 1926                Died November 26, 2012
With great sadness at the loss of their beloved Mother, Grandmother and Great Grandmother on Monday, November 26, 2012, the Hoffman family bids farewell to Alice Hoffman.  With her gentle nature, kindness of spirit and unwavering cheerfulness this wonderful lady leaves behind an exemplary legacy of a life well-lived and countless dear memories for her family.
Alice was born to Jacob and Emilia (Waltz) Dockter in their farm home north of McClusky, North Dakota.  Her father died when she was four years old, later her mother married August Schick who raised Alice from childhood to an adult.  In 1931, the family moved to a farm west of Denhoff, North Dakota and then into Denhoff itself two year later.  Alice attended the Denhoff School through 12th grade when she graduated as Valedictorian in 1944.  Following high school, she was employed in the office of the Agriculture and Labor Department at the state capitol in Bismarck, North Dakota for two years.
On June 14, 1945, Alice married Harvey Hoffman in Renton, Washington.  After Harvey's discharge from the service, the happy couple lived in Bismarck, McClusky and Lodi, California until 1952 when the family, including their children, Dale and Brenda, returned to North Dakota where Alice and Brenda were tuberculosis patients at the San Haven Sanatorium in Dunseith, North Dakota for one and a half years.  After their discharge, the family remained at San Haven, where Alice took the position as Executive Housekeeper and Director of Central Supply, a position she held for the next 28 years.  She retired in May 1986 and the couple moved to Rugby, North Dakota, all the while enjoying traveling and camping in all 50 states, as well as wintering in Truth or Consequences, New Mexico until 2003 (17 years).
Alice is survived by son Dale (Loretta) Hoffman of Fountain Hills, Arizona; daughter Brenda (David) Pazandak of Greenville, South Carolina; and daughter Cynthia (Michael) Allstead of Santa Fe, New Mexico.  Alice and Harvey also loved and cherished their three grandchildren, Lisa Hoffman of Madison, Wisconsin; David (Angela) Hoffman of Columbus, Ohio; and Michele Allstead of Sand Point, Idaho.  They were also blessed with on precious great granddaughter Isabella Hoffman of Columbus, Ohio.  Alice also leaves three sisters, Violet Kurschman of McClusky, North Dakota; Lorraine (Boyd) Gilchrist of Mandan, North Dakota; and Marjorie (Armond) Sonnek of Annandale, Virginia.  She was preceded in death by her husband (January 22, 2012); and her parents.
Funeral Services will be held 10:00 a.m. Friday, November 30, 2012 at the Anderson Funeral Home Chapel in Rugby.  Pastor Mike Pretzer, officiating.  Burial will be in the North Dakota Veterans Cemetery in Mandan on Friday at 3:00 p.m.
Erma Eruch Augusta Peltier Obituary
Posted by Neola Kofoid Garbe: Bottineau & Minot, ND
Erma Augusta Peltier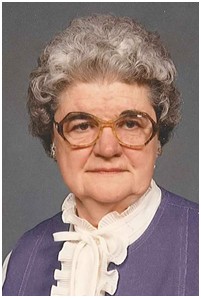 Erma Augusta (Eurich) Peltier, the daughter of David and Eva (Kraft) Eurich was born in the home of her parents in rural Dunseith, North Dakota on August 3, 1919.  She died at the age of 93 years on Saturday, November 3, 2012 at the Heart of America Medical Center in Rugby.

Erma was raised in the rural home of her parents near Dunseith and received her education in Dunseith rural schools.  Following her schooling, Erma did housekeeping for area families.  On March 25, 1940 she was united in marriage to Frank F. Peltier at the St. Louis Catholic Church in Dunseith.  The couple farmed and worked in the Dunseith area until 1976 when they retired and moved to Desert Hot Springs, California for one year, then returned to North Dakota, settling in Rugby.  Frank died on September 11, 1985.  Following his death, Erma continued to live in their Rugby home until moving to the Haaland Manor Apartments and later to the Haaland Home Estates.

Erma was a good Catholic, who enjoyed her church and her spiritual life.  She was a member of Little Flower Catholic Church, the Confraternity of Christian Mothers, a former member of St. Louis Catholic Church and its Alter Society Guild in Dunseith, and a member of the Sunshine Homemakers Club.

She is survived by 3 sisters, Olinda Pigeon of Dunseith; Marie Beachler and Eva (Bob) Paulson both of Rugby; many nieces, nephews, other relatives and friends.  She was preceded in death by her husband, Frank; brothers, David, Fritz and 2 infant brothers; sisters, Irene Kiliehowski, Frieda Reisig and Betty Nerpel; and her parents.

Mass of Christian Burial will be held at 11:00 a.m. Wednesday, November 7 at the Little Flower Catholic Church in Rugby with burial in the Little Flower Church Cemetery in Rugby.  Father Thanaiah Marneni, celebrant.

Visitation: from 5 to 7:00 p.m. Tuesday and from 9 a.m. until 10:30 a.m. Wednesday at the Anderson Funeral Home in Rugby.  There will be no reviewal in the Church

Rosary and Vigil prayers will begin at 7 p.m. on Tuesday in the funeral home.
From Dick Johnson ('68): Dunseith, ND
Gary and Friends,

       In reply to Vickie,  I knew Ole Olinger quite well.  He was a
regular coffee drinker at Dale's during the years I drove school bus for
Duane Fugere and Johhny Hill so I saw him nearly every day.  He was full
of stories about the old days and had a particular interest in old farm
machinery.  I mentioned to him that my Grandpa Hans had a single bottom
sulky plow sitting in the woods on the land east of home where they left
it many years ago.  He drove up from town one day and I took him over to
look at it.  He knew what kind it was and about the year it would have
been made.  As he was looking at it closely,  he noticed where Grandpa
or Axel had repaired the old plow where some bolts had stripped off by
tightly wrapping heavy galvanized wire around the two pieces to hold
them together.  He said something I never will forget when he saw the
repair.  "Well, I see your grandfather was pretty good at Mormon
welding."  I never heard that before!  For some reason I also remember
his real name. I don't know why but it stuck?  William Harvey Olinger, I
believe. Thanks Gary!

Dick
Posted by Doreen Larson Moran (BHS '61):   Usk, WA & Hazelton, ND
A Love Story

A couple was Christmas shopping at the mall on Christmas Eve and the mall
was packed. As the wife walked through the mall she was surprised to look up
and see her husband was nowhere around. She was quite upset because they
had a lot to do.

Because she was so worried, she called him on her mobile phone to ask him
where he was.

In a calm voice, the husband said, "Honey, you remember the jewelry store we
went into about 5 years ago where you fell in love with that diamond
necklace that we could not afford and I told you that I would get it for you
one day?"

The wife choked up and started to cry and said, "Yes, I remember that
jewelry store.

He said, "Well, I'm in the bar right next to it."