Happy Birthday Joann Hill Evans (DHS '74):  Owatonna,  Minnesota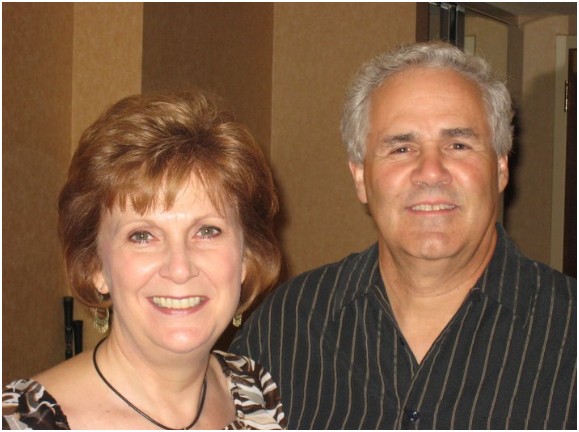 Condolences to the George S. Azure Family
From Sharon Longie Dana ('73): MIssoula  MT
Cousin Gladys you and your family our in our prayers. Aziure Boys, Leslie, Lester…all those I went to school with. You are all in my prayers as well.
Sharon Longie Dana(class of 73)
Posted by Neola Kofoid Garbe:  Bottineau & Minot, ND
George S. Azure, age 70 of Dunseith, died Tuesday on arrival to a Belcourt hospital. Funeral will be held on Saturday at 10:00 am at the St. Anthony's Catholic Church near Dunseith. Wake will be held on Friday beginning at 5:00 pm with a scriptural prayer service at 8:00 pm all at the church. Burial will be at the church cemetery.
George was born on October 20, 1942 in Belcourt, ND to George and Agnes (Thiefault) Azure. He grew up and attended school in Dunseith, graduating from Dunseith High School. He entered the Air Force on January 18, 1962, and attained the rank of Sergeant by the time of his honorable discharge on December 1, 1965. George was a member of the American Legion in Dunseith. George was united in marriage to Gladys Roussin on January 22, 1966. They made their home in Dunseith and together raised five children. This January they would have celebrated 47 years of marriage. He worked at San Haven as well as the missile sites near Langdon, ND. In 1979 he began his career with Public Utilities where he retired as manager in 2007.
One of George's favorite things was spending time with his family, especially his beloved grandchildren. They were his pride and joy and he did everything in his power to attend as many of their events as he could. He greatly enjoyed spending numerous hours hunting as well as playing golf with his family. He loved to spend time fishing with the grandbabies, going to the casino, visiting with friends and tinkering around in his garage and yard. George loved listening to country and fiddlin music. It was no surprise to find him caught up in an old western movie, he greatly enjoyed John Wayne. He also enjoyed attending Demo Derby's and was a big supporter of "Counts Demo Team #33", led by his oldest grandchild Garren Counts.
George was a friend to many and will be greatly missed by all. He is survived by his wife Gladys of Dunseith; sons Lyle Azure of Dunseith, Shannon "Zack"(Kerry) Azure of Dunseith, Daniel "Shane" (Erika) Azure of Portland, ND; daughters Lisa (Marshall) Azure of St. John, Sherry (Stacy) Counts of Dunseith; 10 grandchildren: Garren and Shayla Counts, Kylie and Kayla Parisien, Kelby and Kennison Azure, Shawnta', Taylor and Trey Everett and Braxton Azure; brothers Kenny (Dolores) Azure of Redmond, WA, Vincent (Janice) Azure, Dennis (Darlene) Azure, Leslie (Sandra) Azure, Lester (Elaine) Azure, Duane (Karen) Azure, and James "Jimmy" Thiefault, all of Dunseith; sisters Rose Davis, Beverly LaVallie, Alva (Larry) Gladue, and Donna (Clayton) Belgarde, all of Dunseith; and numerous nieces, nephews, and cousins.
He was preceded in death by his parents George and Agnes Azure, step father Frank "Lum" Azure, infant sisters Darlene and Mary Magdeline, sister Leona Davis, and brother in laws Valentine Davis and Gilbert LaVallie.
Arrangements are with Nero Funeral Home of Bottineau.
 

Our condolence are with you and all of George's and your family with his passing.

 

George  was a good guy and a nice friendly guy too. I had the pleasure of meeting him at our 2007 Class of 65 reunion. Gladys is from the class of 65.

 
Christmas donations to the Elderly.
At the Stokes house in Cebu last night.
Bernadette did a collection from our Cebu expat group of friends to donate food care packages to some of the needy elderly folks in our area. Last night we distributed those care packages. We invited those that contributed to be here also. Following the distribution, we had a potluck dinner. There were about 45 folks that came. It was a fun evening.
These are some pictures from last night.
100 elderly folks lined up to receive their Christmas food donation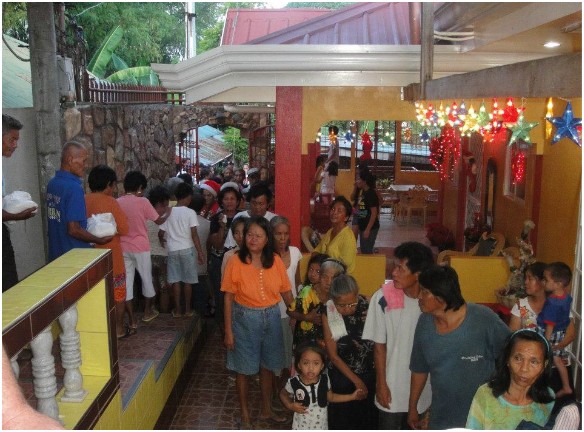 100 care packages. Inclusive of 440 lbs (Four 50k Bags) of rice and food items.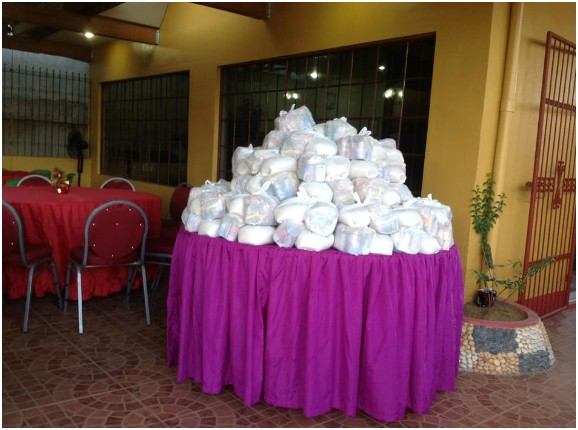 The gals all purchased these "Cebu Expat" T-shirts with their names on the
back for this occasion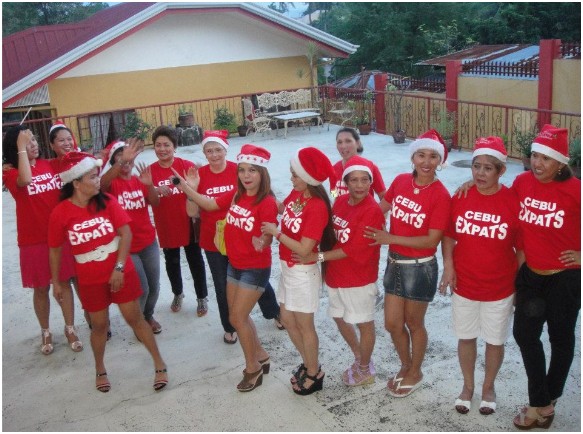 Following the distribution of the care packages, we had a potluck dinner with
about 45 of our expat group of friends. All those present last night were folks
that contributed to the donation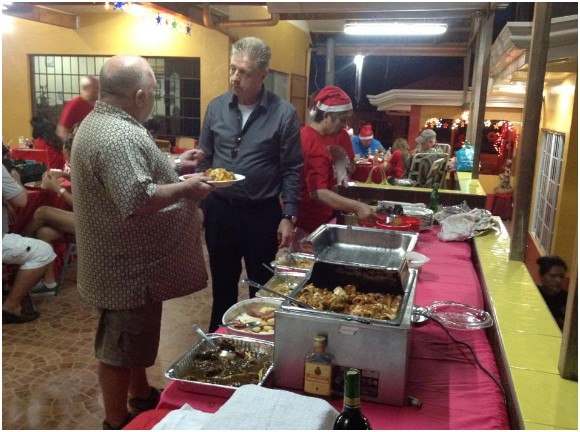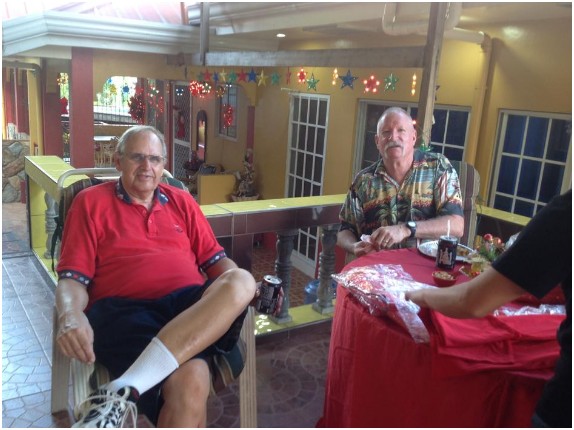 Bernadette's nieces little girl and our helpers little boy. Both 2 years old