Our son Bernie has tickets in hand to visit us here in Cebu. He will be arriving March 23rd and leaving about June 7th. That is 2 1/2 months. He will have plenty of time to get reacquainted with all his cousins and relative. We and especially Bernadette are excited for his visit.
Bernadette is doing much better today. This past week her condition was a bit worse. She is currently playing cards with her sister and several others. There were days that she wanted to play but wasn't able to hold the cards, so she just watched. Then when she got a little better she had someone help her hold her cards. Today she is playing all on her own. Bernadette has most certainly had a personality change and any of those she had the slightest differences with, the wounds have been mended.
.
Taken on 6/28/2013 in Bellevue, WA – Bernadette's Birthday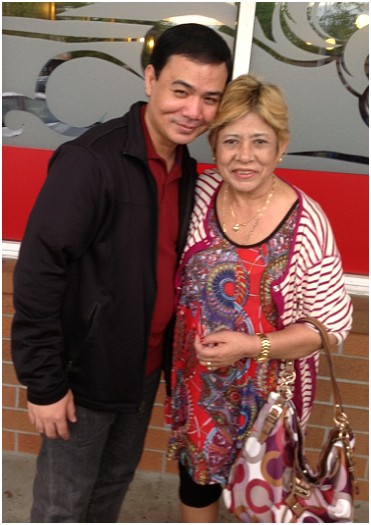 .
.
Reply from Vickie Metcalfe ('70):  Bottineau, ND
Gary and Ivy Robert,
Many thanks,  Ivy for drawing attention to the WWII  photo site.
The photos were compelling!
Very infrequently, my father would quietly pull out his navy blue book,
a small ragged Bible he carried in the chest  pocket of his uniform,
or  few photo's of his days as a navy coxswain.
When he did, he was silent.
We, his family never intruded on his thoughts.
He shared more, somewhat in his later years……….age 55-61.
After, he lost his vision, he couldn't see those mementos.
He'd packed them away, out of our questioning eyes.
He did reflect  fondly,about many of the men he served with.
Some he spoke of  with birth names, other's with nicknames.
George Johnson,  JC Pike,  "Horsecollars", and others.
When he talked about those guys it was usually some silly memory.
A funny story, a  time of laughter they enjoyed together.
Perhaps that is another force the bond of laughing, which pulled them through.
He only kept in contact through Christmas cards with the Texan,J.C. and George,
a rugged Montana cowboy whom he met at Camp Farragut training.
They met as wide eyed young lads.
They watched  each others backs throughout their time together.
They arrived back stateside  as weary men with old eyes.
Dad loved those navy friends, he referred to them as closer than brothers.
He had a clear respect and  depth of understanding with  many veterans of the  Dunseith
area. Kenny Tooke, George Gregory, his brother Emil Metcalfe,Andy Patenaude and others.
Veterans of Foreign Wars, were men who shared a common knowledge,
and a  communication,where  they didn't have to talk they just understood.
Our family, still doesn't touch  many of Dad's mementos.
We look and wonder…….
Thanks Ivy for sharing that site.
Vickie
.
.
Posted by Neola Kofoid Garbe:  Bottineau & Minot, ND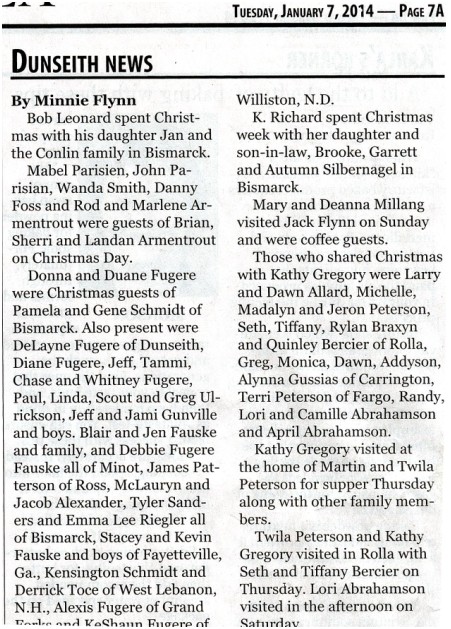 .
.
==========================================================================
Blog posted on February 6, 2008
Message from Shirley Olson Warcup (49) [Dick Johnson's aunt]: 
Gary,
          Thanks for the phone call and the e-mails.  It was great to hear from you and hear about your tribute to Don.It brings back good memories of growing up in Dunseith.  I often speak to Pat Sunderland Warburton and we reminisce about our 12 years of school in Dunseith–it was a good place to grow up.  I'm sure there are many people who appreciate what you are doing!!  You asked if my husband was from Dunseith–he was not–he was born and raised in Grand Forks.  We met at UND.  Once again, thanks for including me in this "group".
                                        Shirley Olson Warcup
.
.
Memories from Paulette LaCroix (68):
Bill G. mentioned comfort foods and I remembered my mother's rich rhubarb custard pie.  It had just the right combination of sweet, tart, and creamy with that great crust made with lard.  We had two thick patches of rhubarb in our backyard which mom crafted into jams with other fruit like strawberry.  We all liked it a lot better than "chokecherry" jelly that seemed to sugar before spring.  I remember little contests in the summer on who could eat a whole stalk of rhubarb with just the smallest amount of sugar.
Halloween time in Dunseith was a treat.  Neighbors made homemade fudge, popcorn balls and caramel apples for our huge bags.  KC Sine lived two doors down from us and Margie made great caramel apples.  They got to know us kids pretty well and it was the first place we checked whenever our brother Jerry "ran away."  Margery made this irresistible with her treats.  They knew my brother Greg was a little character and decided to play a trick on him for Halloween.  He absolutely hated onions and would pick every smidgeon out of anything he suspected of having them.  When we stopped at their house with our trick or treat bags, Greg got two caramel apples.  We were all jealous since we only got one and he taunted us with this specialness by dancing around the house with one in each hand.  With a face made to look like he was dying of pleasure, he took a big bite and tasted "onion!"  The caramelized onion flew as well did a few bad words when he ran to rinse his mouth in the sink.  We thought it was a pretty good joke and considered it special that KC and Margery would take the time.
Marge Landverk!  We used to walk past your fenced back yard down our alley and gawk at the beautiful flowers in your mother's garden.  I have memories of being in your house and hearing a sleepy old clock tick.  Somewhere, I believe, there are photos of you and my sister Janice sitting on the sofa in your very fluffy pastel prom dresses.
Paulette LaCroix
Again, thanks Gary!
PS.. What was the name of the guy who wore all the coats, even in the summer (not Sy) and said he wanted to go to the moon?  He had a lot of kids and his wife seemed perpetually pregnant.  They lived on the road to the dump grounds I think.  I have loved hearing all these stories and memories.  More and more I remember places and people that I thought I'd forgotten.
.
.
Message from Bobby Slyter (70):
gary
I am so glad that you are doing this for all of us dunseith natives, it is fantastic, and Mel the music sends you right back to growing up there as kids, that kind of music will never die.
.
.
Question from Ele Dietrich Slyter (69): 
Is it possible that anyone out there would have the Eli Demery song written down someplace or even possibly on tape??  Dimathy (Demery) Robertson, I think, would like to have a copy.  Appreciate the help with this one.  Thank you    Ele
.
.
Paula Fassett's (71) reply:
I believe this is the article that Gary Morgan referred to ..  re: Micah Johnson, grandson of Eli Demery from Dunseith.
General recognizes pilots for daring rescue mission

Story and photos by Spc. Nathan Hoskins
1st Cavalry Division's 1st Air Cavalry Brigade
BAGHDAD, Iraq (July 29, 2007) – The top U.S. general in Iraq presented awards to four Apache pilots for their part in the July 2 rescue of two other pilots downed by enemy fire during a July 27 ceremony in the Victory Base Complex here.

Gen. David Petraeus, commander of Multi-National Forces Iraq, honored the four pilots of the 1st Cavalry Division's 1st Air Cavalry Brigade, and eight others who helped rescue the pilots.

Chief Warrant Officer Allan Davison and Chief Warrant Officer Micah Johnson, both AH-64D Apache attack helicopter pilots for Company A, 1st Battalion, 227th Aviation Regiment, received Distinguished Flying Crosses.

Davison and Johnson landed their attack helicopter in a hostile area and evacuated the two downed OH-58 Kiowa helicopter pilots of the 3rd Infantry Division's 3rd Combat Aviation Brigade.

Apaches only have two seats, so Johnson, the front seat pilot, let one of the Kiowa pilots take his seat in the Apache while he and the other Kiowa pilot strapped themselves to the outside of the aircraft and sat on the wings, said Johnson.

"It looked like they were both in pretty good shape, but one of them kind of looked like he had been through enough, like he was a little shocked, as I would be, too. I told him to get in front," he said.

Once the pilots were strapped in, Davison, the pilot in command, took off and headed to Baghdad International Airport where the pilots were dropped off.

While this was taking place, their Apache wingmen were circling above providing security.

Those two pilots, Chief Warrant Officer Seung Choi and Chief Warrant Officer Troy Moseley, received Air Medals for their efforts.

Although happy at being awarded medals and recognized by the top commander in Iraq, the pilots said their greatest reward was finding the downed pilots alive.

"We've seen a lot of aircraft shoot-downs," Johnson said in an interview after the rescue. "Every one that we've all probably seen, it's resulted in burning aircraft and black smoke and usually catastrophic loss of life. If not loss of life, then there have been serious injuries. Just to see those two alive, it was amazing. It was great."