For the record I did not get a blog posted yesterday.
.
We lost our little Princess this afternoon. She was 6 1/2 years old.
A few days ago we gave her a pork chop bone from the table. Shortly after she became very sick with very heavy dry vomiting. Taking her to the vet two days ago, with X-rays they discovered a very large bone chip lodged between her esophagus and stomach opening. They needed to give her meds to relax the esophagus muscles before trying to push the bone through to the stomach, so she was confined to the Vet hospital. Today they called and told me she had died. They think the bone ruptured the esophagus on it's way down.
She was a loving dog and will be sorely missed.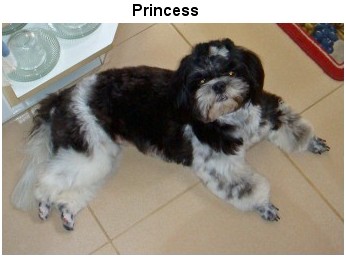 .
.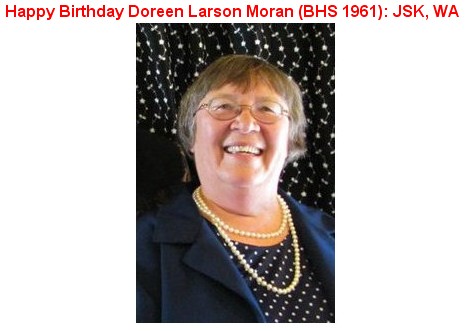 .
.
Reply to Don Lamoureux's
Posting – Wearing Dresses in the winter
From Donna Wenstad ('75):   Amado, AZ
Reply to Don"s memory of the school uproar re: wearing dresses in winter
I also remember that well, most of us had the foresight to bring a dress to school to change into as we knew what trouble we would be in.
.
.
Request for local artwork and historical  photos of the Dunseith area
From Kim (Bob Bott '64):  Dunseith, ND
Hi, Gary & the Dunseith gang
Dr Brian Selland has recently opened  Turtle Mountain Family Medicine, his own medical practice in Dunseith. We would like to display and showcase some local artwork, historical  photos of the area or photos & memorabilia of past medical providers who served the area.  We are located in the clinic building beside Marion Lumber that was used by Bottineau & Rolette clinics in the past, as well as a number of other offices. If anyone has something they would like to lend us to display, please call me at 244-5800.
Thanks
Kim Bott (Bob Bott)
TMFM office manager

.
.
==========================================================================
Blog posted on February 6, 2008
From: 
Don & Irene Boardman
Subject: Frozen fingers Festival (Hills & Plains Gospel Band) Playing Sunday at 12:00 Noon
Folks: I have complete up to date class lists for all the DHS classes from 1950 Thru 1971.  I'm currently working with the class of 72. For those of you in those class years, please let me know if you did not get a copy for your class year.  Also for any of you that would like copies of any of these lists, please let know and I'll send them to you.  Gary
 .
.
Loretta Neameyer's (72) Reply to Paulette LaCroix (68):
Gary,
I do believe the man Paulette is referring to about the many layers of coats is Isaac Belgarde. I remember when he came to church, the first few minutes were spent peeling off layers of coats. He was a very nice and prayerful man. His daughter Bernice graduated with us in '72, a nice lady.
I love reading all the e-mails. Nice work Gary.
Loretta Wall (Neameyer)
.
.
Ele Dietrich Slyter's (69) reply to Paulette LaCroix (68):
Paulette—I think you are remembering Issac Belgarde.   They lived on the dump ground road and he always wore coats, year round.  Ele
.
.
Dick Johnson's (68)  Reply to Pualette LaCroix (68):
Gary and all DHS
The guy from Dunseith who wore all the coats was Issac
Belgarde. He lived on main street first and then moved to the
dump ground road. He named a daughter after my mom, Bernice,
after Mom did some small favor. Mom thought this was very
special.There could be another person who wore several coats
but I think you are asking about Issac.
Dick
.
.
Gary Metcalfe's (57) Reply to Paulette LaCroix (68):
Hi Paulette, You refer to Isaac Belgarde, he must have had poor circulation!  He spent time in the bank in Dunseith, also Rolette.  His brother, Charlie was an Army Captain and a Minneapolis Building Contractor, his sister, Mrs. Rodrick Gagnon.  She was a great neighbor.  Also Mrs. Tommy Anderson was his sister.  Isaac was a horseman and landlord.  Don't think he went to the moon??
.
.
Replies and Memories from Bob Hosmer (56):
Hi Gary and all Dunseithers,
What a privilege to read the memories you all have of your years in Dunseith.  I remember those days of selling pop and beer bottles.  Beer bottles had the higher value.  I also sold boxes–mainly to our family store.  This venture sure provided funds for lots of movies at Althea theater.  I was  cheapskate with the popcorn, though. I took the freebe old maids.
Just  note to Marge Landverk Fish:  Marge, I have met your brother, Howard here in the Lynnwood/Edmonds area where I live.  It was a strange way we met.  My son-in-law, Vicctor Krakmo, went to a Boys and Girls Club basketball game and saw Howard at a distance.  Vicctor went up to him thinking that it was his brother Arnie to greet him and was surprised that it wasn't his brother.  Howard could pass for a Arnies twin.  My wife Katrine and I came a little late to the game, but when we came Victor was excited to introduce us to "someone from Dunseith."  We had a wonderful visit with Howard at that time.  We reflected on your folks and the amazing skill your father had as a stone mason.  His work is lasting.
Bonnie,  I have a picture of Barry Shelver dressed as Sy Kadry.  It's a picture of Barry, one other, and yours truly. I've been looking for it around our place.  Once I locate it I'll get it scaned in.
You all have a god rest of the week.
Bob Hosmer (56)
.
.
Gary Metcalfe's (57) reply to Marge Landsverk

(57):
Hi Marge, it's been a while since we were at Dunseith High.  A couple years ago my wife and I were in Edmonds, Wa. and my wife's friend said they knew Howard.  I said that Howard was a partner with my Uncle Archie Metcalfe at Totem Drywall in north Seattle after the war.  We spent several hours at his home overlooking Puget Sound, beautiful home and beautiful view.
Your dad did a lot of the rock work in the area, several brothers also.  I knew Nels, Thor and one more who's name escapes me.  Were you related to Thov Landsverk, the great store keeper of earlier days.  Gary Metcalfe
.
.
Paula Fassett's (71) Eli Demery's Grandson, Micah Johnson:
I'm glad Gary Morgan put in the note about Eli Demery's grandson, Micah Johnson, I wish I had seen that news clip.   I lived across the street from Mike and Darcy (Demery) Johnson in Portal about 20 years ago.  I hadn't known Darcy as we were going to school, but we became friends during the "Portal years".   Micah was just a little boy then – 6 or 7 probably, but he was a polite and well mannered kid, as I recall.  I'm not at all surprised that he grew up to be the soldier who made the news because of his good deeds!!!
Paula
.
.
Comments with memories from the past from Gary Metcalfte (57):
Pinsetters, Augie and Harvey Johnson, it would be interesting to know what they are doing today.  What with Don Johnson a cousin on one side and Mayor of St. Paul, Minn. on the Kelly's side, Randy Kelly.
Harold Kelly, our friend, was almost a tie with Bing Evans with the double bit axe.  Harold was great with the scissor too.  He never gave me  rooster tail like I got from those town barbers.  Gary Metcalfe
.
.
Comments from Gary Metcalfe (57): 
Thanks again Gary.  These very interesting letters start out my day every day.  Without a history you are just like a hars wind on the buffalo grass!!
I identify with every message that comes across your desk.  Vance Bailey – can anyone ell me where Bailey's lived in the hills?  Early on my dad, Jim Metcalfe, talked about Virgil and Harvey Bailey as school mates.  They had 8 teachers in one year and none of them could make Harvey cry, then came C.B. Clark.
Bill Hosmer, I thoroughly enjoy your memories of early years.  you are one of the few people that knew about sweet cream.  I used to take a quart of cream to Hattie Lillabee in trade for a shot for my asthma.  She was a movie star to me, also Lenora Lamoureux, glad to hear about A.T. Lillabee.  thanks Bonnie.
Larry Hackman, for a younger man you surely have a great memory of the bowling alley and muscrats, weasels and mink.  Alan Hobbs, Harvey's dad, was in there as a fur buyer before Harvey.
Hilda Tooke, wife of Vic Tooke and sister of Oscar Stadheim, was a great trapper and furniture maker.  Oscar was a partner of Harold Woodford in the Snake Pit,  known then as Stadheim and Woodford Bar.  Johnie Myer did tend bar for them.  Anybody remember Johnie?
Larry, I went to Hilltop school with Tony and Henry, they were first graders.  Haven't heard much about Henry.
Music was our life as teenagers, your cousin, Jimmy Birkland could play harmonica and guitar at the same time while herding the Ford toward Dunseith on Saturday nights.  LeRoy Birkland was probably the best guitar picker I knew in those early days.  Great times, great people.
Bill Hosmer, I knew most every Hosmer except you.  Your dad had a lot of class.  Jack, as well as many others, hunted deer (in season) on my dad's border farm.  One year he said, "Jim, pick out a hat",  one year was a jacket.  I always liked Jack's way.  Don was a boxer at the Forestry, as well as my brother Jim.  We sang quite a few songs together, cool guy..
Thanks to all the memories you all have shared.  Gary Metcalfe