Happy Birthday Cecile Gouin Craig (DHS '61):  Sequim, WA
.
.
Bernie left last night, returning to Seattle/Bellevue Even though he'd love to and us too, he can not stay here forever. He was here 104 days, so we had a lot of good bonding. Now he will file the immigration paper work for Lorelie and her 3 year old daughter to join him in Bellevue, WA.  The process will take about a year.
.
.
Posted by Neola Kofoid Garbe: Bottineau & Minot, ND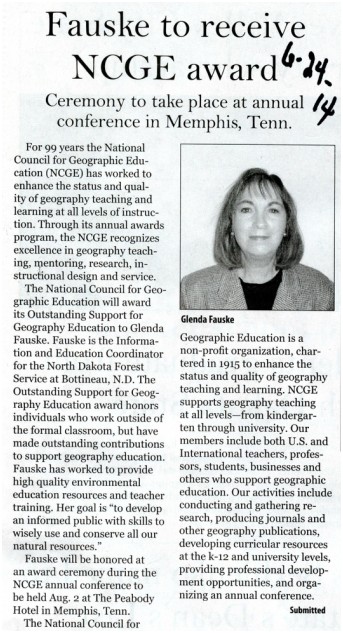 .
.
Floyd and Luella Halvorson Dion
Reply from Lee Stickland ('64):  Dickinson, ND
Floyd and Luella may have been one of three places:  
       1   the annual meeting of Model A owners
       2   the corporate meeting for PRIDE DAIRY and CREAMERY of Bottineau
       3   per Floyd's belt buckle, he may be entered in the Fourth of July Rodeo here in Dickinson
Possibly his buckle is like mine and is from the 1982 reunion in/of/for Dunseith, with an embossed figure of the OLD RIVERSIDE HOTEL.
I have a buckle, I live +/- mile from rodeo ground, I don't ride horses, (JOY PETERSON knows that horses and I do not get along; YES, JOY I remember Kit and Kap.  I can't imagine the adrenaline that is present when sitting down on that mass of power!   
Show Hit gowes      LEE     s      7-3-2014
.
.
Salem Church Face Book posting
.
.
Posted by Neola Kofoid Garbe:  Bottineau & Minot, ND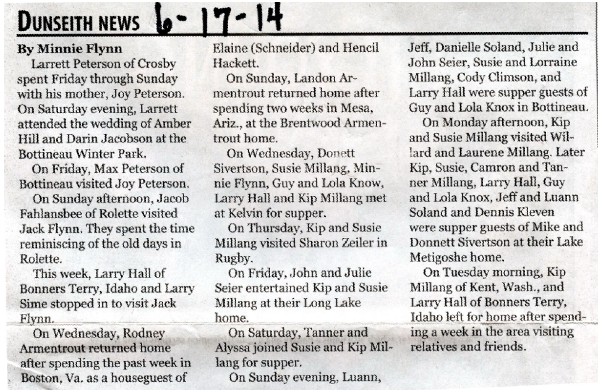 .
.
Saying Goodbye to Mother
    We were 
dressed, and ready to go out for the New Years Eve Party. We 
turned on a night light, turned the answering machine 
on, covered our 
pet parakeet, and put the cat in the back yard.
   We phoned the local cab company and requested a taxi. 
The taxi
 arrived, and we opened the front door to leave the house. 
As we walked out the door, the cat we had put out in the 
yard, scoots 
back into the house. We didn't want the cat shut in the 
house 
because she always tries to eat the bird.

    My wife goes on out to the taxi while I went back 
inside to get the
 cat. The cat runs upstairs with me in hot pursuit. 
Waiting in the
 cab, my wife doesn't want the driver to know that the
 house will be 
empty for the night.  So she explains to the taxi driver 
that I will 
be out soon. "He's just going upstairs to say goodbye to 
Mother." 

    A few minutes later, I get into the cab.  "Sorry I took 
so long," I
 said, as we drove away. "That stupid bitch was hiding
 under the bed.  I had to poke her ass with a coat hanger to get her to 
come out!  She 
tried to take off,  so I grabbed her by the neck.   Then I
 had to wrap 
her in a blanket to keep her from scratching me, but it 
worked!  I
 hauled her fat ass downstairs and threw her out into the back yard!"
    The cab driver hit a parked car.
.
.
==========================================================================
Blog (109) posted on May 21, 2008
Gary and Friends,

Just a short one on the pop from Omemee. The Dunseith school ordered pop
for some function in about 1962 in the fall. We were in the the old
locker rooms, under the bleachers in the old school, dressing for
basketball practice, when Chris Rasmusson came down with several cases
of pop on a hand cart. He asked Marc Gottbreht where they kept the pop.
Marc saw the opportunity and said, "they usually stack it right here".
Marc, being the generous guy he was, passed out the pop to each of us
and we hammered a couple and then went up for practice! The next day
they called him to the office. He had SIGNED the delivery ticket!! I
don't remember if he really got in any trouble. One time in the sixth
grade, Mrs. Lang caught Marc chewing gum for the tenth time and said, "
Marc, if I catch you chewing gum again, you better have enough for the
whole class"! The next day Marc got caught again! Mrs. Lang said, "
Marc! What did I tell you"! Marc jumped up and whipped out about five
packs of Juicy Fruit and passed it out to the whole class, INCLUDING
Mrs. Lang!! Marc was tough on Mrs. Lang!! He wasn't a bad kid,  he just
liked to push her buttons!! Thanks Gary!

Dick
.
.
Just wanted to let you know; One of Dunseith's finest, Vance will be back in his beloved childhood home town Dunseith!  We will have a grave side service for him on Wednesday May 28th, 10 A.M. – Riverside Cemetery – Pastor Herford.    This was his wish to return to Dunseith.   Our little family will be in town.  After the service we hope to go to Dales for Vance's favorite chocolate shake and maybe even go for the giant hamburger.  Come on down we'll share our shakes!
I have attached a few picture:    1. Aunts, uncle cousins & etc of Vance's  : The Bailey, Anderson, Awalt picture may indicate, "maybe at one time everyone in town was related."  Some of your readers will recognize themselves.
2. Anderson Richard, Hattie & Clint in front of the Cream Station  in the 1930's
3. The "Great hunters" @ the Mahlon Bailey farm.      
— Vance had a terrific memory for names and events,he talked of his childhood friends a lot.   I recognize so many of the family names.  I feel like a part of Dunseith myself after 55 years with "the" Dunseith guy , but I grown up in Seattle,  not near as much fun as you people had in your child hood.  Small towns are the best.  Thank You, Doreen Bailey, Tempe, AZ