Happy  Birthday  Bruce  Pigeon  (DHS '61):  Garrison,  ND
.
.
Reply From Colette Hosmer ('64):  Santa Fe, NM
Reply from Floyd Dion ('45):  Dunseith, ND
Gary:
This is in reply to Lee Stickland of the picture of Luella & myself.
Cheryl Haagenson took the picture during Dunseith Days at the free
breakfast at the Dunseith Elementery School.We served the coffee,milk
and juice.
Yes Lee I still have the Model A Ford.
The belt buckle is an agate that my brother Derald found and ground &
polished and fit it into a buckle.
Dunseith Days were held June 28, 2014

Floyd
.
.
Posted by Neola Kofoid Garbe:  Bottineau & Minot, ND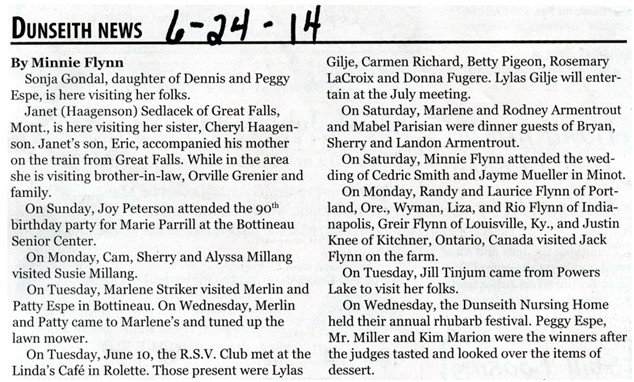 .
.
==========================================================================
Blog (109) posted on May 21, 2008
.
.
Thank you for including us in this email system. Neither my husband Floyd or I graduated from Dunseith High School but Floyd has always considered Dunseith his home town.( he went to rural schools in the area ) He knows all the people that you mention, and loves to read the emails. They depict a way of life that is quickly vanishing, imagine in todays world, letting your children play in the street,or  walk down to the creek by themselves and no one would worry about their safety.!!   It was such a peaceful and trusting time. The memories that you share are priceless and should be treasured.
.
.
Dear Mrs. Bailey,  you don't know me, my name is Lynette Halvorson Otto.  My parents are Lester and Dorothy Halvorson of Dunseith.  Anyway, thank you for sending the picture of the white school house.  I think I attended school there in my 1st and 2nd grades.  I remember how big the class rooms were, very tall ceilings, dark wood floors and those big windows.  I haven't seen a picture of that school for many years.  Thanks for bringing back the memories.  Lynn Halvorson Otto (75).
.
.
I want to thank Doreen Bailey for the wonderful picture of the
Dunseith school.  It really conjured up  many wonderful memories for
me even though I only attended the school during parts of grades 1-5.
I especially remember that terrible rickety old metal fire escape that
we used during fire drills in Mrs. Conroy's class….scary for a
chubby girl with those wobbly steps!
.
.
Gary, I am responding to Mrs. Baileys pictures, particularly the last one.
My dad,  Cliff a family story teller,was very fond of Bill and Myrtle Anderson,who were family neighbors of the Metcalfe family at Rabbit City Lake.  Dad described them as, " Mr. Anderson being very tall and Aunt Myrt very short."  He said, "Aunt Myrt's shopping bags were close to the ground , she was so very short."   When eating fried eggs for breakfast  my father would ask me how hard did you work? Then, he'd tell  the story about when one of his big Metcalfe brothers going over at their neighbors, the Anderson's, one morning. ( I believe it may have been during the depression) Mrs. Anderson  was serving breakfast,She said, Sit up to the table and have some breakfast, While she served the breakfast she said,  "There is  1 egg for Walter, he works hard, 1 egg for Mr. Anderson because he works hard, and 1/2 egg for Charlie and  1/2 egg me because we don't work as hard, and there is an extra egg for you".  Even in tough times folks shared what they had!  Another story was regarding my dad's name, Mr. Anderson asked my Grandfather to name a son William David, since his name was William David.  Grandpa Bill said," he'd already named his oldest son William, but agreed that David would be a fine middle  name for the 7th son." Another wonderful memory we had with John and Gertrude Awalt was a the 50th wedding anniversary of Bill and Mary Metcalfe  in the early '70s.   John and Gertrude had been there best man and brides maid.  Also on that day Frank Poitra was playing his fiddle, as he had for their wedding dance. All those folks were neighbors so many years ago.  And, a firm bond of respect, through the years.  When I was a child, I recall, Charlie Anderson on Saturday nights in Dunseith, crawling into the back seat of our family car and visiting on main street.  Years later, Gertrude Awalt was living in Rolla,we were visiting and sharing picture memories, Gertrude gave my mom and I a childhood picture of Charlie Anderson  and the Metcalfe boys, which mom reproduced for all the Metcalfe cousins. That photo was such a telling photo of those boys, " the little rascals" .  Thank you Mrs. Bailey for the photo's which got me remembering my dad's stories of the Anderson's who he was so fond of. Vickie  Metcalfe
.
.
Gary and Friends,

Evie asked what a snowplane is. I was just going to advise her to look at
message 100 for info. Thanks!

Dick
.
.
Picture taken July 12, 2007:  Note –  Date on picture is incorrect
Class of 65 gals – Phyllis McKay, Esther Murray Fleming & Patty Boguslawski Gottbreht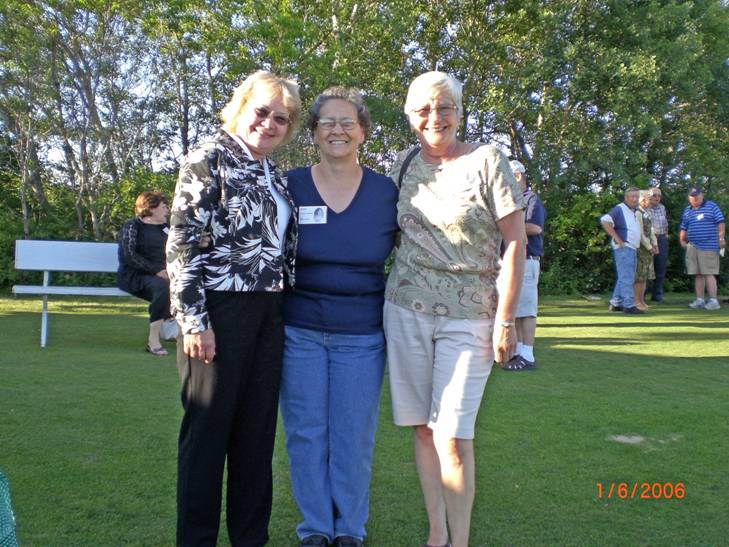 .
.
Picture – Class of 65's first ever reunion – July 12, 2007.  The majority of us had not seen one another for more than 42 years.
What a memorable reunion we had.  It's a reunion we will remember for a life time.  The class of 65 has been reunited. Gary
.
Standing: Carol Allard Buxbaum, Ron Longie, Warren Anderson, Karen Loeb Mhyre, Bill Grimme, Ginger LaRocque Poitra, Henry Hackman, Gladys Roussin Azure, Angela Berube Malget, Rene Casavant, Alan Boguslawski, Helen Rivard Christenson, Allen Richard,  Esther Murray Fleming, Susan Fassett Martin, John Bedard, Margaret Metcalfe Leonard, John Awalt, Cecile Berube Reynolds, Patty Boguslawski Gottbreht, Ken Nerpel, Phyllis McKay, Gary Stokes, Marlene Richard Parslow, Evie Gottbreht Pilkington, Joan Smith Fuchs .
Kneeling: George Azure, Dean Helgeson, Joe Casavant, Pete Gillis, Raphael Poitra, Ernie Gottbreht.
Missing when picture taken: Donald Egbert