No Blog yesterday
For the record I did not get a blog posted yesterday.
Dunseith Alumni Website  link http://dunseith.net/blog/
Some of you mentioned that with my new system the messages are not contained within the screen causing you to have to scroll to the right to  read the hidden text.  I think pictures posted larger that the screen may be the cause of some of this problem. I try to keep the pictures to a reasonable size so as to fit on most screens. With the band picture below, today's message is an exception. If I reduced that picture to fit everyone's screen, it would be too small to recognize the folks in it.
For those of you having problems, I strongly suggest that you view these blogs on our Website http://dunseith.net/blog/ .  The blogs on the Website seem to be a lot cleaner and easier to read too. The neat part about the blog is viewing pictures. If you  click on the website pictures they will be enlarged.
Happy Birthday Flavia Moraes ('73):  São Paulo, Brazil
Foreign Exchange student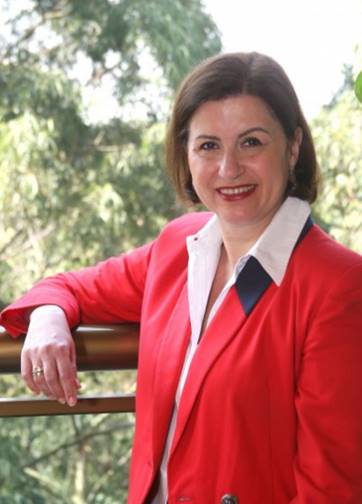 Happy Birthday Val Moyer (DHS '63): Bottineau, ND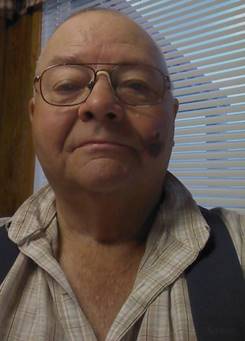 Reply from Bill Hosmer (DHS '48):  Tucson, AZ

Gary and Friends,
This issue was full of terrific stories and recollections.    Dick Johnson"
interesting description of his Norway trip and the events of WW  II that he described
should be of interest to my brother Bob.  His wife, Katrine (RIP) often spoke of the Germans
who took over her parents' house and set up positions on and near their land.  Her  family
lived in a small structure from where she could see German soldiers during their daily activities.
Dick, I hope you continue sending those pictures.
The other story about Axel Johnson brought fond memories of working with him in the Dunseith
gravel pit, keeping the gravel flowing onto a belt carrying it to the rock crusher, controlled by
Bob McCoy.  Sometime the caterpillar would push a load that had hidden big rocks that were
caught by the large grill work at the bottom of our "trap" about seven feet below our working
elevation.  We would have to go down the slope , stand on the bars of the grill and try to get
the rocks back up the slope.  The rocks were too big for the crusher.  Sometimes I'd be the
one down there first and try to man handle a boulder that I absolutely could not budge.  Axel
would come on down, bend over grab that heavy bugger and work his way up the slope,
and roll it down our hill.   He seemed to be too elderly to be doing that and I felt like a wimp,
but he'd say," Billy,  I don't want you to hurt yourself with those big ones, you've got more road
to go".  His accent was terrific, and his heart was bigger than any of the rocks we dealt with,
and he is a figure I will never forget.,  Just as a matter of interest, we made a dollar an hour
for the first 40 hours of a week Mon-Thur at 10 hours per day.  Friday and Saturday was a
buck fifty and Sunday was double time.  When the weather allowed a full week that amounted
to $120.  So working all summer of 1948 until I joined the Army in Sep. I felt pretty flushed with
cash.  Whenever I came home from somewhere, I would always  find a chance to have a chat
with Axel Johnson, a wonderful man. (the gravel was used in making black top to re-cover #3
north to the Canadian border.)
The picture of Dunseith shows the gravel pit area above the elevators down at the depot, where
we used to go to watch our train ,  The Galloping Goose arrive, from it's daily trip to York and back.
We'd get aboard the one passenger car to ride around the Y, which was a turn around area of track to
get headed back south for the morning trip.  We thought we were really living it up, and all the
people in town watched out for us, including the  conductor, mostly Al Molgard in my time.  Of course
the thing about watching out for us also meant a quick phone call to our parents if we were doing
something a little out of order.   So it was, and so it is.     Bill Hosmer
1940 San Haven Post card with 16 Comments
Link provided by Eldon Berg (BHS '66):   Kenmore, WA
http://www.ghostsofnorthdakota.com/2013/01/13/san-haven-postcard-1940/
Memories
Posted by Vickie Metcalfe ('70):  Bottineau, ND
Gary and friends,
Running water and indoor plumbing came to our farm in the summer of 1961.  One fall day, Cliff after morning chores, dropped Lottie off at Rolette hospital and went on to plastering.  That night Cliff came home and did the evening chores.  The ringer telephone was not working again, so he gathered his girls to the red station wagon and drove to Dales in Dunseith.  Cliff got change and used the pay phone outside the motel to called Rolette hospital. The girls sat in the car and tried to guess what the baby would be. The older girls wanted a brother.  The littlest girl wanted a little sister because she had a perfect name picked out for a sweet baby…… Angel .  Cliff came back to the car and said they had a little brother.   He started the car, turned it north up highway number three to tell his brother Jim's family.
Immediately the baby had a name, Jim's girl's called the baby, "Little Cliff."  Cliff and Lottie had other ideas, his name would be Archie.
Good neighbor and Lamb family friend, Cynthia Johnson, baby sat Little Archie while the rest of the family attended Priscilla's wedding  at United Methodist to Charles Anklam the following June.  Lottie was matron of honor for her sister.   They had a sister connection which continued through their adult life.  Whenever someone in the family was sick, Priscilla, ( the family LPN ) was informed.  She always provided  immediate  care and concern for Lottie, one of her kids, or Cliff.
The next couple summers, Cliff driving west, and his brother Emil driving east, met in Glasgow, MT when they plastered at the Air Force Base.  One Saturday morning, the girls were delighted to awake to find, Uncle Emil gentle snoring on the living room couch.   He'd come home with their dad. Of course, they did their best to be quiet. The eldest sister found a piece of Timothy grass and began stroking it under Uncle' s, "a.k.a Gentle Giants" nose. The girls sought to contain their giggles at the twitching of his nose. He continued his gentle snores as his nose wiggled. They all got to take a turn, and enjoyed the odd faces their uncle Emil made.  ACHT- hoo! He was a tolerant, kind, soft spoken gentle man, with a great sense of humor!
In the fall of 1963, after purchasing a brown and white Chevy Biscayne Wagon, the family moved again to Marysville , WA for a year.  Cliff worked plastering jobs,  including on the Pacific  coast  prison.  He would leave  early Monday morning before dawn, along with Emil Metcalfe and Bob Filmily be gone until late Friday night.  Mrs Filmily, Ann  and Lottie packed lunches for each of the men and one casserole. Monday through Friday the men would eat  their packed lunches and homemade casseroles, they ate out only one night of the week.  They drove home after work on Friday's and the families waited for supper with Dad.
The girls all went to local Marysville schools. The youngest got homesick a lot at school missing the farm. Lottie learned how to knit, sewed and continued saving. Weekends were wonderful family adventures going on the ferries of Puget Sound, to Whidbey Island, Deception Pass, beach clamming or the over the Mountains to pick apples at Wenatchee and visiting cousins.
1963-1964 was a time of serious social upheaval across the country.  The kids and Lottie got to watch Gower and Tina's color T.V. for the first time the day of President Kennedy's funeral. Where ever they went, Lottie made friends quietly but most often life time.   The Gower Hansen's the landlords, lived up the road became solid friends.  Another neighbor, a guitar teacher, lived  a few houses down was cousin Kathy's, teacher. Every Wednesday after school, all the  Marysville cousins gathered for hamburgers from a hamburger joint, after Kathy's lesson!
Sometimes on weekends, the kids would eavesdrop listen to  their dad and uncle discuss work and the crew they worked with.  Emil always worked as a "foreman" and Cliff a "pacer".  Emil had power to hire or fire.  Cliff had the power to fire anyone who couldn't keep up the pace he set.  Some of the men began grumbling about a Canadian immigrant working on the crew.  They didn't like him because he kept the pace. They began calling him  names.  Still he  kept up with the pace.  Some younger men began picking on him more and more often,  continuing to make disparaging remarks, called him a Nazi. Then, they discovered he had fought in WWII…for the other country!
One day it finally came to a boiling point.  The men lined up on one side against the immigrant verbalizing, taunting, name calling looking to get physical.
Neither, Cliff and Emil  could stand  bullying. They often stood up for "the underdog".  They'd make comments like, what is right is right and what's wrong is wrong.
The two of them put down their trowels, walked over and stood, one on each side of Otto.   They looked across at the crew. Then made their point, asking questions, "Did you fight for your country  in WWII??"  None on the other side could say they had ever fought or served.  "Well, then," Cliff  remarked he had fought for his country on the Pacific front, and Emil said he  had fought for his country on the Italian and German front."  They both turned, looked and pointed to Otto, and said, "And he fought for his country".  "That war is over." "Otto, like us wants peace."  That brought the end of  "bullying" on the job.
When the Christmas holidays came, Otto and his wife,  invited  cliff and Lottie, Emil and Ann, and the Filmley's to their home for a New Year's Eve gathering.  They all went, where they heard of Otto's past in the German military, and of his wife when she was taken prisoner and  spent tough time in a Russian prison camp.
Wishes for that New Year's 1964?  All Otto  wanted; was to live in peace,  become an American, drive a Chrysler and live in California.   Metcalfe's  just wanted little farms back home in rural ND.
To each of you  on this blog, who've provided me feedback, and personal comments, your support has mean the world to this farmers daughter of  Dunseith, ND!
My thanks to you  and Gary for providing the opportunity.
Until later, Vickie
Joke of the day
Posted by Mel Khuhn ('70):  St. John, ND
Three Contractors Bid On The White House Fence
Three contractors are bidding to fix a broken fence at the White House.
One is from Chicago, another is from Kentucky, and the third is from New Orleans.
All three go with a White House official to examine the fence.
The New Orleans contractor takes out a tape measure and does some measuring, then works some figures with a pencil.
"Well," he says, "I figure the job will run about $9,000. That's $4,000 for materials, $4,000 for my crew and $1,000 profit for me."
The Kentucky contractor also does some measuring and figuring, then says, "I can do this job for $7,000.
That's $3,000 for materials, $3,000 for my crew and $1,000 profit for me."
The Chicago contractor doesn't measure or figure, but leans over to the White House official and whispers, "$27,000."
The official, incredulous, says, "You didn't even measure like the other guys. How did you come up with such a high figure?
"The Chicago contractor whispers back, "$10,000 for me, $10,000 for you, and we hire the guy from Kentucky to fix the fence."
"Done!" replies the government official.
And that, my friends, is how the Government Stimulus plan worked.
Remember… Four boxes keep us free: the soap box, the ballot box, the jury box, and the cartridge box.
==========================================================================
Blog (136) posted on June 18, 2008
From Jim Robillard (58):
GARY,
IN RESPONCE TO BONNIE AWALT'S STATEMENT ABOUT WHO IS STANDING NEXT TO THE BAND DIRECTER ERICKSON. SHE THOUGHT THAT IT COULD BE ME.
WELL IT IS NOT ME, (JIM ROBILLARD) AND, I DON'T KNOW WHO IT IS EITHER.
SORRY.
BONNIE I HOPE YOU ARE WELL.
GOD BLESS
JIM
From Dick Johnson (68):
Gary,
Stan Salmonson says the girl by Dwayne Lang
is probably a girl named Jean Lake. Her dad was Ray Lake and she was in
band at that time. The Dunseith history book mentions Lakes on page 164.
Folks, All we need now is the identfication of that one guy.  Is that Jackie Spaeth or Mick Kester?  Gary
Picture L to R: 1956 DHS Band
Front row: Gayle Bedard, Caroleen Lider, Janice Lacroix, Marjorie Landsverk, Lowell Williams, Lois Hiatt.
Row two: Karen Woodford, Colleen Conroy, Gerald Lamoureux, Marlene Schneider, Duane  Woodford, Jackie Spaeth or Mick Kester?, Shirley LaRocque, Susan Brew, Connie Bedard, Joanne Kester.
Back row: Charlie Ericson, Ernest Kundart, Charlotte LaCroix, Barbara Bott, Ronnie Link, Lowell Leonard, Dwight Lang,
Curt Halvorson?, Don Conroy, Neva Haagenson?, John Morgan, Ellen Graff, BIG DAVE SHELVER, Jean Lake, DuWayne Lang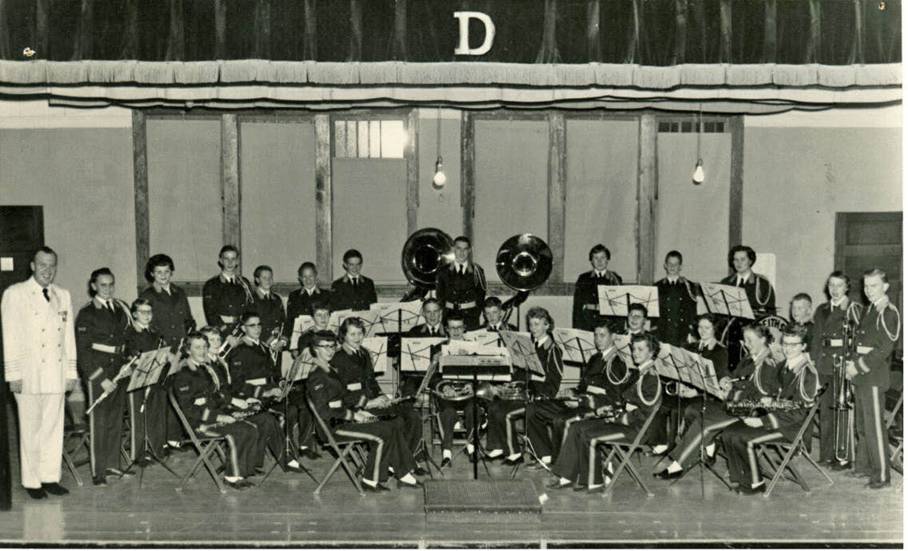 Pictures/message from Dick Johnson (68):

Gary and Friends,
These are pictures Brenda took at the Bicentenial Parade in Dunseith in
1976.  I just thought it was nice to see the old stores the way they
were then. The old tan 52 Chevy was driven by Eugene 'Gopher' Counts and
the Model A was driven by Bob Leonard with Bernice Johnson inside and
Violet Campbell in the rumble seat. Thanks for posting these Gary!
Dick