Folks,
I don't have much new today. I was busy so I didn't get a blog posted this past Friday or yesterday either. It is Sunday today, so this will be tomorrows blog a day early.
I will go with what I have plus the Archive posting from January 16, 2010.
Gary
Face book posting
I was asked to post.
Hopefully someone can be of some assistance enabling Shawna to find her mother.

==============================================
Blog (686) posted on January 16, 2010
Posted on January 17, 2010
Clyde Chase correction:
Reply from Bill Hosmer (48): Tucson, AZ & Lake Metigoshe, ND
Gents, It is MY error in this case and I am sorry for any ill will or embarrassment I may have caused.
Indeed, Clyde and my uncle Fred Hosmer used to work together on paint projects in the Dunseith area. I'll be more careful in the future. Gary, you can sure put this out in your offering, to clear the issue, and I sincerely apologize for my error. Bill Hosmer
Bill, These errors happen. I'm sure the family understands. I know you did not have Clyde on your mind when you replied. Because his name is the most familiar Chase family name to you, his name is the one you absentmindedly listed. I am so famous for doing that very thing. I catch most of those errors before posting, but a few get out and that's OK, even though I kick myself in the butt for doing it. You and everyone else do a remarkable job of remembering so much from the past. This stuff all happen 70 years ago or there about. These errors grab folks attention and generate comradery. That's the big plus side to all of this. Gary
Clyde Chase:
Reply from Gary Metcalfe (57): Forsyth, MO
Hello, I know it was an unintentional error, but Clyde Chase did not kill anyone. As no one responded yesterday, I will offer some information about Clyde. Clyde had 13 children and he was the number one painter in the Dunseith area all his life. He lived north of San Haven in Chaseville.
Gary Metcalfe
Clyde Chase:
Reply Dick Johnson (68): Dunseith, ND.
Gary,
I'm pretty sure the man convicted of the murder was Fred Chase, not
Clyde Chase. I hope the family isn't upset with the mistake. Clyde was
a painter of houses and buildings. Fred went to the penitentiary for the
crime.
Dick
Clyde Chase:
Reply From Cloette Hosmer (64): Santa Fe
I had intermittent internet contact for a couple of weeks during "reentry" back into the USA from China and due to my great old age, it has taken me awhile to catch up. Thanks for your responses, Gary and Dick, to my comments about Dad's '54 Red Jeep.
Can anyone tell me if Clyde Chase was the house painter? As a young kid, I remember him as a kind man (with one lame arm?) who painted some inside walls of our house when I was a small kid. He generously showed me how to dip the big brush in the bucket just so, and would even let me paint a little. Thanks, Colette
Reply from Marshall Awalt (51): Newport, NC
Gary, Thanks for 685. Had 28 degrees this a.m., got up to 60 this afternoon and expect 1-2 inches of rain tomorrow.
Marshall
Message posted on our Dunseith Alumni Website:http://garystokes.net/default.aspx
From Carol Boucher Lorenz: North Myrtle Beach, SC
From: Carol Boucher Lorenz
Phone:
E-mail:
Message:
Gary, I want to thank you for this great blog. Although I didn't attend school in Dunseith, we lived only 5 miles away in Russell township. So many of the names are familiar because my parents talked about them. We are related to Gottbreht's, Mona Johnson and Roland Mongeon.
I was especially happy to see a picture of Pearl Pigeon. She was my 4-H leader in the 50's. She was a wonderful woman and taught me so many life skills. To this day, I remember her every time I sew or cook. What a special person who died too young.
Does anyone have pictures of Russell school? I'd love to see some.
My sister,Peggy, and I also worked at the San during the mid 60's as did our mother when she was young.
Carol Boucher Lorenz
Carol, When I received your message last night, I forwarded a copy to Sharron Gottbreht Shen. I have pasted her reply below. Where did you go to school? With your phone number I see you are living in North Myrtle Beach, SC. Gary
Sharron's reply: Everett, WA.
Yes Gary, thanks for sharing this message from Carol Jean, youngest daughter of Hector and Celia Poitier Boucher. At first, I would forward items to Peggy, and she would pass them on to Carmen and Carol. Carol and her husband spend their winters at shore of N Corolina. Bad case of beach envy here. Uncle Hector left each of those girls a chapter of his life and times growing up in Russell Twp. Hint, hint, Carol! Sharron
Another great Donald Egbert Story:
From Larry Hackman (66):
Gary
Glad to see that you are doing well. Them little fellows running around in the buff reminded me that we use to have that happen in Dunseith once in awhile, also. But, old man winter usually solved that problem purity fast. Actually a nice cold winter does cause people to do a lot of things that they would not ordinairly do, and quit a lot of things they ordinairly do. Well, you know the story. I'm sure you froze your donkey off a few times. +75degrees -cold, Does that even go together in the same sentence? What would Mr. Grossman say?
Have a nice day, Gary.
Larry
Larry, I'm sure that someone will share this story with Donald and it will for sure make his day. He has good recall of the past with great detail. Thank you so much for sharing this wonderful story. Gary
Donald Egbert Story and More

Donald Egbert was quite a young man.I really didn't do him justice with the story about the kinds of automobiles he once owned and that he was a outstanding basketball and football player in his younger days.He did play varsity when still in grade school. He also played baseball with the older fellows when he was about a 5th grader.
Don was also a young fellow that loved the ladies.He made more then one girls father nervous and caused some to drive the streets and roads in and around Dunseith looking for their daughters.One fellow told me that in the halls of Dunseith High, Don was also a terror.A gal meeting him in the hallway didn't know whether to carry her books up high or down low?I,ll let someone else who knows more then I was told, finish this paragraph?
Don was never afraid to attempt anything.If he needed or wanted a job and if hefound out a contractor or business man, who needed a certain type worker.Thats what Don would become.I remember a contractor needed painters.Don told him that he was a painter, and was told to show up the next morning to go to work.Don went and walked around the construction site, finding out what kind of equipment he would need to have of his own, to perform the work.Then he went to the hardware store and bought all the necessary brushes and equipment that was required to do the job.He was hired and worked all summer as a journeyman painter.
I remember Don coming by the house one evening in the late 50's.He asked me to go for a walk with him to the south part of town.Apparently there was a new girl in town and he wanted to check her out.We got down to her house and I think over half the boys in town were there.They were everywhere you looked.The girl was out visiting with a few of the boys and most all the rest were on standby and in a purelyobservation type posture.Then as if on cue into the yard pulled this vehicle, and out jumped this fellow.It was the girls father.He yelled, " What hell are you?A bunch of dogs in heat?Get the hell out of here".It didn't take us long, we and the other boys scattered, and the girl disappeared into the house.Everyone was gone.
Being a young fellow and only an observer on this occasion, I just took mental notes.How was I to know, that about 30 years later, that I would be able to put to good use, the information I had gathered from that incident?
I had moved my family back to Harvey, ND and had bought a house.I came home after a long hot day at work.As I pulled into the driveway, I couldn't help but notice that my house, and the entire property was crawling with boys.They appeared to be circling.I swear, some even appeared to be marking their territory, and others sniffing and remarking the same spot.My daughter was standing on the step visiting with a few of the boys.I immediately had a flash back to that time in Dunseith.I got out of my pickup and growled. " What the hell are you?A bunch of dogs in heat?Get the hell out of here".To my surprise and satisfaction it worked.Them boys all disappeared in less then a heart beat.My children occasionally remember and bring this experience up in conversation, and remind me howembarrased they were.But, as I leave the room, I smile to myself, thinking back and remembering , how well this worked for Mr. Fassett.I bet he was chuckling to himself too, and a little surprised, at how well it worked.It sure worked for me! When the same situation presented itself to me.A lesson learned!By the way, I'm sending a copy of this to my kids, and if their replies aren't to bad, I'll foreward them onto Gary.
I remember another time when Don came upon two girls fighting.The loser was left sitting on the ground crying.Don walked over to her and picked her up.As she wrapped her arms around Don's neck, she looked up into his eyes and stated to him. " your just like superman".Don walked a little taller that day.However, it was rumored a few years down the road that the same girl called him a banana-nose.I don't know what Don did or was attempting to do to cause this responce.Actually I do, but I'll let someone else tell that story.It seemed that it took Don, and everyone else a long time, before everyone forgot this moniker. (thanks Kenny).
Don was also a outstanding baseball player.Don's nick-name at the time was Lee May.I don't recall why the other team members gave him the name.It may be that Don hadn't quite grown into his ears yet and resembled the fabled baseball players look.Have you noticed that boys at a certian age have ears that stick straight out from their heads.They kind of look like a semi coming at you with both doors open?Girls, I suppose have the same problem, but are able to hide them with their hair.
Don played the position of either second base or shortstop.Which in itself says he was good baseball player.I think John Morgan and George Gottbreht were assistant coachs for the summer baseball team, andClarence Michaels, who was the cop, was the coach for the team.Some of the other players on the team were John Leonard (right hand) and Julian Kalk (left hand)- pitchers, and Jim Evans -catcher, and Lyle Lamoureux -first base, and Dave Shelver-third base.I don't recall who the other players were and I may have some of their positions wrong, but I do remember that there were two or three more cousins of John Leonard's that played on the team.I think there family ran the restaurant that was located along Main, where Wayne's Grocery store is now located.Because, after baseball practice, The Leonards and I would wander up there and the people running the restaurant would give us each a chocolate ice cream sundae.I remember that summer (1957?) as being really hot.Them ice cream sundaes tasted real good.In the afternoons we would all make our way down to the creek, straight west of the new high school.The school wasn't built yet, so this statement is for the benefit of the younger crowd.For the older crowd, the swimming hole was straight north of the slaughter house, intersection of highway#5 and Willow Creek.There was a small crook in the creek with a tree on the east bank with a slopeing trunk you could walk up and a large branch that hung out over the creek that we dived off.The area was shaded and was a great place to swim and hang out during the hot sunny afternoons.How did a young fellow like me get involved with the baseball team.Well, John Leonard would come walking by the house every morning on his way to baseball practice and invite me along.We lived in the large two story house (Richard House) just west of the Methodist or Stone Church.The ball field was located in the large flat area west of the creek, straight west of the Catholic Church, as was the football field and the track field at that time.What did I do there with all them kids?Apparently they needed someone to run down the foul balls and return them to the playing field and apparently I thought it was worth doing for a chocolate ice cream sundae.Of course the ice cream was better back in them days as everything was.
Don, "We never called him Don, we always called him Egbert" was a good softball player also.We played for John Awalt's(65er)Standard Service Station in the late 60s.Don played second base or shortstop and I was a outfielder.Snowflake (Gene) Poitra was our pitcher.
The most fun game was a game we played up at Deloraine, Manitoba.Unknown to us was that they played fast pitch up there and we always played slow pitch.So, it was decided that when they pitched to us at bat, that they would throw fast pitches and when we pitched to them, we would slow pitch.It was a great experience, was fun, and we also won.I think their team consisted of mostly Goodons and Mcleods, so some of players did know each other.
The worst game was a game we played a tMylo, ND.They had erected a snow fence in the outfield and ruled that every ball hit over the fence was a automatic home run.There was no opening in the fence and it seemed, that every pitch them farmers hit, went over the fence.Being a outfielder and having to retrieve the ball meant I had to run all the way around the end and back the same way.After about 5 trips like that I was getting a little tired of that fence and it looked like I was going to be chasing homerun balls all night.During these bouts around the fence I was trying to figure out a shortcut, and I began checking and looking for a spot I could work with.So, when the next fly ball went sailing over my head, I started running toward the fence, went into a horizontal position, and drop kicked the supporting fence post.Ya, I didn't think I could do it neither.Well wouldn't you know it?Them farmers were some damn good homerun hitters, but not very good fence erectors.That fence started falling, and it was like watching dominoes, it kept on falling until it was mostly all down, and was no longer a barrier.They complained about the fence, and they also still won the game.They killed us!We got even though!We went to their bar after the game and drank up most of their beer.
The greatest game was a game we played in Rolla against the Dunseith Teachers.They had beat us every game up until this tournament in Rolla.That game, we could do know wrong and we beat them.What a great feeling.In fact John, didn't we win the championship?
Damn, this story kind of reminds me of the comment on my term paper that had to be in before they would let us graduate high school, "A conglomeration of material leading to nowhere", byMr. Grossman.
Laugh and the world laughs with you.
Larry
Frozen Fingers Festival:
Posted by Neola Kofoid Garbe: Bottineau & Minot, ND.
Hi Everyone,
It's Frozen Fingers Festival time again.  There will not be a dance on Friday night this year; there will be a jam session instead. The jam session is open to anyone who would care to participate.
As you can see, there is a dance on Saturday night.
Highway 43 is performing on Saturday. They are Dick/Brenda Johnson and Ron
Tina Pladson Bullinger, David Mettler, and Don Boardman are "Just Us". They perform on Sunday.
Don Lee is a friend of mine from Minot.
I plan to be at the festival from 1:00 until closing both days–most likely I'll be selling tickets.  If you see me, please stop and say "hi"; tell me who you are if I don't know you. 
See you at Frozen Fingers!!
Neola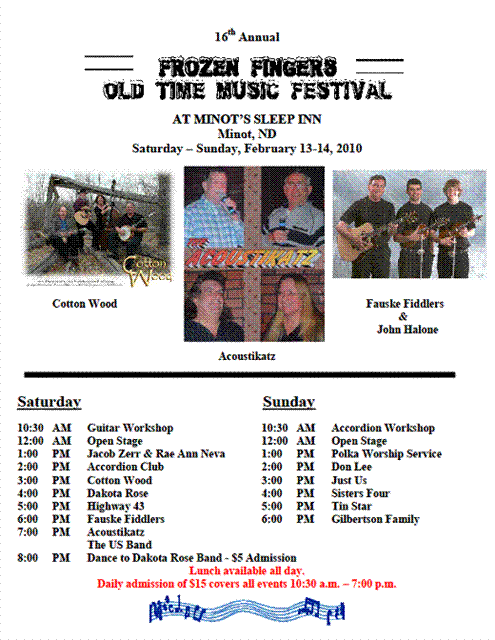 Dunseith News posted by Neola Kofoid Garbe: Bottineau & Minot, ND.