Adventures North of town (Dunseith)
Posted by Don Conroy ('56):  Casa Grande, AZ
   I no longer return to ND, living October through April in Casa Grande and May through September at my summer home in the White Mountains near Show Low (30 degrees cooler).   It's a pretty satisfactory routine.  The ND memories are sometimes triggered by stories from your website, however, and if I may, here is another.
   A special adventure involved just my dog, Peanuts, and me.  Often, on a bright, sunny winter Saturday my dad drove us up past the Day School to a point about three miles north of town.  Upon our exiting the car the standard cautionary warning was delivered:  "You be careful with that damn gun, especially crossing fences!"  Of course, the requisite heartfelt response followed:  "Oh, I will dad."  Then we were off!  Into that lovely, quiet world of white, with joyful anticipation.
   Peanuts and I avoided getting "high centered" by following the meandering deer trails.  A wonderful enveloping stillness lay about.  Only the dark winter gray of the leafless scrub oak and aspen emerged out of the Earth's thick white coverlet as we silently plodded along in this cold, but non-threatening and private world.
   Eventually the soft crunch of each step began to blend with a muted, burbling gradually rising in pitch to a sound like so many tinkling bells.  A side hill laced with a dozen divergent dark brooklets dancing downward from a snow-hooded grotto-like darkness high above.  This was Mineral Springs at its lovliest.  And it was awesome!
   At the base of the slope and west a bit lay a pit, possibly dug to remove a sampling of the gray mineral deposit.  Dad's brother, Harry, an FDA chemist once took a sample back to Kansas City to analyze, but I don't recall much about it though I think it was a manganese compound, apparently not of a commercially viable concentration.
    Near to the Spring was a sandy, boggy anomaly.  Circular, it was about 50 feet across and elevated perhaps six feet above the surrounding area.  Jumping on its edge brought the whole surface into movement, quaking like a huge bowl of jello.  Not strange that the place was wonderful to we who had the good fortune to experience it.
   We moved along, trailing southward and the creek again showed itself.  High through the trees Indian Mound could be sighted as well.  The north side of the hill was sheared off as the persistant erosion by the creek below had irresistably created a near vertical bluff.  In this place the acoustics were so cool to a kid.  I always fired off a few rounds through my treasured Springfield single shot .22.  Each shot engendered a reverberation echoing over and over as in a good western movie: a loud "Crack," ripping the silence, and then again and again, fading back to that deep stillness. 
   Then, over the creek and a pretty good climb up to the Mound.  It lay atop the west end and can be easily seen from town as you look northwest.  It is perhaps four feet high and 20 by 40 feet in area.  I never knew any history of the Mound.  Maybe an epidemic snuffed out all those lives – – certainly something catastrophic and sudden.  Bodies appear to have been placed on the hilltop with earth and rocks painstakingly hauled up to cover the dead. 
   Following the creek down a final point of interest was Wildcat Island.  Not much of an island.  The creek divided around a bit of elevated land to form this islet.  Most of the year one or the other of the divided streams was dry so the island wasn't and island anymore.  The extravagent name derived from youthful summer visitors, adventurous fellows who, with campfire blazing high, frightened one another telling stories of seeing and hearing creatures prowling nearby.
   Now only a mile from home and winter sun still bright but lowering toward the western horizon, it was nearing supper time and the exploration team was anxious to cross through Evans' pasture and reach home. 
  Thanks, Gary, for the opportunity for me to relate this memory.  Don Conroy
.
.
From Lola Metcalfe Vanorny ('68):  Dunseith, ND
Happy Birthday Floyd Dion and greetings to you and Luella- !!-  — you are two of my most favorite people in Dunseith!!- always a smile and always glad to see and visit with me- !!–  just good people —  from that "great generation"!!_  Hope you are both doing and feeling fine!!!- —  
Also Rod thanks for the picture of Laurel!– It is so hard to comprehend that some of these people have left us to go to Heaven!!!!  -along with some of our loved ones- !!!  – I thought everyone would all stay the same as long as we lived !!!_  to so !- 
ALSO TO LARRY!!-  i had a good visit with Betty before our reunion but i didn't see her there-  and what are Clarice and Betty up to now??–  they were my classmates- !!- and Clarice was Patti's classmate  —  super nice girls!!_ would like to hear more about them!!_ 
I undertand that it is your Grandson that took my little Kennedy to the prom this weekend-  they looked awesome!! handsome couple-!!!    – small world- she is Janice's Granddaughter-   Janice Metcalfe Poitra was my cousin — 
 Kelly is her Mom-  a super super neat gal!!_  –Kellly is just a hardworking , talented and  sweet gal   –  married to Chris Olson- from Bottineau – a grandson of adeline and Johnny Olson-  –  Best regards-Lola
.
.
Reply from Kay Hosmer ('77):  Crown Point, Ind
What year for this picture?  Perhaps are Lee Hosmer & Inie Hosmer in the front row?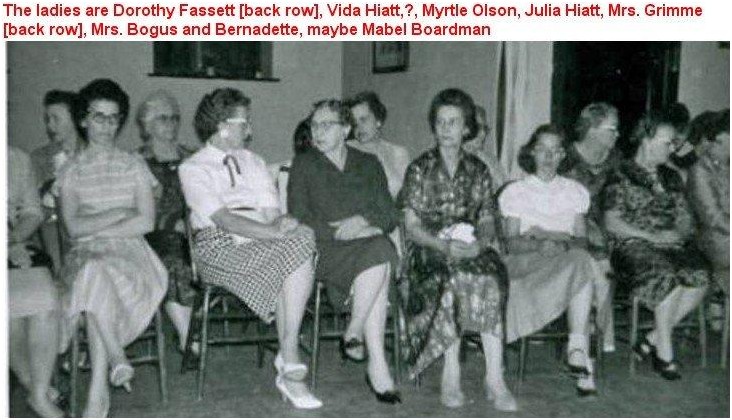 .
.
Posted by Neola Kofoid Garbe:  Bottineau & Minot, ND
Thought you might be intrested in this info being the Smith girls are in the "Pritchard" picture.
.
.
WOMEN ARE UNIQUE ….
Husband's Message (by cellphone):
Honey,  a car has hit me out of the office. Paula brought me to the Hospital.
They have been making tests and taking X-rays
The blow to my head has been very strong, fortunately it seems that did not cause any serious injury, but I have three broken ribs, a compound fracture in the left leg, and they may have to amputate the right foot.
Wife's Response:
Who is Paula?
.
.
==========================================================================
.
Blog (59) posted on March 29, 2008
.
.
GARY, I too  enjoyed reading  Mr. Landsverk's story. (Thank You, Mr.
Landsverk ) My dad, Cliff who became blind as a result of  diabetes
was also a WW II  Navy veteran of the Pacific as was your dad, Bob
Stokes  and many other guys from Dunseith.  I always learned so much
whenever visiting  those true "heros" veterans  of our childhood.
Thank goodness,  we "kids" had  dads who were role models in
character building ie work ethics, patriotism, caring and citizenship
etc as kids growing up in Dunseith.  As ever.  Vickie Metcalfe

—
Vickie L. Metcalfe
.
Vickie, My Dad, Bob Stokes, was a WW II Vet and proud of it, as I know, he probably told you many of his war stories. He spent over 33 months overseas in the Pacific from 1942 to 1945.  He loved talking and visiting with you every time he'd see you out and about.  He loved your dogs. He always had some good interesting stories to tell, especially from his service years. To bad we didn't get any of them recorded. As a point of interest, shortly after he died, going through his things, we found where he had written down his whole service record from the time he was drafted until he was discharged.  He did this a short time before his death.  He was proud to have been a WW II vet and did not want that period of time lost with his passing.  He often times would get emotional with some of his war stories.  Gary
.
.
From Trish Larson Clayburgh (73):
Dear Gary,

Okay, I HAVE to write a quick response to Dick's
latest story.

I also remember Dennis and "Bogie" (as we liked to
call him) in a different car caper.  Does anyone
remember the year Dunseith days hosted a what do you
call it when everyone has a junk car and they slam
into each other until there's only one car standing?
– A demolition derby!

Anyhow that hot summer day in what was it, 1970?,
Bogie and Dennis got ahold of an old Grey station
wagon and we all (LaRae?Cheri? and I) painted it to
look like a shark.  It had a huge front end and
suffered little damage in the foray – it was a tank!
Dan drove it well, and though he was hit aplenty, the
"shark" was still running when the others were dead in
the water.  I don't remember anyone wearing helmets by
the way. We had a great time cheering them on and I'm
sure their big win gave us good reason to celebrate
that evening…

As I understood it, Dan died not too many years after
graduation in a drowning accident.  I have often
remembered him and his special gentle nature with
fondness…

I also have many funny stories to tell about Dennis
Dion- but maybe I should ask permission first?

And Tim Hill – remember the joke about the gorilla in
the gold cage?  I just recently told that joke and
have told it too many times to count over the years.
We used to have such good innocent fun all of us!
Driving around the beautiful farmland, telling jokes,
being friends, supporting each other.

I have too many fond memories to count:  Beer can
alley parties, the Peace Garden Round House and
midnight swims there, Fauske horse rides, crazy cars,
expeditions to Bossevain, snowmobiling adventures, and
swimming at the lakes.

I wonder if Curt Hagel remembers the time his foot
ended up kicking me in the mouth – I remember pulling
skin out from between my teeth – ewww.  I'm sure it
was an accident – I can't really remember how it
happened, except that I was in the water and you were
on the dock…  I clearly recall we were laughing
pretty hard afterward, even though I was grossed out
and you were bleeding.

And Dick – your Dad was one of the most important
teachers of my life (and I've had many).  He got me to
do things I didn't think I could.  Like sing that song
"The Red Velvet Shoes" at Regional Competition.  I
froze up horribly with stage fright and squawked it
out so poorly – I think it was the worst I've ever
sung.  I thought I would faint.  But your Dad had
nothing but praise and encouragement – he knew the
real accomplishment was overcoming my fear and getting
up there because I said I would.

He also made it possible for me to enjoy band.  My
parents insisted that I play the clarinet (which I
hated) because some old aunt had given it to them for
me.  I hated the sounds that I made with it, and Don
allowed me to switch to the Contra Alto Clarinet which
had been donated to the school.  I adored that
instrument, which was huge and heavy.  I had to sit on
a high stool in order to accomodate it's length.  I
fell in love with the bass rhythms and was hooked.  He
did so many things for so many of us.  I have always
felt that we got such a fine music education.  And
I've often marveled at how much he accomplished with
so little resources.  He was such a dedicated,
passionate man.

Poor Mrs. Bakken.  She always got the rough end of the
stick – in part because she was so attractive and
pleasant, and in part such a good sport!

Playing practical jokes was a favorite sport of ours
as I recall.  Do my upper classmen remember the fun
you had hanging "Espe's Pig" from dissection class in
our lockers?  When biology class was on that section,
we never knew who was going to "get it".  Shame on you
boys for scaring the pudding out of us younger
gals…are you ready to confess your sins yet??  I
don't think we ever really knew who had done it, but
we sure had a few ideas…

There are so many memories…and it's good therapy to
remember them with all of you.

Trish Larson Clayburgh(73)
.
.
Thanks for the great pictures, Dick. I have a picture of Dad in his uniform, but the one you sent must have been when he just went in. Looking at those old pictures brings such a smile to my face. Brenda and I were looking at them together while we were on the phone talking.
I remember going to your place a few times. It was always fun there. I think we fished in the lake in front of your house. I couldn't throw my line out like a normal person does, so I would take my rod with both hands and bring it back over my head and then throw the line out as hard as I could. It would sail out there, and sometimes the line went one way and the bait went the other. And then there was the time I went to throw it out and it got caught in a tree behind me. I think your Dad might have went and got a ladder and got the line out of the tree. He then found me a place where I had more of a clearing behind me. Your parents were great people. When I talk to someone about being in band, I always say we had the best band teacher there ever was. He had so much passion for his job.
Note to David: That is Kim that Richard is holding. I am right by Brenda but the picture just about has me cut off. 
As always, Thanks Gary. You are doing a great job with all of this!
.
.
Dean Stickland's (73) reply to Sharon Longie Dana (73):
You'll have to refresh my memory about a closeline and cats.  I've heard
of tying cats' tails together and tossing them over a line.  Seems they
tend to blame each other for their predicament and get into a little fuss
about it.  Hmmm, I'm not sure how you tie their tails together though.
Yes, I did like to play marbles.  In the Spring of the year the ground
just south of the east wing of the grade school would melt off and dry out
enough to mark a ring in the dirt.  We had some great marble games out
there and usually played for "keeps".  I don't remember ever winning ALL
your marbles though.  My cousin, Scott Peterson ended up with all my
marbles when I cleaned out my room and moved away. (Joy Peterson is my
Dad's sister).
Dean Stickland

.
.
The pictures I was referring to were the ones that were taken at the school prior to the reunion.  Probably back in the 40's.  Old school pictures like were shown at the dinner out at the Bingo Barns. 
If it is too big a hassle just let it be.
    The stories of Dick Johnson's about the old car was a HOOT, it seemed back then you could get a whole lot more kids in a car at one time.  Of course this also contributed to the amount of money that could be raised for gas.
Bonnie, John Bedard is the keeper of those pictures.  He has hundreds of them. John spent hours coping those pictures unto a CD for everyone's enjoyment at the reunion at the Bingo Barn. These are individual school photo's (proofs) taken by a photographers of folks, I think, in the 50's, 60's & 70's (The old school pictures).  John had a garbage bag full of these proofs that were going to be thrown out. 
.
John, Would it be possible for folks to get copies of these pictures that you put all this work into creating?  I'm sure folks would be willing to pay you for your time and expenses for doing this.  It maybe easier to have copies made somewhere than trying to burn them on your CD.  Thanks, Gary