Delores Faine (DHS Class of 1969)
February 10, 1951 – October 19, 2018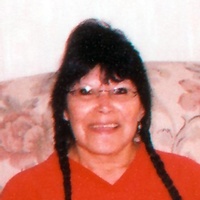 SEND FLOWERS
GUESTBOOK
CONDOLENCES
SHARE:
DELORES' OBITUARY
Delores Faine, age 67 of Dunseith, died Friday at a Belcourt hospital.  Her funeral will be held on Friday, October 26, 2018 at 11:00 am at the St. Michael's Catholic Church in Dunseith.  A wake service will be on Thursday beginning at 7:00 pm at the church.  Burial will be at the St. Louis Catholic Cemetery at Dunseith.
Delores Mary Faine was born on February 10, 1951 to August (Guff) and Alice (LeDoux) Faine.  She was raised and educated in Dunseith ND where she lived most of her life. She begin working at San Haven in the 1970's where she was employed for over 20 years working in the Physical Therapy Department. Delores was a kindhearted, gentle and caring person which was displayed during her time she worked at the San Haven and throughout her life. It was also during this time that she met and married David Nadeau, the marriage was later dissolved.
She later met Bill James and they became long time companions and remained together until his death in April 2018.  During their time together they traveled throughout the US and also lived in Oregon for 8 years. Delores was employed at the Dunseith Nursing Home until she retired.
Delores is survived by her sisters Betty Norman, Alice Christopherson and Patty Lozensky and her brothers Linus Faine and John (Sally) Faine.  A special godchild whom she thought of as her own daughter Michelle Faine and her children Jurrell, Jaron and Madee and godchildren Daniel Faine and Sarah Johnson.  She also had a special pet, a cat named Sassy. Delores will be lovingly remembered and greatly missed by her family and many friends.
She was preceded in death by her parents, her companion Bill, a sister Margaret, her brother in laws Jesse Christopherson and Duane Norman and a nephew Linus
Delores Faine ('69)
Condolences from Vickie Metcalfe ('67):  Bottineau, ND
Gary and Friends of Dunseith School,
I wish to convey  sympathy to the family of Delores  on her passing.
I  didn't know Delores  (as well as her sister Betty),  but I recall her as a  polite and  friendly.
Sincerely,
Vickie Metcalfe
==============================================
Blog (751) posted on March 22, 2010
Raymond Burr and Fess Parker's hunting trip in the Turtle Mountains:
Reply from Gloria Robillard Patnaude (69): Belcourt, ND.
In reply to Raymond Burr and Fess Parker hunting in the Turtle Mountains, it seems to be true. I know the last family that owned the Hotel in Rolla (I can't remember the name of the hotel) I went there to go and see for myself and he showed me the rooms that they stayed in, their names were on the door . They came up here to go goose hunting. They have torn the hotel down and turned into a small park and skating rink.
Raymond Burr and Fess Parker's hunting trip in the Turtle Mountains:
Reply from Allen Richard (60): Midland, MI
I think they Parker and Burr were in our area at least once for a short period. As I recall some friends of mine form the Rock Lake area said they used to hunt geese. It stands to reason they could have been to the Lord's lake area too. Those two fly ways were the hot spots years ago.
Allen
Viking's in the Turtle Mountains:
Reply from Dick Johnson (68): Dunseith, ND.
Gary and friends,
Thanks to Colette for the link to the history of Viking travel to the Turtle Mountains. It tells the same story as was told to us by Ed Milligan some 40 years ago. I mistakenly said that I saw a picture of Ed holding a Viking sword when it would appear it was actually a Viking ax. The holes in the stones would be a bit hard to 'debunk' as the Vikings and maybe some other Europeans would have been the only ones with steel tools that could have done it. To the best of my knowledge, no people native to North America had yet discovered / invented steel. The studies of the rocks state that the tops of the rocks had flaked off around the holes. Rain entering these holes and then freezing could easily break rock. It is one of the worst problems at Mt. Rushmore in South Dakota. I watched a documentary on the constant care of the monument and the danger of ice freezing in cracks in the granite. Interesting stuff! Thanks to Colette and Gary!
Dick
Locating Judy Johnson originally from Wolford:
Reply from Lee Halvorson: Williston, ND
Gary, I don't recall Judy's married name. Her mother, Dora, passed away several years ago. She did remarry after moving to Kalispell back in the 60's if memory serves correctly. Lee
Lee, With the info you provide yesterday, hopefully someone can fill in a few more of the pieces enabling us to locate Judy. Collectively we have located lots of folks. Thank you so much. Gary
Picture from Russell (64) & Glenda Fauske: Dunseith, ND.
Hi Gary,
The Fauske family was looking through photos the other night and we came across this "group photo" from the old days. We are wondering if anyone knows what the occassion was? We know a lot of the folks, but are curious as to what organization or group they were all getting together for. Help?
Thanks!
Russell and Glenda Fauske
Russell & Glenda, This is an interesting photo. Some of these folks look so familiar. The slender guy, 2nd in from the left in the back, sure looks like a Halvorson to me? Folks, please reply if you know any of these folks. I will repost with names. Gary